Over the years, digital marketing has expanded its sphere of influence. Instagram, Twitter, Facebook, Pinterest, and YouTube – there are so many channels for exposure. Generating leads has turned into a real challenge nowadays. Though old-school tricks die hard, such a thing as email marketing still does all the heavy lifting when it comes to driving traffic and converting prospects into customers.
Email marketing is one of the most popular and surprisingly effective forms of digital marketing. If you are planning to earn money online, expand the influence of your web application, or popularize your blog, the first step is to put it into action. The great thing is that it is not rocket science; however, it does demand some special skills. Where do you get them? In one of the email-marketing classes, of course! We have compiled a list of the best email-marketing courses in 2020. If you are looking to learn the basics or find out some advanced techniques to take your email marketing to the next level, you should certainly take a peek inside our collection.
Best Email Marketing Courses (free and paid)
First things first. When you want to start something new, you always have to begin with the basics and, thanks to Megan Adams, who has seven years of experience, you have a good point to embark on an adventure of mastering leads generation. The course only takes an hour. However, it efficiently reveals important key aspects such as:
defining your goal for email marketing.
applying a segmentation strategy.
highlighting the importance of creating an email newsletter that works consistently not only on desktops but also on mobile phones and tablets using tests.
determining metrics that help to understand your subscribers' behavior and ipso facto improve your strategy.
Although the course is quite short, and it sheds light on only several essential issues, it is nevertheless enough for absolute beginners to learn how to get started.
While the previous course scratches the surface, providing you with some directions of where to move, this one will take you by the hand and walk you through all the main milestones of digital marketing together. "12 in 1" sounds quite loud and promising. It feels like the title of the course sells itself without any further ado. However, what exactly makes the course an ultimate stop and a highly recommended training to enroll in?
No experience required is what makes this course a must-have for all the beginners out there. Even if you have some knowledge of email marketing, this course will help you to systematize all the information.
It uncovers the basics that can be applied to all types of businesses. Whether you are running an online magazine or e-commerce website, you will find some valuable tricks and tips to help your venture to thrive.
Thanks to the almost 24-hour duration, it reveals all the main aspects of digital marketing at a comfortable pace.
Finally, you will learn not only the key features of email marketing, but also the fundamentals of:

SEO, which is responsible for generating traffic to your website from search engines.
Social Media Marketing, which shows how to turn Instagram, Facebook and Twitter to your advantage.
Copywriting, which helps to shape your thoughts into alluring and irresistible offers.
Google Analytics, which gives insights on how to improve your website, and much more.
MailChimp is one of the leading ESPs on the web, so chances are you are going to use it, or maybe already have an account there. However, like any other multifunctional platform, it can be intimidating and puzzling for non-tech-savvy people to get to grasps with the application and unlock its potential. It is here where this complete email-marketing course created by real professionals comes in handy.
Within 4.5 hours you will find out how to:
navigate MailChimp with ease.
create signup forms as well as landing pages to capture contacts.
set up an email list and work with it by cleaning and segmenting it properly.
conduct A/B split tests to determine the best converting options.
understand the key metrics to polish your future campaigns, and more.
This is an excellent course for all members of MailChimp and those who consider this ESP as a platform for creating and running email marketing campaigns. It reveals beneficial techniques shown in practice that help to generate leads and raise money.
However, note that, while the course is created for beginners, it still requires a basic understanding of HTML. The deal is that, unlike Postcards (a drag-and-drop HTML email newsletter builder that is famous for its intuitive environment), MailChimp's email generator is a bit puzzling to handle and it will call for some effort on your part to manage the creation of a good-looking design.
Enjoying this Post?
Join Our Newsletter
Only the best content, delivered once a month. Unsubscribe anytime.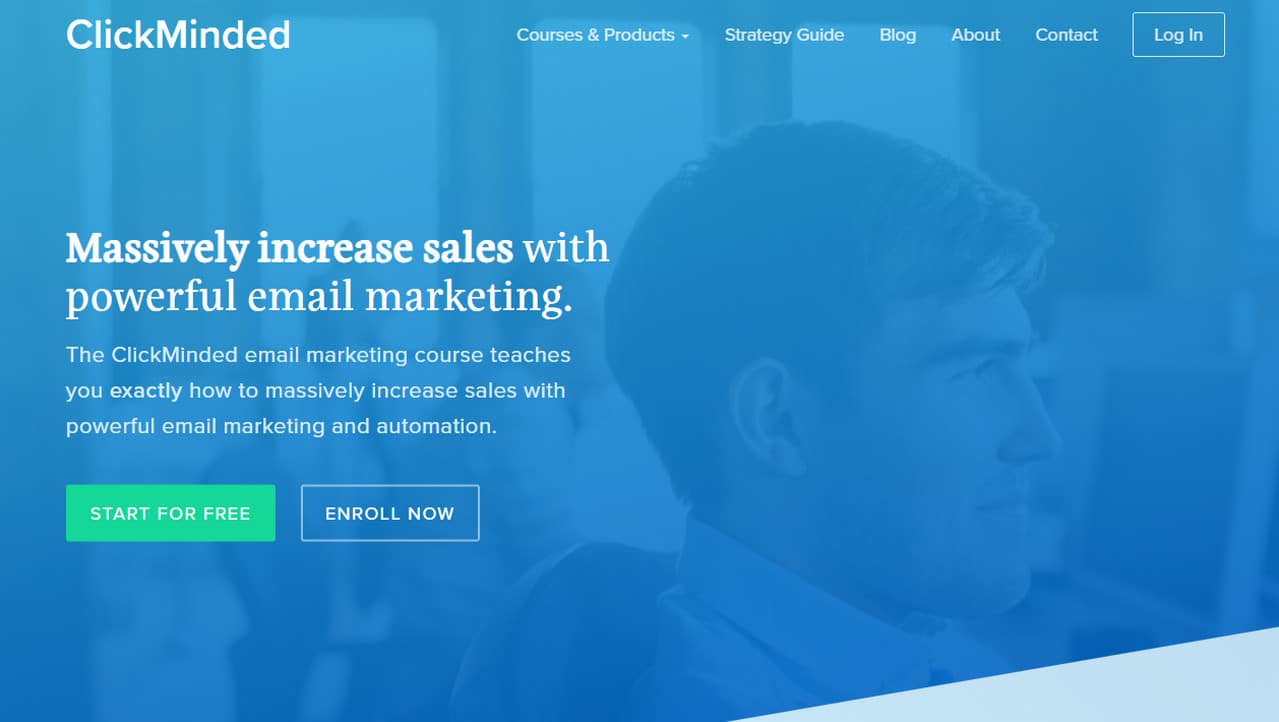 Email Marketing Training only pursues one goal: to show its students how to get the most out of email marketing. The lecturers are going to teach you not just the fundamentals, but also show you the ways to improve strategies and bring value to contacts' inboxes. So, what does this course include?
Three fundamental principles of good email marketing.
Three types of email newsletters.
Two types of email newsletter distribution.
Four types of email marketing campaigns to create a lifecycle strategy.
How to segment subscribers and use content to develop deep levels of engagement.
Basic principles of winning back users who turn down your emails or forget to visit your website.
Four types of data to properly segment your subscribers to decrease the bounce rate.
How to automatically segment contacts.
How to create high-converting email newsletter designs using popular builders.
How to use metrics to measure your success, and much more.
Long story short, you will learn everything you may need to run successful email-marketing campaigns using the modern tools, automatization, and some tricks provided by highly regarded specialists in this field.
Established in 2007, OMI, Online Marketing Institute, provides the most relevant marketing education on the web, having raised a thousand professional email marketers. It focuses on both individuals and companies offering all kinds of ventures up-to-date solutions. Therefore, we could not help but include its classes on our list. The training was created to teach entrepreneurs how to:
create a high-converting email newsletter.
develop highly effective strategies.
avoid common pitfalls.
polish your skills.
develop broad knowledge.
improve the current situation of your business.
There are five courses that are ideal for newbies. You will start with the fundamentals of email marketing, then dive into the basics of email campaigns, then finish your adventure by dissecting an email copy. But that's not all! There are also several additional classes that touch on social media marketing, content marketing, and analytics, all of which are crucial nowadays.
What's more, OMI offers certificates so that you can not only improve your marketing skills but also be recognized as a master of a trade.
Speaking of certificates, you do not have to spend a lot of money to get one. The Hubspot Academy provides a certificate free of charge if you enroll in their course and pass it with flying colors. It is a great opportunity, not just to receive an official document that attests to your knowledge, but also to learn something new. It includes nine lessons and 27 videos that will take up only three hours of your time. The course covers such critical points as:
understanding the importance of email marketing
developing a segmentation strategy to target the right audience with the right offer
designing a high-converting email newsletter
sending the right email
making the most out of metrics, especially deliverability
testing emails and strategies to find the best possible option
analyzing strategies to perfect and polish campaigns
using lead nurturing to establish healthy relationships with your readers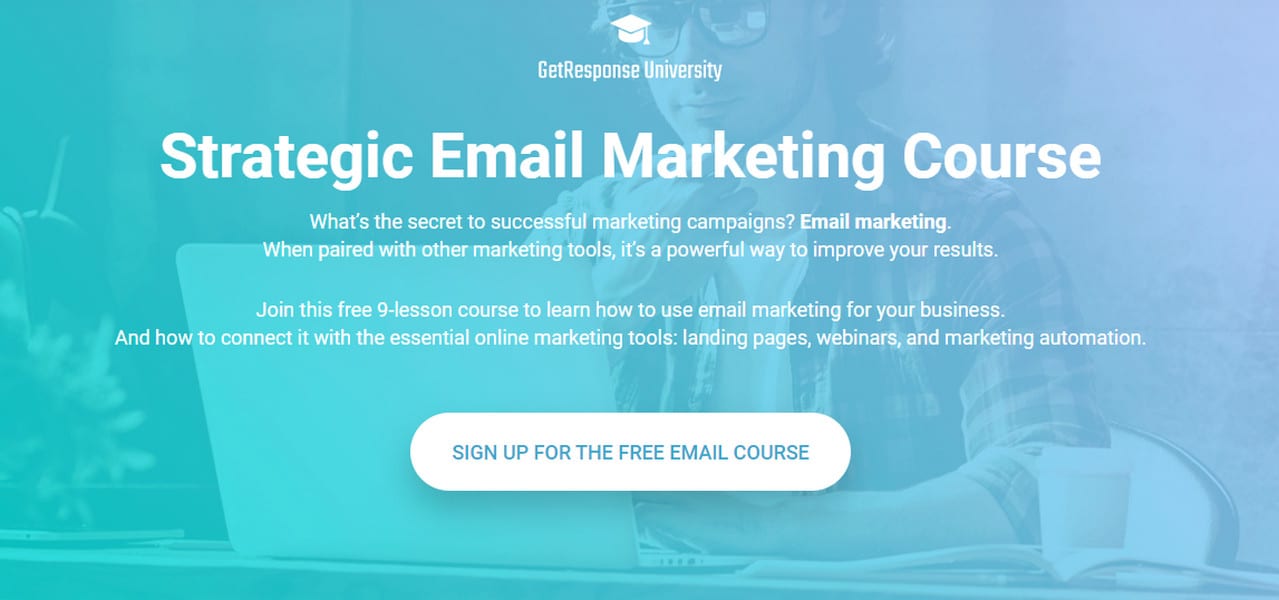 This Strategic Email Marketing training provided by GetResponse University also comes free of charge. Much like MailChimp, GetResponse is a leading ESP that offers numerous helpful tools for running successful email marketing campaigns. They are interested in educating everyone to help their clients and potential customers get the most out of their platform. Be ready to get some real advice from the professionals! The course addresses many vital things, especially how to:
unobtrusively build an email list
create a converting copy
develop a design that will present your offer in seductive packaging
automate emails, segmentation, and other elements of the campaign
use drip campaigns
analyze statistics and metrics
ensure high conversion rates
reinforce email campaigns with other tricks taken from digital marketing campaigns run by goliaths of the industry
Unlike the others, this course was created exclusively for retailers and owners of e-commerce property on the web. There are some differences in conducting email marketing campaigns for these sorts of businesses. For instance, it is here where you can benefit from seasonal campaigns like fall or winter email newsletters, flash sales, and, of course, holiday campaigns like Black Friday and Christmas. This training teaches how to:
prioritize email campaigns
benefit from the most popular email newsletters
get the advantage of transactional emails like welcome emails
turn transactional emails into sales opportunities
familiarize yourself with the most efficient strategies for e-commerce projects
learn the basics of analytics
advance email campaigns
Although this course was designed mostly with Shopify customers in mind, the skills taught are transferable. You can easily use these tricks and tips in other ESPs.
Last but not least. Those of you who have already made your first steps in email marketing may want something more intricate, something that will take email marketing to the next level. In this case, we recommend the Advanced Email Marketing Certification Training that was created specifically for such purposes.
As the title states, this training is all about advanced techniques. It focuses on such key points as:
advanced email marketing features;
writing great subject lines;
optimizing email content for various devices, browsers, and email readers;
designing emails that will naturally direct attention towards the offer;
perfecting the automation, not just to enhance the strategy but also to save your precious time;
introducing you to checklists that will help you take into account even the tiniest details and overcome common pitfalls;
creating converting landing pages for touting goods and turning prospects into customers.
To get the certificate, you will need to listen carefully and complete a test and three projects.
Conclusion
Email marketing courses vary. It only seems that all of them are the same as they focus on the fundamentals. They differ in various aspects, and the price is not the only factor.
Before jumping into training, consider several important things. First of all, the author. If you are hoping to acquire general knowledge, then the first options on our list are the way to go. However, if you have already chosen an ESP, then it's better to select the course that will not only uncover the basics of growing your subscription list and converting prospects into customers, but will also show you how to do this on a particular platform like MailChimp or GetResponse. You will kill two birds with one stone.
Secondly, skill level. If you are just a beginner, then stay out of the advanced online courses. The rule of thumb is: "One step at a time." First, acquire the necessary knowledge or systematize information that you have and only then should you move onto something more sophisticated.
Finally, price. Of course, premium products are always packed with some hidden gems. However, if you are a novice, free email marketing courses can also do the trick, especially when they are created by ESPs that consider you as a potential client.