It's been 9 years since Mailtrap was born. We started off as a really basic tool for email testing. Over the years, we've rewritten the app several times, recruited a fantastic team, added a bunch of features, and gathered over half a million users in our community. If you're one of them – a big, big thank you for sticking around and helping us make Mailtrap better with each new release.
A long time ago, we committed to building a great platform for email testing on the market. We strive every day to deliver on the promise. But functionalities and reliability are just a couple of the aspects.
To build a great platform that users love, design improvements need to go hand in hand with features. That's why, today, we're excited to launch a new, refreshed look of Mailtrap. And our new logo is just the beginning.
We've refreshed virtually every screen in the app. We've updated the color palette, added new menus, and moved things around to make the key features more accessible. And, hopefully, we've made the experience of using Mailtrap even more enjoyable for you. Let's see what's changed!
The refreshed Mailtrap experience
Mailtrap is and has always been about making email testing simple. What used to be a daunting, time-consuming, and sometimes stressful activity, can, after all, be very straightforward. And this is not just our opinion – whenever we ask you guys what your favorite thing about Mailtrap is, simplicity is nearly always the most common answer.
With this visual update, we've worked on a more streamlined experience for you. We've made the popular features more accessible and nestled the less frequently used ones under the new menus.
The overwhelming majority of our users view the platform on laptops or typical screens (16:9 and 16:10 aspect ratios being the most common). With this update, we aimed to optimize the experience for those devices. This is not to say that you won't be able to test some emails on a smartphone, tablet, or even Apple Watch (if you really need to) anymore. They will work just fine. You'll just have a much better experience running Mailtrap on good ol' computers.
Let's look at what changed, in particular.
The first very obvious change is the menu bar. The horizontal bar that you know well has moved to the left sidebar. This way, we've freed up a lot of additional space at the top of the screen. You can now view more emails without needing to scroll. You should also have an easier time previewing and analyzing messages; and if you need more space, you can simply hide the menu using a new button.
You'll still be able to jump to your inboxes or to billing details with a single click anywhere in the app. Since using Mailtrap via API is also a common choice in our community, we've added a respective section to the navigation.
Until today, Mailtrap navigation has featured separate tabs for your individual inboxes and those that others share with you. On this occasion, we decided to group them together. This change should give you a better overview of your entire Mailtrap workspace without the need to jump between tabs.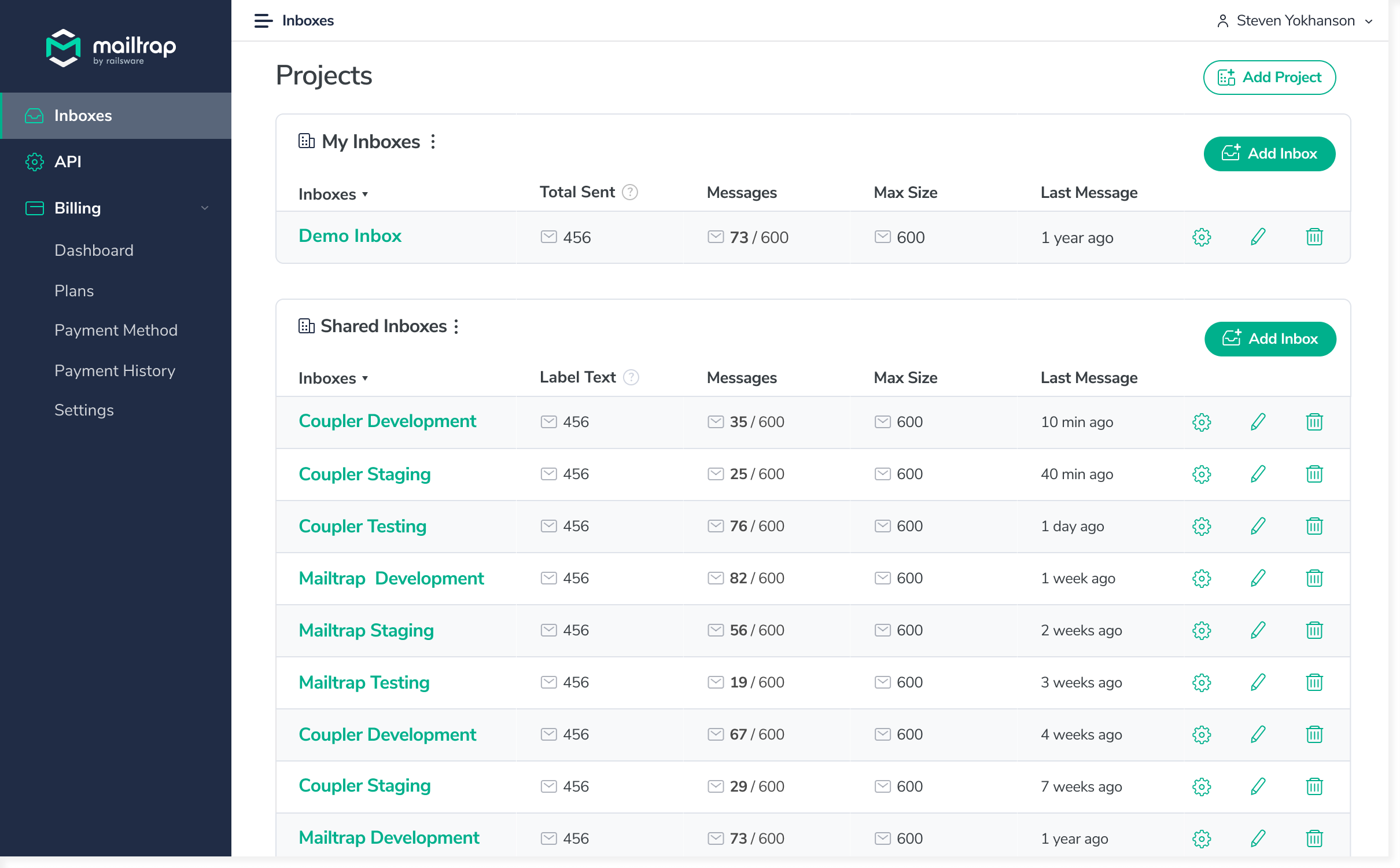 More user-friendly email details
The core of Mailtrap is emails that we capture and let you inspect. Here, we've redesigned the entire look, making it look more like… hmm… 2020? 😉 The tabs are more spaced out and easier to jump between than they used to be.
We've also completely reorganized the navigation icons. You can forward, delete, and preview emails right from the message screen. You can quickly view HTML/Text/Raw versions of each email in the respective tabs or view each in a separate tab via the three-dots menu.
Embedded email preview
Another commonly used feature lets you test the responsiveness of an email in three modes (web/tablet/mobile). Thus far, clicking on a preview icon in the top-right corner of a message would launch the tool in a new tab (this is still available via the three-dots menu). Now, the preview is also embedded and will load in the same window instantly. Pick the approach that works best for you.
Refreshed Tech Info
Last year, we added an "SMTP Info" tab for premium plans, for looking up the vital SMTP details of each message. We've now redesigned this tab, moved all the headers there (including the BCC field), and gave it a new look. As this tab now contains more than just SMTP details, it's called "Tech Info".
More intuitive forwarding settings
The manual and auto-forwarding tabs also got a revamp. They're now cleaner, with fewer icons, and a better overview of all addresses you share your emails with.
It's easy to monitor which emails haven't been verified yet and quickly fix this situation. The new counter will help you keep track of all the rules you have in place.
The entire refreshed design is live as we speak. If you haven't had a chance to try it out yet, log in now and explore what's new.
And when you're done, we would love to hear about your experience. Please feel free to leave a comment under this post or simply drop us an email at support@mailtrap.io. Many, many thanks in advance!