A professional email signature is a powerful marketing tool. Many marketers have learned to transform their email footers into promotional elements and CTA containers. But how do you truly stand out and make your email signature noticeable? Let's learn the most effective tactics.
Why email signatures are on the rise
Every email you or your colleagues send is not just some lines of text. As the most wide-spread and convenient way to communicate with anyone, email is considered one of the most useful marketing channels.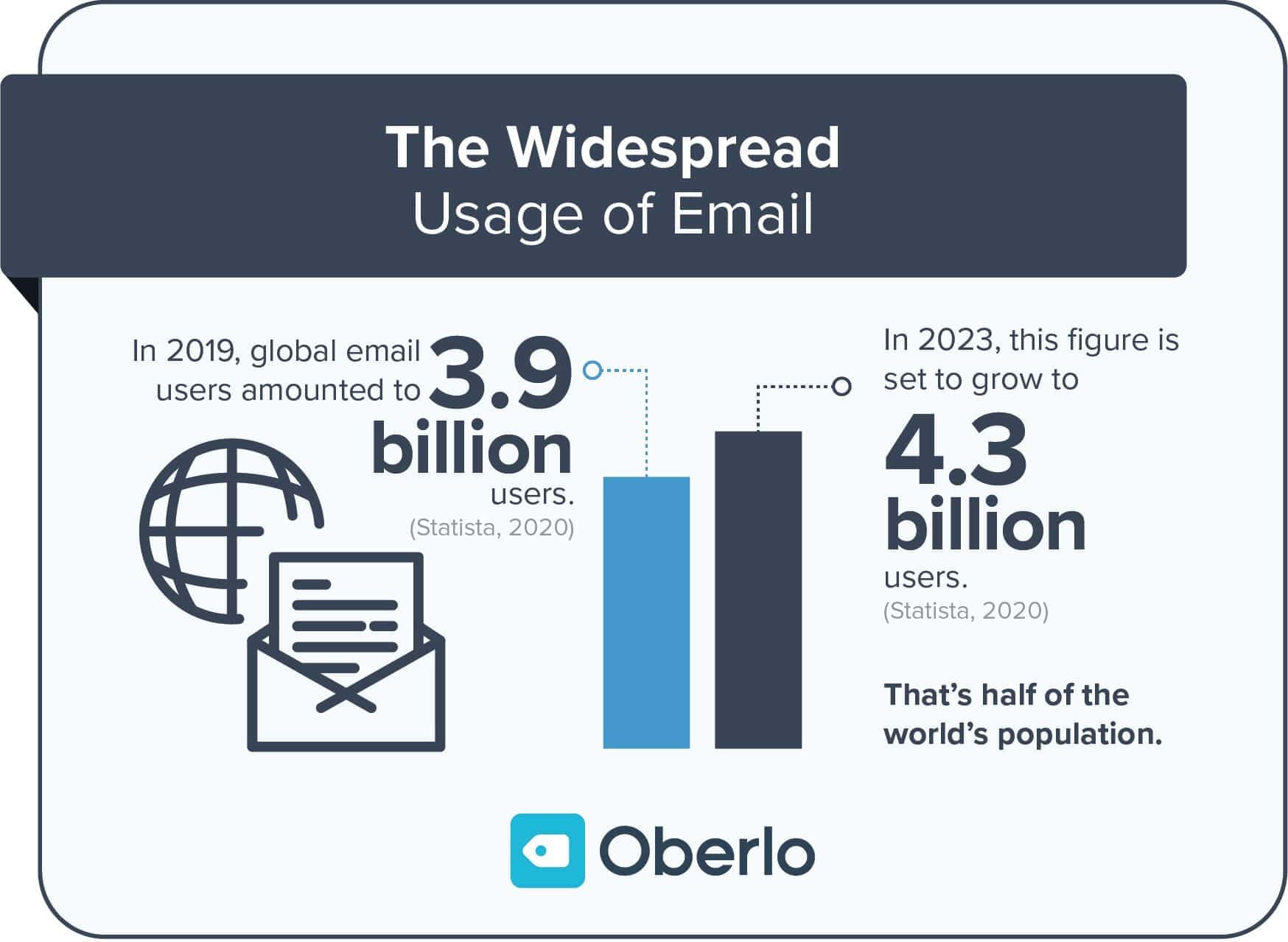 It's not always possible to reach out to people via phone or social media chats, so emailing is a no-brainer solution in any situation. However, many people neglect all the opportunities that emailing grants. With about 40 emails sent every day, an average office worker loses about 40 opportunities to promote relatable content or company services.
That's why email signatures have become a trustworthy marketing channel that unveils many ways to naturely integrate anything, even ads.
The other particularly important aspect regarding email signature marketing is its great ROI. Most email signature management services work on a subscription basis, meaning there's no limit to the number of impressions or clicks you can get.
The best tools to create an email signature
A truly professional email signature is never a single picture or a few lines of text. If you want to get the most out of email marketing, you should make a few elements of your footer clickable.
Of course, the only way to do so is by using HTML. Almost every email client has a feature of adding an HTML email signature incorporated into its settings. So, there's no problem with installing a signature, but creating one might get a bit tricky.
Using email template builders
Many email template builder tools allow you to create anything you need in your email. Of course, email signatures are no exception.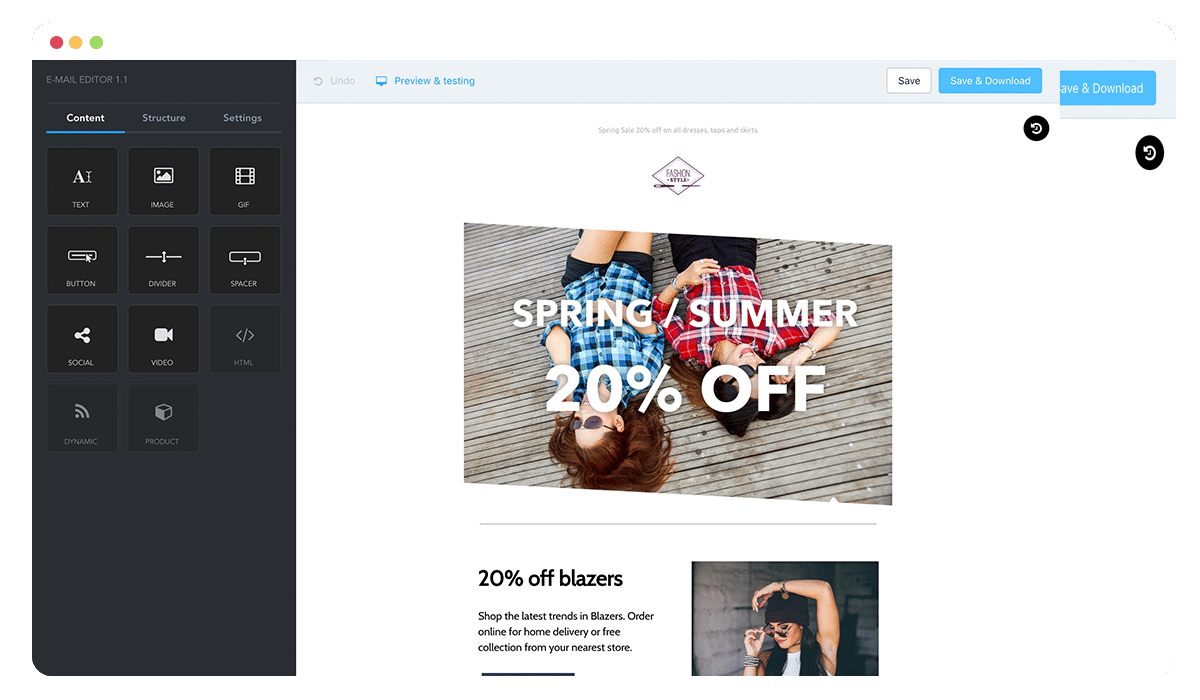 With the ability to drag-and-drop build any visual content in email, you can make your signature highly customised. However, these tools do not allow you to create multiple signatures for your team and then track the performance of each one. Also, you won't be able to change email signature banners at hand, and this is the most important element of email signature marketing. It is banners that bring ROI from signatures.
Creating an HTML signature yourself
Professional web developers probably won't consider creating an HTML email signature a difficult task. However, we can all agree that it would definitely take some time. Making a signature yourself, or asking a specialist to do so, is simply not worth it.
Moreover, if you want your whole company to use similar email signatures for branding, imagine asking everyone to install their signature every time you make any changes to it!
Enjoying this Post?
Join Our Newsletter
Only the best content, delivered once a month. Unsubscribe anytime.
Everything mentioned above leads to a single truth: you should use email signature management software. So, let's focus on which one is the best choice for your needs.
This email signature management service is the best option if you want to create a professional signature just for yourself, or for a small startup. With MySignature you can add your contact information, a photo or logo, or social media icons. You can also upload a banner in just a few clicks.
Additional features that make MySignature a nice choice are call-to-action (CTA) buttons that you can link to your marketplaces, social profiles, or just about anything else you wish.
There is also a convenient dashboard to store all of the signatures in your account. MySignature works perfectly well with all email clients that support email signatures.
Newoldstamp is a solid choice for business customers, as well as those who want to use email signatures as a marketing channel. Along with all the basic features of MySignature, Newoldstamp focuses on creating corporate email signatures that promote content or services.
Newoldstamp has an email signature banner campaign feature that allows you to choose a banner that can be assigned automatically to multiple email signatures. It is also possible to track the essential analytics of campaigns, such as impressions and clickthrough rates.
Newoldstamp's dashboard is also very convenient for managing multiple signatures across several departments. This functionality allows creation of a specific email signature, and then applying this "master signature" to all signatures within a chosen department.
On top of all these features, Newoldstamp is a powerful email signature management system that works with Exchange, GSuite, and Microsoft 365, allowing you to integrate your existing corporate email accounts automatically with your updated signatures.
Designhill is a platform that can create many different design materials as well as email signatures to your specifications.
This is a viable option for those who want their email correspondence to stand out; Designhill's signatures will certainly be unique. For unconventional email footer designs, using a custom design service such as Designhill is a must.
However, this service is not as useful for businesses; the price for creating an email signature from scratch is high, and you cannot make any changes after a few weeks. For businesses, having a signature that can be changed at any time is what makes it so useful.
Nevertheless, consider using Designhill's free email signature generator (with limited functionality) if you need an email signature ASAP.
Lastly, if you're looking for a bit more creativity, Donotbesquare can help you create a customized GIF email signature. This may certainly not be a preferred option for business clients, but if you want a funny personal email signature, you can never have too much creativity.
Donotbesquare takes a fast, simple approach to email signature creation, making it possible for bloggers or freelancers to create their own email footers that stand out from the competition within a minute. This is an important yet often overlooked element in the process of landing valuable clients.
What a professional email signature looks like
Now that we've said so much about choosing the best email signature generator, let's focus on using that generator to get the most benefits. A professional email footer looks both unique and eye-catching. And there are multiple things to keep in mind if you want it to be as such.
Contact information
First of all, you must use the email signature for the fundamental reason it actually exists. Of course, we're talking about contact information. Most importantly, you should add your name, company and position.
In addition to that, make sure you include at least two means of contact. For instance, a phone number and an email address. It may also be a physical address, another phone number, and/or a website link. Whatever fits you the best! Make sure you keep your signature in no more than six lines of text. Otherwise, it could look too messy and cluttered.
You can also add legal disclaimers to your email signature. These can include CAN-SPAM, GDPR, or CCPA disclaimers.
Also, always use the ability to add a photo or logo to your signature. Having one makes your signature more noticeable and increases the trustworthiness of your emails. After all, it is a lot nicer to receive an email from an actual human being smiling to you from the other side of the screen. However, make sure you use the same photo that goes with your email account.
Social media icons are another essential aspect of email signature marketing. Why not add a few ways to learn more about your company or you? It makes looking up the basic information about your business or lifestyle a lot easier for email recipients.
Design
Apart from having all the necessary elements, you should also make sure your email signature is visually appealing. The email signature generators we have named before make customizing your signature simple. But beware of taking the customization too far!
A good email signature design implies:
No more than 2 template colors (best if these are your brand colors);
A photo that takes up less than 50% of the signature;
Up to 5 social media icons;
Single font for all the text elements;
Limited use of bold text (apply it to one important text row).
In addition to all that, you should carefully choose banners and CTA buttons you decide to use for email signature marketing. For example, Newoldstamp has a gallery of ready-to-use banners, but it's still up to you to choose which one fits your style and color palette.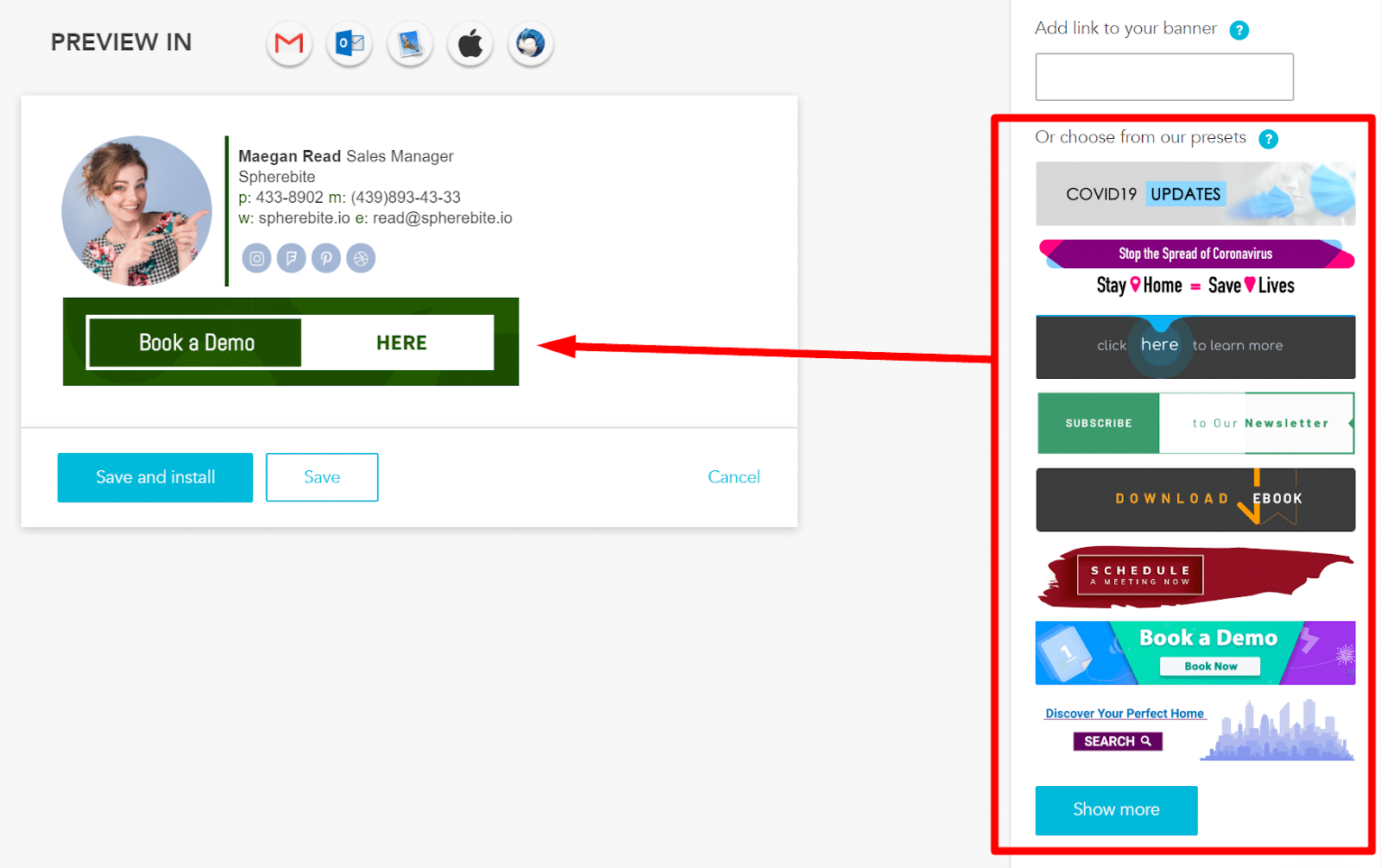 Alternatively, you can also create a QR Code with a custom logo and place it to your email signature. The point is that this code links to your vCard or website. It's convenient for tracking the analytics as well as quick updating of your business information.
Essential email signature marketing elements
Email signature banners are the most important part of a marketing aspect. A banner with a right call-to-action can transform your signature into a huge ROI email ad. So, let's learn how to choose the proper banner.
CTA for transactional emails
We don't suggest adding a whole promo banner to transactional emails. After all, those who receive these messages have probably already paid you at that point. Instead, you may add a small text line at the bottom of your signature that links a support chat or knowledge-base to perfect communication with customers.
This can also be a call-to-action button that leads to your apps or social media accounts.
Banners for outreach
Outreach is surely a nice opportunity to promote your new content. It might be a new blog article, a podcast, a video interview, a YouTube intro, or an upcoming webinar that you have organized. Regardless of what you want to promote, do use an email signature banner and share your piece of content in an appealing way.
In addition to pure promotion, you make it easier for your recipient to view your content and find out whether the corporation is reasonable.
You can promote your services with email signature banners every time you send a newsletter. The cool thing about the email signature banner is that even if you make your newsletter in plain text, the banner will still be there, all eye-catching and memorable!
Conclusion
Email signatures are surely on the rise, as more and more marketers, salespeople, and business-owners use them. A professionally designed email signature makes it easier to deliver the right message to your recipients.
Starting from basic contact information, ending with a sophisticated promo banner, all the elements of an email signature can and do make increasing brand awareness, promoting new content and simply getting in touch a lot easier.
No matter why you need an email signature, always look for the best solution that helps you spend less time and get more benefits for a fair price.