Think about the last marketing email you received. Did you open it? If not, why not? Can you remember the last marketing email you did open? What made you decide to double click?
Email campaigns are one of the most effective tools available to ecommerce companies today — on average, businesses reel in $38 to $44 for every marketing dollar they spend. That's a major return on investment. However, only about 24% of promotional emails ever get opened — the rest are ignored, end up in junk mail folders, or go straight into the trash.
Imagine if you could entice more people to open your marketing emails. What would your ROI look like with an open rate of, say, 40%? What about 50%? What would you have to change to achieve such an increase? Hint: In 2019, 75% of companies used web forms to capture email addresses for marketing purposes. We'll explore that subject a little later.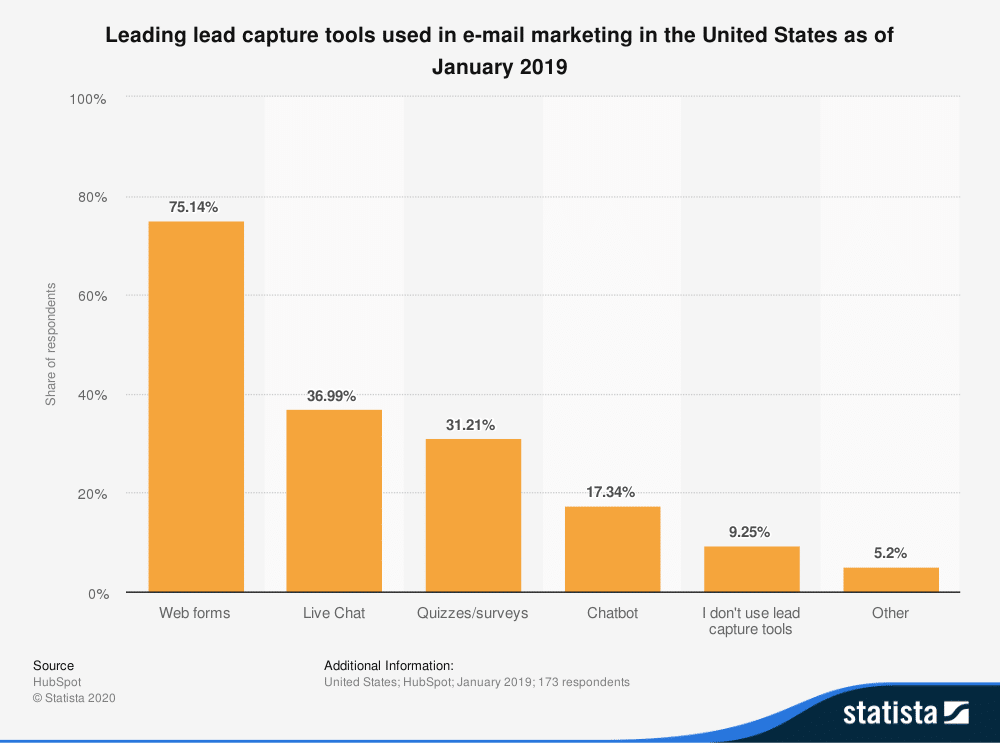 In this article, we'll dive into email optimization and a whole lot more. By the final paragraph, you'll know why email marketing is essential, how to write gripping email campaigns, and how to use an email solutions provider and a dummy SMTP server to your advantage. Let's go.
What is Ecommerce Email Marketing?
To cut a long story short, email marketing is the digital equivalent of direct mail marketing. Instead of paper, companies send emails to promote their products, build relationships with customers, and generally increase brand awareness in the marketplace. It's convenient, it's far less expensive than traditional direct mail marketing, and it gets results.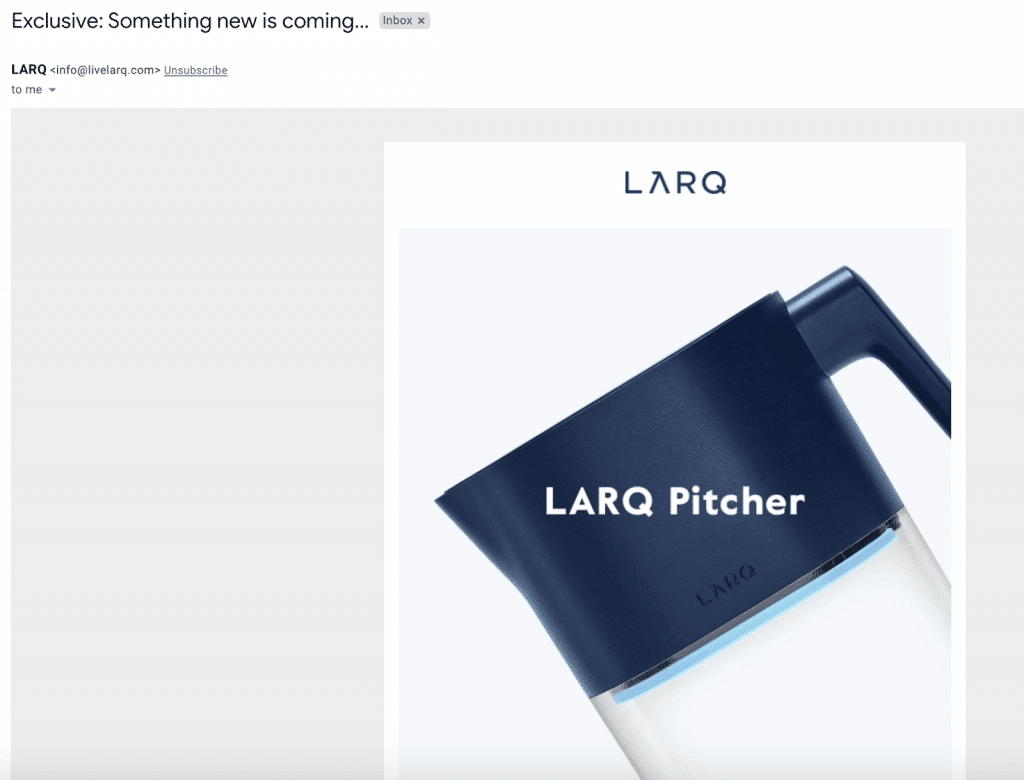 According to a recent study by McKinsey & Company, email is 40 times more effective for customer acquisition than social media. Many ecommerce newcomers pour thousands of dollars into Facebook page development and social media ads only to find themselves face-to-face with a feeble ROI at the end of the quarter. After all, followers aren't conversions. In contrast, business owners and product managers who create email marketing campaigns make major customer acquisition headway in the same time frame.
Email marketing is science coupled with art. It's clever data management combined with optimized design — and that definition holds true whether you send one email a year or create biweekly segmented marketing campaigns.
Advantages of Having a Robust Ecommerce Email Marketing Strategy
A well-thought-out email marketing strategy can help you stay ahead of the pack. In fact, we'd say it's an essential part of an ecommerce business plan. Here are four good reasons to develop a solid email marketing blueprint:
1. Helps build ongoing customer relationships.
People might find your company via social media or search engines, but email remains the best way to stay in touch with current and future customers. You can use email to tell consumers all about your company's history and new products as soon as they emerge. If you have a blog, forward links to your latest insights; if you're planning a sale, make your email subscribers feel special by telling them beforehand.
Effective email marketing strategies lead to greater brand awareness. According to recent research, a whopping 82% of shoppers choose brand names they recognize — even if unfamiliar products have a higher Google rank. Emails also encourage repeat purchases, lowering average customer acquisition cost. In conclusion, familiarity is a win-win for ecommerce companies.
2. Email is an effective way to drive sales.
According to a recent Emarsys study, roughly 81% of small and medium-sized businesses (SMBs) drive sales mainly through email marketing. Currently, the ROI for email marketing can be as much as $44 for every dollar spent — and that number will probably keep increasing as we move through the 2020s.
B2C retailers aren't the only companies that benefit from email marketing. In a 2019 survey, 50% of B2B respondents considered email the most effective lead-generating channel available to them.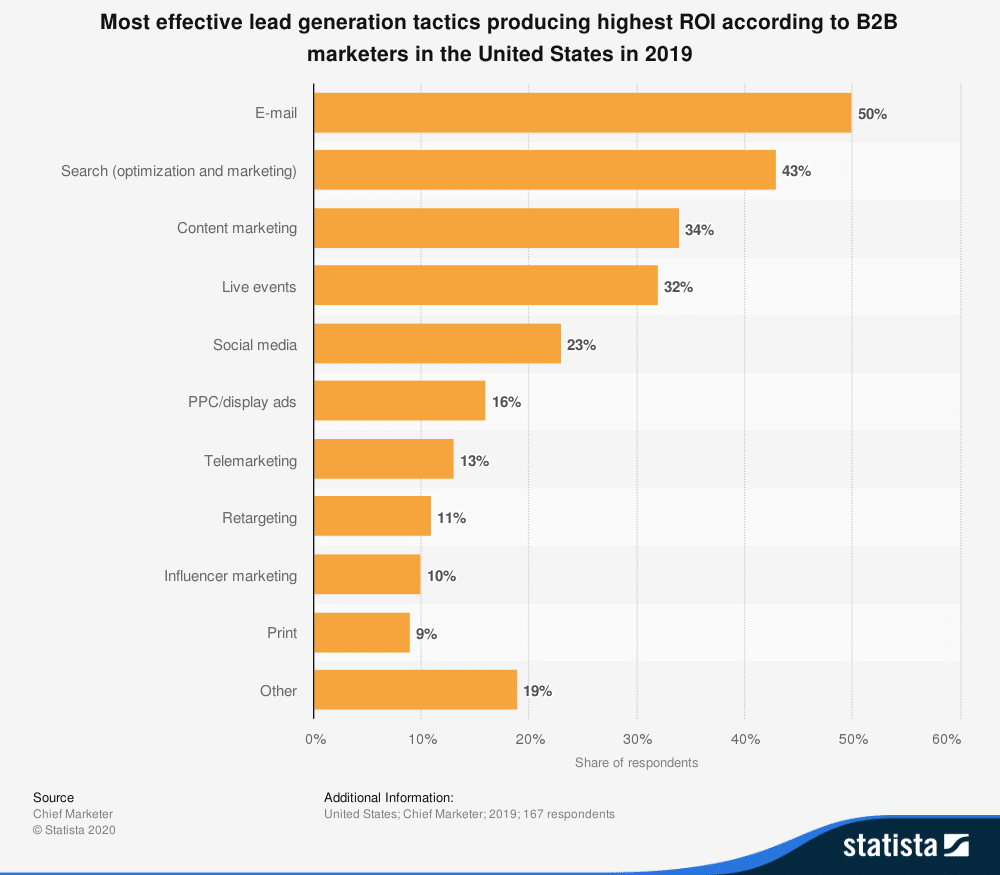 Some emails generate more click-through sales than others, and ROIs are never surefire, but studies have consistently shown the effectiveness of email marketing. The next best contender is search engine optimization — but it's 30% less productive than email.
The best way to leverage email marketing efforts is to combine them with other digital marketing strategies. To experiment with that, you should consider using ecommerce A/B testing for finding an effective scenario for your company.
3. Manage brand reputation.
You have a thriving customer base and your sales are strong. What next? Why, brand reputation management, of course — and email can help you with that, too. How? By creating a squad of enthusiastic brand advocates who boost your bottom line with positive product reviews.
Consumers don't always purchase items on the spot. Sometimes, they visit independent review sites, like Trustpilot and Angie's List — or a company's social media page, first. Modern shoppers are savvy: they want the low down on products before they commit. If businesses have low customer service ratings, they want to know in advance.
You can recruit brand advocates via email. Happy customers are quite a congenial group, and many of them gladly leave positive feedback if they're asked nicely. To sweeten the deal, many ecommerce companies offer reviewers money off future purchases.
4. Increase conversions with segmentation.
Segmentation is a form of personalization — and it's one of the best ways to improve email marketing ROI. It's also incredibly simple: All you have to do is divide the consumers in your email marketing database into categories according to their characteristics. Everyone with a May birthday gets a "Happy Birthday" email and a coupon at the end of April; everyone north of the U.S. border gets a celebratory Canada Day email on July 1 — you get the picture.
When you split consumers into groups like this, you deliver a more personalized marketing experience, which drives consumer engagement. The more consumer engagement you encourage, the more conversions you'll see — and increased conversions mean greater profits.
To segment your customers efficiently, you should implement a list-based approach, contact tagging, RSS tactics, or other segmentation practices.
Getting Started With Ecommerce Email Marketing
Email marketing used to involve coding knowledge and custom design. Not any more. It's a much simpler business these days: all you need is decent software, a good strategy, and compelling content.
1. Select your email service provider.
Before you do anything else, pick an outstanding email service provider. As the backbone of your email marketing strategy, your email marketing software has to be robust, reliable, and ready to deploy. Some commerce buffs say it's easy to switch providers if you're not happy, but we think it's better to begin with the software you really like. After all, who wants to devote additional time to migration later on?
At this point, you can also set up a dummy SMTP server like Mailtrap to help you test your emails before they hit the big time. Easy to use and integrate via RESTful API, Mailtrap functions as a server for your email service provider. Using Mailtrap, you can test emails to see how they perform without accidentally spamming genuine customers — or yourself. Every Mailtrap account comes with a demo inbox, so you can track and compare each email you send.
2. Build your ecommerce email list.
If you haven't launched your site yet, make email collection an integral part of your online strategy. When asked, many seasoned ecommerce company owners have one major regret: not collecting emails from the get-go.
You already have a site? Don't worry — begin collecting emails in the following three ways:
Add opt-in forms on your website: Give visitors every opportunity to add their email addresses to your central database with opt-in forms. Put one on your "Contact Us" page and another on your blog page sidebar. Don't forget the footer and your resources section. At the moment, it's also trendy to have a pop-up opt-in form, which activates when visitors begin to navigate away from your site.
Collect emails from customer accounts: Marketing emails are great — but only if they're sent lawfully. Before you collect email addresses, make sure target consumers know what they're opting into. Once you've covered the small print and they've given consent, add each email address to your database for future use.
Drive sign-ups with promotions: Sign-up bonuses are the oldest trick in the book — and not just for NFL recruits. You can generate interest and increase opt-ins by offering new subscribers an X% discount on first-time purchases, or a "first to know" guarantee for new products or services.
Enjoying this Post?
Join Our Newsletter
Only the best content, delivered once a month. Unsubscribe anytime.
Building the Perfect Ecommerce Email
You don't have to be a rocket scientist to write a stellar ecommerce email — but you do need a blueprint. If you're a special ops aficionado, this is your tactical plan; if you're a moonlight baker, this is your recipe for success. Here it is, broken down into five distinct steps:
1. Use a good "from" name.
Don't be tempted to go with "donotreply@website.com" as your "from" email. For a start, it's generic. Also, it throws a barrier up between your company and the customer. Instead, choose a meaningful and approachable name. A cordial-sounding person's name is fine (Faye, Bob etc.). Here's Burrow's abandoned cart email: as you can see, it's ostensibly from Brian, whose email address is "friends@burrow.com." Now, isn't that nice.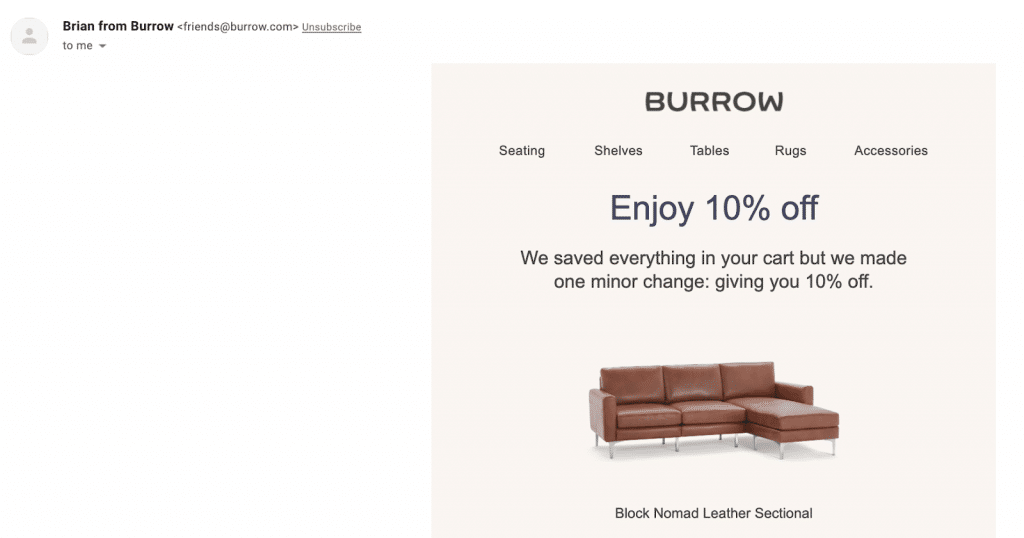 2. Make your subject line impactful.
According to marketing expert Neil Patel, everything hinges on your subject line. Email subject lines create interest: when consumers feel interested, they open emails — and if they do that, you have a real chance to create a conversion.
According to Digital Doughnut, you have about three seconds to capture your reader's attention before they mark your email as junk or toss it in the trash. Never fear: use the following five rules to write compelling subject lines and keep your emails in circulation:
Avoid overly salesy schtick: nobody likes a cold caller.
Personalize with your reader's city name.
Keep it short and sweet.
Don't try to trick readers into opening emails.
Ask a question — recipients will read on to find answers.
3. Design: Less is more.
The best marketing emails strike a balance between graphics and text. Full-text emails often end up in junk email folders, while GIF-heavy emails go in the promotions dustbin. Try to aim for a Goldilocks and the Three Bears porridge-style middle ground: not too hot, and not too cold.
4. Keep it simple with copy.
Don't frighten your reader with a wall of text. Instead, keep your copy simple and stick to the point. Stay away from complex language and don't incorporate vague or confusing messages. You have a sale going on? Great: say so. New product? Give the reader a short introduction and include links to more information.
5. Be mobile compatible.
Consumers are constantly on the go. Of all the promotional emails actually opened in 2018, nearly half were read on smartphones and tablets. Mobile email optimization is essential — and once again, that's something Mailtrap can help you achieve.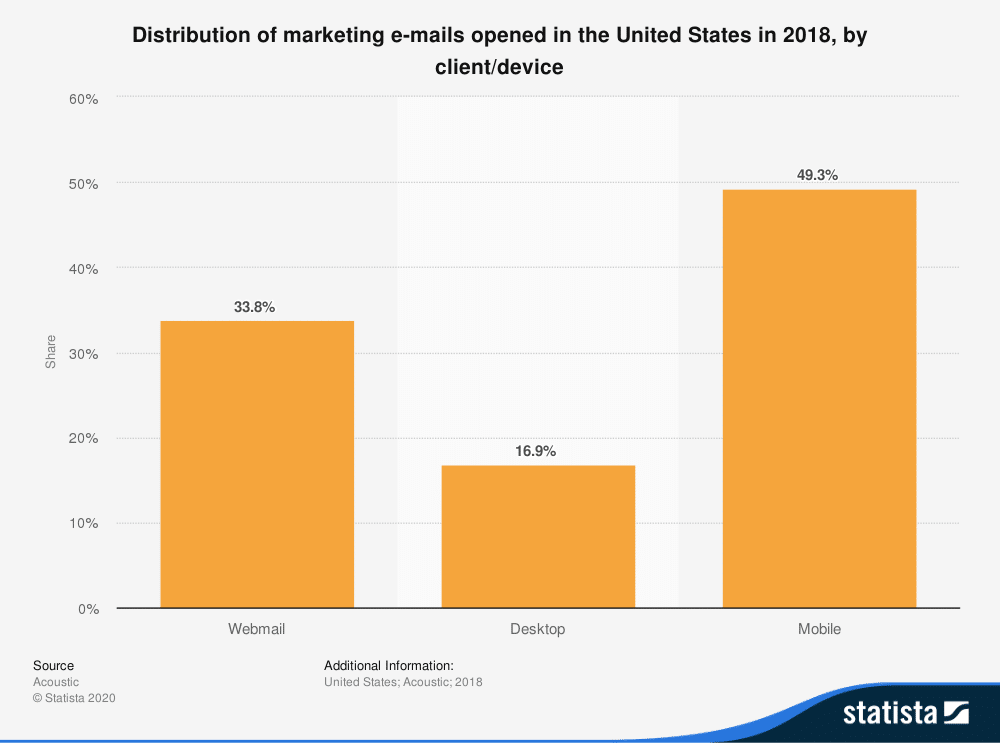 4 Ecommerce Email Marketing Campaigns You Need to Send
Do marketing emails begin and end with newsletters? Au contraire — that's just the beginning. Here are four types of follow-on emails you need to put on your hotlist.
1. Abandoned cart emails.
Sometimes people mean to navigate away from your site; sometimes they do so by accident. In either case, abandoned cart emails give them an opportunity to return later on to complete their purchases without having to add everything to a new shopping basket. Cart save technology makes everything simpler; abandoned cart emails recover revenue that would otherwise have been lost.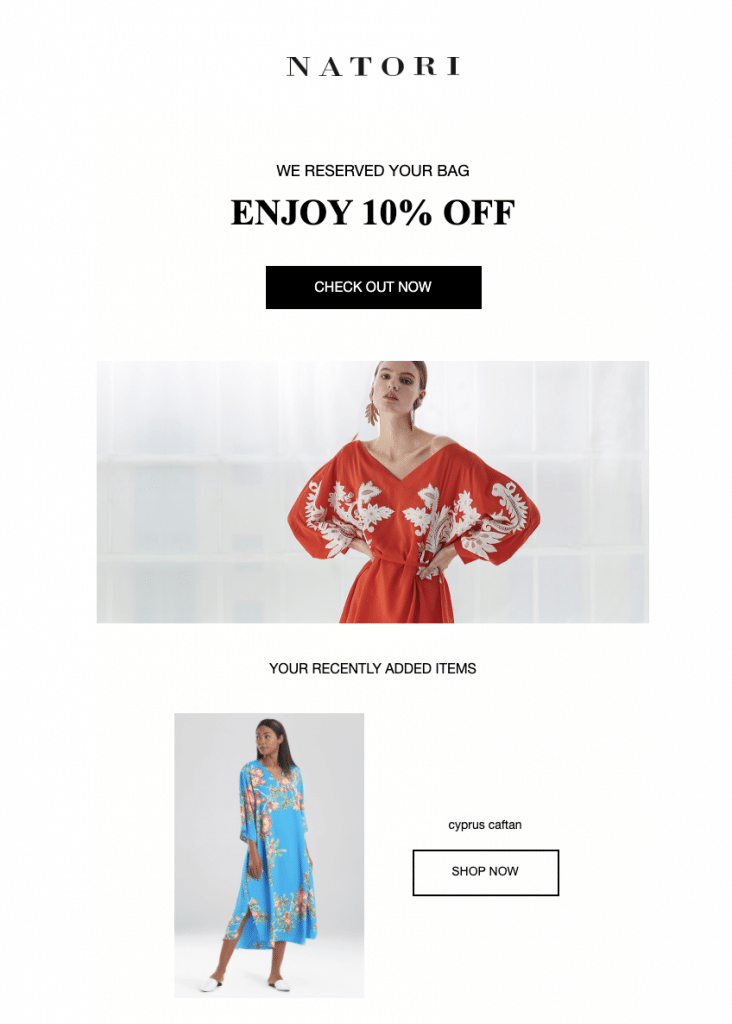 2. Up-sell and cross-sell emails.
Your customer bought a bottle of organic shampoo? Great: send them a cross-sell email about lavender hair tonic. There are three main types of up-sell and cross-sell emails:
Category follow-up: When customers buy products from a particular category, you send them an email about related products from the same category — or another similar category.
Any product follow-up: Use Amazon's "frequently bought together" suggestions as inspiration for your own post-purchase follow-up emails.
Receipt follow-up: Customers almost always open receipt emails, making them great vessels for special offers and product links.
3. Promotional offer emails.
Everyone enjoys a good sale. If you have a site-wide discount event going on or plan to launch a great sale on your ecommerce platform, tell past and potential future customers about it. To promote new products, consider running an email-based pre-sell event.
Most successful ecommerce companies regularly run the following types of promotional offer emails:
New product promotion emails.
Exclusive subscriber-only promotion emails.
Seasonal promotion emails.
4. Customer loyalty and engagement emails.
Having a well-defined customer engagement strategy is key to keep existing customers in the loop. They're all about building stronger bonds and winning back former customers. When they're deployed at specific times — 30, 60, 120, 240 days and so forth — they generate a notable amount of interest.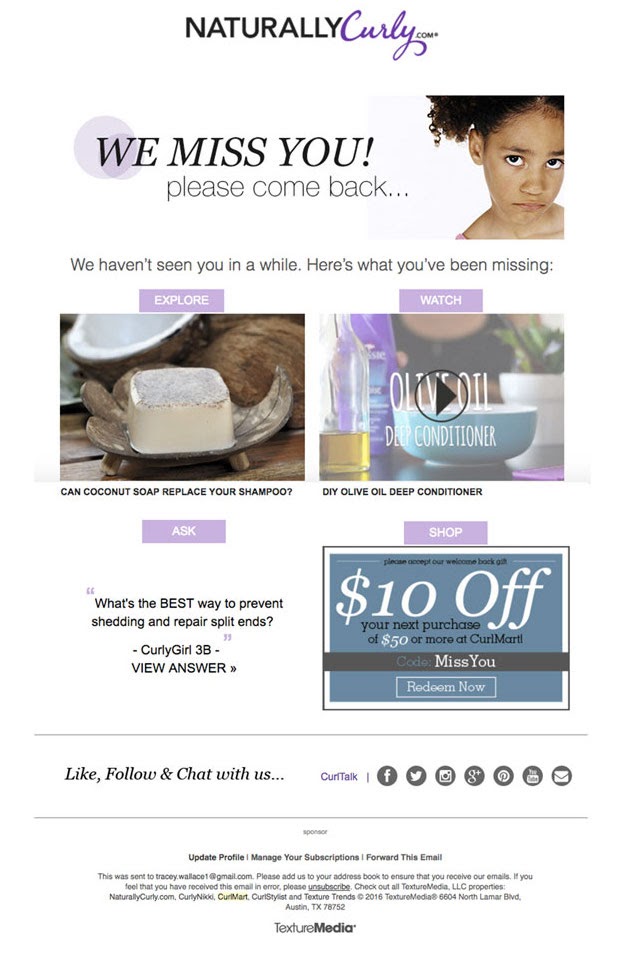 Customer loyalty and engagement email examples include:
Win-back emails: "We've missed you!"
Life event emails: "Happy birthday!"
Replenishment emails: "Remember that skirt? It's back in stock!"
Conclusion
The right opt-in forms, a good marketing email provider, and a handy program like Mailtrap can help you stay in touch with current and potential customers. Customer engagement emails, cross-sell and up-sell emails, promotional emails, and abandoned cart emails all drive traffic and increase conversion rates. The result? A lift to your bottom line.
Put simply, marketing emails work. They're many times more effective than social media pages — and let's face it, social media platforms often reduce productivity anyway. Your time is valuable, so why not spend it honing a proven promotional technique and growing your consumer base instead?