It's now 2023 and social media is the number one marketing channel. But there's still more than enough room for email marketing. And it generates great results.
According to HubSpot's recent report, 95% of marketers think that their email marketing strategy was effective in achieving their business goals.
Well, that's only true if it's done right. Effective email marketing strategy requires comprehensive research, accurate planning, and a lot of testing.
We decided to create a practical guide on email marketing strategy. We'll share common definitions and examples, teach you how to come up with the strategy, and top that up with the findings from our own experience.
What is email marketing strategy?
Email marketing strategy is the combination of tactics that help marketers target the right audience with the right content. It makes it easier to identify your users' interests, analyze best practices, and provide content that will increase your revenue.
Think of it this way: you travel to a country you've never been to before. You want to reach destination A but you don't really know how. If you don't use a map, the chances of getting lost will be high. But if you follow a pre-selected route, you'll reach point A in as little time as possible.
The same goes for email marketing strategy. It's your 'pre-selected route' to reach your goal through marketing campaigns.
Generally, email marketing can be either inbound or outbound.
Inbound email marketing targets people who are already on your email list. These are people who expressed their interest in your product through sign-up forms or purchases. The aim of inbound marketing is to convert interested users into buying customers.
Outbound email marketing targets potential customers. These are usually people who fit into your client profile. The goal is to introduce the brand and attract new customers. Outbound email marketing strategies center around answering three main questions: for whom, what, and how.
Outbound email marketing is usually left for sales, while inbound email marketing is heavily leveraged by marketers. So, in the following blog post, we'll concentrate on inbound email marketing strategies.
4 email marketing strategy examples
To help you understand what email marketing strategy is, we decided to include 4 examples of email marketing campaigns that accomplish (or fail to accomplish) set SMART goals.
While discussing each example, we'll concentrate on two main criteria: how relevant it is for the target audience and which email marketing tactics are being used.
Netflix – Continue Watching
The main email marketing strategy Netflix uses is data-driven personalization i.e. they use data gathered from their users to craft the content strategy of their emails. These can be watching habits, patterns, browsing behavior, or genres you're interested in. So, whenever they reach out, you feel like that particular email was created just for you.
Moreover, Netflix provides relevant recommendations without spamming users' inboxes. The main goal of such a strategy is to re-engage less active users.

Here's what we like about the example above:
The content of the email is relevant to the users' unique viewing history and habits;
Includes recommendations that are based on research data;
The campaign matches its target audience that includes people aged 18 to 34;
The campaign contains effective email marketing tactics such as a straight-to-the-point call to action (CTA) buttons, clearly structured headers, episode links, mobile-friendly layout, etc.
Here are some of the things that could've been better:
The extent to which Netflix leverages user data raises privacy concerns.
Twitch – 2021 Recap
One of the most popular streaming platforms, Twitch stepped into the marketing scene in 2019, launching its first-ever campaign. Around 2020, they also tapped into email marketing by launching yearly recap campaigns.
Similar to Netflix, they used a personalization strategy to connect with their audience. The goal was to strengthen the sense of community and show appreciation for their commitment.
Their 2021 campaign was particularly significant.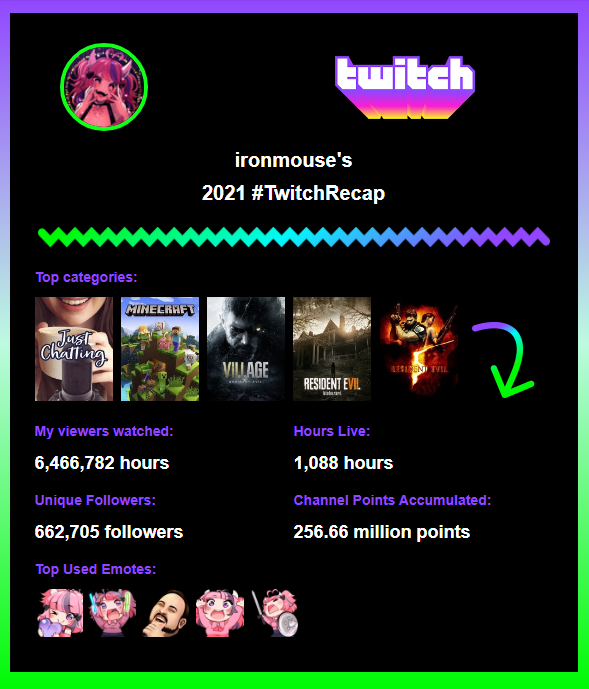 At first glance, there's nothing wrong with the email itself. It includes some stats and shows how one of the creators spent their year with Twitch. Key factors we like about this campaign:
The content is relevant to the target audience, 70% of which are between the ages of 18 and 34;
The content (stats) is unique to the streamer;
Twitch used tactics such as fewer words, consistent branding, mobile-friendly layout, and optimized subject lines.
Regardless of the good stuff, the campaign was quite controversial. The users weren't satisfied for two main reasons:
Before rolling out recaps, Twitch didn't communicate to its users that they had to be subscribed to the marketing emails. This information was clarified only after users complained. As a result, many felt left out and disappointed.
The email content didn't meet the recap expectations for viewers. They wanted to see precise numbers such as watch time, for example. Instead, they received general stats that included the number of earned channel points, top watched categories, and top watched channels. They also found inaccuracies in the statistics Twitch did provide.
What we don't like about the example above:
Twitch failed to warn its users about the subscription requirement;
The campaign wasn't based on accurate data;
Twitch used superficial personalization;
The audience's expectations and wishes weren't researched well.
Uber – Holiday Campaign
Uber is a brand that heavily relies on email marketing, sending both non-promotional and promotional emails (such as discounts, special offers, and coupon codes). They use email marketing strategy to drive more sales, introduce new features, and keep their audience engaged.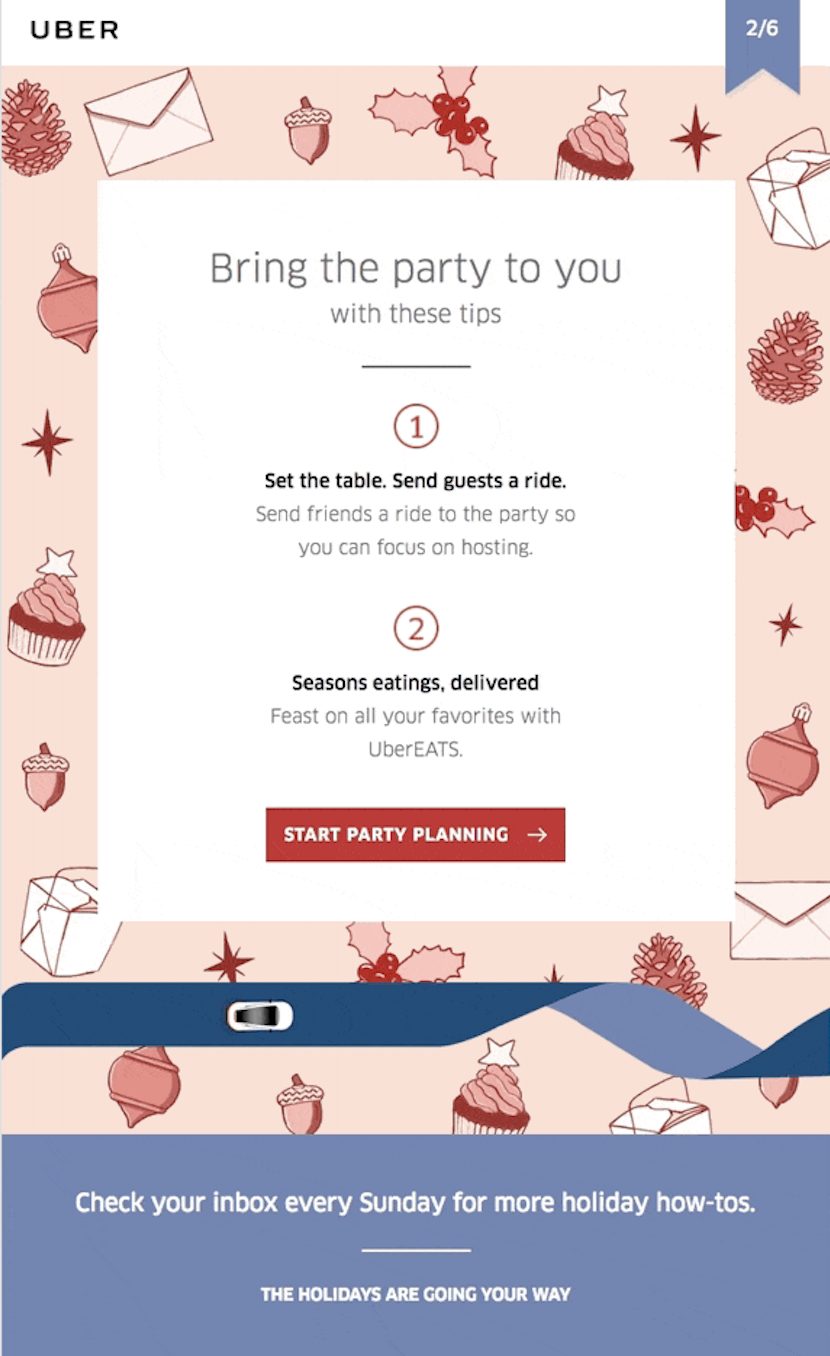 What we like about this campaign:
The campaign uses tactics such as a strict schedule, clear CTA buttons, scannable content, and consistent copies;
The content is relevant to their target audience as it delivers value by explaining how Uber could be useful during the holiday season;
The content is short because their target audience includes people who are short on time.
Things that could have been better:
The campaign doesn't use personalization tactics;
The background of the email is GIF which won't be rendered correctly by all email clients.
Airbnb – Welcome Email
The last example we have here is from Airbnb. They connect with their email subscribers consistently, but they do so without bombarding their inboxes each and every day.
Their strategy includes trigger-based campaigns and data-driven personalization.
Trigger-based campaigns are different emails that are sent after users complete a certain action. For example, when you book accommodation, contact the host, etc. Don't confuse them with transactional emails, though – trigger-based campaigns are purely marketing-related.
Regarding personalization, Airbnb doesn't jam its emails with statistics, but they always provide personalized recommendations based on your interests. And let's be honest, that's probably one of the best ways to upsell your products.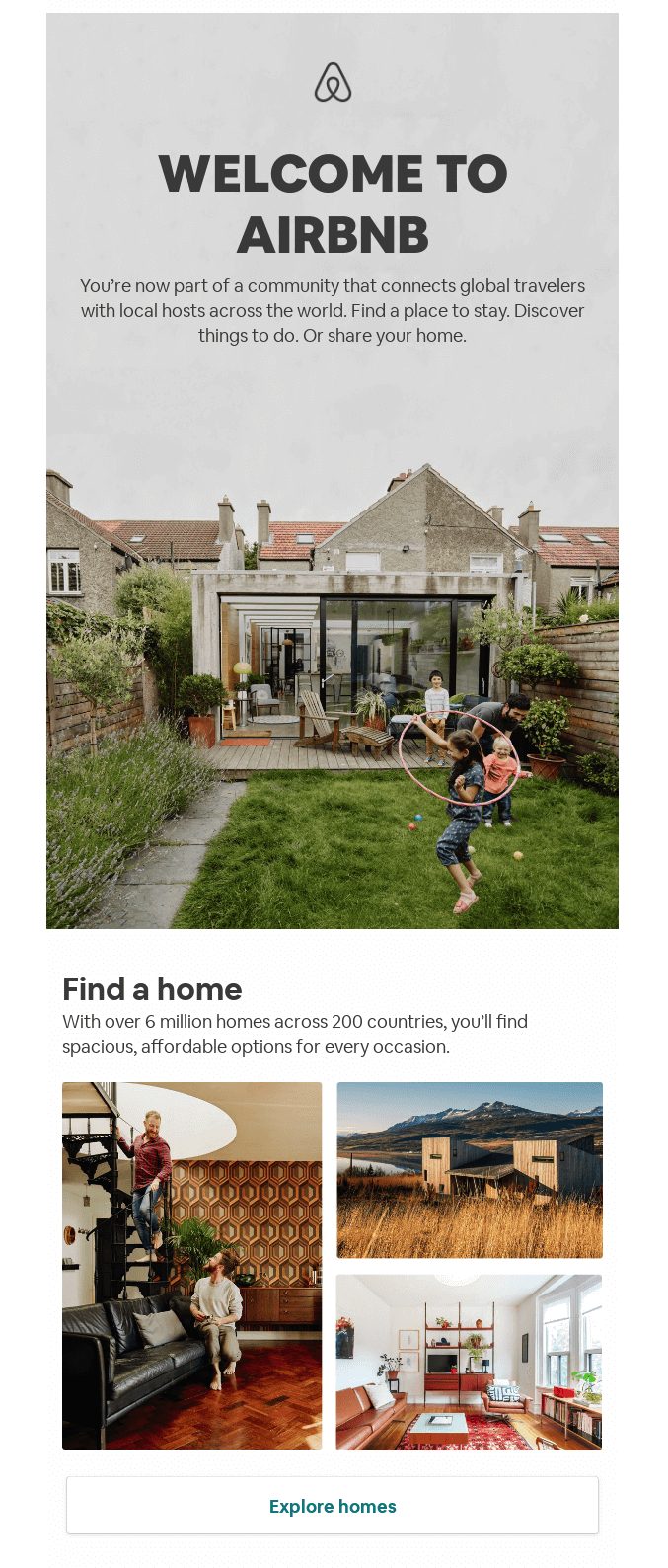 We picked Airbnb's Welcome Email for this example. Here's what we like about it:
The email is relevant to Airbnb's target audience the demographic of which is aged 18 to 45 and includes students, employees, managers, and executives;
The email includes email marketing tactics such as clearly defined headers, simple CTAs, and optimized subject lines;
The email brings value to its audience by emphasizing the features and benefits of Airbnb.
But there's also room for improvement:
The email isn't targeted at a specific segment of their audience: it addresses both potential hosts and travelers;
The email doesn't employ any personalization tactics.
Email marketing strategy vs. tactics
Email marketing strategy is frequently confused with tactics or approaches. When you search for effective email marketing strategies, for example, the results you find are mostly related to optimizing subject lines, creating a mobile-friendly layout, segmenting your subscriber list, sending personalized messages, etc.
However, all of these are merely tactics. Yes, they can be useful once you start executing the strategy, but they aren't the components of it. The strategy is the plan you follow to achieve your goals.
The main components of email marketing strategy
An email marketing strategy has four main components: the problem, raw data, solutions, and a roadmap.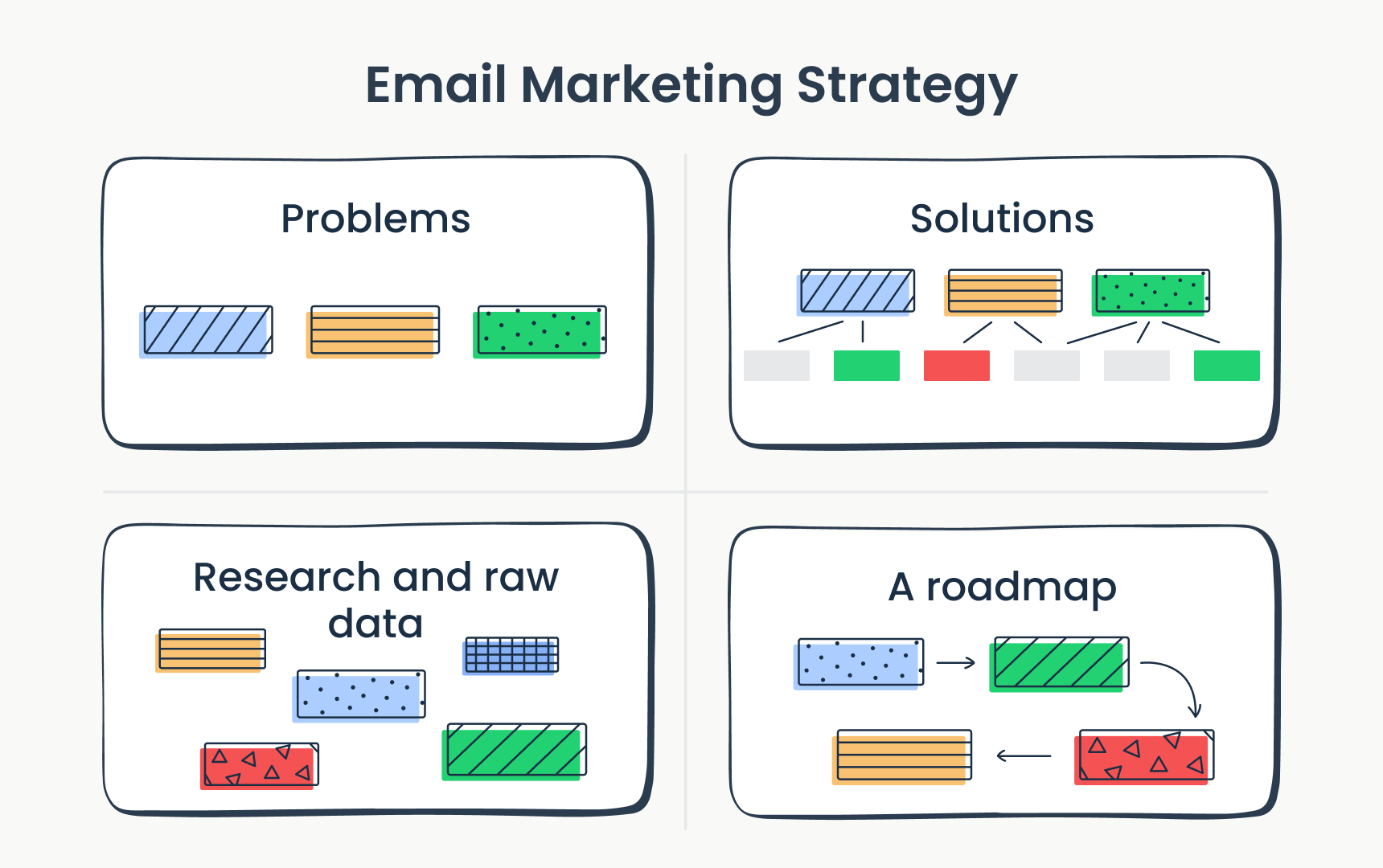 The problem
What problems is your product or service facing currently? What are the obstacles in your way? What are you trying to solve with a strategy in the first place? Is it a lack of trust, a heavily saturated market, or a lack of brand awareness?
Whatever the problem may be, you should identify it within your strategy outline.
Research and raw data
Research can help you figure out what your target audience thinks about your competitors or your product. You see, researching what features your competitors have isn't enough. You should know what their audiences like/dislike about them. It's also beneficial to research what your competitors lack in their communication.
The research stage is quite labor-intensive. To figure out who your real competitors are and what problems users are facing, you need to start the customer development process. This framework will help you identify your target audience and see whether your product meets their needs or could be improved.
Alternatively, you can create a team of researchers who will conduct surveys and explore online platforms to find honest reviews about your competitors' products.
Solutions
The solutions portion should identify how you're going to solve each problem. For example, if your main problem is a lack of trust, the solution would be gathering testimonials from your current users. Similarly, if you're struggling with proper brand awareness, the solution could be educational guides, product overviews, carefully-planned messaging and positioning, etc.
A roadmap to implement those solutions
The final component of the email marketing strategy is the roadmap, which will detail how you're going to implement each solution.
Let's spiral back to lack of trust. We mentioned that gathering testimonials could be the solution. But how are you going to do that? One way is to run survey email campaigns among your existing users. In return, you could offer them a 10% discount or an upgrade of their current plan free of charge.
Another option is to write case studies about your corporate clients and share them in your email marketing campaigns to build customer loyalty.
Overall, the roadmap should include an email content plan and a schedule for each marketing campaign.
Why is email marketing strategy important?
There are a number of reasons that make email marketing strategy so important, such as:
It's a significant component of the marketing funnel. It allows marketers to understand how to target users in different stages of their journey. For example, new subscribers usually receive informational email newsletters and onboarding guides to increase brand awareness. As they move to a different funnel stage, the tactics in the strategy plan will be adjusted accordingly;
It's based on a thorough understanding of the audience. That way, marketers can craft email content based on the interests, habits, or preferences of their target audience. This also means fewer spam complaints, improved email deliverability, and higher click-through rates (CTR).
It's the key to generating a high return on investment (ROI) for marketing campaigns. If you follow a detailed plan that's based on research data, you'll have higher chances of achieving the expected results.
Advantages and disadvantages of email marketing strategy
Even though email marketing strategy is useful, it's not suitable for everyone. It has its fair share of advantages and disadvantages. We've gathered most of them in the chart below.
Pros
Cons
Email marketing is cheap and has the highest ROI compared to other channels. Depending on the industry, ROI can range from $36 to $45. And effective strategy can help you boost those numbers

Can substitute content marketing strategy or be aligned with it

Can be based on your overall Ideal Customer Profile (ICP) research

Helps marketers understand their audience and achieve consistency in all of their channels.
Costly and labor-intensive as it requires additional resources such as an experienced marketer who will create the strategy and oversee the execution and the occasional help of external consultants.

There's a time gap between investment and revenue

The testing process and adoption are also time-consuming

Not suitable for companies with niche audiences.
Apart from weighing the pros and cons, you should also think carefully if email marketing is the right channel for you. Generally, it comes into play when companies want to reach a larger audience and increase conversions. But that doesn't mean that it's a perfect match for everyone.
Email marketing can turn into a supportive channel for brands that are active in other digital channels. In such cases, results from email campaigns can be boosted through social media or advertisements.
Email marketing can be the main channel for smaller businesses as it has a higher ROI and requires fewer resources compared to paid ads.
Finally, email marketing isn't an option for companies with niche audiences. For example, developers are known to hate marketing emails, hitting spam complaints as soon as they see even the simplest campaign. In this case, the email marketing channel won't yield the expected results.
Types of email marketing strategy
Depending on the size of your business and goals, you'll need a slightly different email marketing strategy. You'll also need to employ a different tactic depending on the customer journey stages.
We've classified email marketing strategies based on that and mixed 'type of business' and 'type of user trigger' campaigns.
Email marketing strategies for different sizes of businesses
Let's start with strategies for small businesses. Typically, the strategies that are suitable for already-established companies aren't the perfect match for small businesses.
For example, a local jewelry store won't be able to run hyper-personalized campaigns because it probably won't have machine learning capacities to optimize recommendations.
Instead, small businesses can build a loyal community of regular customers. And for that, customer experience should be the main focus. They can use email marketing for referral programs that drive word-of-mouth marketing strategies. Referrals are mutually beneficial for customers (discounts, gift cards, or special offers) and businesses (more customers i.e. more sales). This is also a good strategy for beginners, and for freelancers. 
While crafting a strategy for tech startups, you shouldn't be afraid of experimentation. Invite-only, exclusivity-centered marketing strategies can truly bring virality in such cases.
Let's take OnePlus as an example. The company started as a tech startup that offered affordable Android smartphones. While launching their first smartphones, they decided to opt for an invite-only strategy – you wouldn't be able to buy their products without an invitation. The results: they sold over 1.5 million phones by the end of the year. The same strategy was used by Gmail when it launched.
Such campaign strategies are perfect for tech startups as they require little to no resources. However, confidence in your product is vital here. Exclusivity brings results only when the product delivers real value to its users.
For midsize businesses or for service companies, you can follow the industry's best practices. Just remember that every tip we or other platforms provide is just a recipe – you'll need to adjust the ingredients to match your unique palate.
Email marketing strategies for re-engagement campaigns
Re-engagement campaigns are a set of marketing emails that target inactive subscribers. And since it targets users who haven't interacted with your emails in a while, it requires a separate strategy. Optimizing email subject lines and creating special offers is the best way to go here.
Apart from that, you can also offer them different subscription options or introduce a new product or feature that might grab their attention. For example, in their re-engagement campaigns, Netflix includes the show you were watching, as well as recommendations that may trigger your interest.
It's a good idea to research what caused the loss of engagement and craft your strategy accordingly.
Remember: If the first re-engagement email doesn't work, you should send a couple of follow-up emails before you remove inactive subscribers from your mailing list.
Email marketing strategy for cart abandonment campaigns
More often than not, users will collect items in their cart without proceeding to the checkout. These are called abandoned carts. The goal here is to remind them to continue shopping and finish their purchase. Cart abandonment campaigns are frequently used by e-commerce stores or companies that provide paid services.
A simple reminder about items in the cart probably won't work, especially if that person is shopping on your website for the first time. The go-to strategy is to provide testimonials and emphasize the value of the products. For example, you can provide reviews for the product in their cart and tell them what value they will get if they continue shopping.
If you have any loyalty programs, dropping them here and tapping into FOMO (Fear of missing out) can also work. Remind them that they are one purchase away from a $10 discount, free shipping, or SUPER EXCLUSIVE membership. That's exactly what Rudy's did in this email.
How to create an email marketing strategy
As mentioned above, creating an email marketing strategy is a labor-intensive, multi-step process. We've gathered the basic steps that are a must while crafting a strategy.
Keep in mind that specific details will largely depend on your goals, industry, and audience. So, make sure you adjust the process accordingly.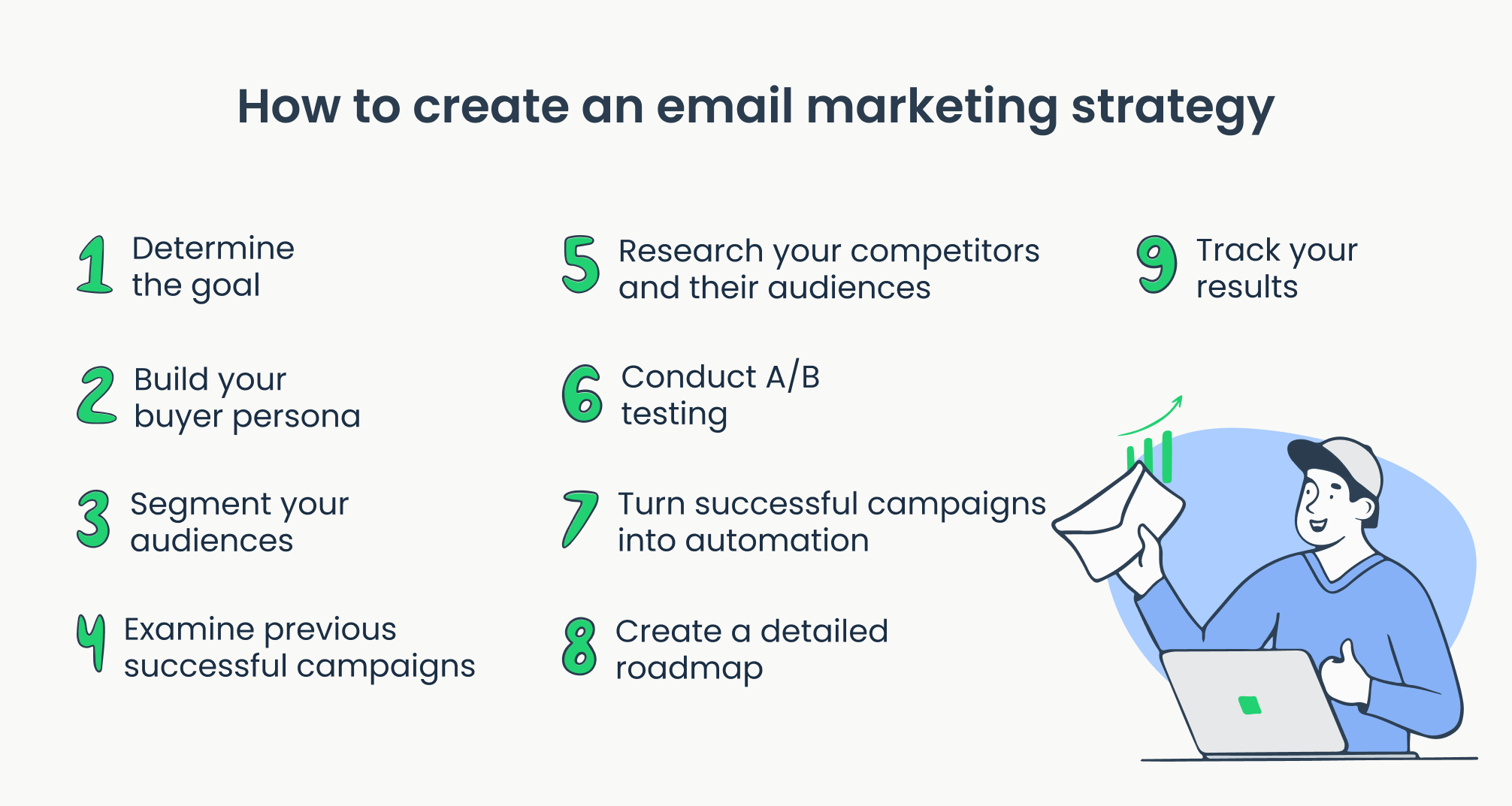 1. Determine the strategy goal
What do you want to achieve with email marketing? Do you want to increase the engagement rate among existing customers? Maybe you want to improve brand awareness? Or maybe you aim to get more conversions?
The goal of email marketing will define the whole scope of your strategy.
However, it's also important to be realistic. Generally, it's harder for new businesses to see immediate results, especially without email marketing strategy consultants or dedicated teams. So, don't expect your first campaign to be a complete success – the chances are it will yield less than favorable results.
Plus, generating ROI takes time, even for big brands that invest millions of dollars in their email marketing campaigns.
2. Build the buyer persona
The next step is to build the buyer persona. This is the fictional description of your ideal customer based on their purchasing behaviors.
For example, if you sell stationery items, you might have Writer Oliver and Teenager Sally buyer personas. Writer Oliver tries all your new products and is your regular customer. Teenager Sally doesn't have much money so she only shops on your website when you have sales or drop cheap and cute pencils.
These can be useful for creating personalized email campaigns.
However, if you sell services, you can base your email marketing strategy on your overall ICP research. In that case, you'll create the profile of companies instead of individuals. Here's a simple example of ICP:
SaaS companies and startups in Europe that received funding and struggle with data analytics.
3. Segment your audiences
Email segmentation is also a major part of successful email marketing campaigns and that's why it should also be part of your strategy. It's the process of grouping your audience based on their interests, demographics, professions, or behaviors.
This can be done with the help of your Customer Relationship Management (CRM) software, sign-up forms, email marketing platforms, email marketing software, lead magnets, or general research you conduct in the early stages of strategy development.
The key is to source information (ethically and legally, of course) to come up with a better email content marketing roadmap.
Audience segmentation should be in line with your buyer personas or ICPs.
4. Look into the previous emails that worked well
You'll find plenty of insights if you analyze your previous emails that performed well. You shouldn't just examine the type of content of the email. Instead, examine all the bits and pieces.
Try to figure out which subject lines worked better and use similar tactics during your testing (more on that below).
Take a look at the email designs your audience responded well to. Did they engage with image-heavy or responsive emails? Did they favor HTML content? All of these should be done by examining the data and basic metrics. Pay attention to spam complaints and their correlation with the design.
If your subscribers hit the spam button on any of the design types, sticking to a plain text format may be a better approach.
While choosing the design, you should also figure out which email clients your target audience is using. HTML or interactive designs may not be supported by all mailbox providers. So, you can use them as a list segmentation tactic to ensure your emails are loaded properly for all your recipients.
5. Research your competitors' emails and their audience
Competitors' emails are also a good source of information. Whom are they targeting and how? If your target audience is the same, their approach can turn into an inspiration for your strategy.
But it should only be an inspiration. Learn from their methods but adjust them to your product, business, and goals.
6. Conduct A/B testing
A/B testing or split testing involves testing different portions of your emails separately. For example, if we were to A/B test the subject lines, we'd use different subjects in our emails and send them to pre-chosen groups of subscribers. The one with better performance would be our final choice.
The same goes for pre-headers, email bodies, CTAs, links, email templates, etc. You can A/B test basically each component of your email. Make sure that your testing options differ from one another substantially.
Through A/B testing, you'll find out what will work before targeting a wider audience. It's part of experimentation. The chosen tactics can then be included in your email marketing strategy.
7. Run several marketing campaigns for testing and turn successful ones into automated emails
Marketing campaigns themselves are basically tests that marketers conduct on a regular basis. Best emails are turned into marketing automation. For example, the brand's go-to welcome email that is sent automatically was once a marketing campaign that performed well.
Email automation might sound like a task for developers, but most modern email marketing services or even email marketing tools offer that option right off the bat.
8. Create a detailed roadmap
The roadmap of email marketing campaigns is probably one of the most important components of your strategy. It should be based on the segments of your audience, buyer personas or ICPs, and user life cycle journey. It should also detail the responsibilities of each involved team: be it copywriters, marketers, or designers.
You should carefully plan which emails go first. A weekly newsletter can't be sent before a welcome or onboarding email. So, make sure you include detailed descriptions and schedules of each marketing campaign in your strategy.
9. Track your results and make adjustments
The success of the email marketing strategy is determined through metrics. So, you'll need the following:
Conversion rates – the percentage of your recipients who clicked the links in your emails and completed the targeted action.
Email open rates – the percentage of people who opened your emails (Note: Apple's Mail Privacy Protection affects open rates, so you might consider skipping this metric if your audience uses Apple Mail to open your emails).
Click-to-open rates (CTO) – what percentage of people who opened your email clicked the links in it.
Click-through rate (CTR) – the percentage of people who clicked the links in your emails.
Unsubscribe rates – the percentage of recipients who unsubscribed from your mailing list.
Bounce rates – the percentage of emails that failed to get delivered at all.
ROI – return on investment i.e. how much money you spent on the campaign and how much you earned as a result of it.
Email marketing best practices from Coupler.io
To gather experience-based email marketing tips, we spoke to our colleagues from Coupler.io, Inna Shevchenko, Head of Marketing, and Oleksandr Khrystiuk, Sales Development Representative. They detailed the following best practices based on findings from their effective email marketing campaigns.
The number of emails you send matters – limiting your emails to 2-4 per month is the optimal solution;
For email sequences, several senders are better than one – the variety of senders can help add a personal touch and authenticity to your emails. It can also prevent your emails from being marked as spam. Remember that you should maintain consistency in the tone and messaging of your emails. This will make them more recognizable to your audience.
CTAs should be clear and stress the value for the audience – we recommend using action-oriented language that emphasizes the benefits for the user. With this approach, you'll ask them to act while offering something in return. For example, 'Try it free for 14 days' will result in more clicks than 'Sign up now'.
Sometimes straightforward subjects are what you need – they are less spammy and reveal the content of the emails right away.
Emojis aren't always good for emails, especially in subject lines – they usually don't perform well and can even trigger spam filters.
Get straight to the point – the opening sentence of your email is your chance to indicate what the email is about and what value it can bring. So, we recommend using bullet points or headers to make the email easy to scan and digest.
Coupler.io was also kind enough to share one of their most successful email campaigns – the Black Friday Sale. They targeted churned users and users they lost after the free trial. The campaign had an open rate of 36.73% and 33% of the coupons were used as a result.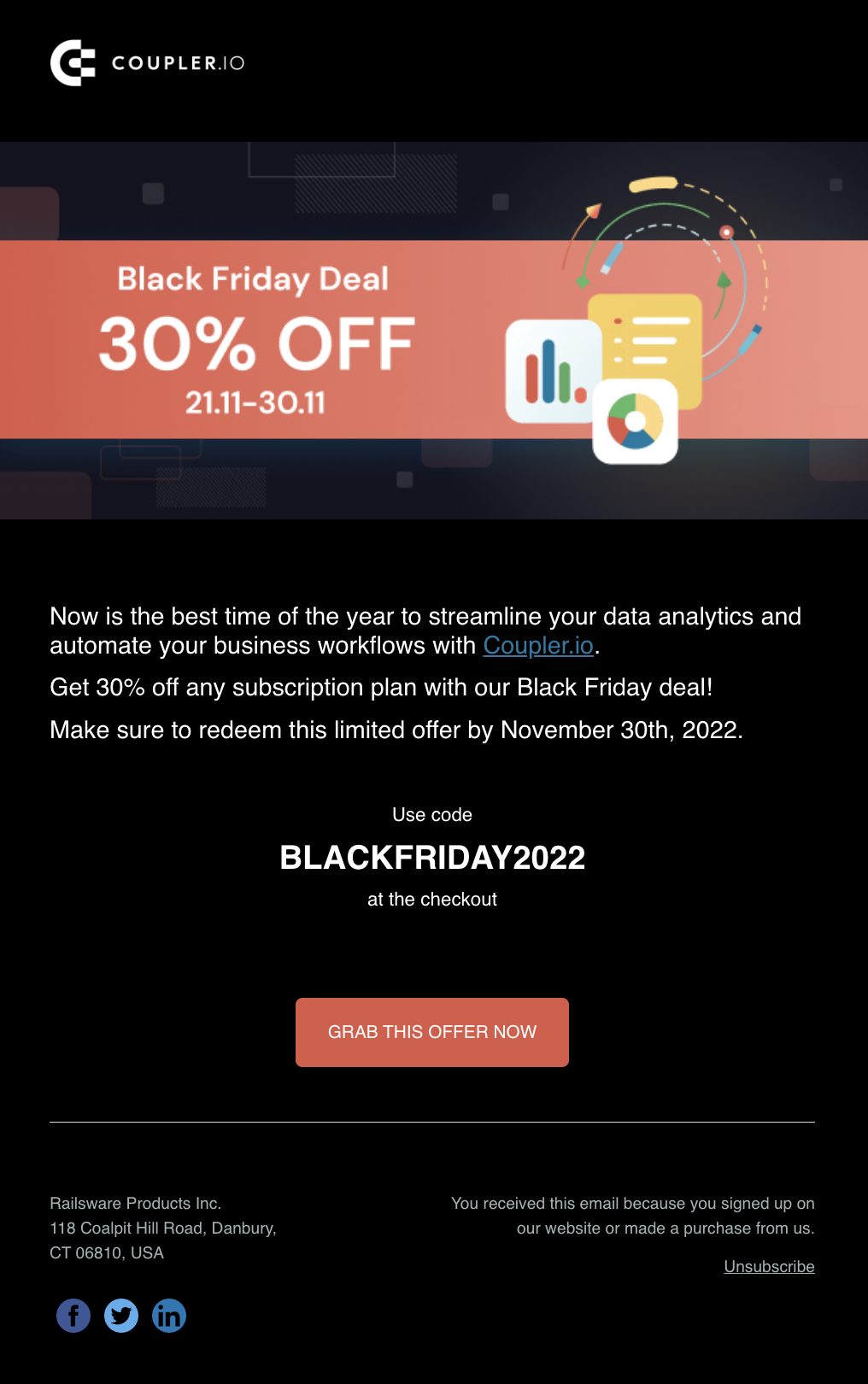 Here's why it worked:
The message was sent at the right time, a couple of days before the blasts from most of the vendors offering Black Friday discounts. Even though it was early, people were already expecting discounts. The subject line was straightforward: "Coupler.io Black Friday Offer 2022." The email used a short message with a bright and visible CTA button. The design was simple – the image supported the email copy and displayed the offer itself.
Email marketing tips to keep in mind
Personalize your emails as much as you can – at this point, you know why personalization works so just do it. This doesn't mean that you should insert the name of each recipient manually. Reputable email service providers (ESPs) or sending solutions will take care of that task for you.
But make sure you do it right. This is how you SHOULD NOT personalize your emails:

That brings us to our next point. Always test your email campaigns before sending them to your recipients. For that task, you can use a tool such as Mailtrap Email Testing – an Email Sandbox to test and debug your emails in staging environments. This will help you validate HTML/CSS, check the spam score, and preview your emails with desktop, tablet, and mobile device views. And yes, you'll also verify if all the placeholders are substituted with real values.
Once that's done, keep track of changes in privacy and general policies. GDPR and CAN-SPAM are the least you should keep in mind. It won't matter that you're sending great emails if you don't have unsubscribe buttons. Similarly, your campaigns won't be successful if your mailing list is illegitimate.
Finally, combine your email marketing strategy with your digital marketing efforts. That way, it will be easier for you to achieve consistency across all of the marketing channels.
Thanks for reading!