Type in the query 'which factors affect deliverability,' and you'll be flooded with different factors and approaches. But no matter which guide you open, email sender reputation will certainly be listed as one of the options.
This blog post will explain all the details surrounding sender reputation. This content will be valuable for developers and marketers alike.
We'll mention technical concepts such as email infrastructure, authentication protocols, IPs, and domains. We'll also provide tips for aligning your marketing strategy with sender reputation best practices. Let's dive in. 
What is email sender reputation?
Email sender reputation is a combination of IP reputation and domain reputation. Let's discuss them separately.
IP Reputation
Each email service provider (ESP) offers a set of IPs they use to send emails. The majority of them are shared between thousands of accounts. But purchasing dedicated IPs is also an option. The latter is much more costly, so most senders rely on a shared IP.
Each address has a reputation on the internet that tells mail servers if they should trust emails from that source. And the servers take it seriously. The majority of failed deliveries are the result of poor reputation.
And this reputation doesn't appear out of nowhere. It's also not something you can build overnight. A good reputation takes years to build, yet it can be ruined with a single failed email campaign.
Domain Reputation
Domain reputation is also closely related to your sender reputation.
Using a battle-tested IP from one of the best ESPs or mailbox providers won't help much if your sending domain is known in the network for mailing unsolicited messages.
Similarly, having a great sending history behind your domain name won't guarantee excellent results if the IP you use has a poor reputation. This is relevant, for example, to free Gmail, Outlook, or Yahoo! accounts that are commonly used for sending spam. If you're sending a high volume of emails, you want to use more sophisticated solutions.
Which factors affect sender reputation?
Here are some key metrics that impact your email reputation:
Spam complaints – the number of recipients that hit 'Report as Spam' on your marketing emails. The more frequent such behavior is, the worse your email spam reputation will be.
Spam traps – accounts set up by Internet Service Providers (ISPs). They look just like any other email account. However, sending an email to one is likely to get you on one of the publicly available blacklists.
Bounce rates – the number of emails that fail to get delivered. Bounces can be soft or hard. The former implies temporary email delivery problems, while the latter usually occurs when an address you're emailing doesn't exist. Read more about soft and hard bounces in another article.
Sending history – this broad term covers things like the sending volume and frequency. Spam filters pay particular attention to this factor.
Engagement – focuses on your past performance and considers click and open rates and the frequency of replies.
Unsubscribe rates – the rate with which your readers have unsubscribed in the past. Be aware that your own employees could be unsubscribing from your emails, hurting your reputation.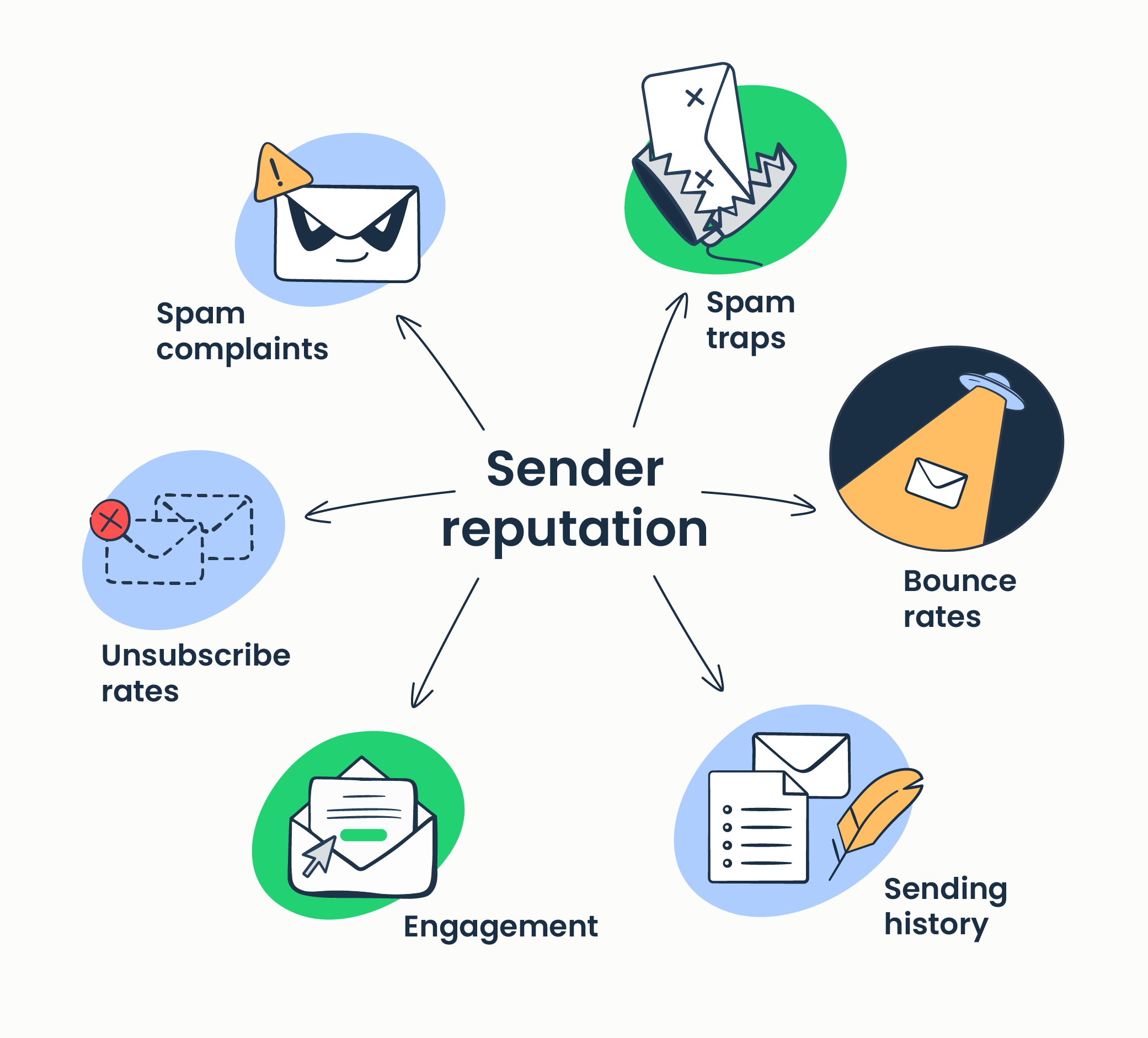 Ultimately, it all comes down to the performance of your previous campaigns. Do you have an organic mailing list with engaged recipients? Your sender reputation will most likely flourish.
Are you receiving frequent complaints and landing in the spam folder because you bought a mailing list on one of those sketchy websites? Say hello to poor sender reputation.
To check where your domain spam score stands, you can complete a quick check or conduct an in-depth email sender reputation audit.
How to check your sender reputation
The easiest way to check your sender reputation is to use dedicated online tools. Just keep in mind that each of them uses a different methodology and algorithm to determine your score. They also rely on different types and sources of data.
So you should take the results with a grain of salt. It's also a good idea to run a few of them and compare their results.
Senderscore.org is a free tool from Return Path – the folks behind many other tools for tracking and improving deliverability rates. Sender Score rates IP addresses on a scale of 1 to 100, with 100 indicating a perfect score.
You can type in your email domain or IP address right on the homepage. Then you'll be asked to provide basic information such as your first and last names, work email, monthly volume, and country.
Once you hit the 'What's my score' button, you'll see information about DNS records, SSL certificates, and the list of sending IPs with their respective sender scores.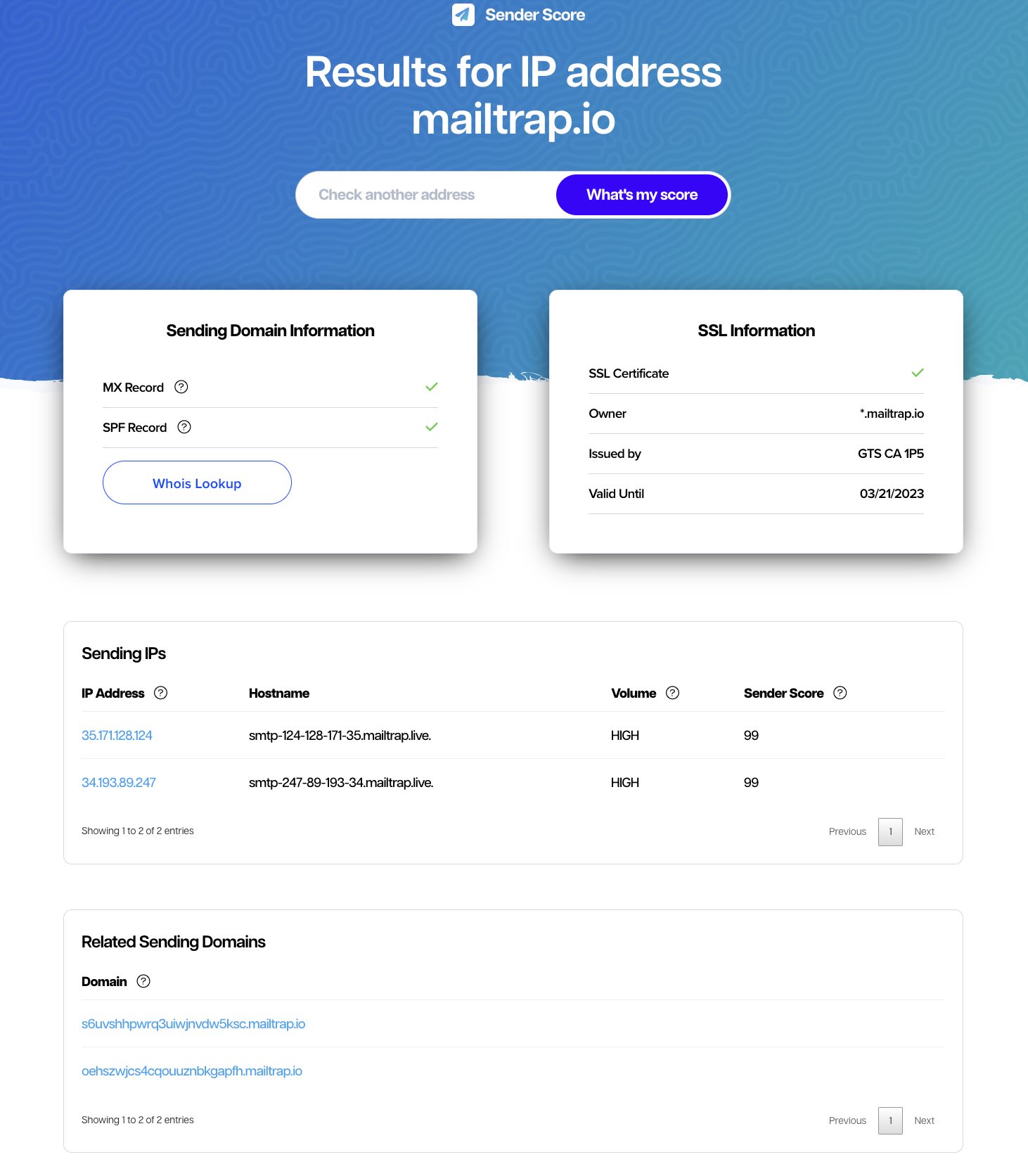 A score of 80 or more is already considered good. If you're below that level, there's certainly room for improvement. Keep in mind that you'll notice a drop in your delivery rates even if your score reduces slightly.
Another free tool for assessing your domain and IP reputation score in real-time is Talos Intelligence from Cisco. For simplicity reasons, your reputation will be represented with one of three scores: Good, Neutral, or Poor.
'Good' indicates that the harmful behavior associated with this address is negligible at most. 'Neutral' means that you are still on a reasonable level but some messages may be filtered out. 'Poor' represents poor deliverability and probable issues with inbox placement.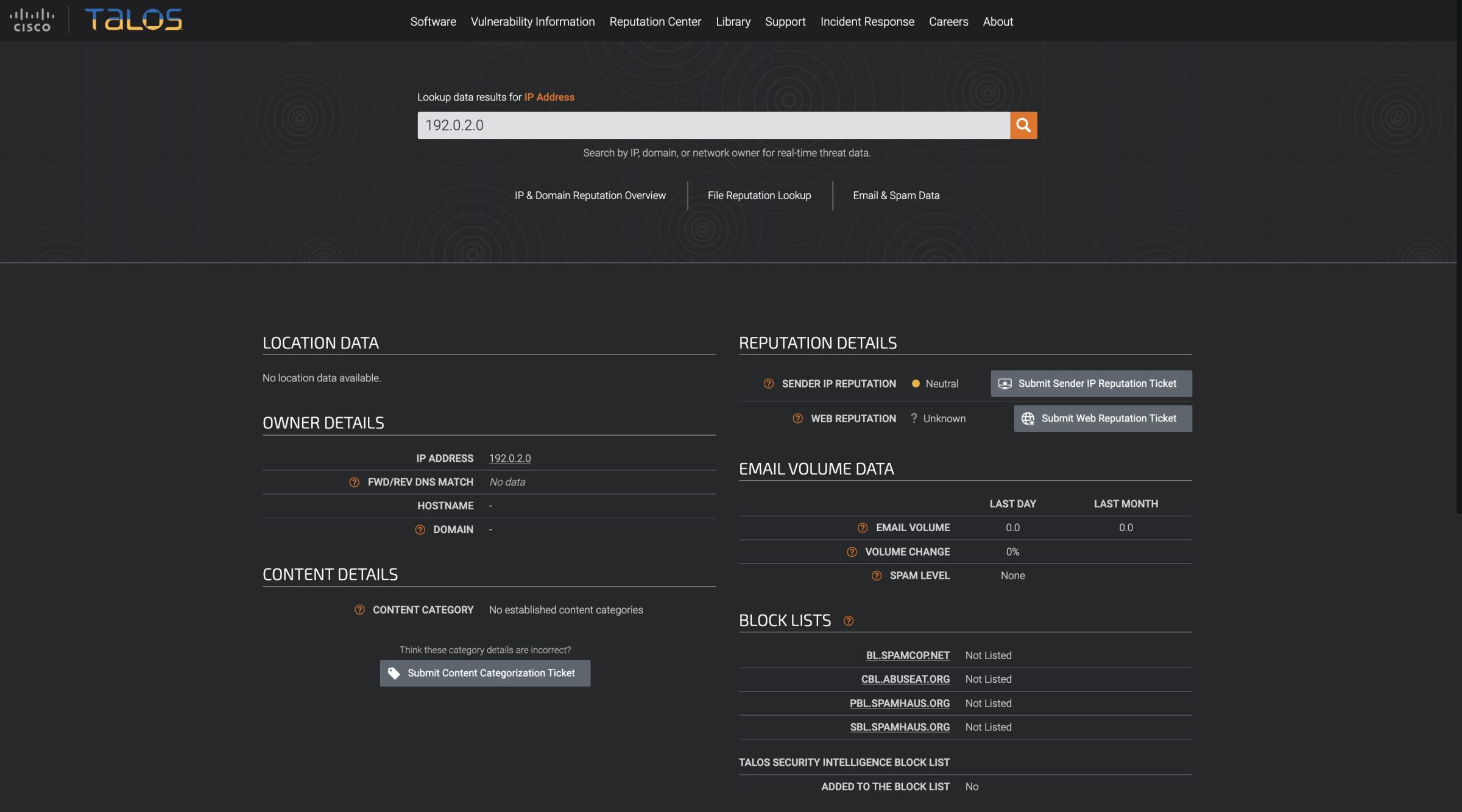 On top of that, the tool gives insights into the spam level associated with your IP address, its presence on blacklists, and its email volume.
Note: If you're mainly using subdomains to send emails, typing in the domain name may return limited results. Try searching for each subdomain to get more information.
Google also has an enormous amount of data about email deliverability which they share through Postmaster Tools. It's a great tool to understand how Google will treat your sending domain when your email knocks on its virtual door.
To use Postmaster Tools, you'll need to have a high sending volume. You'll also need to add custom records to your DNS to get started. Once that's done, you'll be able to see how your IP and domain reputations fluctuate on a 4-level scale (bad, low, medium/fair, high).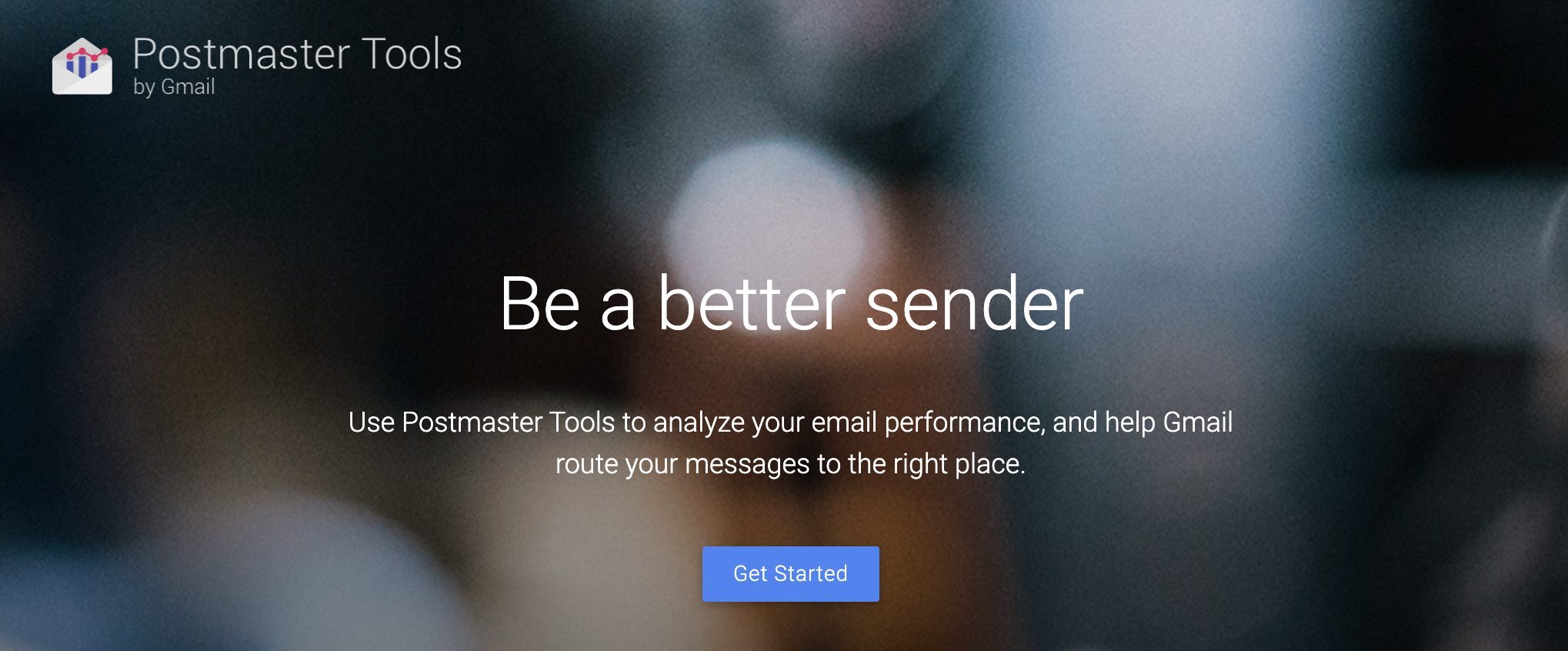 Google will also let you know how you're doing in terms of authentication, spam reports, delivery errors, and encryption.
Send Forensics is a more robust solution compared to the tools we listed above. It's a paid tool that comes with a 14-day free trial. Send Forensics focuses on the entire concept of deliverability by allowing you to analyze content, link quality, authentication protocols, sending domain, and IP.
To assess your reputation, you need to craft an email and send it to a unique analysis address. The site will then assess different aspects of it and give you a score for each. You can also integrate your ESP to track engagement and unsubscribed.

Send Forensics can be connected with Google Postmaster and Microsoft SNDS tools.
Interested in more quick solutions? We've got a lot more covered in our article on tools for testing deliverability.
How to improve sender reputation
By now, you probably checked the ratings of your domain. If your sender reputation leaves a lot to be desired, you can improve it by following the suggestions below.
Make sure you implement the necessary changes before you send out your next transactional email or marketing campaign.
Authenticate your domain
Proper authentication protocols assure incoming servers that you are who you say you are. Or in other words – it makes it very hard for spammers or phishers to attempt anything suspicious.
The standard set of authentications includes SPF, DKIM, and the icing on the cake – DMARC. If you're having trouble delivering emails to the inboxes, taking care of authentication should be your first step.
Grow your list organically
As we mentioned earlier in the article, some of the things that can really derail your reputation are high spam complaint rates, high bounce rates, spam traps, unsubscribe rates, and low open rates. Nearly all of these can be avoided if your mailing list is grown in a healthy way.
This means always relying on double opt-in (asking each subscriber to confirm their subscription).
This also means communicating clearly that you're adding someone to your email list. And no, sneaking a tiny marked checkbox doesn't count. You should always look for an informed decision instead of luring people into your lists.
You can't force anyone to read content they aren't interested in. In the best-case scenario, they will hit that unsubscribe button. At worst, they will slap you with a spam complaint.
And clean it on a regular basis
Assuming you followed the tips above, your mailing list should be in good shape. But it won't hurt to do some extra gardening.
Some email accounts, especially business ones, get deactivated at some point. Often it's because someone has moved on to a new role or left the company and abandoned their account. Unsubscribing from your list was probably the last thing on their mind while packing up their stuff.
Your emails may be bouncing against their inbox from thereon. Whether it's a soft bounce (autoresponder) or a hard one (an account doesn't exist), your reputation gets compromised.
While some ESPs will automatically remove hard-bounced addresses, you should still double-check and remove them manually if needed.
The same goes for the recipients that never open your emails. You probably have plenty of people who joined the list voluntarily but lost interest in your email content at some point.
Chances are your emails are headed straight to the spam folder. You'll learn how to prevent that from happening here.
Sometimes emails are delivered to the inboxes but drown in the flood of other newsletters and promotions.
In that case, the solution is to separate inactive contacts from the main subscriber group and stop sending them your typical emails.
Instead, craft a nice "break-up email" or its softer version – a re-engagement campaign. Try to regain their interest in your content with a couple of emails. If none of these work, you're really better off removing this contact from your mailing list.
Work on improving engagement
Opens, clicks, and replies also matter a lot. Modern email clients learn from users' behavior. If they see that they never open emails from certain senders, they're less and less likely to route them into their inbox. This makes for a better user experience but can be harmful to companies with low engagement.
How to make it better? Assuming you grew your list organically, the only thing left is to rethink the content in your email marketing campaigns.
Test different subject lines. Make them intriguing so that people would want to open your emails to see what's up. At the same time, steer clear from spammy words such as "Free", "90% off" or "Discount". Use a pre-header to motivate recipients to open your emails.
Try different email schedules. Don't send too many and be regular. If you commit to sending a weekly newsletter, do it every week at the same time if possible. And better yet – let your readers choose the schedule they like the most. They will be less likely to leave if they have full control over what they receive and how often.
Don't forget about the email content itself. Design it well, keep it concise, and make 'call to actions' work for you. Test what works for your audience over and over again.
A robust email infrastructure is a way to go
The foundation for a good sender reputation is a robust email infrastructure. All of the abovementioned efforts will be pointless unless you're using a reputable ESP or a sending solution.
Mailtrap is an Emal Delivery Platform that covers all your email-related needs in one place. You can test your emails with Mailtrap Email Testing, send them to recipients with Mailtrap Email Sending, and control the overall performance of your infrastructure.
Email Testing will help you avoid spam traps and filters with its Spam Analysis feature. You'll see the overall Spam Score based on Apache SpamAssassin and the Blacklists Report. If your IP is listed on any of those, you can immediately take action by clicking included links.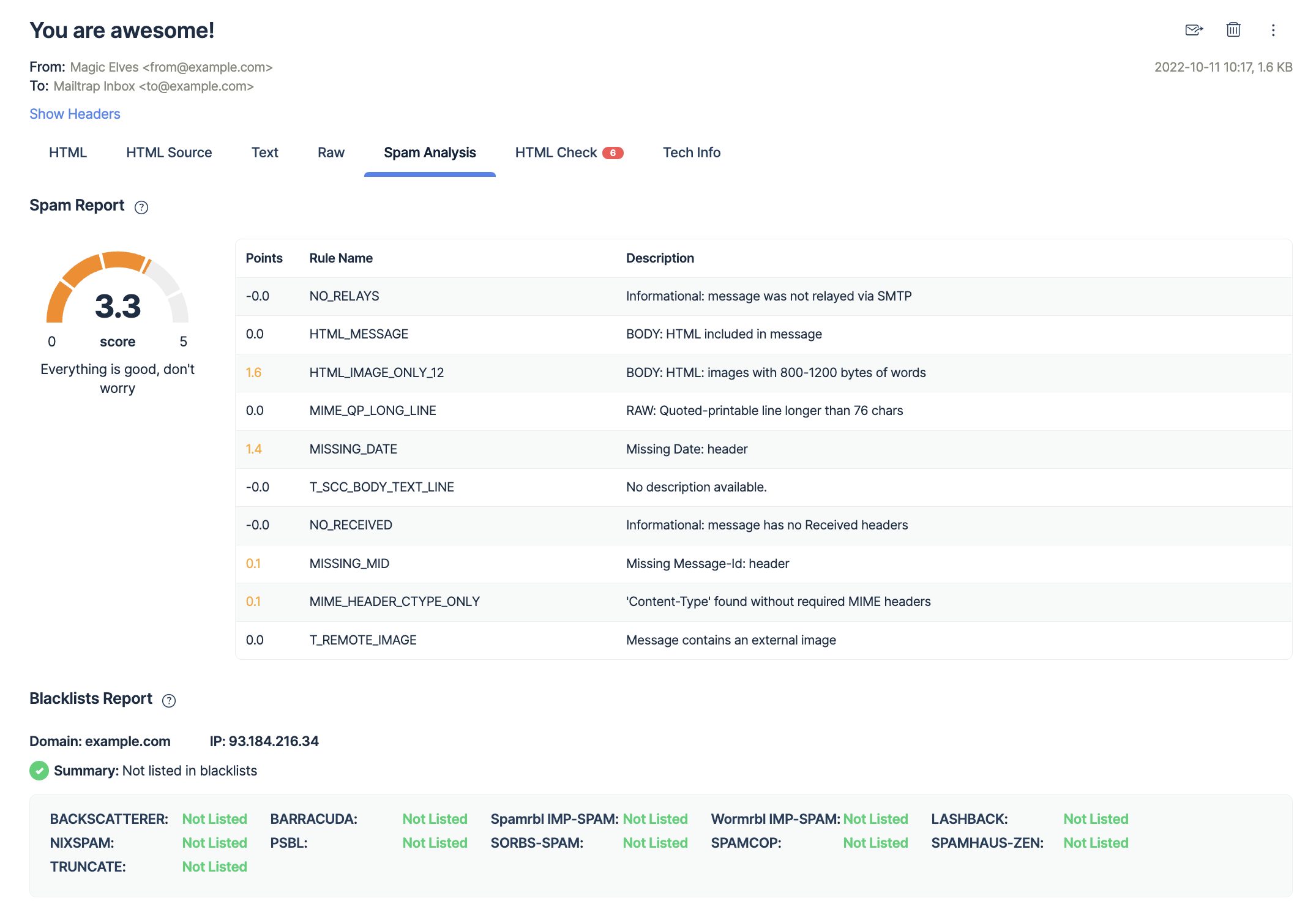 Email Sending combines both Email API and SMTP services for easy and quick integration. It provides an email infrastructure with high deliverability rates by design. To help you build a good sender reputation, we provide DNS records to authenticate your domain with SPF, DKIM, and DMARC protocols.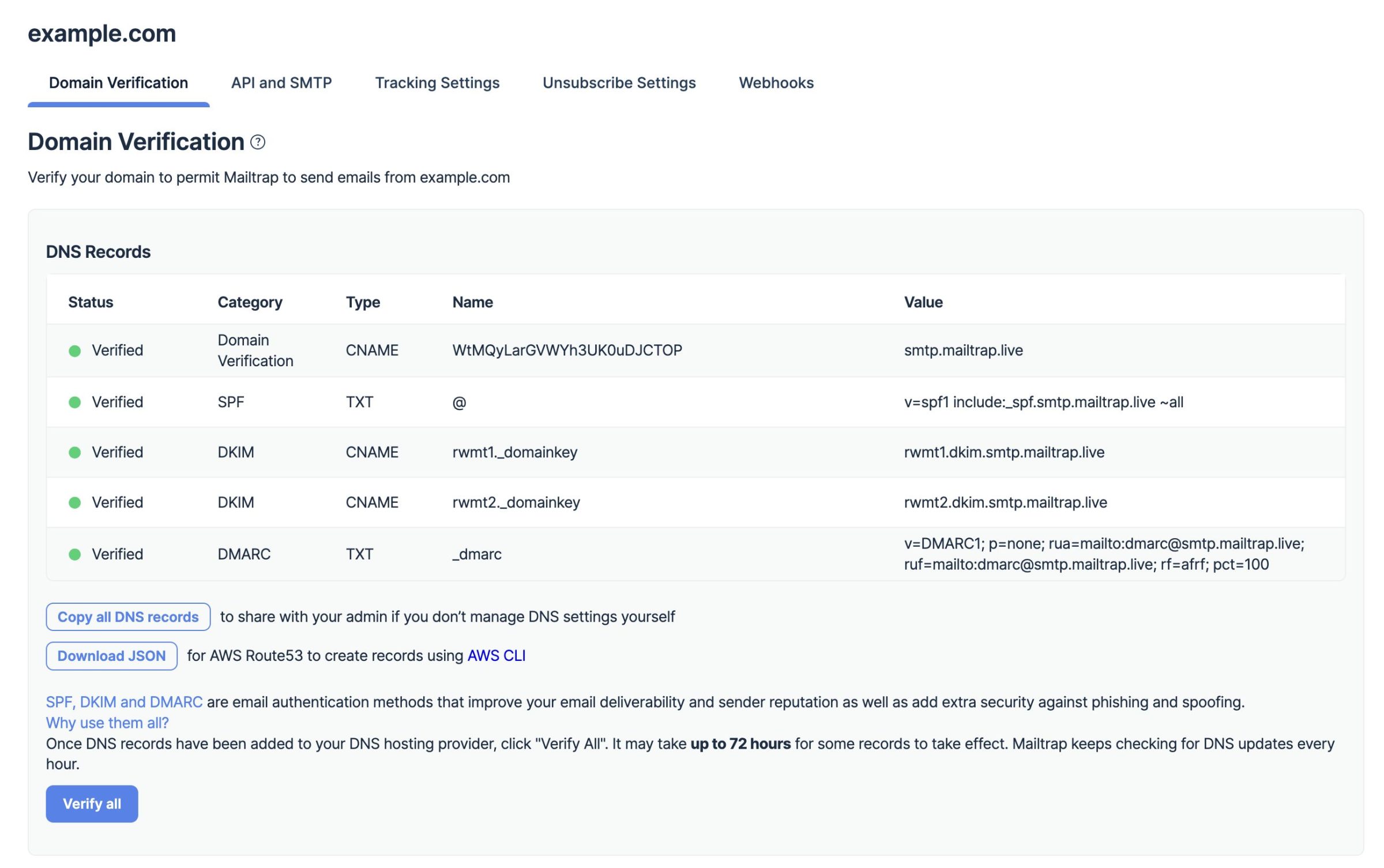 With Email Sending, you can also access actionable analytics with a helicopter view dashboard, and drill-down reports for mailbox providers and categories. That way, you can monitor the deliverability and troubleshoot unexpected sending issues if they occur.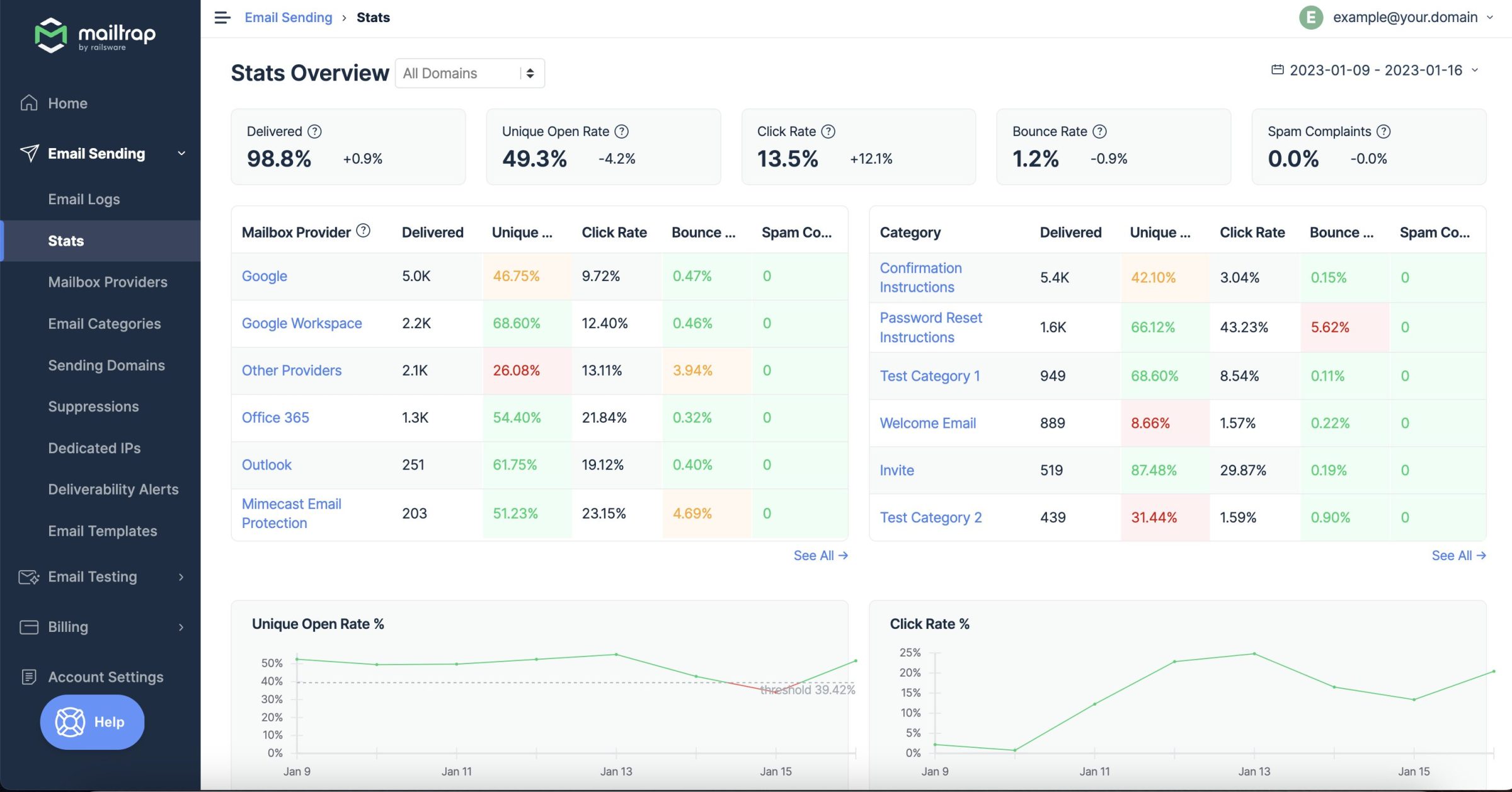 Mailtrap Email Delivery Platform will help you keep your sender reputation in check.