Email marketing is a carefully mapped out and timed endeavor, at least for those who use it to achieve marketing goals in the most optimal way.
That being said, keeping track of all your email marketing campaigns and the tasks related to them can become overwhelming, especially when urgent campaigns unexpectedly creep their way onto your agenda.
So, what is a marketer to do to prevent this feeling of being overwhelmed and having their email marketing strategy properly visualized? The answer is, utilize an email marketing calendar!
In this article, we'll cover all the ins and outs of email marketing calendars, detailing their creation process, as well as the tools, templates, and best practices.
Let's dig in, shall we?
What is an email marketing calendar?
An email marketing calendar, in essence, is nothing more than a schedule outlining when marketing messages are to be sent. But, when it comes to most modern email marketing calendars, tasks, details, attachments, and even copies related to the messages are also included.
Think content calendar or editorial calendar, just in this case, used strictly for planning emails.
By using email marketing calendars for your email content marketing strategy, you enable proper planning and resource distribution, the timely delivery of relevant messages, real-time campaign tracking, and more, depending on how advanced/detailed your calendar is.
And who is to use this calendar, you may ask? Well, for starters, your email marketing team. Then, access to the calendar should also be given to other teams that send the occasional email, such as the social media team, product team, content team, and so on.
This way, everyone that needs to be in the loop of who is sending what and when can have a clear overview of your email marketing schedule, thus allowing for proper coordination in your email sending.
Of course, higher-ups who want to see the marketing team's performance should also be able to access the calendar, but that really depends on how evaluations are done within your company.
The top benefits of email marketing calendars
Beyond the few mentioned top-level benefits, email marketing calendars come with other advantages worth mentioning, which include:
Never forgetting to send out communication on a holiday or important date
Being able to easily update your schedule to fit new opportunities
Having a firmer grasp on your goals
Allocating responsibilities clearly
Lowering the chances of a team burnout
Having enough time for each campaign
Maintaining consistency in communication
Pretty impressive if you ask us!
How to create an email marketing calendar?
After all this theoretical stuff, we hope you're ready to get your hands "dirty" and start building your email marketing calendar.
The whole process shouldn't be too challenging and usually consists of the following steps:
Pick the software to host the calendar
When it comes to deciding on the software that will host your email marketing calendar, you have the freedom to go a very simple or a very complex route. In other words, you can choose to create the calendar in spreadsheet software like Excel and Google Sheets or some project management or email marketing software with a built-in calendar tool.
We'll talk more about tools a bit further down in this article!
Decide what each calendar entry will consist of
For your calendar to be truly helpful, it has to be detailed and informative, meaning each calendar entry will have to include details such as:
campaign name
campaign goal
email type (email newsletter, promotional email, educational email, etc.)
target audience
send date
send time
person responsible
status
subject line
content and assets location link
You are, of course, free to include more details or exclude some of the listed, all depending on your team's needs.
Integrate your calendar with the necessary software
Whether you'll be able to complete this step or not will depend on the software you pick to host your email marketing calendar, as some software solutions come with more integrations than others.
For example, those of you that create your calendar in Google Sheets can integrate it with:
AppSheet – a no-code platform for creating mobile and web applications using Google Sheets. With it, you can create a custom calendar view of your data in Google Sheets and add interactive features like drag-and-drop scheduling.
Calendar Builder – a Google Sheets add-on for creating custom calendars and scheduling events directly within your spreadsheet. In it, you receive a range of customizable templates and the option to import events from Google Calendar or other sources.
Awesome Table – a Google Sheets add-on for creating dynamic tables, charts, and calendars from your data. Using it, you can create a custom calendar view of your data within Google Sheets and even add filters and a search functionality.
Provide access to the calendar
We already talked about this earlier in the article, so we won't go into much more detail now. But as the last step in your calendar-creation process, you'll simply need to make the calendar accessible to appropriate team members, other teams, partners, and higher-ups.
Email marketing calendar examples and templates
Starting from scratch is the way to go when you're creating something super original. But let's face it; calendars are not something you're going to pour your originality juices into.
Instead, what you'll want to do is follow some examples or base your calendar on an existing calendar or schedule template.
Below, we'll show two email marketing calendar examples – a detailed and a simplified version – as well as link to some downloadable templates popular in the email marketing community.
Email marketing calendar examples
Our first example is a calendar intended for digital marketing teams who like to have quite precise plans and thus includes details for everything from the campaign name and goal to the email subject line.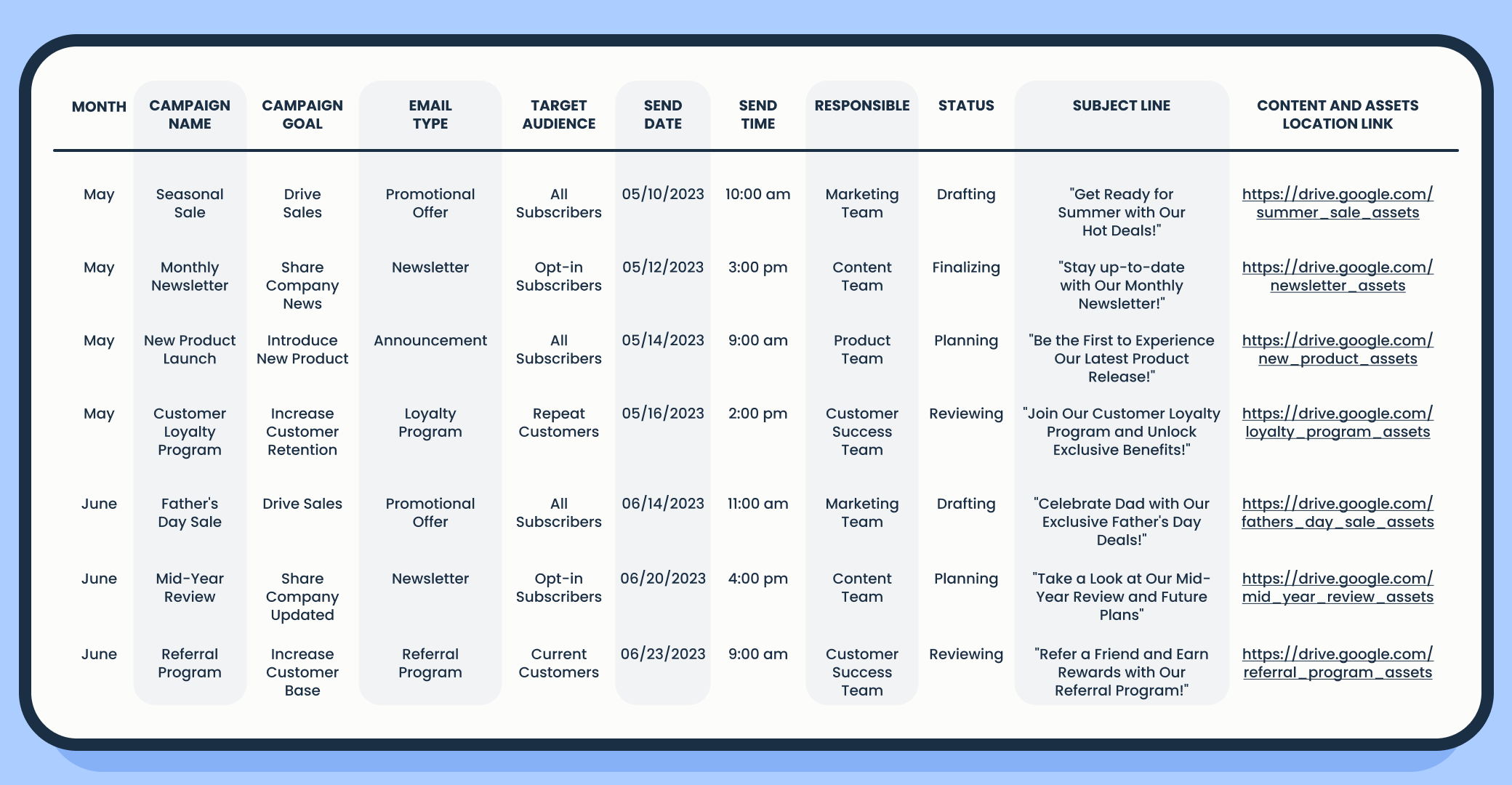 Our second email calendar example, on the other hand, is somewhat simplified and can be used by teams who don't want detailed plans but rather ones that are general yet understandable.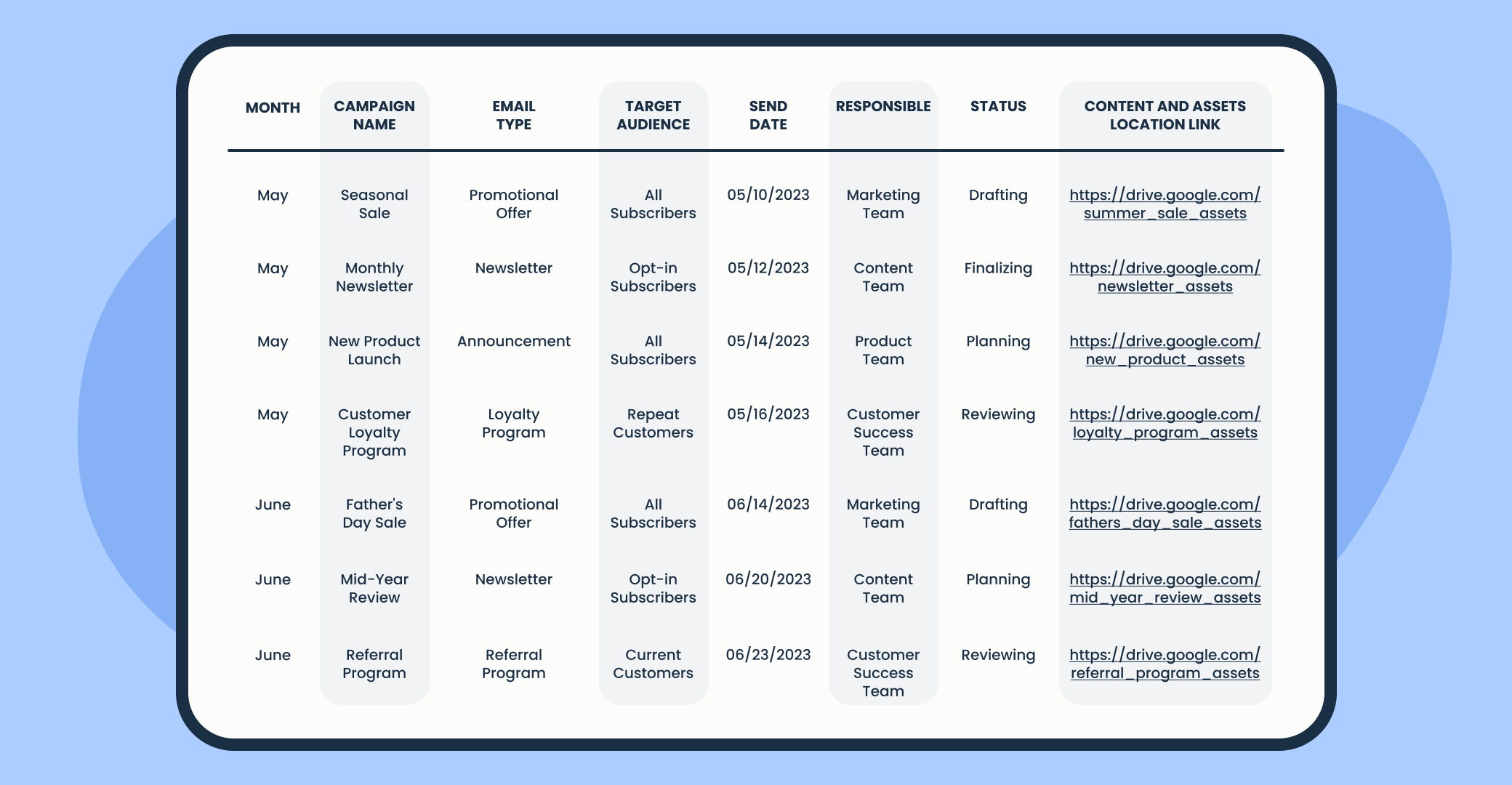 Email marketing calendar templates
HubSpot
HubSpot's email marketing planning template is a template of an advanced kind that can be used for email planning and results tracking. With it, you can organize which emails you send to each segment of your database, remember what A/B tests you're conducting, and summarize high-level results.
What's more, as the template is customizable, you can change it to fit the needs of your organization.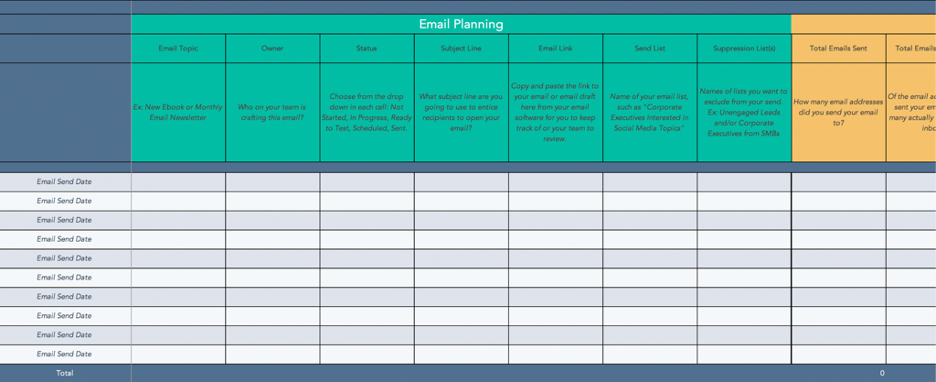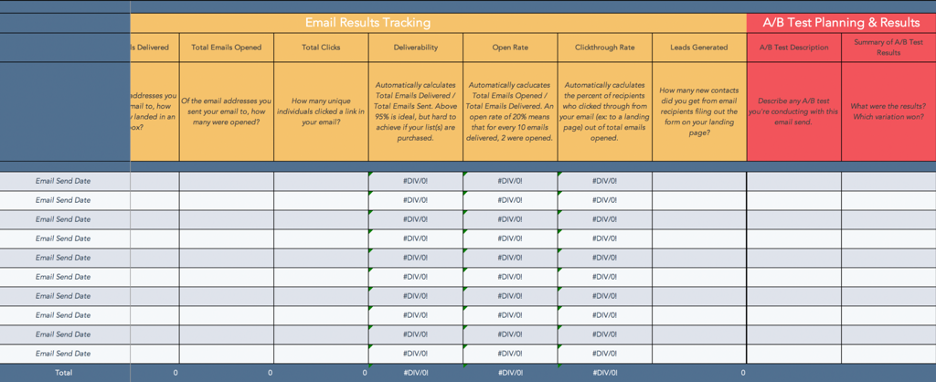 AWeber
If HubSpot made the calendar a bit too complicated for you, then AWeber has a simpler one to offer.
The calendar comes with columns for send date, send time, type of email, audience, email content, and subject line. Basically, all the essentials you need to schedule campaigns and stay organized and consistent in your marketing efforts, as well as on track to achieve your marketing goals.

Smartsheet
Smartsheet's email marketing calendar, just like AWeber's, is quite simple.
According to Smartsheet, the calendar template can be used for manual and automated marketing email campaigns, with its most notable benefit being easier email, campaign, and product tracking through details such as date sent, topic, title, subject line, content, images, links, subscriptions, and notes.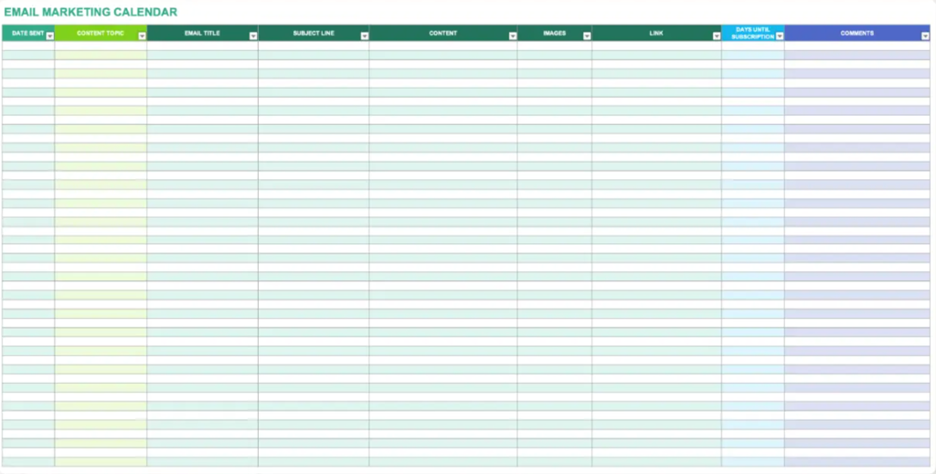 Email marketing calendar tools
Creating a calendar from scratch or using a template are both great methods. Still, it should be noted that these (in most cases) don't give a result that is very advanced or that can be easily integrated with email automation tools, cloud storage services, and other marketing software used by email marketers.
As a solution to this "issue", you can choose to create your calendar using a tool, with some of the very popular ones being:
Google Calendar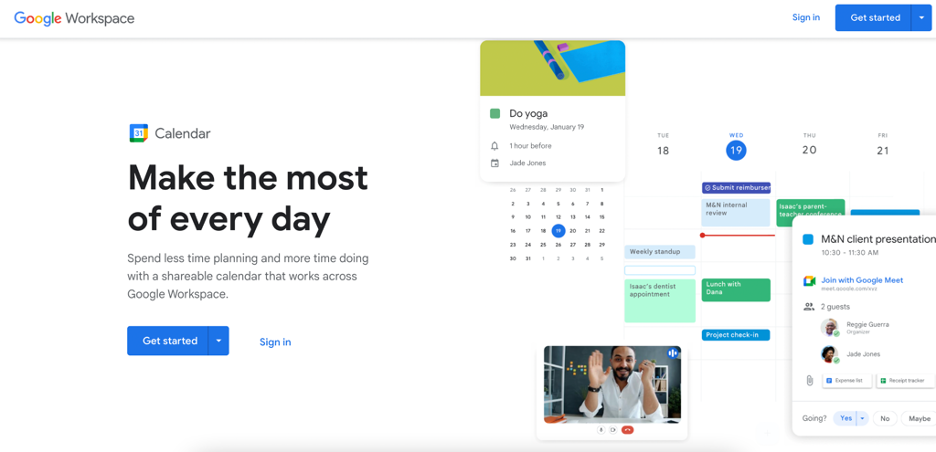 This free tool is a shareable calendar that functions across Google Workspace.
The calendar can be populated with tasks, as well as appointments and events, and can be accessed through a web browser or a mobile app.
Integration-wise, it is compatible with all Google products, including Google Drive and Gmail.
Of course, other integrations are available as well, most importantly those with third-party email marketing and scheduling tools.
Other cool Google Calendar features worth mentioning include:
Time zone support
Multi-calendar view
Keyword event search
To use Google Calendar as a proper email marketing calendar creation tool, the following steps should be taken:
Add all necessary integrations
Create a new calendar
Add email campaigns as events and include details such as the send date and time, subject line, content, etc.
Create an alert and reminder for each campaign
Give calendar access to your team
All in all, although not a tool intended strictly for creating or hosting email marketing calendars, Google Calendar can help you stay on track with your email marketing activities. It can also help keep these activities in line with anything else you schedule for your big or small business.
Hubspot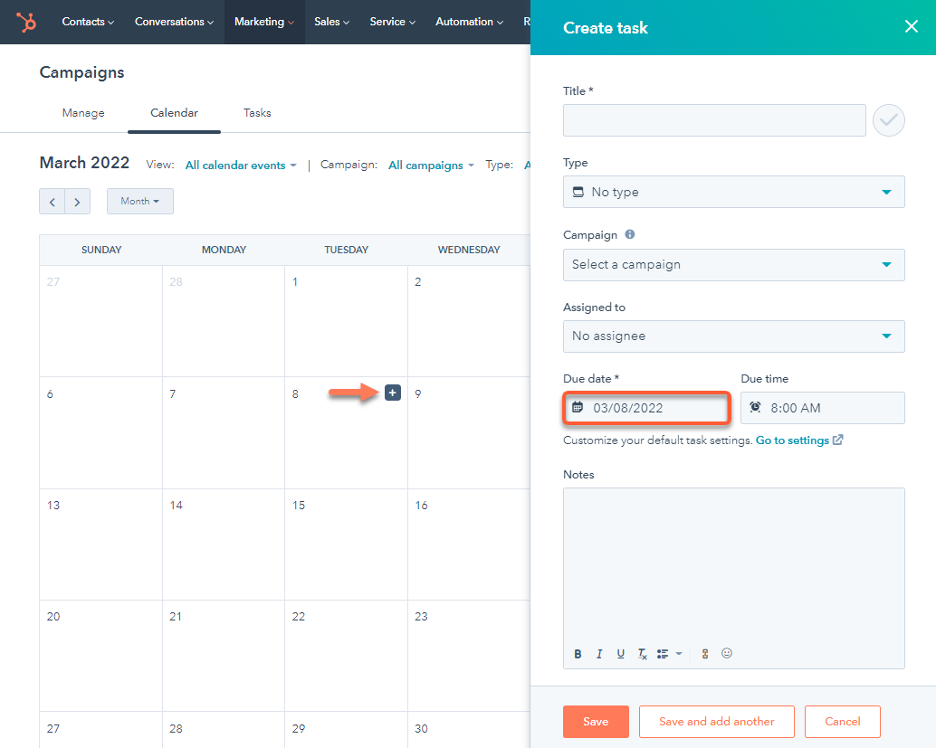 Within the CRM platform that is HubSpot, there is a marketing hub with a suite of email marketing tools which include an email marketing calendar as well.
The calendar integrates with other HubSpot tools allowing you to use CRM, marketing automation, and other software along with it.
Creating and editing email marketing campaign tasks can be done directly from the Hubspot email marketing calendar, which also allows you to:
use filters (calendar view, campaign, and event type)
create views to gain an overview of marketing events matching the filtered criteria
apply different user permissions for the calendar
Constant Contact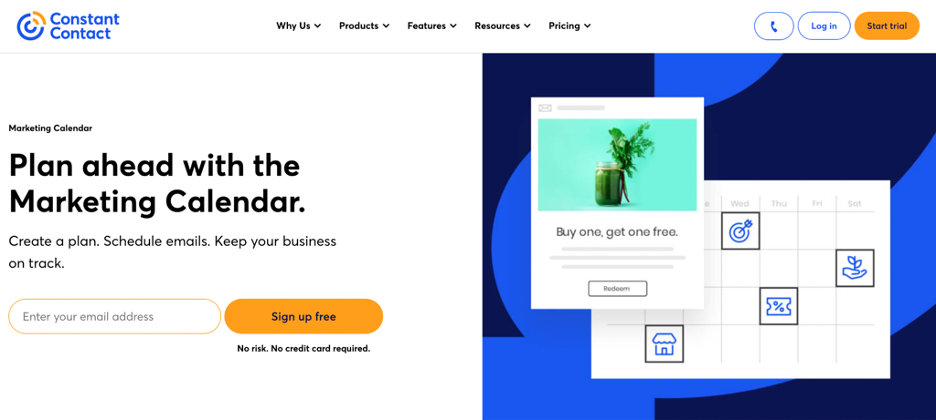 When browsing for email marketing services, you might have come across Constant Contact.
This service comes with email marketing templates, contact management software, features for tracking and reporting, as well as a marketing calendar you can use for your email marketing strategy.
With the calendar, you can create a monthly campaign view that will enable you to see which and how many emails you're sending and when.
The most notable benefits of using Constant Contact's email marketing calendar include:
pre-populated US key dates/holidays with tips on sending related email marketing messages
overview of all past, saved, and scheduled emails with a performance metrics summary (click-through rate, bounce rate, open rate, deliverability, etc.) for the ones sent
simple creation and sending or scheduling of emails by adding an email design or customizing a template
Email marketing calendar best practices
If you're confused with the title of this section, that's understandable. I mean, at the end of the day, what best practices could there be for creating or using something as simple as a calendar?
Well, surprisingly, there are a few. And when implemented, these best practices can make your calendar much more useful and effective, so let's see what they are:
Don't include all your emails on the calendar
We know that not all emails are the same, and thus not all emails should have a spot on your calendar.
Take this example, for instance:
Upon subscribing to an email list through a landing page form or other means, people usually get a thank you email. Likewise, when they unsubscribe, they receive win-back campaign emails.
As these emails are automated and sent by your email service provider once a condition has been met, they aren't something that needs to be handled by your team. In other words, there is no need to keep them on your email marketing calendar.
On the contrary, broadcast emails – messages sent to your entire email contact list or just some of its segments – do belong on the calendar and can be anything from new product launch emails and promotional emails to educational material and other types of content for marketing.
Use a template
This best practice is definitely not a "must-follow" but is very helpful in terms of consistency and ease of use.
You see, using a popular calendar template or one you created on your own every time you need to generate an email marketing calendar will:
1. Cut the time necessary to generate the calendar
2. Ensure easy interpretation by your team
3. Produce calendars that are the same in structure
4. Remove the need for the duplication of an existing calendar
Pretty beneficial, right?
Keep the calendar updated
The status column of your email marketing calendar will be crucial for knowing how each campaign is progressing and where you are at in your email marketing strategy. Thus, you should regularly update this column for each calendar entry by giving it a value of "Done", "Reviewing", "Drafting", "Planning", "Scheduled", and so on.
Reduce the number of gaps in your calendar
"Out of sight, out of mind" is a popular saying that proves to be true even in the context of email marketing.
How? Well, regardless of how high quality your product, service, or content is, staying top of mind with your eCommerce customers or online service subscribers is key.
This is done by sending out regular communication through a range of marketing channels, especially email.
If you fail to do so, you risk dealing with disengaged customers/subscribers who then need to be warmed up again or even losing them completely.
So, make sure your email marketing campaign calendar is filled with emails of all kinds, from holiday sales (Mother's Day, Valentine's Day, Black Friday, New Year, etc.) to educational messages, and make sure any gaps are no longer than two to three days.
Truly stick to your email marketing calendar
Once you have your calendar ready and regularly updated, make sure it's not there just for show.
Instead, use it daily as your guide in implementing a successful email marketing strategy. This way, you'll keep the audience interested with timely, engaging emails and streamline the content creation workflow for your email marketing team – a win-win situation all-round!
Schedule your way to marketing success
Although a calendar seems like something quite simple, in email marketing, it can be what makes or breaks your strategy as well as team productivity and efficiency.
So, pick a template or an email marketing calendar tool and create your calendar today. Both your audience and your team will reassure you as to what a smart decision it was!