Welcome emails are quite a big topic in email marketing these days. And with more and more companies competing for recipients' attention, crafting good ones for your email marketing campaigns has become crucial in standing out from the crowd and facilitating an engaging customer journey.
In this article, we'll touch upon the important role welcome emails play, the difference between them and onboarding emails, the welcome email creation process, and more. So if that's something you'd like to learn more about, then keep on reading!
What are welcome emails?
Welcome emails are welcome messages sent to new email list subscribers/customers upon signing up for an email list/email newsletter, subscribing to a service, or completing a purchase.
These types of emails are intended to give a warm welcome, setting the foundation to build a lasting relationship and setting the tone for all future email communication.
They are also a fantastic opportunity to understand your target audience and segment it in a better way.
Why are welcome emails so important?
Okay, we've established that welcome emails are useful, but why are they seen as such a big deal? Well, the easiest way to understand this is to equate welcome emails to first impressions, which we all know bear great importance.
A welcome email is very often the first interaction a subscriber or customer and a business have outside of the business's website, so if done right, a welcome email can be quite memorable, just like a great first in-person encounter.
Also, compared to other types of emails, welcome emails are extremely effective.
According to Invesp, welcome emails with an average open rate of 50% get 4 times more opens than traditional marketing emails.
They also have a 0.94% conversion rate and get 5 times more clicks as well as 320% more revenue again when compared to traditional marketing emails.
When should welcome emails be delivered?
As a general rule, the faster welcome emails get to recipients, the better. So, if possible, you should set up an automation to deliver them for you within a few minutes of someone becoming a subscriber or customer. This way, you'll show proactiveness in engaging your audience.
What's more, by being quick to send welcome emails, you also meet the expectations of email list subscribers as (again) according to Invesp, 74% of them assume that you will reach out to them shortly after they enter an email address into a signup form on a landing page or wherever else it's placed.
Are onboarding and welcome emails the same thing?
Thus far, we've established the main purpose of welcome emails – confirming a signup/purchase and giving a warm greeting. But as the content of welcome emails can overlap with the content of onboarding emails (both considered to be transactional emails), people often confuse one type for the other or see them as the same.
Also, given the fact that some companies use a combination of the two email types to introduce new subscribers or customers to their brand, it's no wonder that making a clear distinction between the two doesn't come easy.
So, let's try to do it ourselves, shall we?
Welcome emails, by definition, are more general. They typically take the form of a single, often personalized email, although a welcome email series – an email campaign consisting of more than one email – can also be encountered.
Along with what we said about them earlier, welcome emails can also be used for pointing new subscribers in the right direction by, for instance, linking to a few of the most popular articles on a blog, a getting started guide, or giving a few quickstart tips.
Onboarding emails, on the other hand, are more in-depth introductions to a product or a service and are often part of an email sequence sent out over a few weeks.
They're aimed at teaching a new customer how to use a product or a service effectively, thus improving customer retention.
Also worth noting is that, frequently, there's no standard onboarding process flow, and the onboarding emails sent out change based on choices and interactions with a product or a service.
Can an email be a combination of a welcome and onboarding email? Yes, and the one we send out at Mailtrap to new users is a perfect example.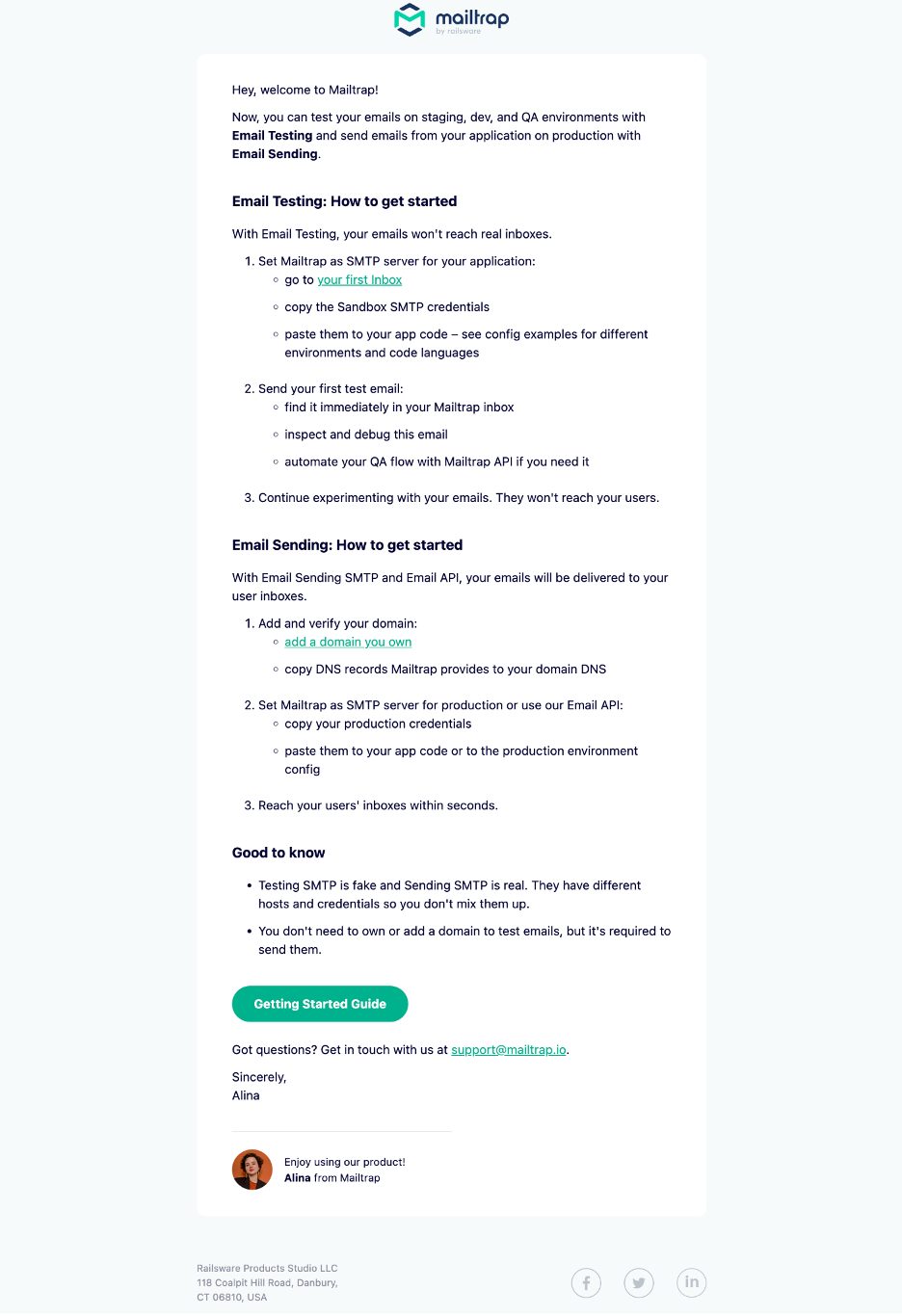 At the very top of the email is a friendly welcome, along with a short reminder of what Mailtrap Email Testing and Email Sending can do.
Then, the email proceeds to give you the steps necessary to get started with the testing and the sending solution, which is where it transitions from being a welcome email to being an onboarding one as well.
Finally, at the end of the email, we have a "Good to know" section which provides users with info and a CTA leading to the platform knowledgebase intended to stop them from making any common errors when they just start using Mailtrap.
Pretty useful, right?
How to write a great welcome email subject line?
Like all emails, those belonging to the welcome email category come with subject lines. These subject lines, although a seemingly minor element of an email, can be a determining factor in whether an email gets opened or overlooked.
So, with that in mind, how do you nail a good subject line for your welcome email? There are a few pointers to follow:
Be straightforward – There's no point in beating around the bush with subject lines. Instead, in as few words as possible, let the recipient know that what you sent is a welcome email. Some examples of what you can write for a simple subject line include "Many thanks for joining us on this journey" or "You're in, thanks!".
Mention anything you promised in exchange for signing up right away – This pointer is only for those of you that offered an incentive to people willing to give you their email addresses, and essentially just means that you should format your subject line something along the lines of "You're signed up + the ebook we promised" or "Your discount code is here".
Include the words welcome and thank you – One of the most welcoming words in the English language is, you guessed it…. "Welcome", so don't hesitate to use it in a subject line as it might make your email stand out even if it lands in the "Promotions" tab. Also, a simple "Thank you" in the subject line as a sign of your appreciation can provide a solid foundation for a fruitful subscriber-business relationship.
Reference your call-to-action (CTA) – If your email includes a clear CTA, make a reference to it in the subject line. For instance, "Getting started with X product/service" or "Things you can do with X product/service" will get many recipients interested. After all, they most likely signed up solely for the product/service in question and can use any help they can get.
Avoid using phrases like "Free", "Discount", or "X% off" – If you look through your spam folder, you'll see many spammers sending emails with the mentioned phrases in the subject line. The bad news for those spammers and others using the phrases is that spam filters are very sensitive when it comes to them and, thus, might accidentally discard perfectly legitimate emails that contain "Free", "Discount", "X% off", and so on.
Include an emoji – Believe it or not, emojis could help your emails stand out in inboxes as well as potentially boost your open and engagement rates. But before you include a bunch of emojis in your subject line, do make sure that they will be well-received by your audience and match the tone of your email.
Welcome email best practices and pro tips – content
One of the best ways of starting a promising relationship is to properly introduce yourself/your company. So, use the welcome email copy to tell a brief story of who you are and what your vision is and present your value proposition.
Also, make sure that somewhere in the copy, you show your genuine appreciation to recipients for joining your email list.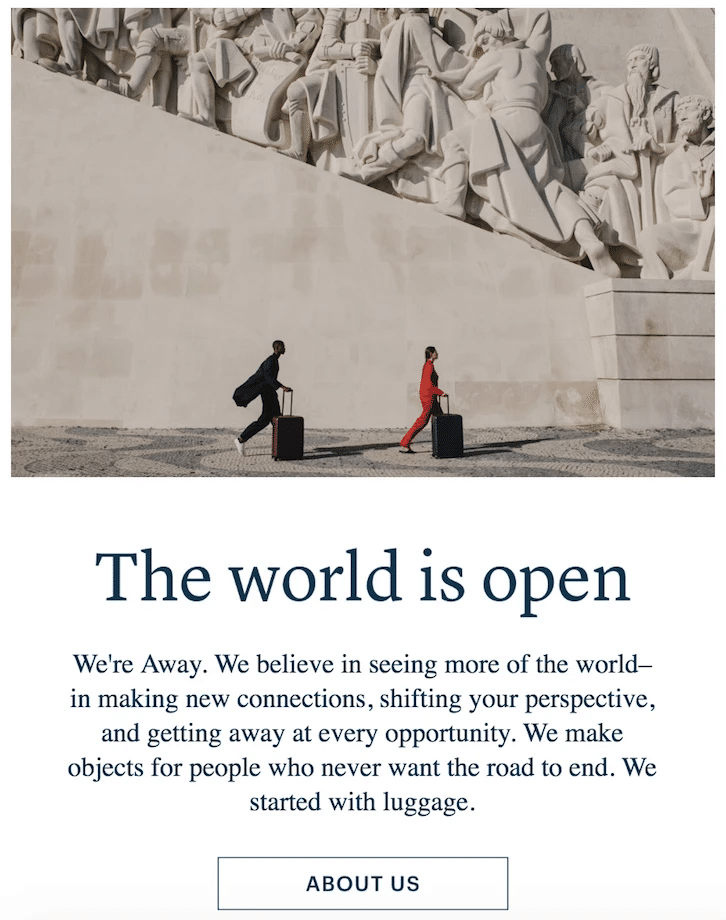 Provide clear next steps
Anyone who sends a welcome email most likely wants the recipients to take a specific action(s) upon reading it, so it's crucial to make it very clear what this action(s) is and how one should go about it.
Let's say you're introducing a platform in your welcome email. In that case, don't overwhelm recipients with too many options, such as 15 links to different platform aspects they should get familiar with.
Pushing your content marketing agenda right off the bat by including a bunch of blog articles you want more traffic on is also a no-go.
Instead, simply go for a clear CTA button at the end of your email and save the rest for future emails.
Provide choices and set expectations
In any relationship, setting the right expectations on time is a must. And in email marketing, this is done by telling recipients how often you're going to reach out and for what reasons.
If you want to take things up a notch using personalization, you can also let recipients decide early on what kind of communication they want to be receiving from you by redirecting them to your preference center, just like many of the biggest players in email marketing.
Take HubSpot, for example – a CRM platform with features such as marketing automation, sales CRM, customer service, analytics, and reporting. They boast a huge number of helpful resources, and if they were to send emails containing all of those resources at once, it would be a bit too much. That's why, in each email, HubSpot include a link to their preference center, where a recipient can choose to receive only the communication they are truly interested in.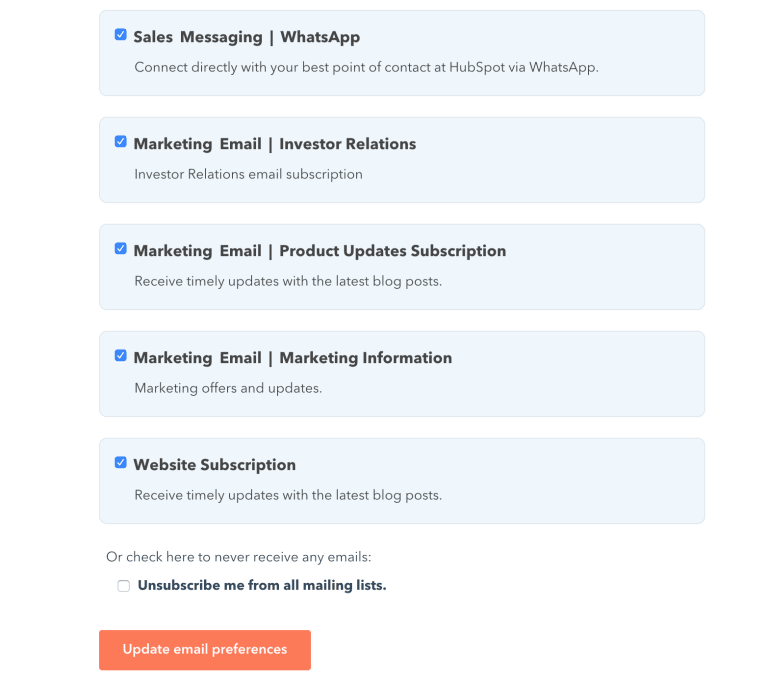 Deliver on the promise
Be it a discount code for first-time buyers, a free online resource like an ebook, or something completely different, email subscribers are frequently offered a certain perk for joining a mailing list.
If you followed this practice and promised something in return for becoming a subscriber of your email list, deliver on the promise right in the first email you send – the welcome email; otherwise, it might be hard for you to build trust between you and your subscribers later along the line.
Trigger email sending in time
According to Experian, emails sent right after a subscription happens have 88% more opens than those sent sometime later. This is largely because people are accustomed to receiving welcome emails soon after having devoted time to getting themselves familiar with a brand's story.
That being said, make sure your welcome email hits subscribers' inboxes within the expected time frame.
Make opt-outs and responses possible
There's no point in keeping someone on a mailing list against their will.
No, it's not the best feeling seeing that someone collected a benefit or special offer included in your welcome email and now has zero interest in receiving your email content. But forcing them to stay a subscriber might do more harm than good as it might lead to you being labeled as a spammer.
So, let bad leads go by making it very easy to unsubscribe. Not only will this save you from spam reports, but it will also leave room for the unsubscribers to potentially come back sometime in the future.
Also, ensure that responding to your welcome email as well as other emails is as easy as ABC, and by all means, avoid using a "no-reply" email address as it won't make a very good first impression and might clash with the data protection regulations in certain countries.
Test what works best
Every audience is different, so, as always, we recommend using testing to see what works best for yours.
At Mailtrap, like most companies, we have our own approach to testing, and this is what it entails:
We take X number of recipients from our target audience, then divide them into two segments, with each segment receiving a different version of our email. The difference between the two email versions can be in the subject line to test which will perform better in terms of open rate and/or in the email body to test which will perform better in terms of conversion rate.
It's important to note that we try to test email versions that are quite different instead of versions that share a lot of similarities, as with the latter, it's hard to pinpoint exactly why one version outperformed the other.
Once we run one round of testing, we analyze the results, make any necessary changes, and then run another round of testing with the next batch of X recipients.
Of course, our testing process includes lots of other steps and details (technical and non-technical) that we won't cover in this section as it's a topic for a separate standalone article. That being said, maybe this short description of the way we do testing can come as great inspiration for developing your own process.
Best welcome email examples
With all the theoretical stuff covered, how about we take a breather by looking at some welcome email inspiration? It might come in very handy when brainstorming ideas for your email marketing strategy!
Typeform
We start things off with an example from Typeform, which is simple but worth looking into.
Text-wise, there is very little, but the bearded cartoon guy on top makes you smile without any text needed.
On the bottom, a team photo is shown, giving a human element to a seemingly boring web form platform and its welcome email.

Groove
Unlike Typeform, Groove avoided using any high-quality visuals in its welcome email.
Groove also didn't bother with crafting a beautiful tutorial on how to use its software and embedding it. Instead, their welcome email is just a brief message from the CEO himself that seems honest and straightforward.
Still, despite its simplicity, this email seems to be doing very well, as it has a whopping 41% response rate!
The whole story of how Groove got to 41% is really interesting, and you can read about it on the Groove blog.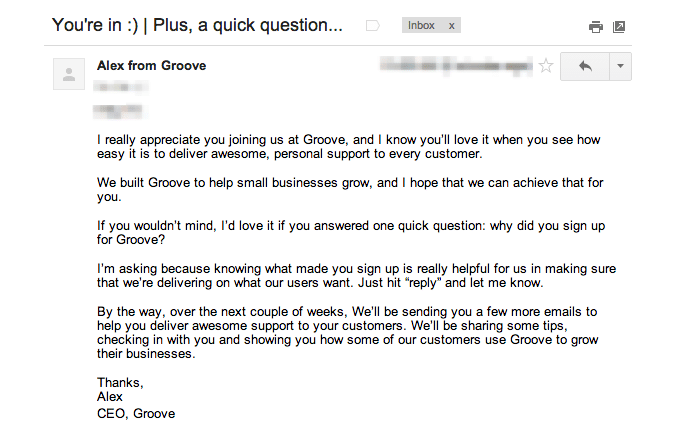 Airbnb
With a beautiful welcome email design, Airbnb quickly demonstrates what users can do on its platform and includes relevant CTAs.
The email also comes with a lot of positive emotions, contributing to the user's excitement about joining the community.


IFTTT
Another great example comes from IFTTT – a web-based service that can automate a range of tasks and activities such as social media marketing and similar.
In their welcome email, on top of creating a great visual appeal, the team behind IFTTT managed to demonstrate tons of possible use cases.
Interestingly, they also use social proof to show right away how popular some of their integrations are and top it off with a clear CTA as the icing on the cake.

Ann Taylor
Ann Taylor, a US eCommerce and brick-and-mortar store, demonstrates how to properly deliver a promised coupon in a welcome email.
The team behind the email doesn't play around with unnecessary attachments or a code hidden somewhere in the copy. Instead, once you sign up after being lured in by the promise of a discount on your first purchase, it is given to you right away.
A number of links for exploring the online store are also present in the email, making shopping easier for the recipient.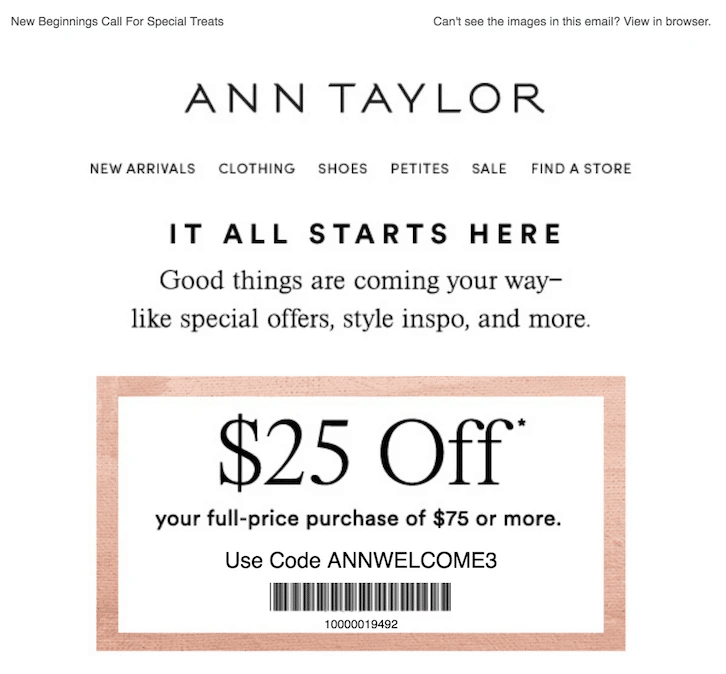 Food52
Food52 uses the welcome email as an opportunity to introduce the brand and its founders. In a short message, the team gives you a sense of what they're like, creating a positive first interaction with the brand.
Also, because of the way the email was written, the appreciation they have for the recipients also sounds more genuine than the standard "Thanks for signing up" you see in many emails.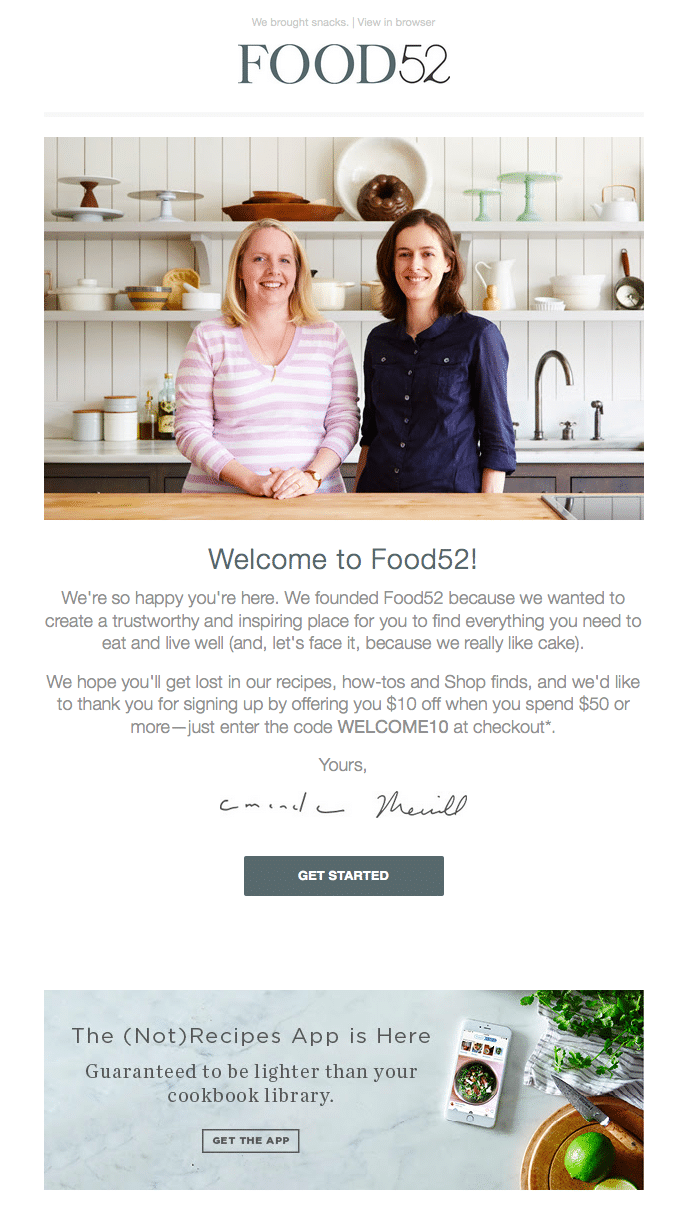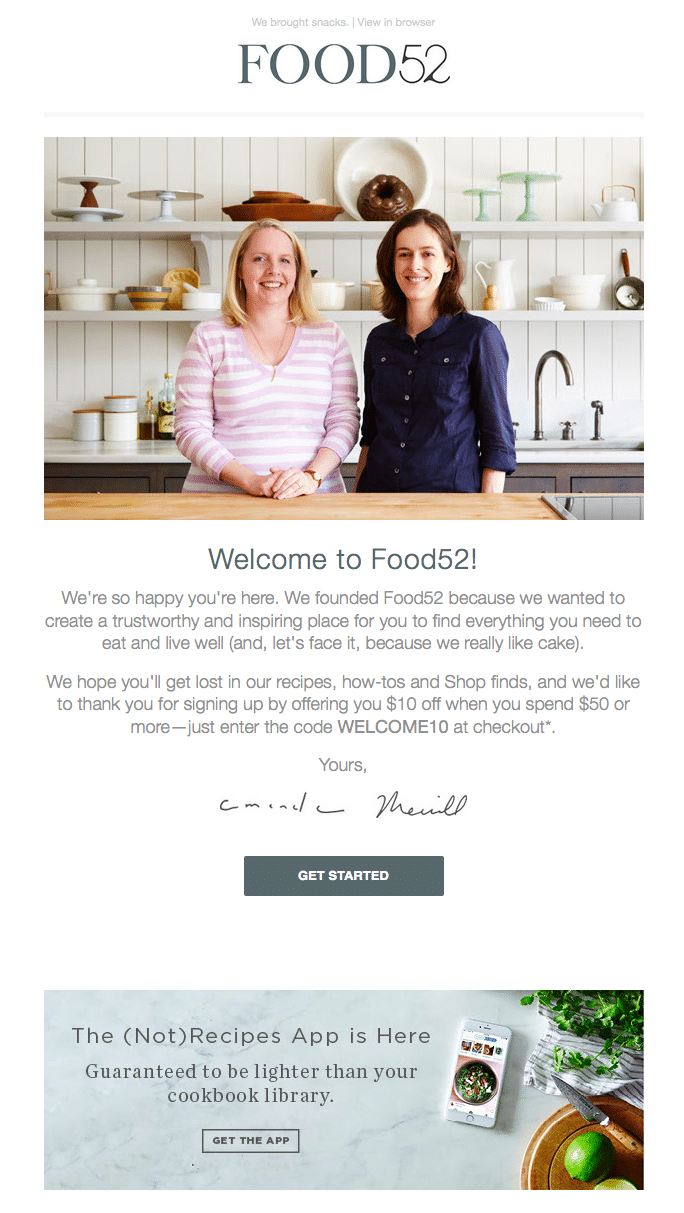 Asana
Within its welcome email, Asana greets you as a team member, giving you the impression that you're more than just another client to them.
The email is concise and shows how easy getting started with the platform is in a visually-appealing way.
Of course, you won't learn how to use the entire platform from just this email. But it does give you enough information to start off, with more to follow as you explore the platform. Several solid alternatives to Asana use welcome emails in the same manner, but it's up to you to sign up and decide which one you prefer.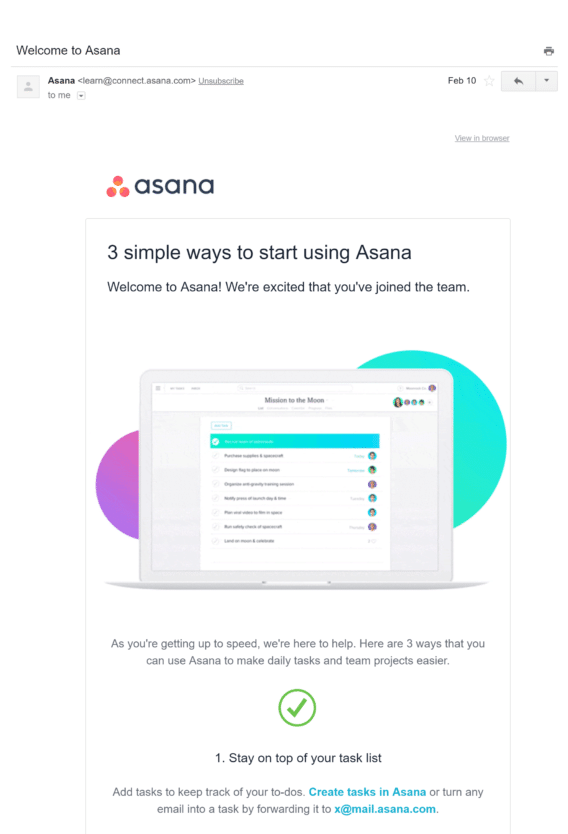 Jet.com
A welcome video is an absolutely great way to be remembered by your new users, and Marc Lore, the founder of Jet.com, knows it.
In his company's welcome email, he talks about his vision and shows his appreciation to the recipient for being a part of Jet.com's journey.
The email also comes with an interesting subject line: "Not your ordinary welcome email, [name]", which it surely isn't.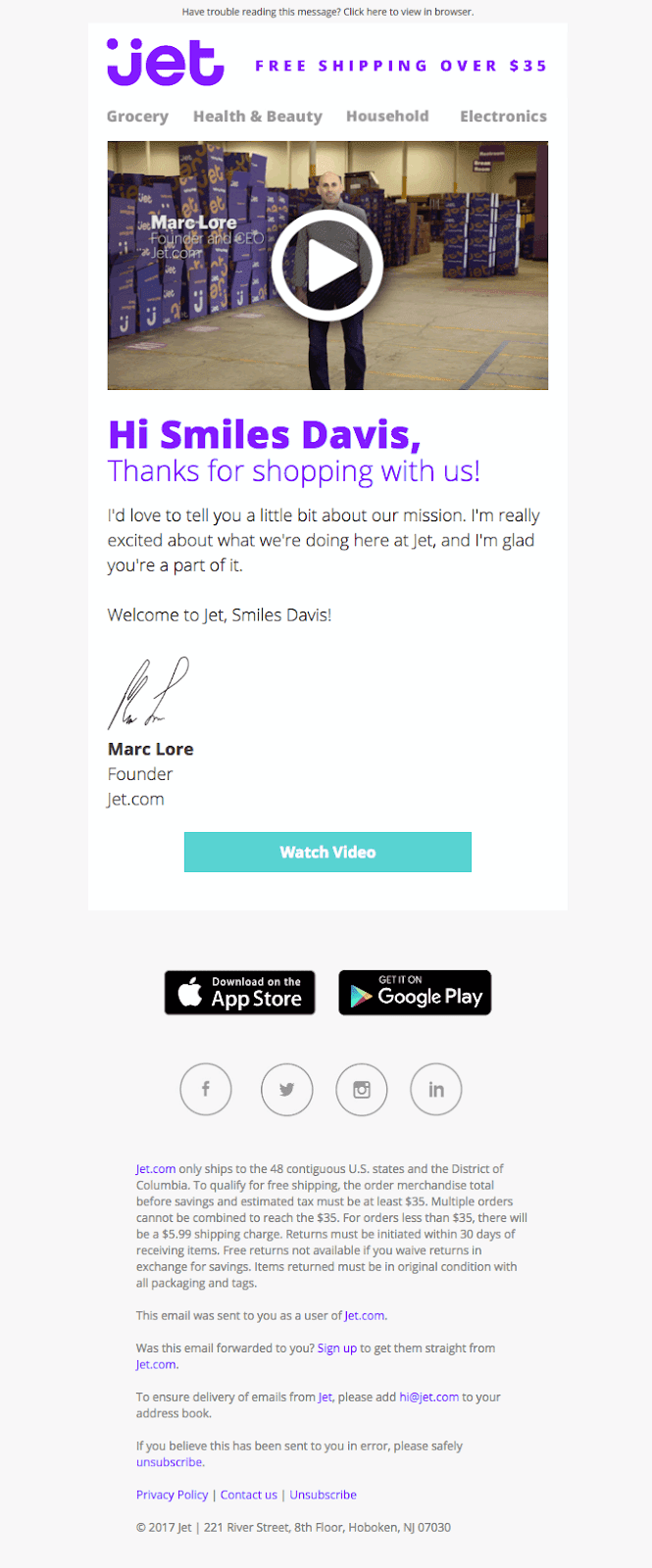 Brooklinen
An animation such as a GIF or flipbook can put a smile on the face of an email recipient. And that's exactly what Brooklinen uses in its emails, along with an enthusiastic "You're In!".
Besides that, there is nothing more to the email – no CTA screaming "shop now" or promo code, just an out-of-the-ordinary way of saying "Hi".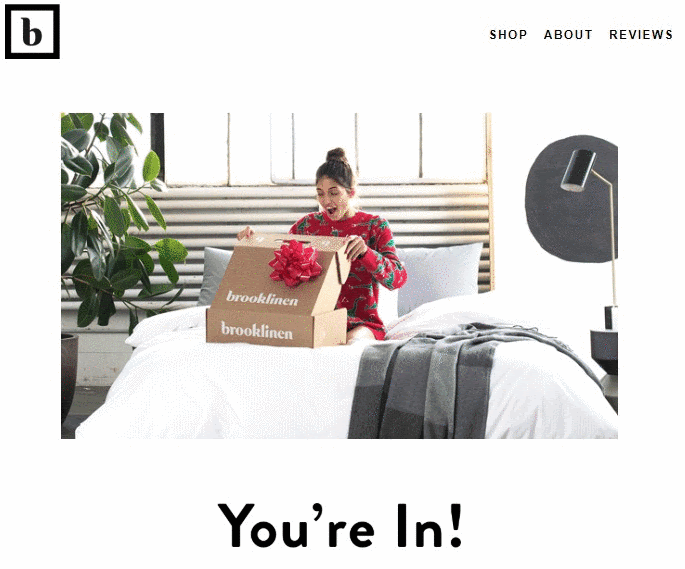 Help Scout
Lastly, we have another simple welcome email, this time from Help Scout.
The email consists of very little text with three links you're probably going to need a lot. There is also a picture of some friendly folks smiling and providing you with the assurance that they'll help you out if you ever encounter any issues.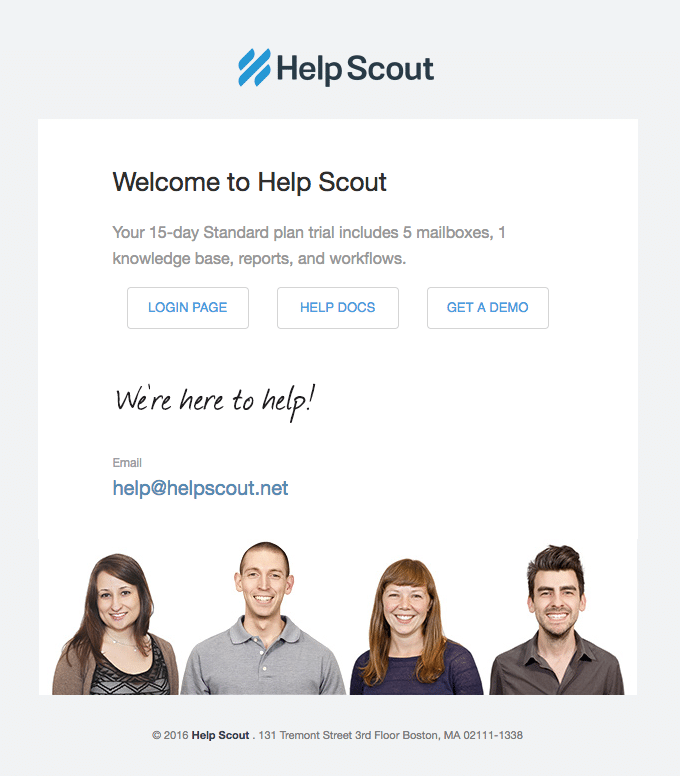 How to send your welcome emails?
To send your welcome emails, you will need a solution that is reliable but also has high deliverability rates.
Mailtrap Email Sending is such a solution and comes with both an email API and an SMTP service that can be used with no hassle whatsoever.
With Mailtrap Email Sending, recipient inboxes are reached just in time, and developers are provided with a stable working email infrastructure as well as unique monitoring capabilities for effortless maintenance and troubleshooting through helicopter-view dashboards, in-depth analytics, and alerts.
"But what about speed?" you may ask. Well, this solution doesn't lack in that aspect either, with an average email delivery time of ≈ 1 sec.
To learn more about Mailtrap Email Sending and how it can assist you in sending your welcome emails, visit the Mailtrap knowledgebase or check out the video below:
How to test your welcome emails?
Once you have crafted your "perfect" welcome email, you might be tempted to send it right away. But don't get too ahead of yourself, as you need to do some inspecting and debugging beforehand to make sure your email will get delivered without being marked as spam and will look as intended in various email clients as well as devices.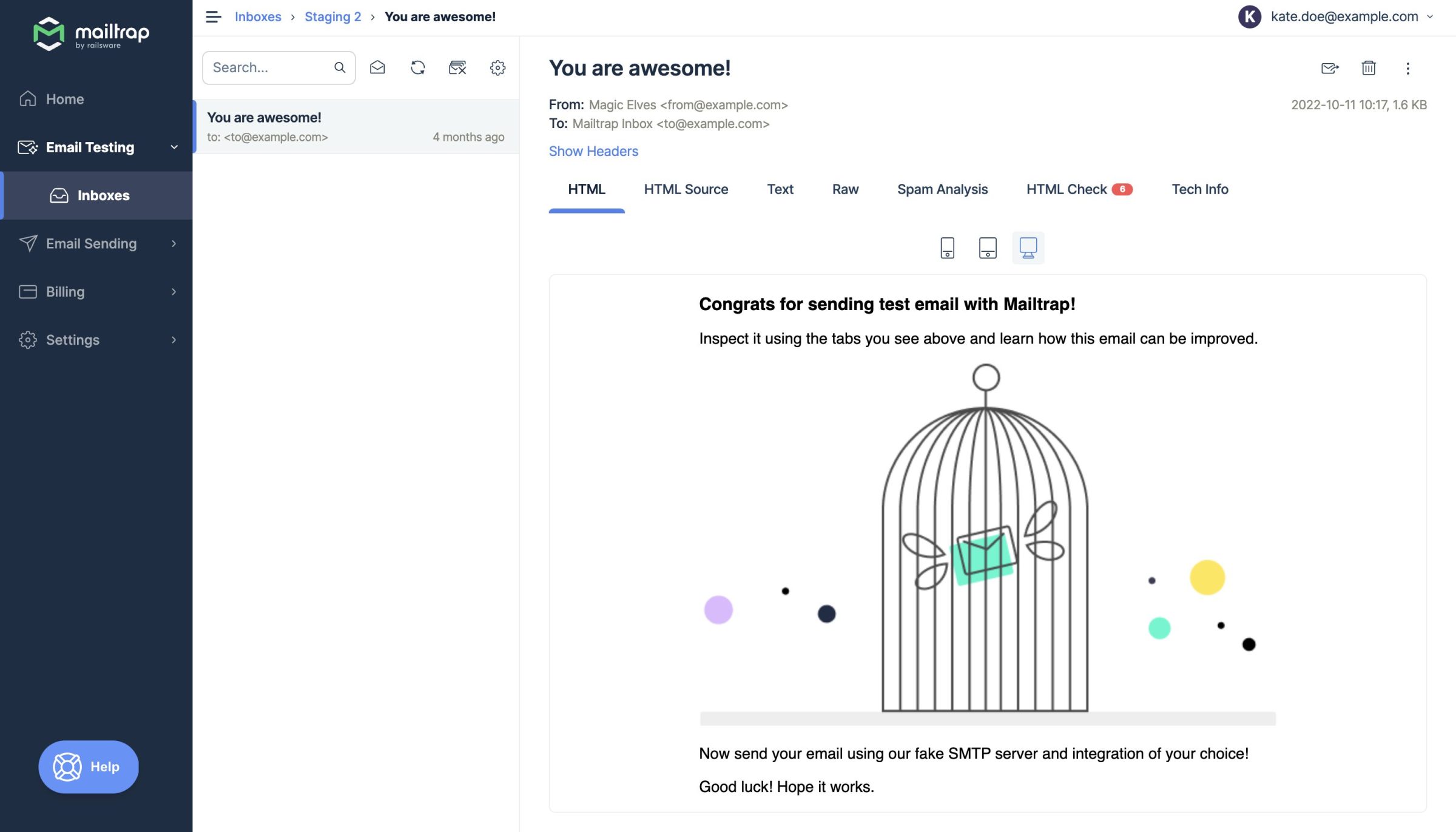 Along with the sending solution we mentioned in the section above, Mailtrap also offers a testing solution called Mailtrap Email Testing you can use for inspecting and debugging emails in staging, dev, and QA environments. And since the solution works on the principle of using virtual inboxes, it comes with no risk of spamming recipients with testing emails.
Feature-wise, Mailtrap Email Testing has a lot to offer, including:
Email previewing
HTML/CSS analysis
Spam score checking
IP blacklist reporting
Test flow automation
And more
So, how do you get started with using all these features? Well, both Mailtrap Email Sending and Mailtrap Email Testing will require you to create a free Mailtrap account by completing a straightforward setup process, you can learn more about this in the Mailtrap Getting Started Guide.
Once you have that out of the way, simply send your first test email and put the Mailtrap Email Testing features to work. That's it!
Wrapping up
We hope that the information provided in this article gave you a good idea of what welcome emails are, why they are so important, and how to create yours in the most effective and engaging way.
Of course, perfecting welcome emails will take some trial end error, so don't beat yourself up if you don't nail every element on the first try. At the end of the day, that is what email testing is for!