It is very easy to get lost in the dozens of email testing tools and techniques! Especially when you are trying to select which of them are not just popular and affordable, but really fit your current needs. In this post, we are exploring Mailinator and the whole disposable email approach, from A to Z. We will demonstrate how this tool works, clarify its capabilities (with no frills!), and provide you with several Mailinator alternatives for efficient email testing.
What is Mailinator?
Mailinator is an online disposable email service or, as they call it, a public email. In simple words, it is a web service that accepts and displays emails sent to any possible address on the Mailinator domain.
Free and paid functionality differ a lot, so let's review them separately.
Free functionality
For free and without the need to sign up, you get an endless number of receive-only public inboxes. Sounds cool, but here is what this actually means:
Mailinator inboxes already exist and are available for everyone at any time. You can exploit any address consisting of Roman letters and numbers – but simultaneously with an unlimited number of other users. This way, anyone can reach your emails received in any inbox, view, and remove them.
You or any of the other users can pause retrieval of messages in any of the inboxes at any time.
All messages in any inbox are automatically deleted after several hours. There is no exact time stated. The new incoming messages replace previously received ones, so the storage time depends on the current Mailinator load. We have seen messages received six hours ago, for example. At the same time, messages from almost empty inboxes are still deleted after a while.
Email attachments are not supported. You can still send a message with an enclosed file, but you will receive it without an attachment in Mailinator.
Let's test how it works. Go to the Email section on the Mailinator website and you will get access to the public inboxes. To get inside one of them, type an alias. Let's start with something super obvious to see if there are some public emails.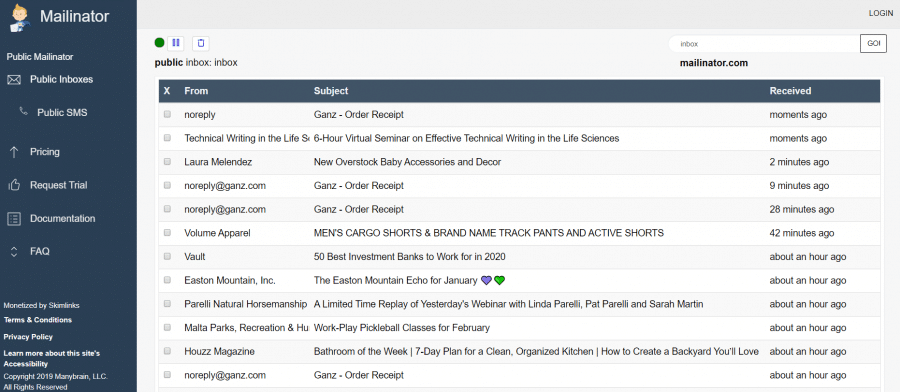 Well, inbox is quite popular as expected. And you can open and delete any of the received emails.
Let's try a random combination of letters and numbers like ewfuieu283. Such an inbox exists and is currently empty. This makes it perfect for sending our own test email (as the risk of someone deleting our message is much lower):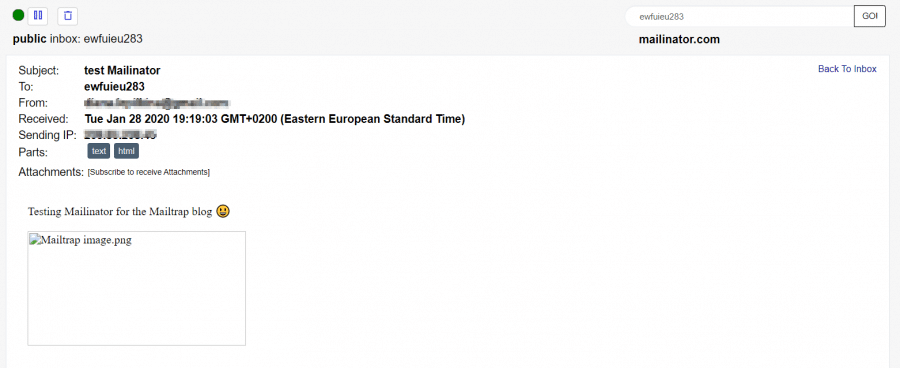 Sent from a regular Gmail account, it took around 13.5 seconds to arrive. So, Mailinator works and supports email subject, To and From headers. It also recognizes text and HTML parts. We have an inline image in the message body and, as you can see, it is not displaying at all.
That's all you can do with a free Mailinator account! Usually, it is used to (imitate) signup to a web service or to test simple email workflows.
Ah, one more thing: it works the same way for SMS.
Paid features
Starting from $159 per month, you get a personal domain, which makes Mailinator a pretty different tool.
With your private domain, no one else can access your messages. Just you and your five team members only.
You get 50 MB storage for your emails, which means that they are not auto removed after several hours anymore. However, there is a limit for the number of incoming messages (2,000 per day for the moment).
You can retrieve emails via Web, API, or Webhook, and also get API access for all emails. This allows you to test your email sending system.
You can create rules to route messages, delete them, and click links. This way, you can forward emails from your Mailinator account and use it for testing web apps' workflows. For example, you can check subscriptions, registrations, password resets, etc.
There is also an unlimited Enterprise plan available on request.
How to test emails with a disposable email
With Mailinator's capabilities in our minds, let's find out exactly how it can be used.
Signups to different services. The most obvious and simple use case is signup for random apps and services in case you don't want to reveal your real email address. It can be useful when you are investigating dozens of different tools or reviewing them. Disposable email addresses can also be used when you need several different accounts on the same service.
Sporadic testing of email sending capabilities. If you need to test whether your emails are sent at all from time to time, a disposable email address can be an option.
Integration tests to verify subscribing, unsubscribing, signing up, form submitting, etc. You can perform tests to verify that your website functionality works as designed.
Additionally, disposable emails are used to view how the email actually looks for recipients. Such a method can be effective when you are checking the dynamic content of your emails, like personalization in a subject line, localization, or different email content for different users.
Alternatives for disposable emails
There are use cases for every method; however, we have two main concerns for using disposable emails for testing purposes:
Your domain reputation can be hit, with a high probability. Sending mass emails to email addresses with low engagement affects your sender score.
There is still a big risk of sending test emails to real users by accidental insertion of real email addresses along with disposable ones.
For a deeper understanding of why using dummy email addresses for testing can bring you unpleasant results, refer to this article on our blog.
What are the other methods you should try instead of disposable emails? The list depends on your purpose – what exactly do you want to test?
Email sending functionality
The safest way to check whether your app is able to send emails is by using a non-production server. It can be your own localhost or a third-party server for testing. There are many tools such as Mailcatcher, Mailhog, SMTP Bucket, etc.
Email workflows
Verification of resetting a password or an account confirmation is a more advanced task. Usually, such tests are performed with an email API. Mailosaur is a good example of this category of email testing tools.
Email content
You have a truly wide list of options to preview emails before you start sending them to real recipients. Every email sending platform has its set of capabilities to send a test email to check whether pictures are displayed, links work properly, and, in general, your HTML grid looks as designed on all types of devices. The most popular dedicated email content testing tools are Litmus and Email on Acid. 
Full-featured email testing
Advanced email builders who utilize their own infrastructure, email sending scripts, and templates require a full-fledged solution to perform all the checks at once. We are proud to introduce Mailtrap here: you can use it as a fake SMTP server and set of virtual inboxes, preview all incoming messages, get a list of HTML errors, or use its email API to run automated email tests. It also supports Bcc testing, email forwarding, and app load testing. Mailtrap is safe to use as your test emails can never reach your real customers, and using it doesn't have an impact on your domain reputation.
Learn why The Software House switched to Mailtrap from the disposable email services and how they streamlined email testing processes from our case study.

Professional Mailinator alternative
A paid Mailinator subscription provides you with a wide set of options for professional use. Another specialized tool is MailSlurp. It allows you to generate email addresses on demand with the REST API, SDK libraries, or online dashboard. Its advanced plans start from €39 per month.
We have already listed the drawbacks of disposable emails for testing and can't recommend this approach for professional usage. The only reason is that this method is not safe. Testing in a production environment means a chance of spamming your customers. The professional email testing should start with a development and staging environment, and, only after inspecting and debugging your emails there, can it be moved to production.
So, what's the verdict?
Here are the quick outcomes:
A disposable email is an email address for temporary usage. It is also called a temporary, fake, or dummy email address.
The most common use case for disposable emails is creating temporary accounts on different web services.
Free Mailinator functionality is not enough for professional email testing.
Paid Mailinator subscription provides you with a private domain and API access. This allows you to run automated tests within your organization.
Still, disposable email is not a safe approach to efficient email testing due to the risk of spamming real users and affecting your domain reputation.
There are just a few tools that offer functionality similar to advanced Mailinator features.
Before you make your choice, analyze exactly what you need to test and how often. You will probably need a different testing approach or a full-featured email testing tool like Mailtrap.