Over the years, the popularity of email marketing has stayed consistent. And if you master how to do it effectively, it can help you take relationships with old and new subscribers on your email list to the next level, turn leads into customers, drive sales, and much more.
But that is easier said than done, as this marketing channel requires you to devise an email marketing strategy, come up with creative email marketing ideas, and send out engaging content as often as a few times a week.
If you find yourself struggling in this scenario, you're in luck, as this article will give you useful inspiration for your next email marketing campaign, thus making at least the creative aspect less of a burden. Let's dig in!
B2B vs. B2C email marketing: why you shouldn't take the same approach
Marketing is not a one-size-fits-all activity. And this is especially true for email marketing.
When it comes to marketers working for B2B companies, around 93% of them use email. Quite impressive, right?
What's not so impressive is the fact that many of those marketers aren't aware of the major differences between B2B marketing and B2C marketing they need to keep in mind when coming up with new email campaign ideas or picking an already-existing one.
What exactly are those differences? Well, there are a few:
Target audience
This one might seem obvious, and you might say, "Yes, it's pretty clear to me that B2B email marketing and B2C email marketing target different audiences," but let us elaborate.
With B2B email marketing, you aren't targeting a company as a whole. Instead, you are targeting multiple decision-makers within the company.
What this means in terms of emails is that in place of one personalized email to all your customers, like in B2C email marketing, you'll be sending different emails to different people in the same company in an effort to reach one B2B customer.
Type of content
In B2B emails, it's better to provide useful resources and information such as reports, guides, etc., which serve as proof to a B2B customer of the company's value and competence.
With B2C emails, on the other hand, you have the freedom to include more visuals and creative elements rather than technical details and industry-specific information, as the audience will be more receptive to a mostly conversational and less formal approach.
Tone
While subtle playing with emotions might work great with B2C customers, B2B ones look for and react better to messages which prove to them that your product/service can save them money, time, and resources. So, as you might assume, these messages should have a confident and reassuring tone rather than a salesy and/or playful one you might use in marketing to individuals.
Got it? Great!
Now that we have covered what differentiates B2B email campaigns from B2C ones, it's time to go through some ideas for running the same.
Keep in mind that for the most part, we won't be focusing on the extremely common ideas, such as welcome emails, email newsletters, abandoned cart emails, product update emails, sale/promotional emails, transactional emails, and so on, as you most likely already have those in mind for your campaign.
Instead, we'll focus on some not-so-common ideas that will make your campaign emails stand out in people's inboxes and get you more opens.
B2B email marketing ideas
Company updates
Most customers, but especially B2B ones, will want to be up to date with what is going on in your company as it has a direct impact on them. This can be anything from a small product/service update to a huge company milestone shared through a regular newsletter or a one-time email.
And if you feel bad about a little bragging from time to time, don't, as acknowledging milestones can bring you more credibility as well as recognition, and reassure the customer that picking your product/service was a good idea.

Educational pieces
As mentioned earlier, B2B customers love valuable resources and information as opposed to sales pitches. So when crafting an email for them, try to make an educational piece that includes tutorials and guides on how to best use your product/service, recordings of your webinars, podcast episodes, reports on trends, content roundups, and anything else you think might broaden the customer's knowledge.

Invitations to events
Emails are a great way to notify customers about an upcoming event you are hosting. And if the event is educational in nature, your B2B customers will, you guessed it, love it.
What's more, you can use the event you are promoting through email to meet potential and existing customers face to face, which is highly beneficial for B2B businesses.
The event invitation email can be a simple one-off message and include basic details such as the event date, time, and place or stretch over a few messages with teasers, countdowns, etc.

Invites to webinars
Webinars, a content form preferred by thought leaders and used by many B2B companies, are another type of event you can promote with email.
Through webinars, you get to speak to customers directly as well as show your expertise in action, so there is bound to be interest in them and engagement with the email used to announce it.
But email can do more than just promote your webinars; it can also be used to gather feedback on the same and share a recording/recap, thus reminding people of your company and webinar even after it ends.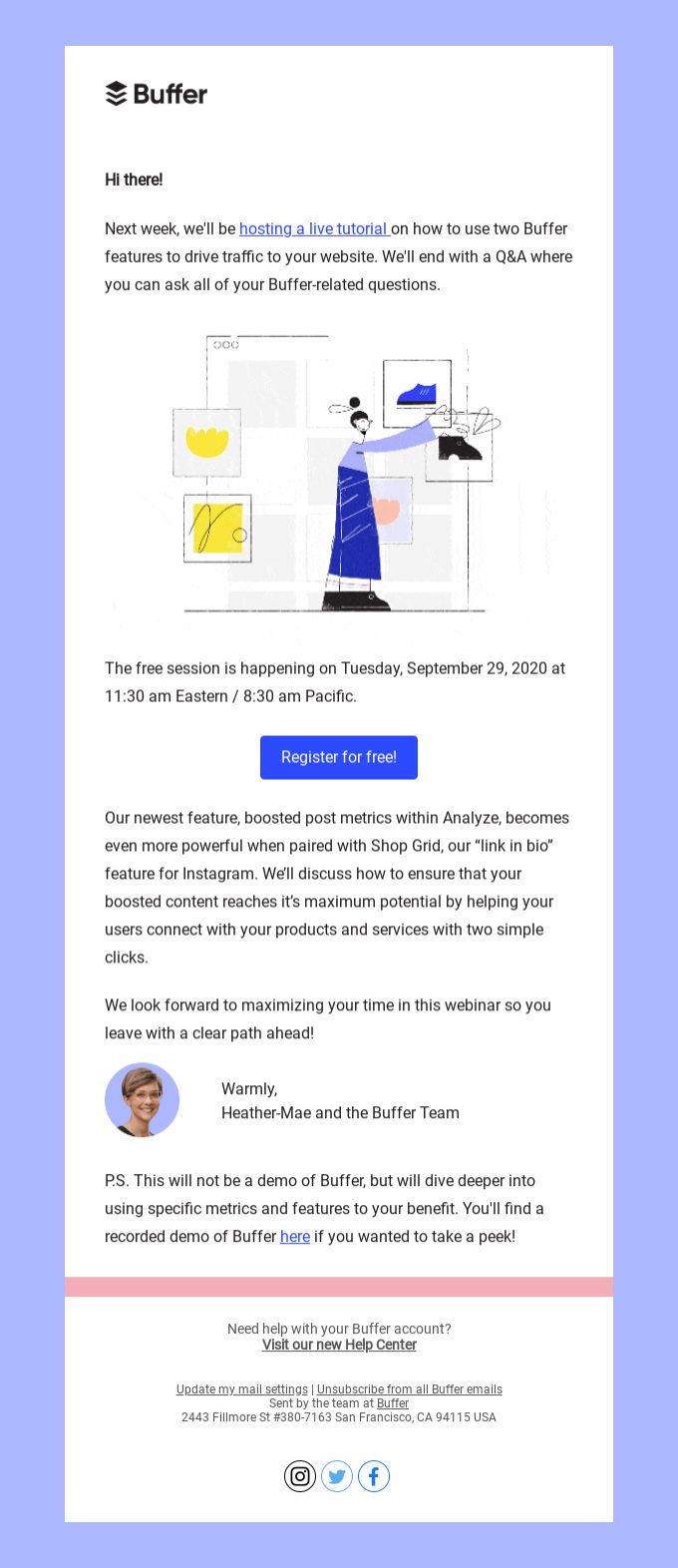 Case studies
Another way of showing your product/service as well as expertise in action is by sharing case studies in your emails.
These case studies could cover how your product/service alleviated a customer's pain point, how you contributed to a project, how you're influencing your industry, and so on.
And although a case study email might be a lengthy one, that won't be an issue as your existing and potential customers will gladly want to read any proof that your product/service is beneficial and has a track record of getting the job done.

White papers
A form of high-value content, white papers, are very popular with B2B email markets as well as customers. And just like case studies, they are also long-format and intended to showcase your expertise.
By dedicating the time to write white paper emails based on your knowledge of the industry, its trends, solutions, and so on, you can establish authority and prove to your customers that keeping up with updates and issues, no matter how complex, is not a hassle for you.


B2C email marketing ideas
Birthday/anniversary messages
Have you ever held a grudge against someone you're close with because they forgot to wish you a happy birthday? I know I have. 😅
Avoid having your email list subscribers hold the same grudge against you by sending them a birthday/anniversary email every year with a special offer, coupon, or discount code inside.
Not only will this make them feel appreciated on "their day", but it will also help build customer loyalty.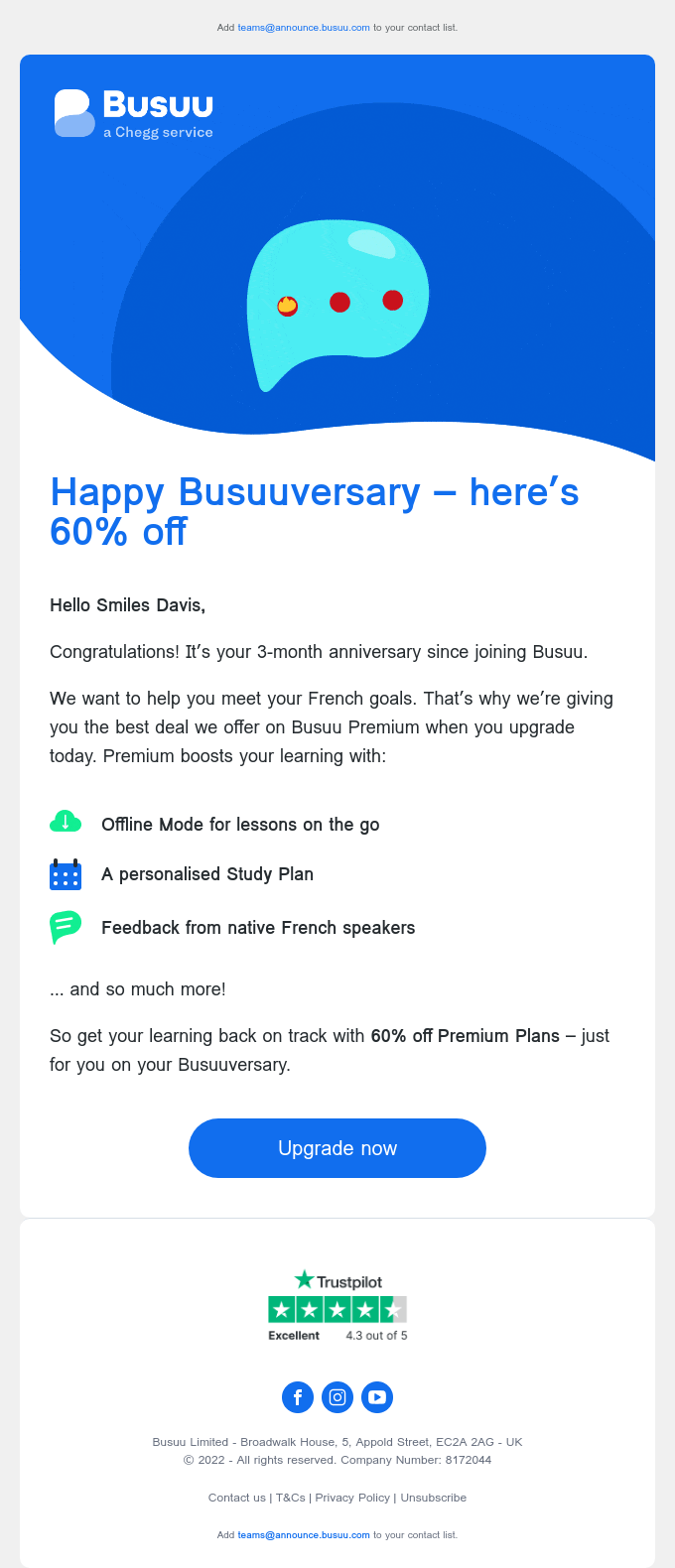 Feedback/satisfaction surveys
Having a customer's email means that you can establish direct communication with them.
You should use this communication to ask for feedback and testimonials or for the customers to simply express their level of satisfaction with your products/services.
Doing this will enable you to improve if necessary but also gather stellar reviews you can then use as social proof on your website or social media as part of your marketing.
If you're having trouble getting people to leave reviews, consider giving them an incentive to do so.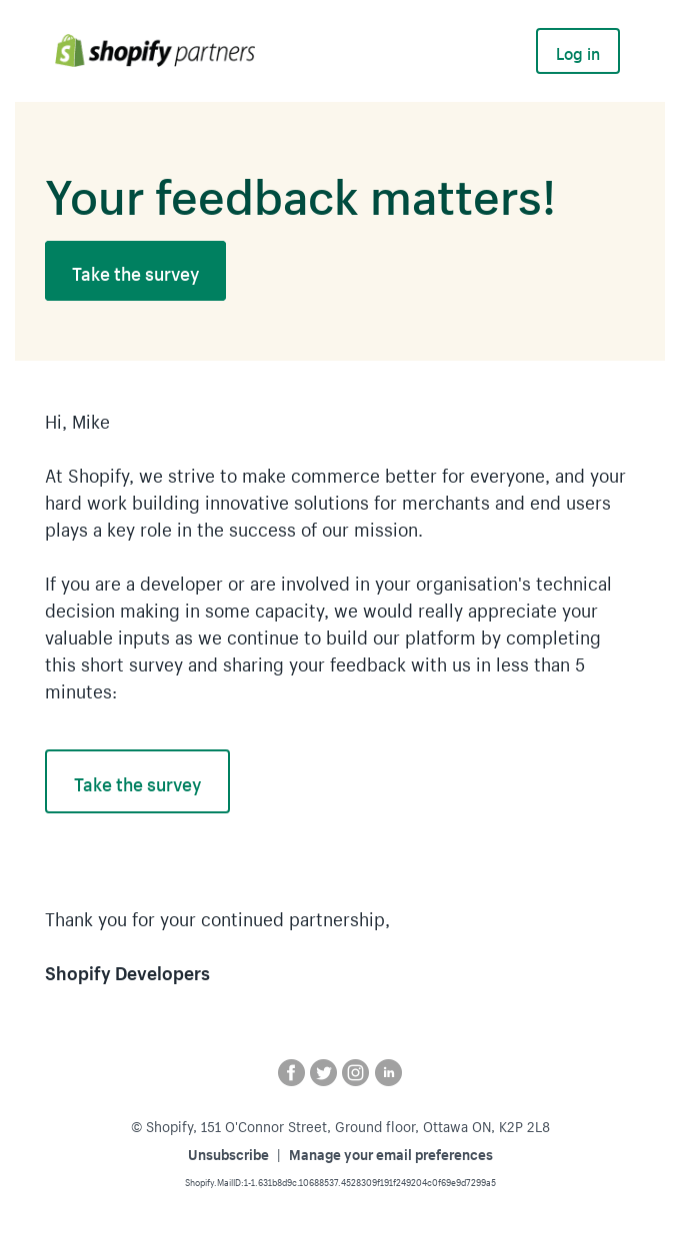 Reorder/renewal reminders
If you are an eCommerce business selling products that don't have an infinite shelf life/usage or a business offering services with subscriptions, you can send customers emails reminding them to reorder or renew their subscription, thus maximizing the average customer lifetime value.
These are, in most cases, emails sent using marketing automation tools, so there isn't much effort going into getting them out except adding a bit of personalization through things like recommendations based on past purchases when you want to upsell related products, for instance.
If you see that these renewal/reorder messages are not effective emails when it comes to your audience, you can also offer an incentive for renewing/reordering in the form of a discount or a freebie which makes this email marketing idea for eCommerce a bit more attention-grabbing.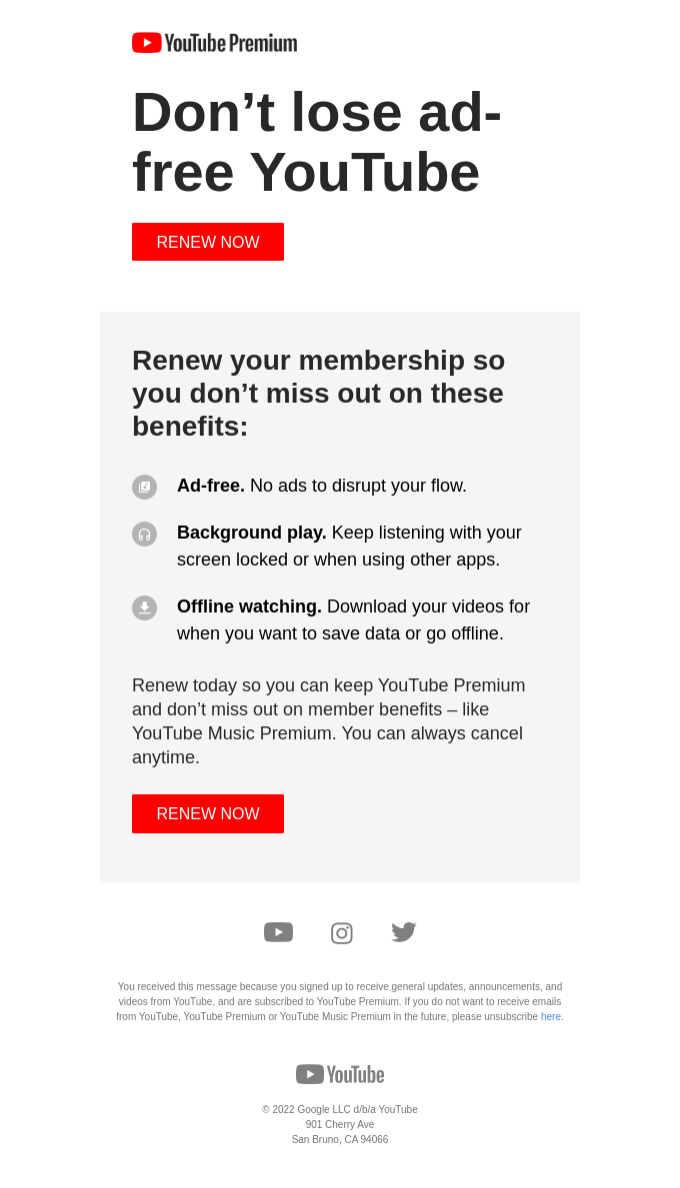 VIP program messages
VIP program emails are a tool you will be able to use only if you have, well, a VIP/loyalty program.
The purpose of these emails is to encourage purchases and boost loyalty by giving the program members additional benefits, rewards, promotions, and similar, thus making them feel more special and important.
Through VIP program emails, you can also create brand ambassadors and a sense of community among members, which definitely makes VIP program emails worth your consideration.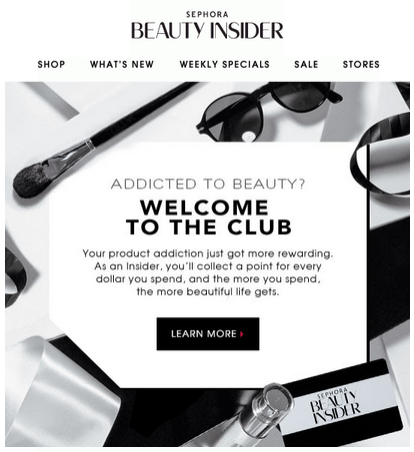 Re-engagement efforts
Inactivity among users is normal to a certain degree, so don't panic if you see, for example, less engagement with your emails from time to time. Still, this doesn't mean that you should do nothing about it.
Instead, you should give those "sleepy" customers/subscribers a nudge to start engaging again by reminding them what they are missing out on or by even giving them a special offer through a re-engagement email.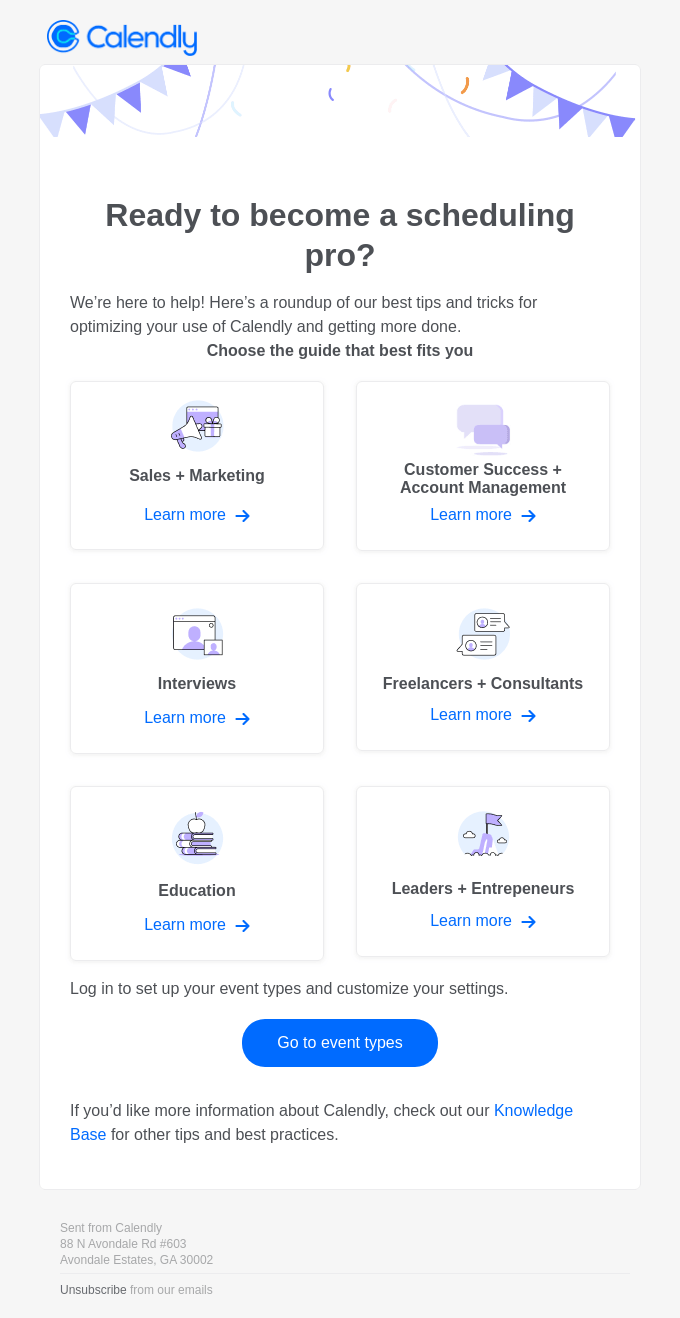 Lead nurturing messages
Want to move customers down the sales funnel? Email can help with that! To be more specific, personalized and automated email messages that provide helpful information about your product/service can.
So use lead nurturing emails to convert subscribers/leads to customers, while, at the same time, teaching them about your product/service and building trust.
You can also use LinkedIn messaging for lead nurturing and as a follow up platform to add a layer of social proof. Just like emails, you can also schedule LinkedIn posts in advance to be published when they are the most visible to your target audience.
Harnessing the power of LinkedIn bots can optimize your lead nurturing process, automating tasks like sending connection requests or follow-up messages. When used judiciously, these tools can increase your efficiency, allowing you to engage with a wider audience without compromising the personal touch that's essential for building trust.

Seasonal email marketing ideas
The seasons changing and different holidays rolling around serve as great opportunities to reach out to your customers and stay at the top of their minds all year round. This can, in turn, lead to more engagement and sales for your business.
Seasonal email marketing messages are promotional messages, just with an added twist of being tailored to a season of the year or a holiday which is evident in the design, themed content, visuals, and sometimes even the products/services highlighted.
They also often feature discounts and promotions intended to help recipients celebrate and get in the festive spirit.
Gifts and giveaways
When you think about it, is there anything more festive than the act of giving (except maybe stuffing your face with lots of yummy food)? Not really!
The gifts intended for your customers during different seasons and/or holidays are easiest to distribute through email.
They can either be something small that is sent to all your customers, like a discount, or something big reserved for a few lucky giveaway winners.
And although it might seem like an expense on your end, being generous and gifting customers from time to time will probably result in a sales boost, so don't hesitate to test it out.

Gift guides
Getting gifts for others during holidays can be an anxiety-inducing experience for a lot of people, including your customers. So why not give them a helping hand by creating and sending emails with gift guides featuring your products/services?
By doing this, you not only give yourself the necessary promo, but you also help turn shopping into a more bearable experience for many of your customers.
To make your gift guide eye-catching and relevant, make it dynamic so it shows the right products/services to the right audience segments, which you can create based on past purchases, price sensitivity, demographics, etc.

Celebrations of lesser-known holidays
When doing seasonal email marketing and coming up with holiday email marketing ideas, you have to be aware that the competition is going to be fierce as the vast majority of businesses have plans to use them in their campaigns.
One thing you can do to set yourself apart from the competition is to use lesser-known holidays as an excuse for celebrating and gifting your customers. This will be a somewhat unique move and come as an unexpected surprise.
"But what falls into the category of lesser-known holidays?" you may ask. Any non-major holiday that would mean something to your target audience.
So, if you're in the food industry, National Pizza Day could be one. Or if your products are sustainable, then Earth Day is definitely a holiday you should celebrate.

Initiatives for charity
For many, giving during the holidays is not just about friends and family; it's also about those in need.
You can help your audience reach people in need by running charitable initiatives and spreading the word about them through your holiday email campaigns.
An important thing to keep in mind when doing this is that the charity work should align with your business and brand as well as be something your audience truly cares about. This way, you sending out communication about a charitable initiative will seem natural, and the percentage of your audience that takes part in it will most likely be higher.
Just make sure to be completely transparent about where any donations are going and the progress of the whole initiative.

Year in review
If you're a Spotify user, you know how exciting it is to receive your Spotify Wrapped each year. And although it's so popular when done by the famous music streaming service, it's not a seasonal email marketing campaign that is seen very often.
If this campaign type can work for your business and its audience, then sending a year-in-review email is something you might want to give a try.
No, it won't bring you much ROI, but it will bring excitement and a sense of anticipation to your audience, which is also of importance to your business.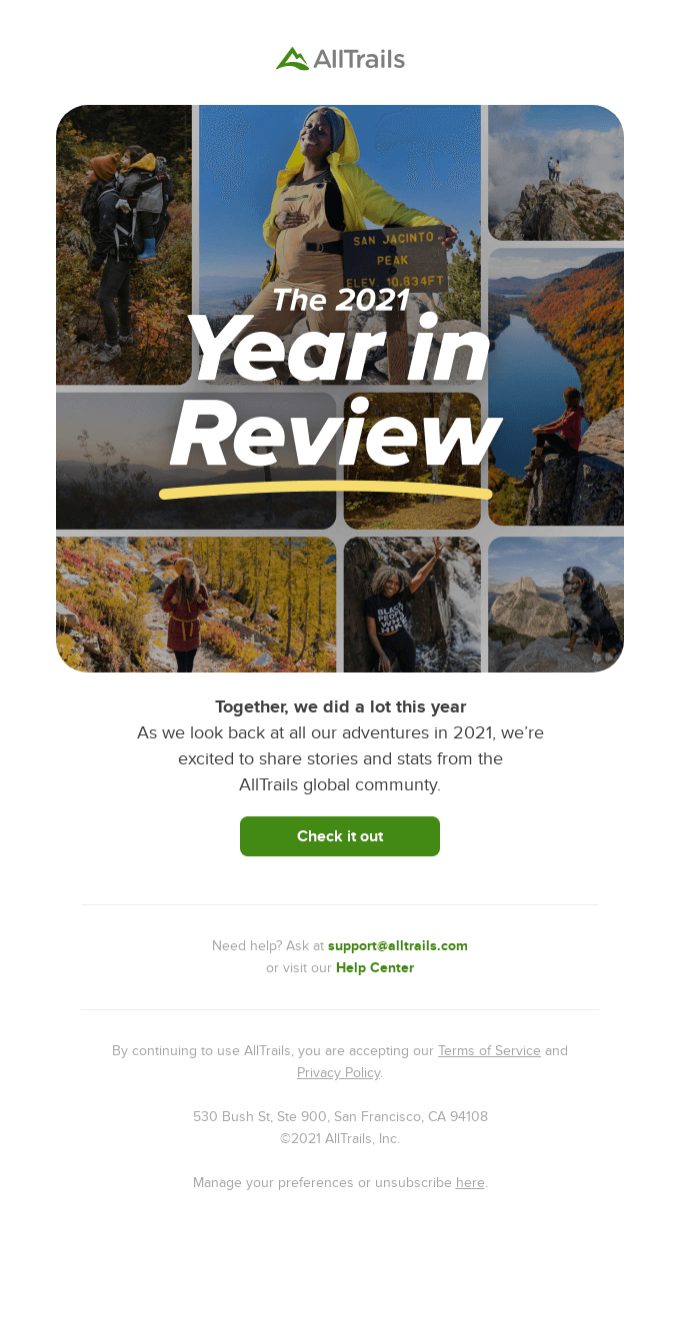 Post-holiday messages
Most of us have a hard time taking down the Christmas tree, be it because of laziness or the fact that we don't want to let go of the jolliest season of the year.
Let's assume that the latter is the common case. How can we use that in seasonal email marketing?
The short answer is: by creating a post-holiday email series!
These email series help engage new customers who made their first purchase during a holiday campaign and steer them into becoming repeat long-term customers.
When it comes to your regular customers, post-holiday campaigns can serve as a dash of hope that the holidays are not over yet, as well as a smooth transition into receiving non-holiday emails.

Bonus section: Simple but tried and true email marketing ideas for when you are in a time crunch
So far in the article, we have shared email marketing ideas you maybe haven't thought of yourself that could be a bit complex, along with some common ones here and there. But, since we all get into a time crunch every now and then, leaving us with not enough time for effort or creativity, we decided to quickly list a few more common content ideas for email marketing you can use for different types of businesses, seasons, or popular holidays after making slight modifications.
Mother's Day email campaign ideas
Heartfelt thank you emails expressing gratitude to your email list subscribers who are mothers for the effort and dedication they put in daily
Video emails celebrating mothers worldwide
Free gift emails delivering virtual gifts, coupons, or gift cards for items that are traditionally given out on Mother's Day
Participation invite emails for charities that support mothers
Announcement emails saying that you are donating a portion of your profits to charities that support mothers
BFCM email marketing ideas
Early bird specials emails giving exclusive discounts and deals to your audience before Black Friday and Cyber Monday
Flash sale emails announcing limited-time-only offers such as "30% off in the next 3 hours only"
Bundle offer emails showcasing your bundle deals
Free shipping emails reminding recipients of the no-shipping-fee benefit that comes with shopping at your store during Black Friday and Cyber Monday
Christmas email marketing ideas
Seasonal greetings emails spreading holiday cheer and showing appreciation for your customers
Countdown to Christmas emails consisting of a Christmas countdown along with promotions or product recommendations
Last-minute gift idea emails showcasing your different products that can be shipped and delivered by Christmas or digital items and would make great gifts
New Year email marketing ideas
New Year's resolutions emails giving suggestions on clever resolutions and your products/services that can help people achieve the goals set with the resolutions
New Year, new look emails featuring a new design with different colors and or graphics to freshen up for the year ahead
Resolutions giveaway emails announcing a giveaway where the recipients can share their New Year's resolutions and win a prize
Email marketing ideas St Patricks Day
Lucky discounts emails offering special discounts on St. Patrick's Day for people using holiday-themed codes like "lucky", "stpats", "clover", etc.
Irish recipes emails introducing recipients to popular Irish recipes to make on the holiday or any other day
Fun fact emails sharing facts about the holiday with all your recipients
Halloween email marketing ideas
Costume idea emails listing some popular costume options for those out of ideas
Costume competition emails inviting recipients to send pictures of their best customers while holding your product for a chance to win a prize
Thanksgiving email marketing ideas
Gratitude sharing giveaway emails encouraging recipients to share what they are grateful for on social media using a special hashtag in return for getting a gift like a discount
Customer appreciation emails sharing what you are thankful for as a business – your employees, customers, community, manufacturers, etc.
Easter email marketing ideas
Easter egg hunt emails telling recipients to look for virtual Easter eggs on your website, social media, or in your emails, which can earn them prizes
Egg decorating ideas email providing creative ideas for decorating Easter eggs potentially using your product
Valentine's Day email marketing ideas
Be my valentine emails asking the recipient to be your business' virtual valentine and providing them with a Valentine's Day-themed gift
Self-love importance emails reminding the recipients of the importance of giving themselves as much love as they would a significant other and gifting them with a product, discount, and similar
Real estate email marketing ideas
Neighborhood information emails providing information about the neighborhood a specific property is in as well as surrounding neighborhoods
Market update emails sharing the latest news from the local real estate market, trends, guide for first-time property buyers and more
Just sold emails announcing the properties that got purchased recently, helping showcase your success and credibility
Buyer/seller guide emails featuring useful resources for new potential buyers and sellers
Email marketing ideas for restaurants
New menu emails introducing new menu items keeping recipients informed and interested in the restaurant's offering
Events and entertainment announcement emails highlighting upcoming events or performances at your restaurant
Recipes and cooking tips emails teaching recipients how to recreate some of your signature dishes or teaching them valuable cooking tips
Email marketing ideas for jewelry stores
Behind-the-scenes content emails giving insight into the jewelry-making process through videos, interviews, step-by-step visual tutorials, etc.
Exclusive collection emails presenting an exclusive jewelry collection available to email subscribers only
Jewelry care tips emails teaching your customers how to take care of jewelry bought from your business and maintain its quality
Tips for effectively executing your email marketing ideas
With B2B, B2C, as well as seasonal marketing ideas covered, it's time to give you some tips for when you are implementing the same.
Build a quality email subscriber list and segment it
To send a campaign, an email contact list is the main requirement, but that doesn't mean that the list can hold just any contacts. Instead, it has to be people who are genuinely interested in your business, and that want to hear from you.
To build an email list of this sort, in other words, a quality email list, you can give out lead magnets like an ebook, a discount, and so on, in exchange for an email address.
Do keep in mind that on the page where you have your email list sign-up form, you also need to include an explanation of what type of communication you'll be sending.
Once your email list has grown to a decent size, segment it based on factors such as behavior, preferences, purchases, etc., so you can send emails that are tailored to each segment and thus more relevant.
Lastly, remember to give your email list a cleaning regularly to get rid of any inactive subscribers and those who have chosen to unsubscribe.
Create a captivating subject line
Let's be honest; we all love a good email subject line and are more likely to open emails whose subject line catches our eye.
As a rule of thumb, your subject lines should create a sense of urgency/curiosity but also be clear, concise, personalized, and engaging.
When it comes to things you should avoid in your subject lines, those include all spammy wording, exclamation points, unnecessary capital letters, and so on.
For some email marketing subject line ideas, check out the following:
Personalized subject lines – contain the name or location of the recipient
Curiosity-based subject lines – contain phrases like "you won't believe what's inside this email" or "guess what we have in store for you"
Urgency-based subject lines – contain phrases like "last chance," "limited time offer," and similar
Benefit-based subject lines – highlight the benefit the recipient gets by opening the email. For example, "exclusive offer inside" or "our new product will change the way you clean your house"
Question-based subject lines – contain a question like "is making typos a common issue for you" or "what habit do all billionaires have in common"
Emotion-based subject lines – contain emotional triggers such as "you'll be amazed at what we have to offer" or "happiness is just one click away"
Number-based subject lines – contain a number in different ways, like "50% off your next order" or "3 ingredients you need in your kitchen"
Nail your email design
People are visual creatures which means that a great email design can be the key to an impressive and memorable first impression.
What exactly is a great design? Well, that will highly depend on your brand and audience. But if you want some general pointers, those would be to have a simple layout containing plenty of white space, a nice ratio of images, text, and graphics, a clear and legible font, and a good font size.
It's also important to be on brand when it comes to colors, fonts, and visuals (images, videos, GIFs, etc.) and have a design that looks good on all devices, especially mobile devices.
If you are having trouble coming up with design ideas for your email templates, a good practice is to check out emails from businesses in the same industry as you and/or with similar branding.
Along with that, you also have resources such as reallygoodemails.com, Pinterest, and others where you can find great examples of all types of emails.
Use A/B testing to optimize
In case you aren't familiar with A/B testing, it's when you show different versions of the same email, landing page, etc., to a portion of your audience to test which one performs better.
When it comes to A/B testing emails, you can create different versions of the same email by changing the subject line, visuals, CTAs (call-to-action), email copy, and so on.
It's important to note that you should only do A/B tests with versions that differ in terms of one or two email elements, so it's easy for you to determine why one version outperformed the other.
Once the better-performing version is identified, send it to the remainder of your audience. Doing this for all your email campaigns can optimize them, improve your open rate, CTR (click-through rate), and conversion rate, as well as boost ROI.
Besides subject lines, visuals, CTAs, and the copy we mentioned earlier, other elements used for developing email marketing A/B testing ideas include:
From names
Email sending frequency
Send times
Audience segments
And more
Monitor email deliverability
Although this is a step you take once your emails have been sent off, it's still a crucial one for the effective execution of email marketing ideas.
By monitoring email deliverability metrics, you will know what percentage of your emails ended up in the spam folder or bounced and what percentage made it into the recipients' inboxes. And in case you see that your deliverability is not at its best, you can then start looking into factors that might be affecting it, such as email authentication, sender reputation, email content, email list quality, sending frequency and consistency, possible technical issues, and so on.
What's next?
Whew! That was a lot of things to cover, but we hope you enjoyed learning new information on email marketing ideas as much as we enjoyed sharing it. 🙂
As your next step, we advise you to check out other articles on related topics, such as how to do email marketing, email marketing tips, email marketing best practices, and so on, to help you learn the ropes of this powerful digital marketing channel.