As a marketer or salesperson, you know that cold emails don't exactly evoke enthusiastic responses from prospects. With average open rates below 30%, cold emails can be a tough nut to crack.
The problem with cold emails isn't that they're unwanted. So are Telebrands commercials and door-to-door salesmen, but that's never stopped anyone from blowing their money on foot massagers and kitchen cleaners they didn't need.
Cold emails have poor conversion rates because their content and offer aren't created keeping the recipient in mind. In other words, they're not personalized.
Cold email personalization means making every cold email you send read like a unique, compelling correspondence written just for the recipient. It's the cumulative product of research, well-written copy, and intuitive automation.
If you're struggling with cold outreach, read on to find out why cold email personalization is such a powerhouse of a marketing tactic, learn from those who got it right, and get tips on how to personalize your cold emails.
What does "personalized" mean in the context of cold emails?
While the basic implication of the term personalization remains the same, its implementation differs across channels. In emails, the most common example of personalization is using the recipient's or company's name. It's simple and effective, and doubles open rates, but it's also overdone and therefore, indistinct. More sophisticated personalization is required to give cold emails an edge.
The amount of research required usually increases with the desired degree of personalization. The next level of personalization — which draws company achievements, professional milestones, and shared interests into the conversation — involves scouring your leads' website and social media feeds.
The highest level of personalization consists of hyper-personalized cold emails. It successfully overcomes the stranger barrier with multiple personalization fields, a demonstrated understanding of prospect pain points and needs, and/or personalized images/videos.
Prioritizing relevance in personalization
Personalization without relevance is meaningless. It's the difference between establishing a connection and making an offer at the right time.
To make cold emails relevant to the lead, factor in
which stage of the buyer journey a prospect is in, and
which one of the multiple decision-makers involved in B2B buying you're talking to along with other demographics and psychographics.
What are some examples of personalized cold emails?
The degree of personalization you can implement in your cold email campaigns depends on:
The number of leads
The time and resources available
The industry you're in
But broadly speaking, personalization is a surefire way to build rapport and establish credibility with leads.
Examples + Analysis of Effective B2B personalized cold emails
Here are some examples of effective personalized cold emails:
1. The Go-Getter
This email template does away with the fluff and goes straight to the point.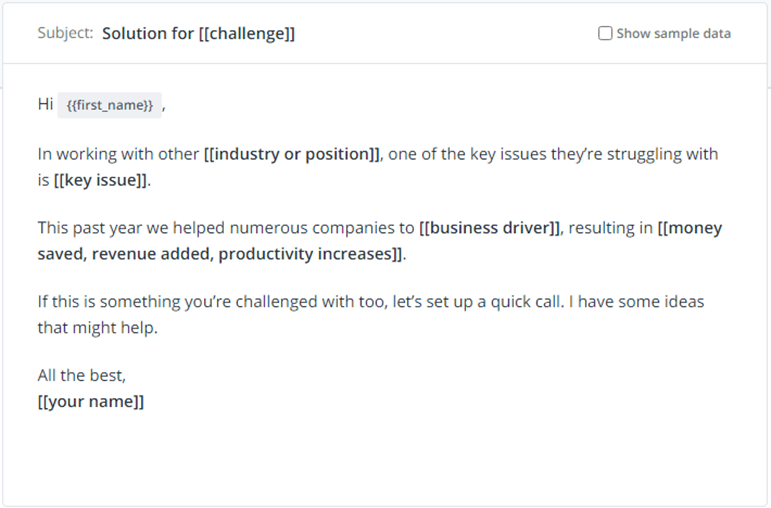 It mentions the key challenge faced by the ICP in the subject line itself.

Then reinforces the product's relevance for the individual themselves or their company.

It rounds up the email by highlighting the benefits in unambiguous terms.

This template is perfect for high-intent leads, such as someone that's visited your website.
2. The Smooth Talker
You can use a template like this for leads that aren't well-acquainted with your offering.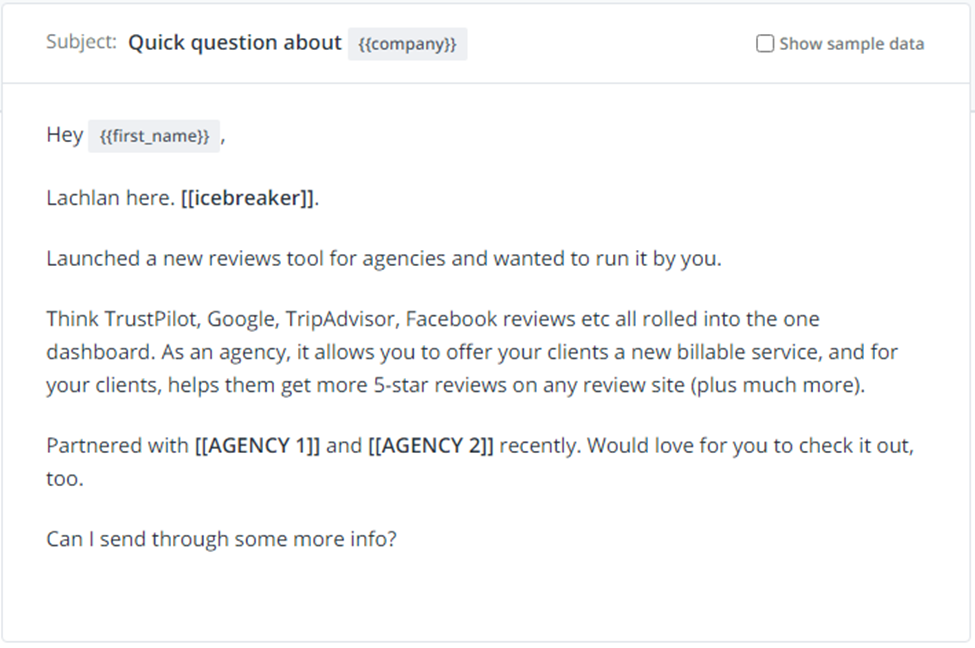 The first thing to notice is how breezy the language is. It's easy to read, almost like being charmed by a friendly salesperson.
The subject line is a winner.

It implies the email will be short, and throws in the company name for added interest.
The product is described in relatively simple terms. None of that technical balderdash that makes people's eyes glaze over with boredom.

Throw in some name-dropping (it could be competitors or industry leaders), and you're good to go.

Cold emails are often met with disdain. To its credit, this email is incredibly difficult to take offense to. So even though it might not have leads begging you for a meeting, it certainly reduces friction in the sales process.
3. The Enticer
For ToFu leads that won't appreciate a hard-sell approach, this template makes for a good start to a lead nurturing sequence.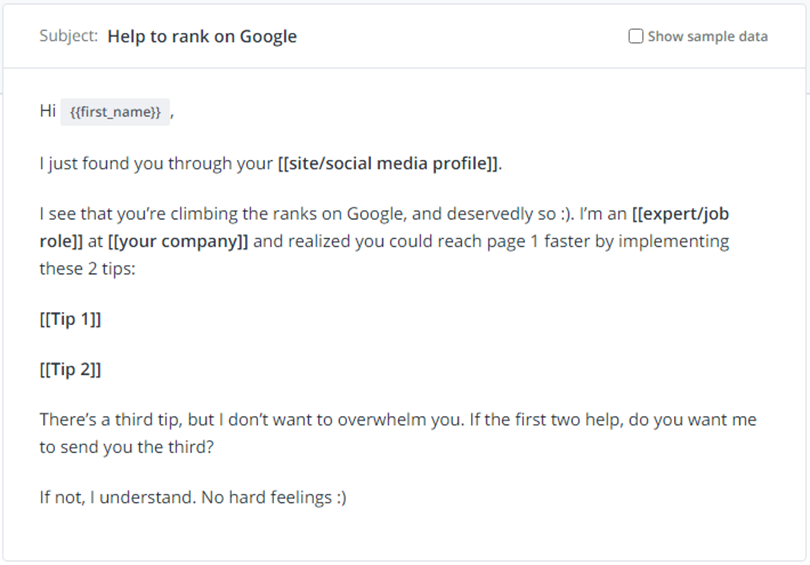 It shows you've taken the time to research the lead, and that it's not just another spray-and-pray campaign.

The two tips provide value without asking for much in return. The masterstroke is how easy the CTA makes it to say yes to the offer of a third tip.

Why is personalization important in cold emails?
Personalization in cold emails helps you stand out in your prospects' inboxes. But it's more than just an attention-grabbing tactic.
Benefits of personalization
Personalization Boosts Click-through Rates by 82%
Lifesize, a B2B video conference facilitator, saw customer sign-ups increase exponentially during the Covid-19 pandemic. It needed help segmenting and scoring leads, and deciding which leads to pursue and how.
They partnered with Adobe to personalize their email campaigns by:
Tracking website visits, customer forms, and user data along with demographics to sort leads into groups
Classifying 300,000 leads into seven broad categories
Creating email sequences for each of these categories
Emails were personalized based on:
Lead intent
BoFu leads were prioritized and unique drip sequences were designed.
Language
Emails were delivered in five different languages representing the company's international customer base.
The results saw:
Open rates increase by 57%
Response rates increase by 82%
YoY revenue increase by 31%
Personalization helped Lifesize identify high-value leads, establish a good rapport with the recipients and increase positive responses to outreach efforts.
How to personalize a cold email?
While these email templates can serve as reference points for your cold outreach campaign, here are some general points to remember while personalizing cold emails:
Subject line
Subject lines are the first element of the cold email that leads see, so they're under a lot of pressure. You can take some of it off by making them casual and non-generic.
Instead of using Title Case and spammy subject lines like "Limited Time Offer – 50% Off", use a storytelling subject line that reads like a text to a friend. E.g., "Dinner was a disaster today".
Consider using lowercase, emojis, and powerful words to create greater impact.
Intro
To craft a personalized intro, take the time to research the recipient. Look up their LinkedIn profile, read their blog posts or articles, and review their recent social media activity.
Or you can start with a fact or question about their industry or role that will pique their curiosity.
Something as simple as "Hope I'm not catching you too late in the day" for an email scheduled to be sent at 4.30 p.m. can add a touch of personalization to cold emails.
Copy
Use data tags to sort leads into categories and create separate versions of the email body copy for each of your buyer personas.
While giving social proof, make the content dynamic so that it comes from a niche identical to, or at least resembling, your ICP. If you're trying to bring a SaaS startup on board, testimonials from a beauty brand might have a different impact than those from another tech startup.
Personalized images and videos are worth a shot, too. Dooly.ai, a sales enablement business, witnessed a 5x increase in response rates by using Vidyard to create personalized videos for every cold email recipient.
Offer
Segmentation plays a large role in determining the success of your offer. Tailor the offer to fit the prospect.
A CFO isn't motivated by the same factors as a back-end developer.
A money-back guarantee might convince a CFO or Department Head who's on the fence about paying for a new product, but it has no allure for a developer.
You can also send exclusive coupons and discounts to BoFu leads who have spent considerable time visiting a particular product page on your website.
CTA
By asking the wrong questions, you're only setting yourself up for failure. Avoid questions that potential clients can say flat-out no to. Instead of asking leads if they're "Ready to book a demo?", focus on their problems and goals by asking — "Ready to pump up sales by 4x?
Though using CTAs is one of the best practices for lead generation, too many CTAs overwhelm leads. They won't understand if you want them to email you with questions, set up a meeting through the calendar link, or download your free ebook.
Tips for effective cold email personalization
There's always some trial and error involved when integrating personalization into outreach processes, but you can follow these tips to make the journey smoother:
How to research your target audience
The first step is to figure out who your best leads are and where they're coming from so that you can find others like them. Analyze your top customers to trace patterns in their industry, business model, location, business maturity, budget, etc. Map this against your ICP to identify and bridge gaps between the two.
This should provide you with enough basic information to understand your leads' biggest challenges and the solutions they're looking for.
Set aside 10-15 minutes (no more than 30 minutes in case of high-priority leads) to research each lead.
List potential decision-makers and alternative contacts. Pay attention to recent posts or news shared on the company's or individual's social media pages. These can be used to gauge their need for your product and to develop an opening line for your cold email.
Tools that enable personalization
Effective personalization takes time to master, but these tools can help you get there quickly:
You can track website visitors with Hotjar, Kissmetrics, and Google Analytics.
Spreadsheet tools like Clay and Google Spreadsheets to keep your data organized
To move and integrate data across interfaces, you can use n8n and Zapier.
Use Apify, BrightData, Humantic, and Crystal to scrape lead data and gain insights into their behavior.
Set up alerts for a list of triggers like job or management changes, or funding developments on Slack, LinkedIn, and Google Alerts.
Before you send out your cold emails, validate email addresses with Hunter Email Verifier to reduce bounces.
DMARCly and EasyDMARC.com provide SPF, DKIM, and DMARC generators to improve your deliverability rate.
Tools like Lavender help you remove spammy content from email copy.
Spintax or liquid syntax tools like WordAi rewrites your prospecting emails and prevent run-ins with spam filters.
Automation and testing
If you're reaching out to, say, ten leads a month, you can personalize each cold email you send manually. But personalization at scale is only possible through automation.
A cold email automation tool like Hunter Campaigns allows you to create drip sequences for your leads with highly personalized templates, specify a time for automated sending, schedule follow-ups at pre-decided intervals, and send different emails to leads based on behavioral triggers, for example, whether or not they opened your last email.
Unless you test your campaigns, there's no way of knowing if your personalization efforts have paid off. Response rates, click-through rates, and other engagement metrics are vital indicators of the effectiveness of your campaigns. These can be efficiently tracked and monitored using tools designed for email marketing platforms.
If a campaign is tanking, you can shut it down before it does permanent damage to your sender's reputation. Alternatively, you can replicate its best features to boost conversions if it performs well.
What's next for cold email personalization?
Emerging trends in the market
In keeping with the past few years, 2023 has seen a sustained focus on enforcing privacy practices.
Counterintuitively, there is pressure on businesses to hyper-personalize customer experience and communication.
The role of big data and first-party cookies is more important than ever.
Open rates were the first casualty of the push for privacy. Businesses will have to find newer customer engagement channels and rely more on AI and machine learning.
Embedding personalized photos and videos in emails is becoming common, as are personalized offers and discounts.
Omnichannel marketing is being employed extensively in order to provide customers with a seamless experience across channels like email, SMS, and social media.
Changing customer preferences
Data protection laws have made consumers worldwide more aware of the dangers of misusing their personal information. But since customer demand for personalization continues, businesses will have to pull a tough balancing act to guarantee both privacy and personalization.
Conclusion
In a marketing environment where businesses need more visibility and deliverability, personalization gives your cold emails a fighting chance. Use the tips and best practices outlined in this article, be bold and experiment with different personalization tactics to determine what works best for your target audience. Keep track of your metrics, adjust your strategy as needed to ensure you get the best possible results and push forward!