Despite its popularity, Amazon Simple Email Service (Amazon SES) – the cloud-based email service provided by Amazon Web Services (AWS) – does not work for every business or individual. Attesting to this is a large number of Amazon SES alternatives available on the market, the best of which we'll cover in this article.
If you're interested in learning more about what those alternatives have to offer and which might be the best fit for you, keep on reading!
Criteria for finding the best Amazon SES alternative
When looking for an Amazon SES alternative, you will have plenty of options. So how do you know you've picked one that fits your needs? By establishing selection criteria beforehand!
Here are a few of our suggestions:
Features
Besides scalability, reliability, and cost-effectiveness that we mentioned in the intro, Amazon SES comes with other useful features as well, such as high deliverability, ease of integration, customizable email templates, and more.
And while these might check all the boxes for someone looking for a transactional email service, the same won't be true for someone looking for an email marketing solution, as Amazon SES lacks automated email workflows, A/B testing, detailed segmentation capabilities, social media integrations, and other advanced marketing features.
So, before looking at any services/solutions that might be a great replacement for Amazon SES, be clear on what the purpose of your emails is going to be. Will it be to provide follow-up information after a transaction, deliver valuable content and/or relevant offers, or both?
In other words, determine whether you need a transactional email service, a marketing email service, or something hybrid.
Reliability
Having a reliable email service is a must unless you are a fan of email delivery full of major delays, complications, and even security threats.
When using a reliable service, you can count on great uptime, impressive deliverability rates, an unlimited number of API calls, etc. As one would assume, this isn't the case with unreliable email services.
So when putting a number of services against each other in hopes of finding the best one, be sure to pay special attention to reliability.
Ease of use and integration
An email service provider should make sending individual as well as bulk emails easy, provide an intuitive UX/UI, and potentially remove all the complicated processes involved. It also shouldn't have a high learning curve, as, in that case, it might take too long for new users to get accustomed to it.
Along with ease of use, ease of integration bears great importance since it means you will likely have access to a great number of SDKs and be enabled to quickly connect an email service provider with other tools, thus making it easier to streamline processes, automate workflows, access and leverage data from various tools, and do much more.
Pricing
If you are wondering what a reasonable price is for an email service provider, well, that will depend on what features, support options, level of scalability, and sending volume you expect it to have.
From using other services in your day-to-day, you should know that free plans are often very limited but still great for taking a service provider on a test run, so do keep that in mind.
Scalability
Growth is what every business strives for, but that growth has to be supported by your email service provider. That is why when choosing one, make sure that it can scale and handle sending large amounts of emails.
If you plan on achieving growth fast, find a provider that makes it simple to upgrade your plan/increase your limits; otherwise, you might start experiencing noticeable performance issues.
And if that hasn't sold you on scalability, keep in mind that scalable solutions can also ensure that your resources are used efficiently and based on your workload as well as save on hardware and infrastructure costs by preventing overprovisioning.
Do keep in mind, though, that scalable solutions are often on the pricier side, and the more scalability you are after, the more you will have to pay, be it right when you sign up or when you want to upgrade.
What are the best Amazon SES alternatives?
Okay, now that we have given you a few pointers on picking the best Amazon SES alternative, it's time to actually present some.
Do keep in mind that each alternative listed below does have its pros and cons, which you should be paying close attention to as they might be what sways you when making your final decision.
Most optimal alternative: Mailtrap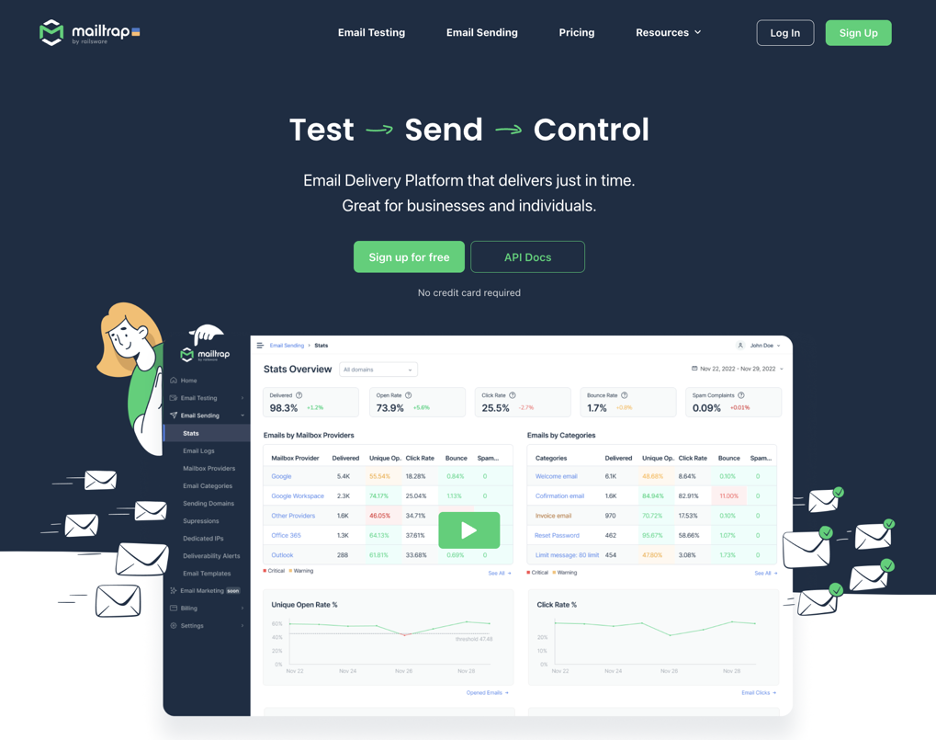 Mailtrap is an email delivery platform intended for businesses and individuals that want to cover all their email-related needs – testing, sending, and controlling email infrastructure – with one solution.
Users of Mailtrap receive an email infrastructure that comes with high deliverability rates by default but also effortless maintenance, thus allowing them to have more time to focus on other aspects of their business while their emails get delivered just in time.
The platform consists of a reliable sending solution called Mailtrap Email Sending and an email sandbox for inspecting and debugging emails called Mailtrap Email Testing.
With Email Sending, emails can be delivered using either an email API or an SMTP service after completing a smooth and secure setup.
The delivery time of this sending solution is ~1 second. And in case any unexpected issues arise, there are unique monitoring features available as well.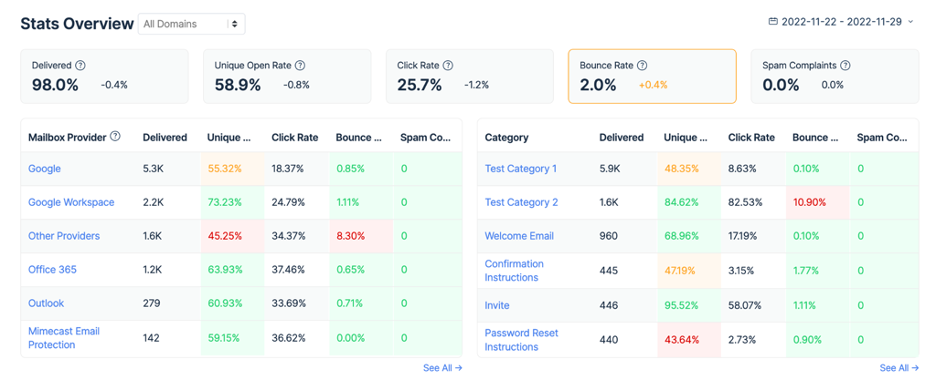 Email Testing, on the other hand, will enable you to test emails in staging, development, and QA environments without spamming recipients, as it works on the principle of using virtual inboxes. It will also provide features for checking the support most popular mailbox providers have for an email template's HTML and CSS, analyzing spam scores, email previewing, browsing blacklists for the sender IP/domain, and more.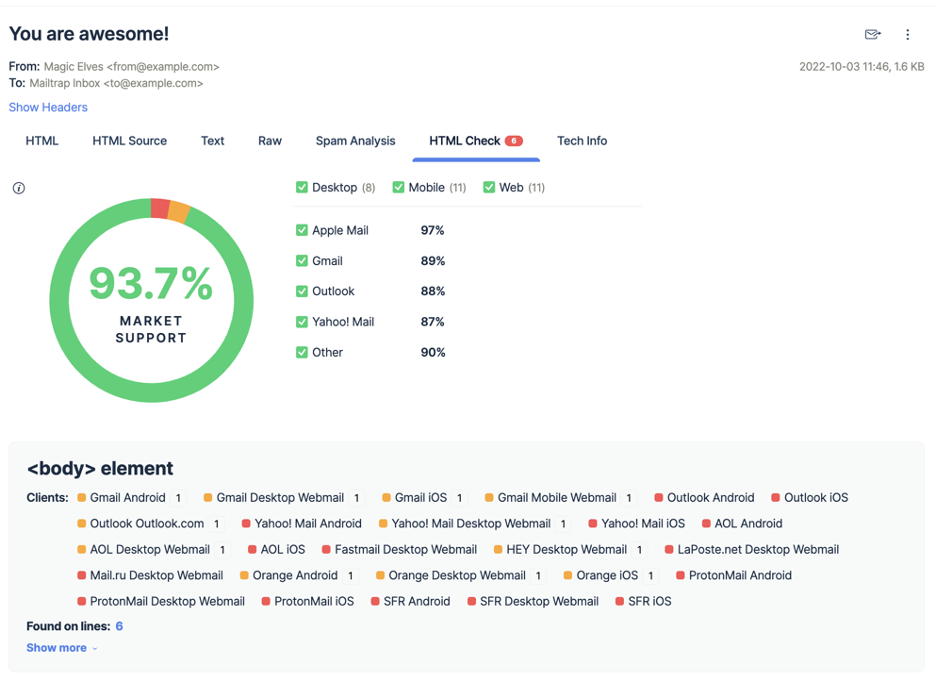 Along with that, if you use Mailtrap Email Testing's flexible API, you will be able to automate test flows and scenarios.
Mailtrap pros:
An end-to-end sending solution
Fast and quality customer support from deliverability experts
Actionable in-depth analytics (helicopter-view dashboards, drill-down reports, up to 60 days of email logs with email body preview, deliverability alerts)
Ready-to-use integrations in 20+ different languages for the testing solution
User management and SSO
Event tracking through webhooks
Mailtrap cons:
Doesn't have a free trial for paid subscriptions yet
No A/B testing
A limited number of SDKs
Mailtrap pricing:
Free plan
Individual

10,000 emails/month – $10 + $1/additional 1,000 emails
40,000 emails/month – $14 + $1/additional 1,000 emails
60,000 emails/month – $18 + $1/additional 1,000 emails
100,000 emails/month – $30 + $1/additional 1,000 emails

Business

100,000 emails/month – $85 + $0.88/additional 1,000 emails
250,000 emails/month – $200 + $0.88/additional 1,000 emails
500,000 emails/month – $300 + $0.88/additional 1,000 emails
750,000 emails/month – $450 + $0.88/additional 1,000 emails

Enterprise

1.5M emails/month – $750 + $0.55/additional 1,000 emails
2.5M emails/month – $1,250 + $0.55/additional 1,000 emails
5M emails/month – $2,000 + $0.55/additional 1,000 emails

Custom

Custom plan for sending volume higher than 5M
Mailgun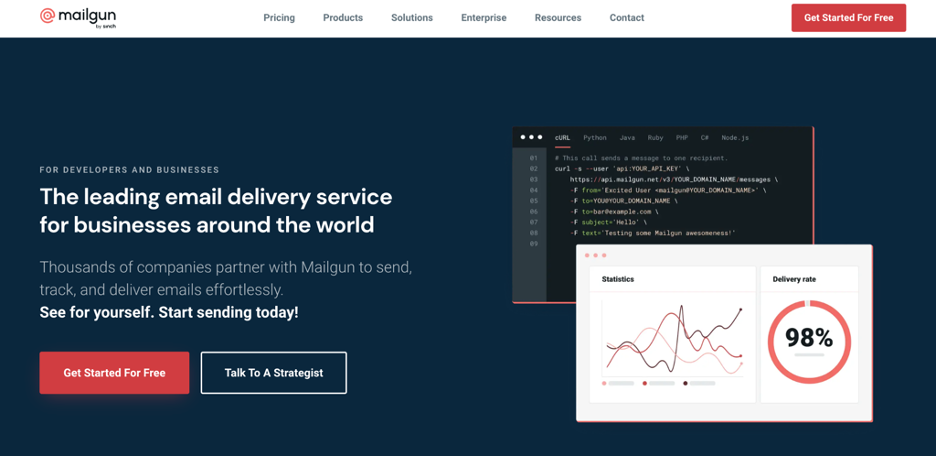 Mailgun is owned by Sinch – a communication platform that merges various messaging, email, as well as voice & video-related services and the company that also owns the popular email delivery service called Mailjet.
Mailgun is primarily used for transactional email sending, while Mailjet is focused on marketing email sending and automation, making them two complementary services under the same ownership.
Mailgun offers easy integration through both RESTful API and SMTP relay, in addition to providing standard features like:
Management of suppression lists
Tracking and analysis of emails
Optimization of email delivery times
Creation of email templates through a drag-and-drop interface
Verification of email addresses
Automatic routing of emails to specific inboxes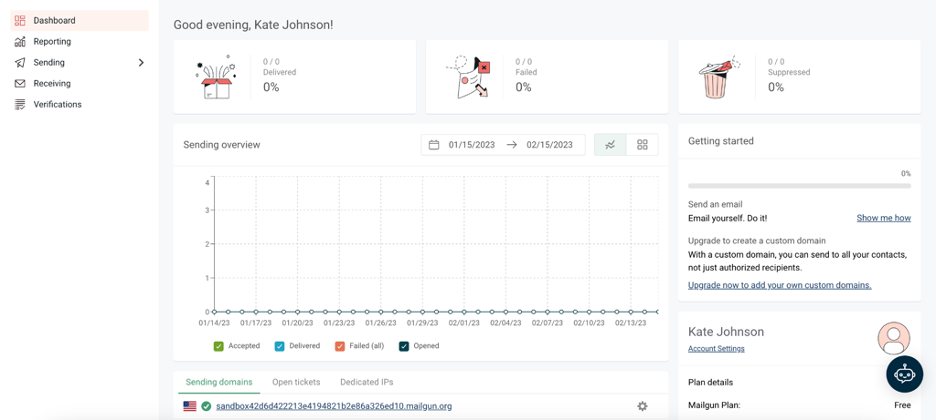 Mailgun pros:
Seamless integration with API or SMTP credentials
Feature for optimizing send times
Integration with commonly used third-party platforms and services (Hubspot, Google Sheets, Drupal, Dropbox, etc.)
Email templates and editor for easy customization
Mailgun cons:
Inadequate reporting and handling of errors
Insufficient protection against spam abuse when using shared IPs
Lack of email testing API
Mailgun pricing:
Free trial

5,000 emails for 1 month + $1/additional 1,000 emails

Foundation

50,000 emails/month for $35 + $1/additional 1,000 emails
100,000 emails/month for $75 + $1/additional 1,000 emails

Scale

100,000 emails/month for $90 + $0.80/additional 1,000 emails
250,000 emails/month for $215/month + $0.80/additional 1,000 emails
500,000 emails/month for $400 + $0.80/additional 1,000 emails
750,000 emails/month for $550 + $0.80/additional 1,000 emails
1M emails/month for $700 + $0.80/additional 1,000 emails
2.5M emails/month for $1250 + $0.80/additional 1,000 emails

Custom

You'll need a custom plan for a sending volume higher than 2.5M
SendGrid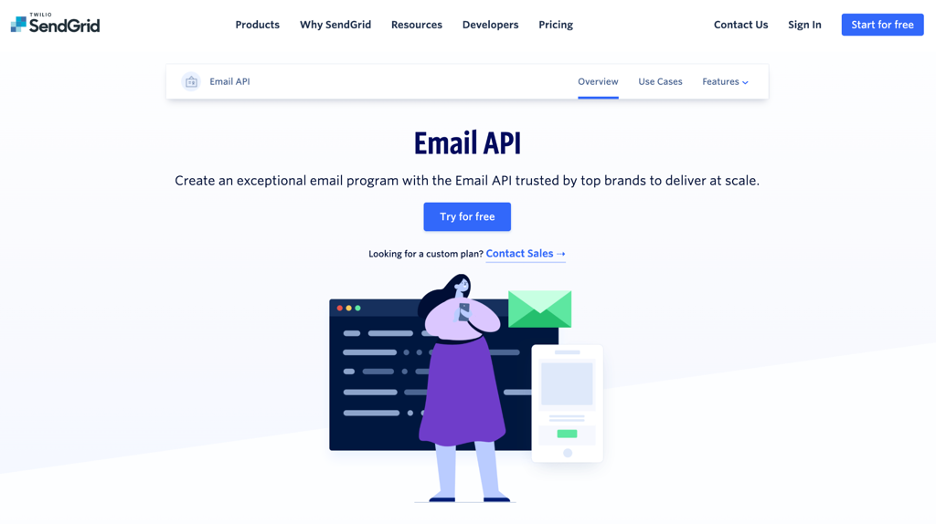 If you're looking for an alternative to Amazon SES to do transactional email sending with, SendGrid is a great option to consider; plus, it also offers email marketing services. 
SendGrid is one of the most popular cloud-based email delivery platforms, established in 2009.
Its focus is on improving email deliverability through its MTA and anti-spam technology. And in terms of security, SendGrid ranks high, with support for 2-factor authentication, privacy policy compliance, data protection, and single-sign-on (SSO).
SendGrid's more advanced features for transactional sending include:
Integration with API and SMTP
Analytics and insights for improving email deliverability
Validation of email addresses
Editors for creating HTML and text templates
Testing of dynamic templates for email campaigns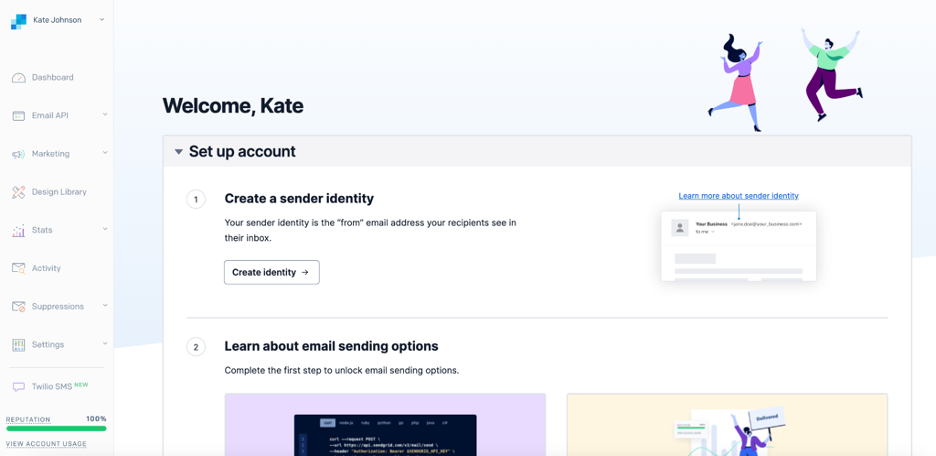 SendGrid pros:
Advanced analytics features
Extensive guides, tutorials, and API documentation for seamless integration
Compatibility with various third-party platforms and services
Templates that can be tailored to fit specific needs
SendGrid cons:
Customer service is slow
Unstable infrastructure that experiences frequent server downtimes
Advanced features are only available on Pro and Premier plans
Unable to increase sending capacity without purchasing additional features and services
SendGrid pricing :
Free tier

100 emails/day, up to 3100 emails/month

Essentials

50,000 emails/month for $19.95 + $0.00133/additional email
100,000 emails/month for $34.95 + $0.0009/additional email

Pro

100,000 emails/month for $89.95 + $0.001/additional email
300,000 emails/month for $249 + $0.00063/additional email
700,000 emails/month for $449 + $0.00051/additional email
1.5M emails/month for $749 + $0.00048/additional email
1.5M+ custom pricing

Premier
Postmark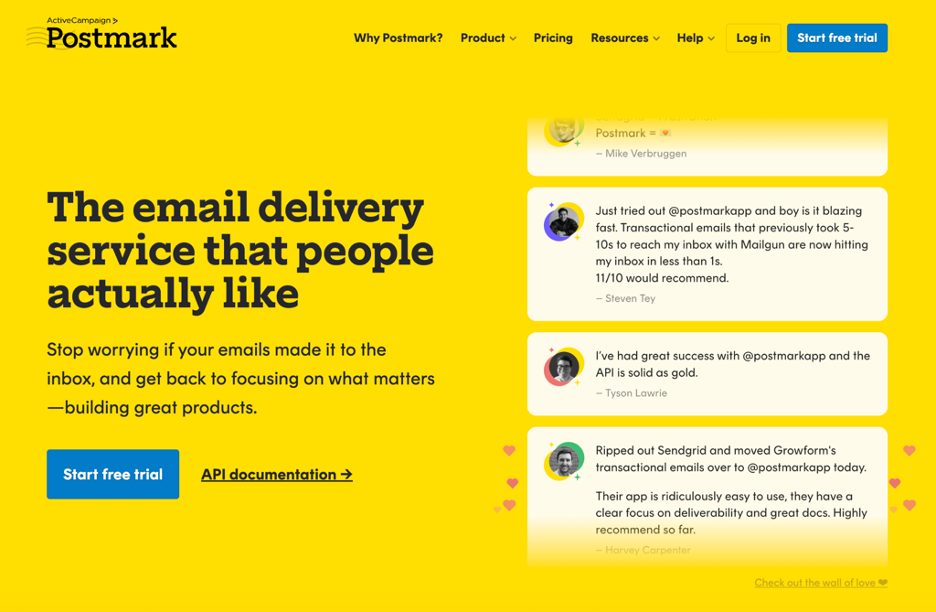 Postmark is an email delivery platform intended for all types of application emails, including transactional notifications and broadcast messages. It also offers seamless integration with your apps through either an API or SMTP server credentials.
Postmark provides users with the ability to send transactional emails and track their delivery through troubleshooting and analytical features. The platform maintains logs for up to 45 days, which makes it easy to revisit and investigate any previous sending issues.
Additionally, Postmark includes responsive templates for your transactional emails, providing a convenient solution for your email creation needs.
Some of Postmark's most notable features include:
Exceptionally high email deliverability rates
Real-time tracking of delivery speed
Metrics that display delivery statuses and engagement data
Integrations with popular marketing, customer relationship management (CRM), and e-commerce platforms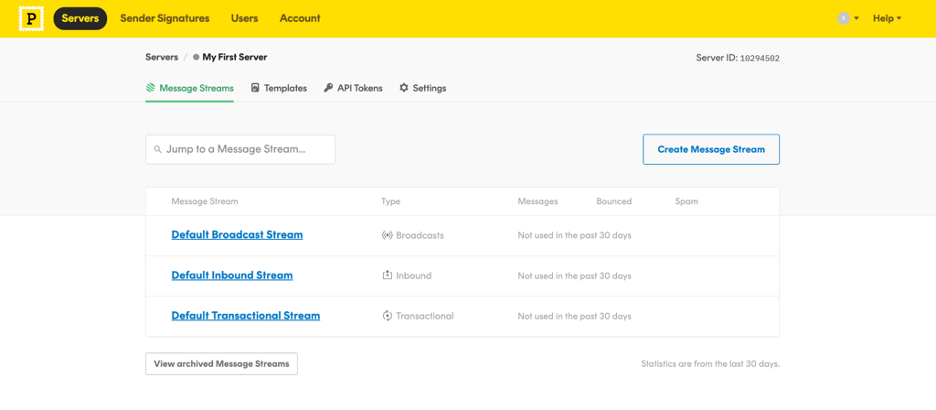 Postmark pros:
API that is flexible and can seamlessly integrate with different programming languages
User-friendly interface within the application
Metrics and logs that offer valuable information about email delivery
Support team that is helpful and responsive to customer needs
Postmark cons:
Dedicated IP address is only available for purchase as a separate add-on
Delivery speed to AOL users is slow
Postmark pricing:
10,000 emails/month for $15 + $1.80/additional 1,000 emails
50,000 emails/month for $55 + $1.30/additional 1,000 emails
125,000 emails/month for $115 + $1.10/additional 1,000 emails
300,000 emails/month for $245 + $1.00/additional 1,000 emails

From this tier and up, you can buy a dedicated IP for $50 per month

700,000 emails/month for $455 + $0.80/additional 1,000 emails
1.5M emails/month for $775 + $0.60/additional 1,000 emails
3M emails/month for $995 + $0.40/additional 1,000 emails
5M emails/month for $1,295 + $0.30/additional 1,000 emails
A custom plan for higher sending volume than 5M
Mailchimp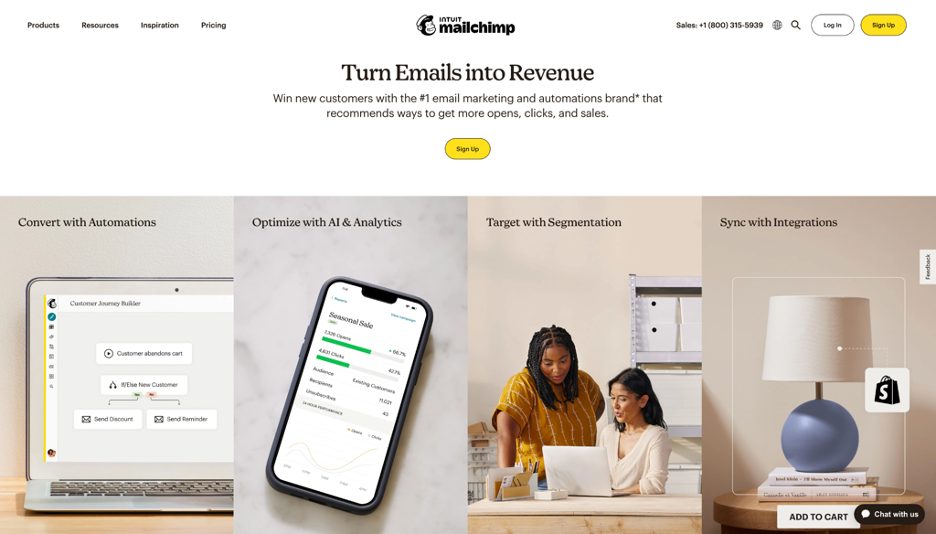 Mailchimp is a solution for email marketing that caters to businesses of all sizes. Its features include a free CRM, website and landing page builder, and automation tools that can help plan and execute marketing campaigns for email newsletters, cart abandonment, etc.
Mailchimp's interface is modern and user-friendly, with all major features easily accessible from the left panel. The Mailchimp campaign manager allows users to schedule multi-channel campaigns, create content calendars, and optimize message delivery for the best possible results. Additionally, Mailchimp includes other helpful features such as:
In-depth audience management tools that include sign-up forms, segmentation, and surveys
Email marketing templates that offer pre-designed themes and layouts or the option to create custom templates with code
Comprehensive reports that include click and open rates, as well as revenue data
Integration with various third-party platforms and services
Workflow automation through the use of pre-built templates
AI assistant that optimizes content for improved performance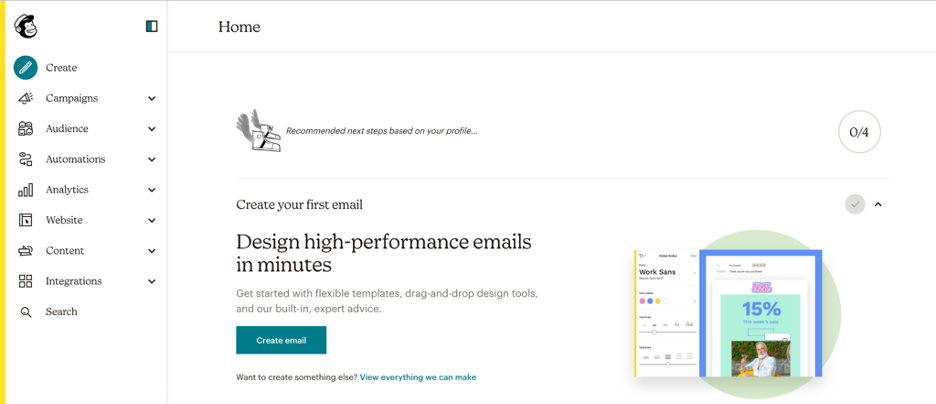 Mailchimp pros:
Drag-and-drop editor that includes an AI-powered creative assistant
Customized recommendations for optimizing email content based on individual needs
Comprehensive marketing automation software included as part of the platform
Contact management tools that leverage predictive segmentation to improve targeting
Transactional email add-on called Mandrill
Mailchimp cons:
Limited range of modern templates to choose from
Sparse knowledge base
No automatic validation of DMARC
Contact management features are less user-friendly and more challenging than those of competitors
Mailchimp pricing:
Free tier

1,000 emails/month for 500 contacts

Essentials

500 to 50,000 contacts from $13 to $350 (5,000 to 500,000 emails)

Standard

500 to 100,000 contacts from $20 to $700 (6,000 to 1.2M emails)

Premium

500 to 200,000 contacts from $350 to $1,510 (150,000 to 3M emails)
You'll need a custom plan for more than 200,000 contacts
Sendinblue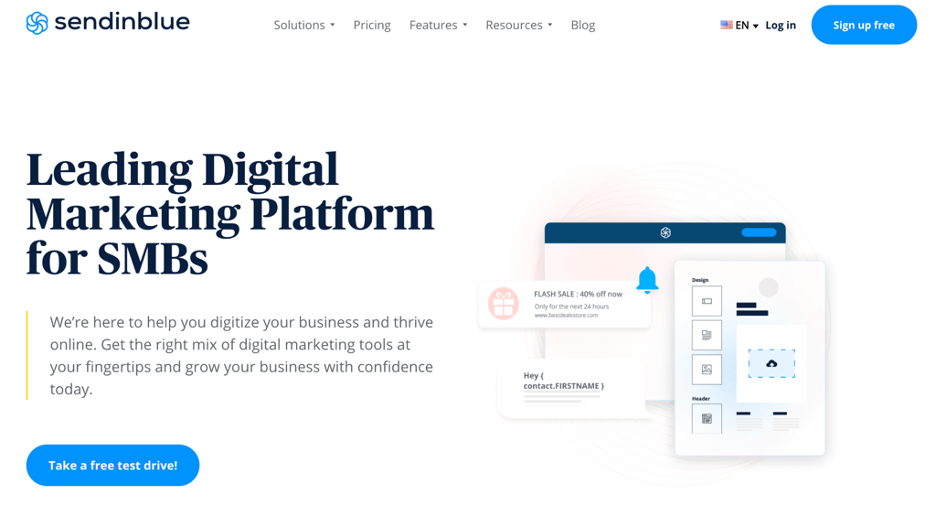 Sendinblue is a comprehensive marketing platform that, much like Mailchimp, provides users with a range of marketing tools such as sign-up forms, WhatsApp campaigns, Facebook ads, free CRM, and landing pages.
With Sendinblue, users can effortlessly create and send email marketing campaigns and track their performance by analyzing metrics such as open and click rates, unsubscribes, replies, and bounce rates. Additionally, users can leverage pre-built workflow automation templates to build drip campaigns.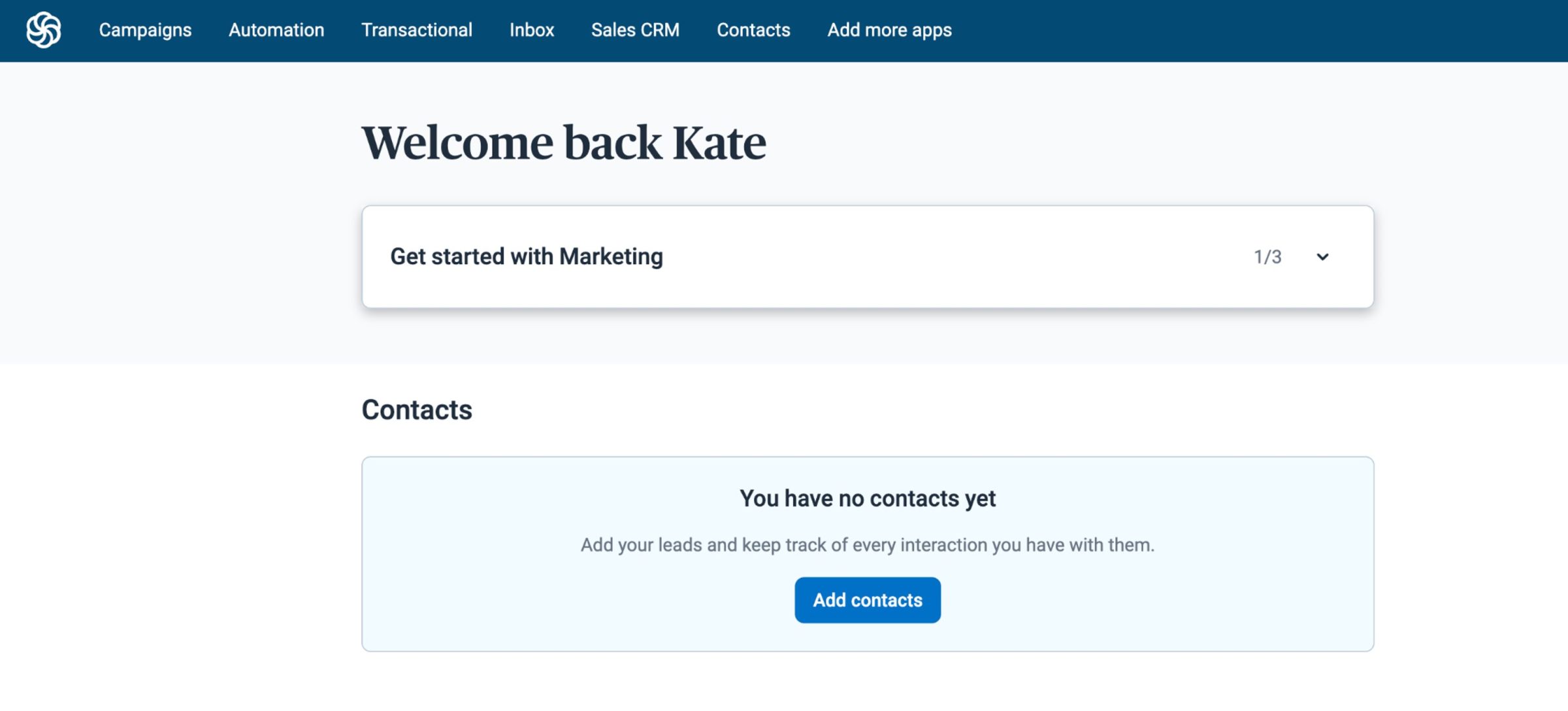 The primary features of Sendinblue include:
CRM functionality that is free and enables lead capture and planning of email marketing campaigns
Email editor that is easy to use with drag-and-drop functionality
A/B testing to optimize campaign performance
Send time optimization
Integration with third-party tools and plugins for expanded functionality
Sendinblue pros:
Interface that is user-friendly and easy to navigate
Marketing automation tool that is intuitive and easy to use
Ability to send both marketing and transactional emails through the platform
Free plan that includes a CRM
Sendinblue cons:
Limited availability of personalized support from customer service representatives
Selection of templates is somewhat limited
Sendinblue pricing:
Free tier
Starter

20,000 emails/month for $25
40,000 emails/month for $35
60,000 emails/month for $49
100,000 emails/month for $69

Business

20,000 emails/month for $65
40,000 emails/month for $75
60,000 emails/month for $89
100,000 emails/month for $129
150,000 emails/month for $169
250,000 emails/month for $239
350,000 emails/month for $289
500,000 emails/month for $399
750,000 emails/month for $559
1M emails/month for $669

Custom

You'll need a custom plan if you send more than 1M emails/month
Note: Additional fees apply for dedicated IPs, transactional emails, adding users, landing pages, push notifications, and SMS or WhatsApp campaigns.
To wrap things up
In this article, we kept the list of Amazon SES alternatives down to the best of the best. Of course, there are plenty of other options available on the market that you can explore if none of these fit your email-sending needs. But the chances of that happening should be slim as all the mentioned alternatives are widely-used and reliable.
To help yourself out on the journey of finding the perfect Amazon SES alternative, keep in mind the criteria we covered at the beginning of this article as well as the comparison table below 👇.
| Criteria | Transactional sending and related features | Pricing (cheapest plan) | Marketing emails and related features | Free tier or free trial |
| --- | --- | --- | --- | --- |
| Amazon SES | ✓ | Pay-as-you-go (for more than 62,0000 emails – $0.10/1,000 emails) | X | ✓ (free tier with 62,000 emails/month) |
| Mailtrap | ✓ | $10 for 10,000 emails/month | Coming soon | ✓ (free tier with 1,000 emails/month) |
| Mailgun | ✓ | $35 for 50,000 emails/month | X | ✓ (free trial with 5,000 emails for 1 month) |
| SendGrid | ✓ | $19.95 for 50,000 emails/month | ✓ | ✓ (free tier with 100 emails/day) |
| Postmark | ✓ | $15 for 10,000 emails/month | X | ✓ (free trial with 100 emails/month) |
| Mailchimp | X | $13 for 500 contacts and 5,000 emails/month | ✓ | ✓ (free tier with 500 contacts and 1,000 emails) |
| Sendinblue | ✓ (for an additional fee) | $25 for 20,000 emails/month | ✓ | ✓ (free tier with 300 emails/day) |