If you're from this planet, you probably know that there are ONLY two types of personalities: cat people and dog people (and if you disagree, you're from some weird exoplanet that James Webb telescope discovered recently).
Similarly to that, there are two types of email marketers: inbounders and outbounders (excuse our unofficial terminology here). While most marketers will tell you to use inbound email marketing strategies and tactics, outbound email marketing is also useful in specific cases and scenarios.
For this blog post, we asked industry experts to share their thoughts on the matter and provide examples of successful campaigns for each. We also prepared definitions, comparisons, and best practices to help you choose between outbound and inbound email marketing.
The ins and outs of outbound email marketing
Before comparing outbound and inbound email marketing and deciding which one fits your business needs the most, let's discuss all the bits and pieces of outbound email marketing.
What is outbound email marketing?
Outbound email marketing is the process of sending promotional emails to people who aren't on your mailing list. The purpose is to introduce products to wider target audiences and possibly gather more leads.
It resembles outbound sales as both include sending unsolicited emails to prospects. However, the goals are different: sales focus on selling the product, while outbound email marketing is more about sparking interest and increasing brand awareness among new audiences.
In the real world, outbound email marketing is similar to handing out flyers in the street to random passers-by or cold-calling numbers in the phonebook.
By default, outbound email marketing doesn't require consent. It involves sending cold emails to potential customers based on an ideal customer profile (ICP). And though the messages are unsolicited, they aren't (or shouldn't be) spammy. Outbound emails are short and straight to the point, outlining the value proposition and the company's offer.
If done right, outbound email marketing can help you reach a wider audience and achieve good results. According to the data provided by Roy Harmon, the CMO of LeadPost, cold emails sent through their platform in January 2023 received a 16.07% open rate and a 3.29% click-through rate (CTR). And considering the average open (18%) and click (2.6%) rates for marketing emails (based on reports from Statista), these results are more than decent.
Still, the response rate for cold emails is pretty low with the average benchmark between 1% to 5%.
Outbound email marketing examples
We can differentiate between different types of cold emails sent within the outbound email marketing strategy.
• Personalized emails that are related to recent events: let's say one of your potential customers was featured in the list of fastest-growing companies, or your prospect got promoted. In such an email, you'd congratulate them on the success and slowly transition to the value proposition (how your product or service can benefit their company).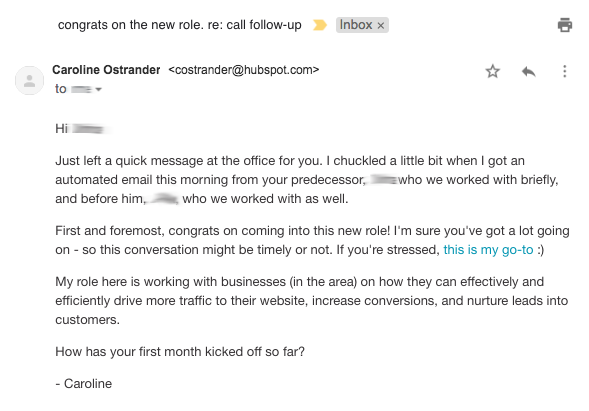 Emails such as in the example above, spark the recipient's interest and immediately trigger positive emotions. On top, the sender has mentioned mutual acquaintances and emphasized previous collaborations. This adds to the credibility and makes the prospect more likely to trust you and schedule a meeting/respond to your goals.
• AIDA cold emails: AIDA framework outlines the four main stages of the process prospects go through, attention-interest-desire-action.
The subject line and the opening line of your emails can serve as the attention grabber. Once again, this should be a profoundly personalized piece, such as outlining your common interests or using humor to soften the tone. At the same time, it should include the problem you're going to solve with your product or service later.
Once you have the recipient's attention, you should provoke their interest by telling them exactly how you're going to solve the problem. The next step is to reinforce that idea with client testimonials, case studies – anything that will prove your credibility. Try to focus on actual results you achieved with other clients instead of stating general numbers that are basically useless for the recipient.
The final stage is to drive the recipient toward the desired action by asking them if they are willing to book a short meeting.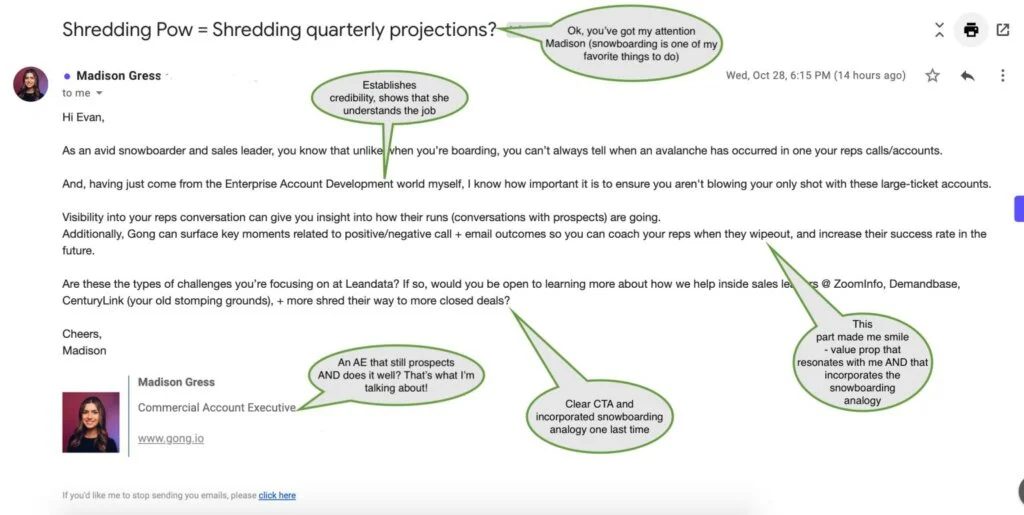 In the example above, the author of the email referenced the recipient's love for snowboarding and used it to catch their attention. They emphasized the problem and offered the solution while still using snowboarding-related terminology. The result was the booked meeting with the recipient.
Such an approach can set you apart from the competition and get you at least a reply, if not a potential sale.
• Emails that follow the PAS framework: problem-agitate-solve or pain-agitate-solve cold emails focus on emphasizing the pain points of the potential customers. This approach shows the negative effects of the problem from short and long-term perspectives and offers a solution. Here's a cool example from our colleague's inbox that follows the PAS framework in a fun and distinctive way: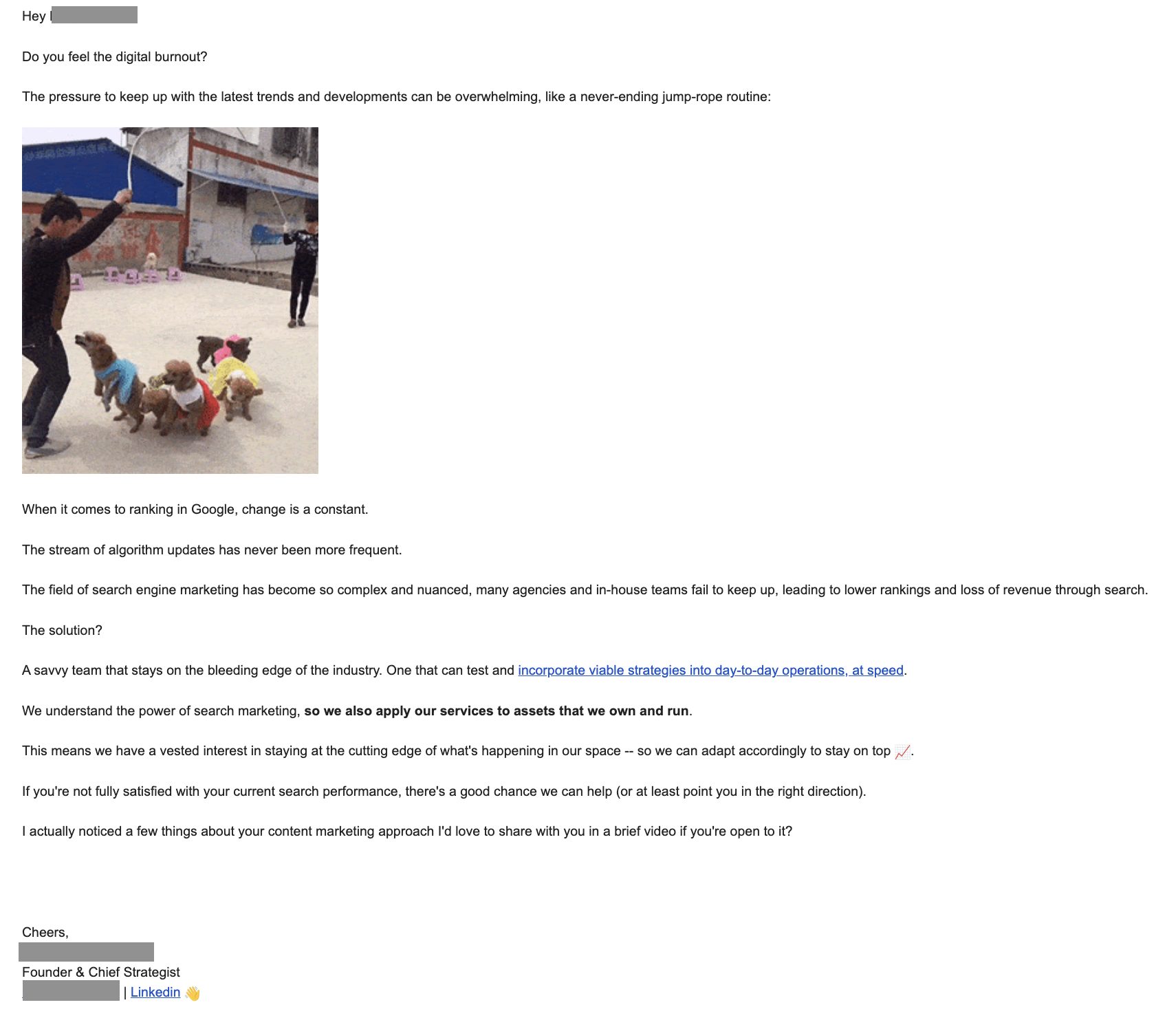 The sender emphasizes the problem and compares it to a never-ending jump-rope routine. They also use a GIF to catch the reader's attention. And let's face it, who doesn't respond to cute dogs jumping on a rope? Then the sender goes on to agitate or describe the negative effects of the problem. Finally, they offer the solution and describe the benefits of their services.
• BAB cold emails: instead of describing the problem and solution, the before-after-bridge framework compares two realities, the one you're in right now (before) and the hypothetical future (after), and shows you how the product can be the bridge between those two realities.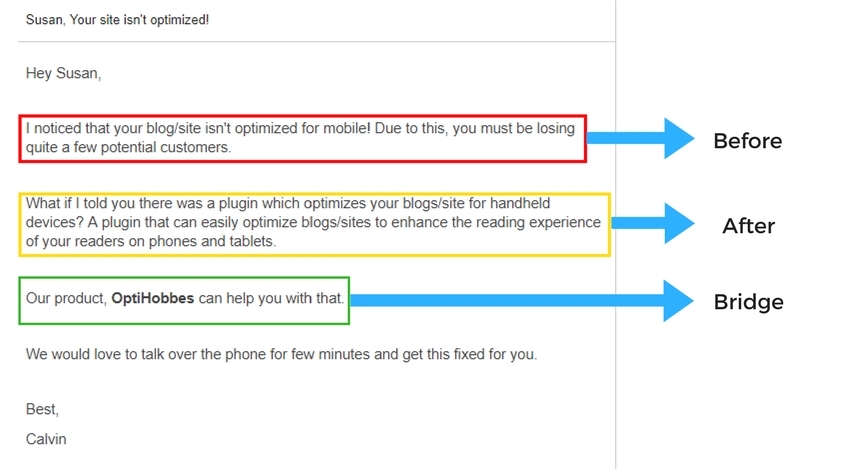 In the example above, you won't find any unnecessary filler words. It starts directly with the problematic reality (the blog not being optimized for mobiles). The second portion starts with 'What if' which is a common opener for describing the 'after'. Then we see the bridge – OptiHobbes that can easily change reality for the better. The email ends with the offer to discuss the details over the phone. Short, precise, and effective.
• PPP cold emails: praise-picture-push aims to take advantage of the flattery to charm the recipient. The main idea is to invoke a positive attitude before actually introducing the product. It starts with simple praise about the company's steady growth, recent advancements, or someone's promotion. Then marketers paint the picture – how their product or services will improve the situation for the recipient. The final stage is to push recipients to take an action – sign up, book a call, or reply.
You can clearly see that structure in Snov.io's example below.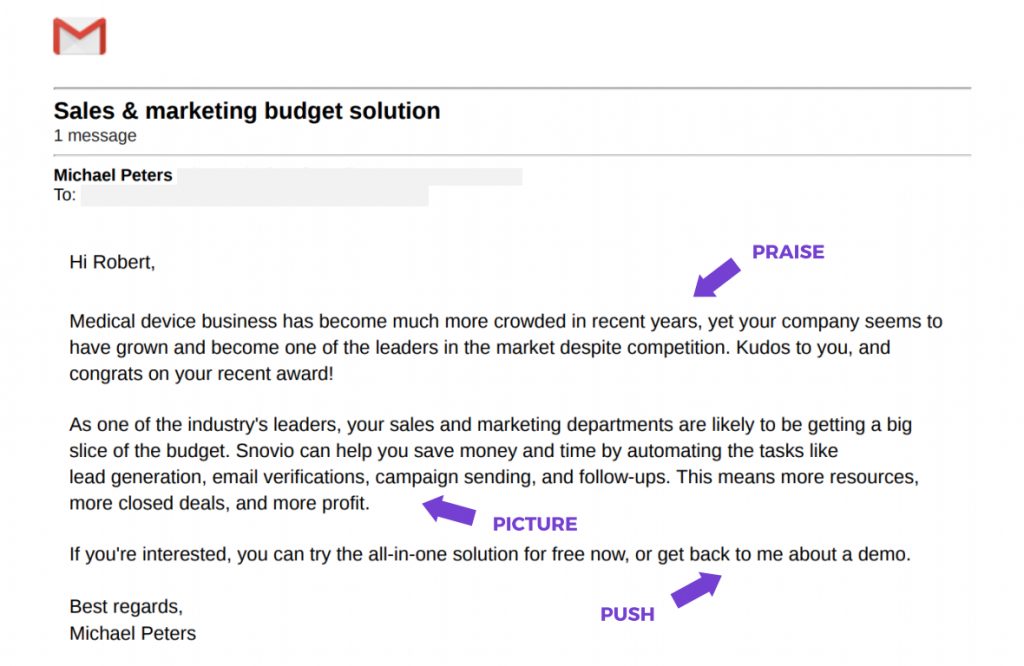 • Emails that have Sujan's 3-sentence format: finally, Sujan Patel's 3-sentence format follows the idea that emails should be scannable, mobile-friendly, and easy to read for busy executives. Though it's not necessary to have exactly three sentences, the idea is to keep the cold email as short as possible.
Think of it as a 30-second elevator pitch – no-nonsense sentences that emphasize the value proposition. Here's Mailshake's template that follows Sujan's format: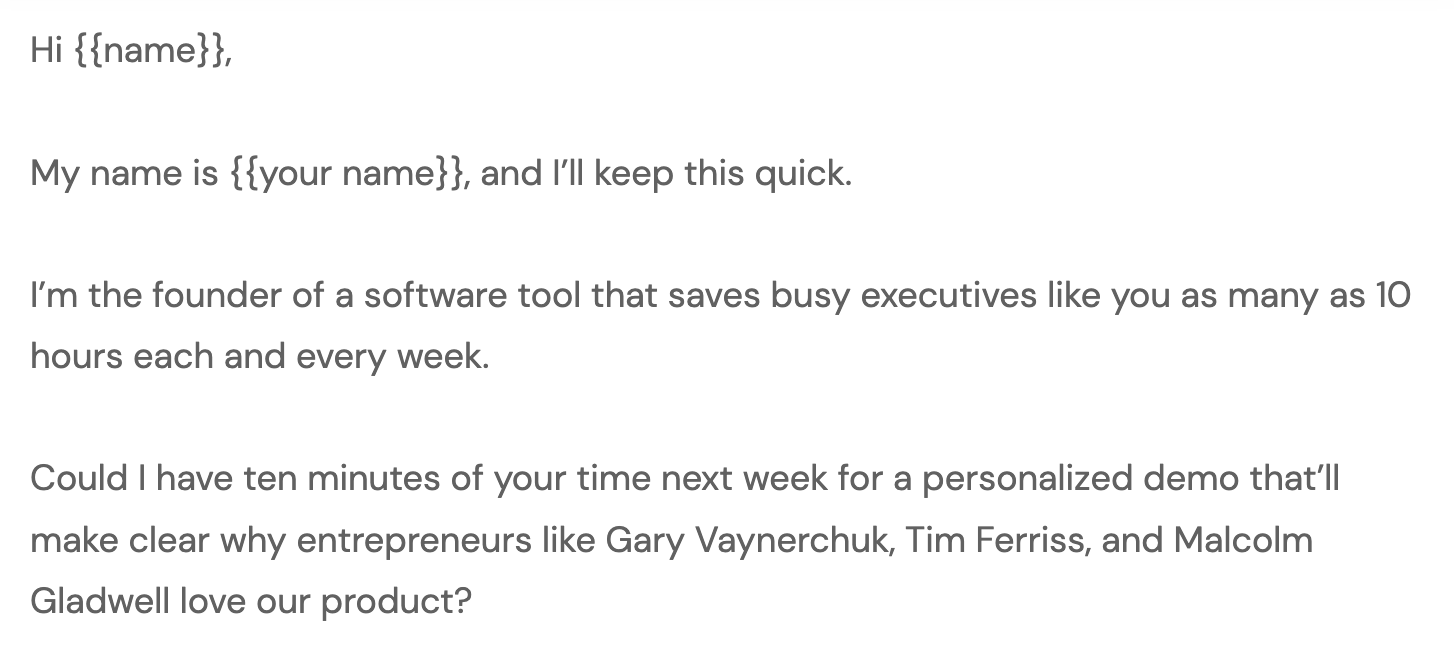 There could be many other types and formats of cold emails. To learn more about cold email strategies, refer to our dedicated blog post.
Outbound email marketing tools
You'll need a dedicated platform to manage your outbound email campaigns. The chosen tool should allow you to personalize your cold emails easily, access performance statistics, and send automated follow-up emails.
You can also consider additional features such as scheduling emails, A/B testing, integration with customer relationship management (CRM) systems, and the ability to run different types of campaigns.
We picked 6 reliable tools for planning, creating, and sending outbound email marketing campaigns.
Along with dedicated software, consider using specific tools like interface design platforms for building a responsive email design, an AI writer to help you quickly and easily generate high-quality content for your newsletters and other marketing materials or multiple devices VPN for accessing your email marketing tool from different gadgets and locations.
Cost of outbound email marketing
Nobody can tell you the exact costs of outbound email marketing, as it hugely depends on the size and goals of your business.
Let's say you have a tech startup in Germany that provides AI-powered cybersecurity services. You want to reach potential clients directly to introduce your product, grow your audience, and increase sales.
To achieve that goal, you'll need a team of marketers and researchers. The team of researchers will build the ideal customer profile. In this case, that would be small to medium businesses in Germany that have less than 100 employees. Such businesses usually can't afford to hire large teams to deal with cyber threats. The AI-powered solution would be a perfect fit for them.
Now imagine that only 100 companies meet those criteria. You'd need marketers who will build an outbound email marketing strategy and execute it. Obviously, hiring professionals will require financial resources.
On top, you'll need a CRM and outbound marketing tools to build email lists and send cold emails to potential customers. A fully customizable CRM solution will allow you to integrate the two. These services can range from $500-$1,000/month.
You'll also need custom domains for cold outreach, as some users may mark your emails as spam (which isn't surprising considering their unsolicited nature). That way, you'll have more control over your sender reputation by implementing email authentication protocols. You don't have that luxury with free domains such as @gmail.com.
Finally, outbound email marketing has a low return on investment (ROI) because of low open and click rates. Remember the reply rate benchmark we mentioned above? If the rate is 1%, you'll get 1 response for every 100 emails you send. And the more emails you send, the more you have to invest.
Best practices for outbound marketing emails
To ensure your outbound email marketing is successful, we recommend considering the following best practices: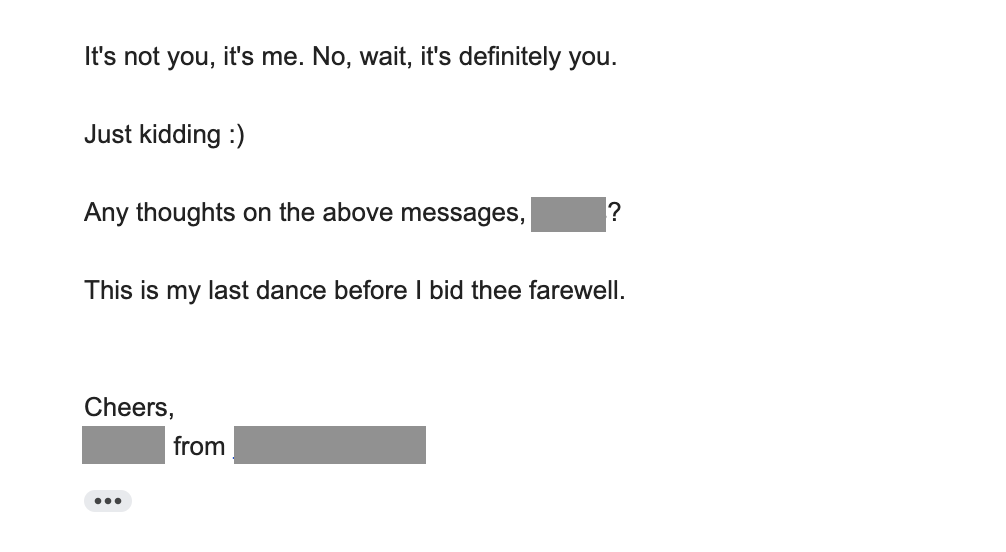 Ins and outs of inbound email marketing
When you see people talking about email marketing, they're most likely implying inbound email marketing. And if you have a working email address, you've probably received at least one inbound email. So, what is it exactly?
What is inbound email marketing?
Inbound email marketing implies promoting products or services to your existing subscribers. These are people who opted in for your newsletters or other forms of marketing communication. The purpose is to achieve set business goals, such as converting subscribers into purchasing customers, increasing brand awareness, building relationships, etc.
Most marketers rely on inbound email marketing due to its effectiveness. According to Milosz Krasinski, the Managing Director of Chilli Fruit Web Consulting, their campaigns saw a dramatic difference once they started using inbound tactics. Their open rates increased from 15% to 30%, with the click-through rate (CTR) jumping from 1.5% to 5%. They also saw a 75% increase in their customer base. The customer lifetime value went up by 40%.
"Inbound email marketing is like a snowball rolling downhill. The more you do it, the bigger it gets."

Milosz Krasinski, Managing Director at Chilli Fruit Web Consulting
Inbound email marketing is often used to strengthen the company's content marketing or other inbound marketing efforts. This is done by promoting blog posts, newsletters, or educational guides through emails.
Inbound email marketing examples
Inbound marketing emails can take different forms and shapes depending on the campaign they are part of. We picked 4 types and their examples: newsletter, welcome email, promotional email, and product update.
WP Builds: Newsletter
Newsletters are a great way to gather loyal subscribers who receive real value from your content. These emails usually include weekly/monthly/quarterly updates about your product, news happening in your industry, a roundup of the content you created, or just useful information your audience is interested in.
For this example, we picked the WP Builds newsletter from January that featured the latest WordPress news. The email summarizes all the updates in a short, bullet-pointed list. It then encourages the readers to scroll down and follow included links to read more about the community, plugins, jobs, and even AI.
We like this newsletter for two main reasons: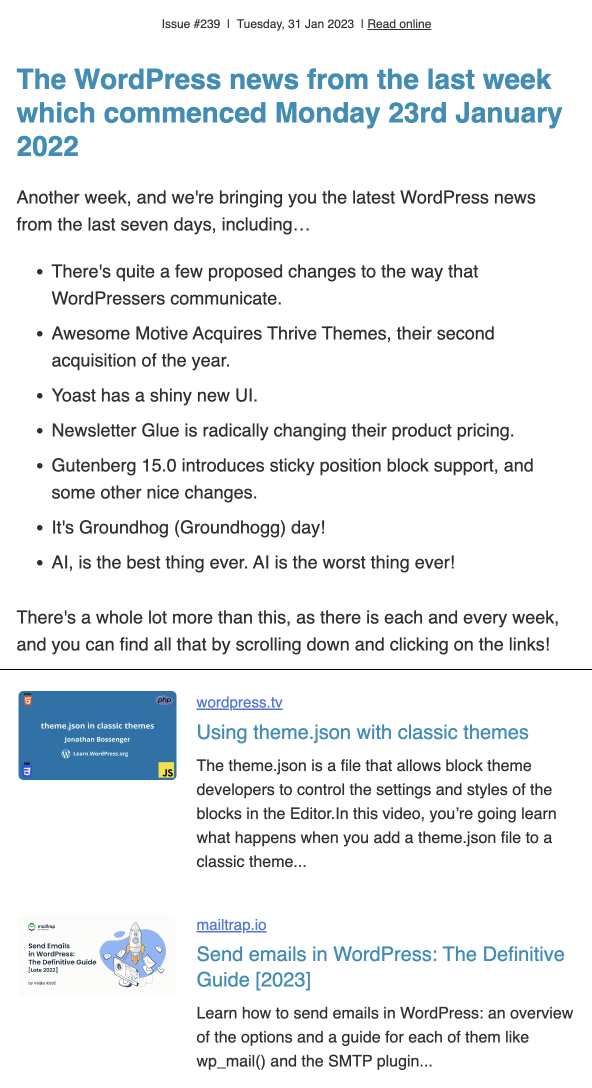 Microsoft Azure: Welcome Email
Welcome emails are sometimes purely transactional but in most cases, they serve marketing purposes. They are used to welcome new customers and direct them toward the next steps. Some welcome emails also include onboarding steps or educational content to make it easier for the customer to use the product.
Once the planning stage is completed, welcome emails don't require any manual involvement. They will be triggered automatically and sent via marketing automation platforms when new users sign up on your website or app. This makes them cheap and effective.
Here's a welcome email I received from Microsoft Azure. It's short, but it still includes useful information for the new customer. The call to action (CTA) button isn't pushy and relates to the content of the email. Moreover, the email includes links to the courses that will help users understand how the cloud works and what values it will deliver in the future.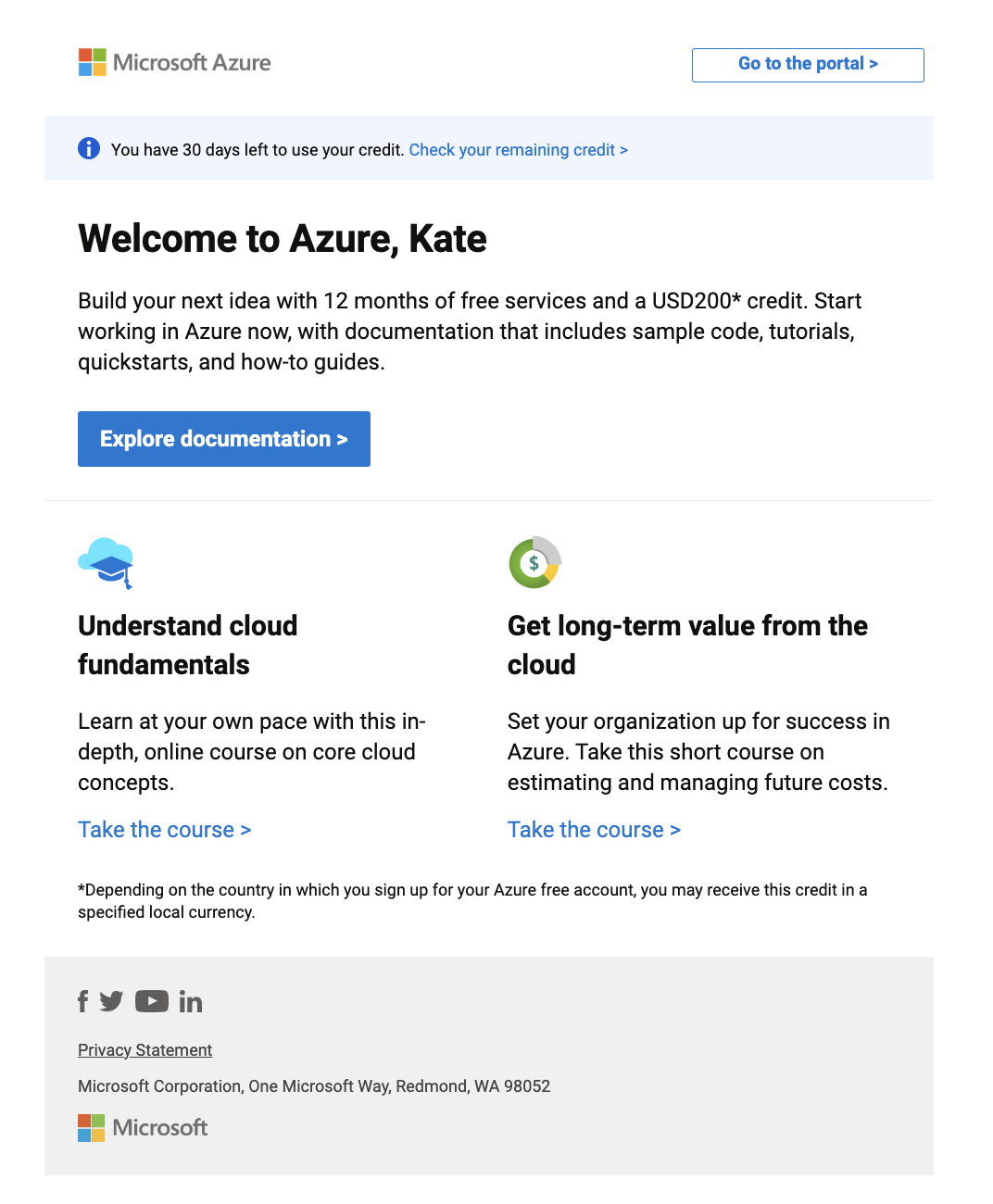 Booking: Black Friday Deal
Promotional emails are the most common types of marketing emails. Their purpose is to offer relevant discounts to the customer. Those can be Black Friday deals, holiday sales, random coupon codes, or cashback offers.
Below you can see the Black Friday email from Booking.com. The email doesn't contain many words or captivating copies. However, it still includes all the necessary information – you don't have to read the fine print to find the conditions of the sale. The email also features available deals to set the right expectations for the reader.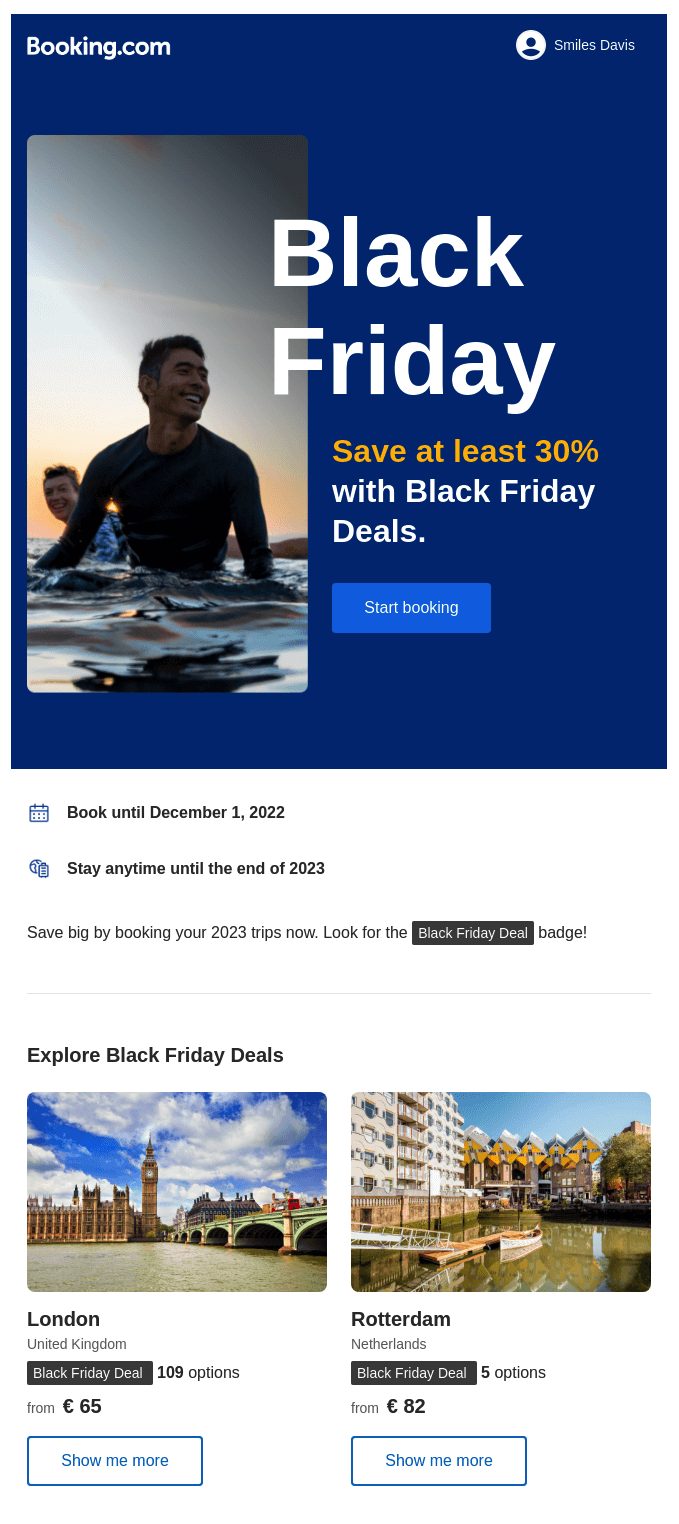 Simple: Introducing Dark Theme
Marketers use product update emails to introduce new features or improvements to their subscribers and customers. Such emails are a simple way to remind your audience about your product, trigger their interest, and even drive clicks.
The example below is from Simple. They introduced a new dark theme in the app with a simple, gradient email. With only one copy and a single sentence explaining the purpose of the email, the company successfully informed users about the changes.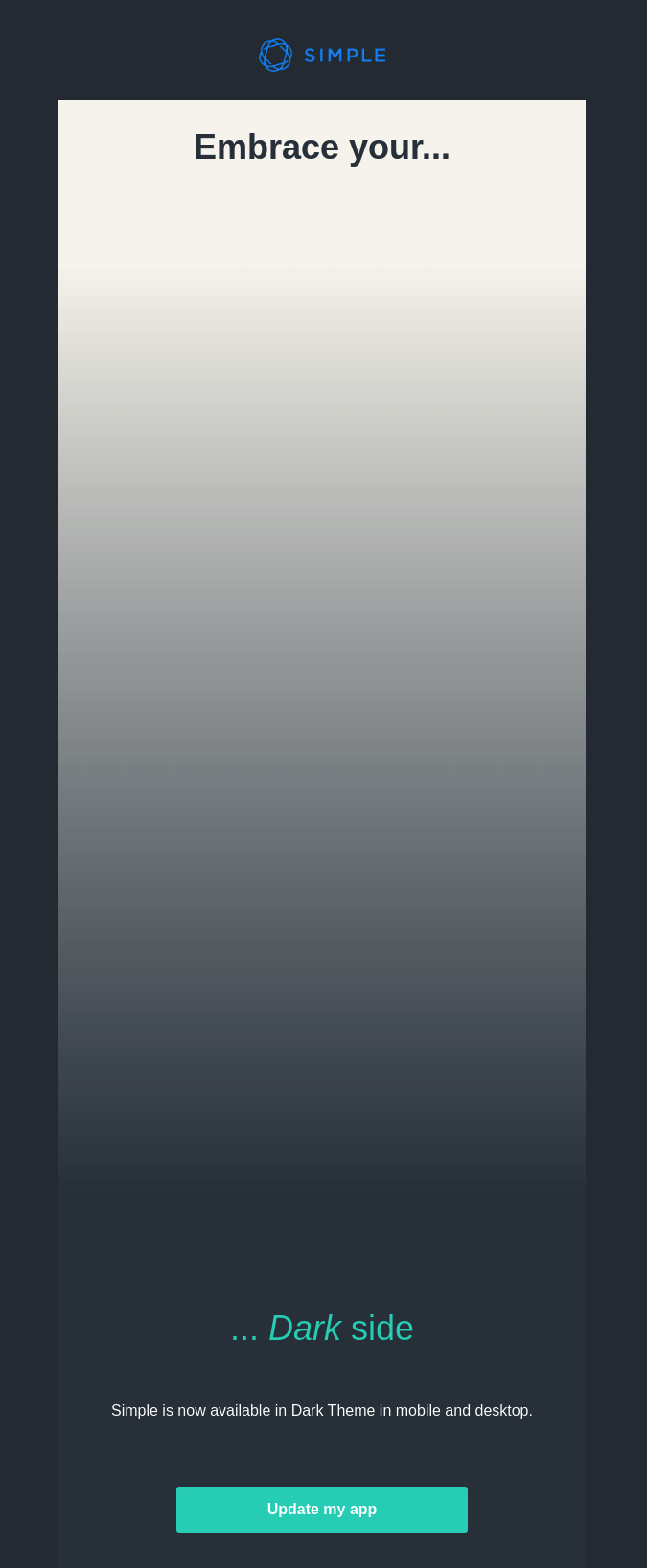 Inbound email marketing tools
Inbound email marketing is cost-effective (more on that later) partly because most of its processes can be automated. You can create workflows for different stages of the customer journey, use ready-made templates, and polish email lists with validation tools. All of that is achieved with the help of email marketing platforms. Here are 5 popular tools on the market:
Cost of inbound email marketing
Inbound email marketing is 61% cheaper than outbound email marketing. The main reason is that the audience you're targeting is already interested in your products, resulting in a 15% average conversion rate.
Moreover, according to Litmus, the ROI for inbound email marketing ranges from $32 to $45 for every $1 spent. That's one of the highest ROI compared to other types of digital marketing (search engine optimization (SEO), social media marketing, affiliate, and influencer marketing, content marketing, etc.).
However, you should keep in mind that inbound email marketing takes time to work and bring results. It may even be more expensive than outbound email marketing in the beginning. However, it yields more return in the long term.
Best practices for inbound email marketing
Some of the best practices we mentioned above will also work for inbound email marketing, such as being compliant with privacy laws and avoiding bought email lists.
However, you'll need slightly different marketing tactics to achieve success with inbound emails.
Inbound vs outbound email marketing: key differences
Now that you know what inbound and outbound email marketing are, let's list down the key differences between them.
So, is email marketing inbound or outbound?
Email marketing isn't inherently inbound, but most marketers mean inbound when talking about email marketing. Yet, as we saw above, email marketing can be outbound as well. Both can be blended within a single strategy to boost the results, or used separately depending on the goals. Our descriptions, expert insights, and email marketing tips should help you decide between outbound and inbound email marketing and pick the correct approach for your business.