The purpose of email marketing is to add subscribers to your mailing list and build a steady relationship with them to increase sales, improve brand loyalty, and deliver important information.
But what if, after carefully selecting the subject line, brainstorming the content, and working hard to make your CTA enticing, your open rate barely hits 5% with just a couple hundred engaging with your content? It's painful to see your money and efforts going down the drain, isn't it?
So, if you've let your mailing list get to a scary place and your email metrics are dwindling, it's probably time to clean it up.
In this article, we will discuss the specifics of email list cleaning and some useful recommendations for professional email list cleaning services that will help you build a quality list with subscribers that want to hear from you.
What is Email List Cleaning?
Email list cleaning entails regularly updating your email contact list by cleaning out inactive and outdated contacts and being responsive to recipient preferences. Performing email hygiene regularly will ensure more effective interactions with contacts and help you avoid your emails being marked as spam.
What is the Need to clean your Email List?
There are several serious impacts of dirty data in your email list. The good news is if you periodically clean your email list and adopt good email list hygiene habits, your emails are much less likely to be marked as spam, and several other benefits come with it:
It increases the overall engagement rates of emails, helping you build more meaningful relationships with the customers.
It lets you focus on the customers or subscribers who have expressed interest in your product.
It boosts your conversion rates, and you have a more engaged community, which equates to increased customer satisfaction and higher revenue.
You experience fewer bounces from bad email addresses, which improves your sender reputation and translates to improved deliverability across your entire subscriber base.
So many benefits with just one process – Email List Cleaning! Despite all these benefits, if you still don't prune your email lists, you risk losing a lot, like – your sender's reputation and your ability to reach your subscribers – even the most engaged ones!
The quality of your email list is one of the main barriers to effective email marketing. 50% of marketers believe so.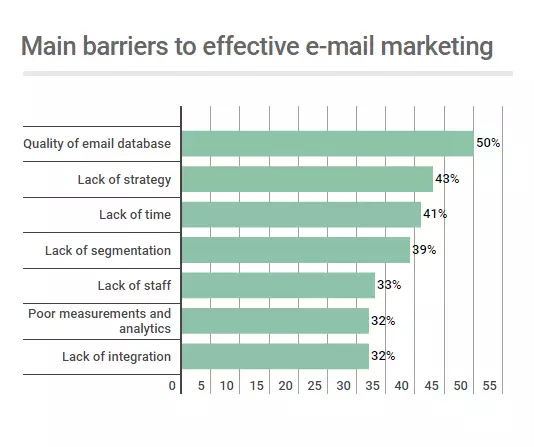 So take a good look at your email metrics, specifically your open and click rates.
If you notice a decline in these over your last few email campaigns, then your email database may be the culprit, and an email list cleanup may be in order.
So, How to Clean your Email List?
Now that you know how important, regular cleaning of your email lists is, below are some email list cleaning best practices to clean up your list and keep it squeaky clean over time.
Use Double Opt-in
The advantage of using a double opt-in process is that the users are required to confirm their subscription to a mailing list. This ensures two things:
You have the permission to send emails to contacts
You can rest assured that there are no addresses with syntax or typos errors on your mailing list.
Double opt-in involves sending your subscribers emails containing a link, by clicking on which your subscribers will acknowledge that they are aware of being added to your email list.
Below is an example of a confirmation email sent by Pottermore. The CTA button states clearly that the sender expects the subscriber to acknowledge their awareness of being added to the mailing list.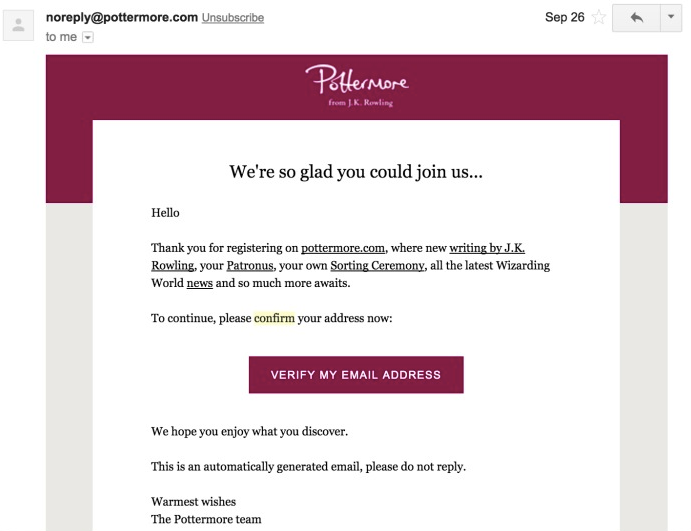 Ask Your Subscribers
If your email list suffers from low engagement rates, it may leave you wondering whether your recipients are not interested in receiving your content or they no longer feel motivated to take action on your emails. Instead of guesswork, a good way to figure that out is to ask your subscribers. Here are some good strategies to use:
A subscribers' poll.
Requesting subscribers' feedback on something you did recently.
Asking your subscribers to set communication preferences within the email.
Segment your Mailing List
While using strategies to engage your new or disengaged subscribers is important, taking your engaged audience for granted isn't a good idea. Email databases degrade by about 22.5% every year. So, if you find out that your active subscribers aren't interested in your content anymore, then asking your subscribers about their interests at the sign-up stage, asking them to set their preferences, or sending them a questionnaire are some good ways to know your subscribers better.
By obtaining this information, you will be able segment your email list and personalize your email campaigns based on each of your contacts' unique interests and preferences.
Send a Re-engagement Email Campaign
Sometimes, when the recipients do not like the type of content you're providing, it may result in low engagement rates. So before you write off disengaged recipients, consider what other kinds of content you could provide them that they might find appealing.
Sending a re-engagement email to those subscribers with the right offer, such as – a gift, a discount coupon, or exclusive content, can help you win them back. Below is a good example of a re-engagement email from Redbubble.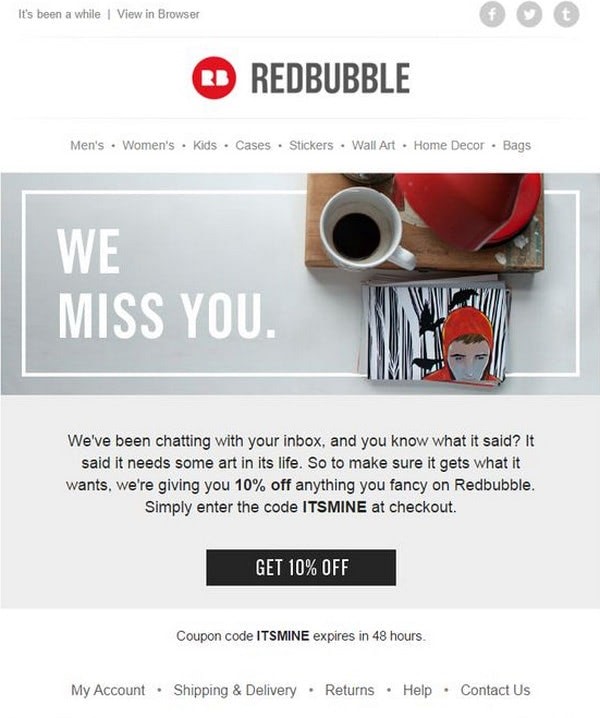 Additionally, you can also offer them a way to pause email communications for a while and then receive them later when they are less busy.
Remove Bounced Addresses
Email Bounces are sent by a mailing server if your email fails to be delivered. They can be of two types— soft and hard, but both result in one thing – your emails failing to reach the recipients.
While soft bounces mean your emails can't be delivered due to temporary reasons, such as – server down or too busy, large email size, hard bounces can be more serious. They occur when your emails get rejected due to permanent reasons, such as – invalid addresses, your emails being blocked by the recipients, etc.
You can stop mailing soft-bounced addresses until the issue is solved; the hard-bounced addresses should simply be removed.
As a marketer, it's easy to lose sleep over the performance of your email campaigns. But what if you had a way to test your emails before sending them to real users? That's exactly what Mailtrap does as an email testing tool. Mailtrap catches your emails in a virtual inbox, allowing you to test and optimize your emails before they are sent out to real users. With the help of this tool, you can receive several benefits, such as – check email deliverability, headers, and how it will look in real inboxes. You can also automate the testing process with Mailtrap API, which makes the testing process even easier.
Here's what an email client compatibility report from Mailtrap looks like: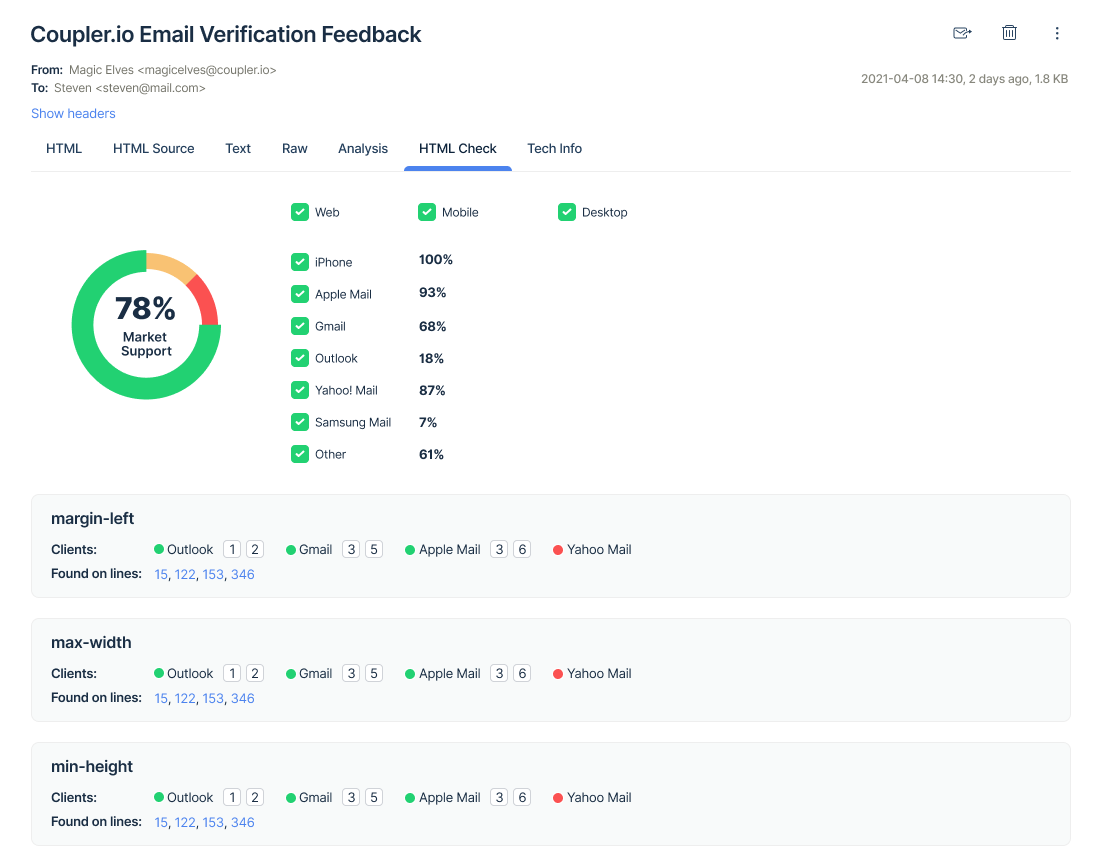 Make it Easy for Subscribers to Unsubscribe
Making it difficult to opt-out to keep subscribers on the list is unethical and usually doesn't go down well. Your subscribers might just mark your emails as spam, which will severely impact your sender's reputation.
By including an easy-to-find unsubscribe button and a one-step opt-out process will help your subscribers to trust you. Also, if your content is great, there is usually nothing to fear.
Here's how Hubspot makes it easy for its subscribers to unsubscribe.

Use Marketing Automation
Marketing automation is a great tool for sprucing up your email list. It allows you to write rules for automatically removing or segmenting subscribers that meet certain criteria.
Using marketing automation, you can set up a rule to remove any addresses that bounce more than once.
You can also set rules based on a time limit; for example, if someone hasn't opened an email from you in a long time, you can remove those contacts or send them a re-engagement email.
With the help of marketing automation, you can also identify low engagement subscribers so you can re-engage with them by trying a different marketing approach.
Remember, marketing automation is your best friend when it comes to having clean email lists.
Expert Tips to Make Sure your Email List is Thoroughly Cleaned
If you have never pruned your email list before, you should start doing it now. Below are some expert tips to make sure your list is thoroughly cleaned.
1. Start by Scrubbing your Most Active Lists
When you start email scrubbing, start with the list consisting of people you engage most frequently with.
2. Remove/Merge Duplicates
Sometimes people forget they've signed up for an email list. Then, upon finding the website again, they sign up for a second time. That's how duplicates end up in your email list. Sending emails to duplicate email IDs can reduce some of the most important email metrics, and your emails risk ending up in spam folders.
3. Remove Spam Email Addresses
It's easy to identify spam email addresses as they look nonsense, but they can also look remarkably close to common company names or words, so they appear legit. Below are some examples of what spam emails might look like:
Abcdasjf87232ksdjf0@gmail.com
Apple@gmail.com
But you don't have to remove such email addresses manually; many email validation services can do it for you.
4. Correct Obvious Typos
Large email lists often come with typos. You can correct obvious typos. For example, if you find xyz@gmial.com, you can change it to xyz@gmail.com. Sometimes, a name might look strange, but that doesn't mean that it's an invalid email address.
5. Place the Data in the Correct Field
If an email address ends up in the postal address field, then the contact won't be receiving your email marketing. So make sure all the contact information is in its correct place so you can use the data effectively.
6. Use the Right Email List Tools Upfront
Ideally, keep the number of email contacts to be cleaned as low as possible. If you're using email database tools such as ZoomInfo or alternatives, make sure that you use a provider that ensures high data accuracy.
Top 6 Companies Offering Email List Cleaning Services
When you have to juggle managing multiple tasks, cleaning your email list yourself can be extremely tiring. It can sometimes take multiple staff members and lots of time and effort to clean up all your contact data. And even after that, human error is always inevitable.
Using a professional email list cleaning service is highly beneficial, especially when compared with manual data cleaning. Some of our top picks for professional email list cleaning services are:
1. Blue Mail Media Inc
Blue Mail Media gives a robust, efficient, and reliable cleanup mechanism to help businesses manage email list hygiene and clean their contact list from spam and error emails. Here are some benefits of using Blue Mail Media for data cleaning services.

2. Infocleanse
InfoCleanse is one of the best companies for email list cleansing services and data appending services. By simply uploading data on their dashboard or directly sending it to the team, you can get your data validated, verified, updated, and cleaned.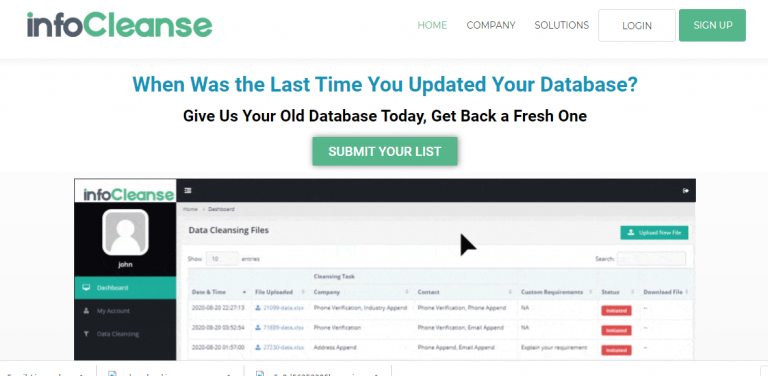 3. Snov.io
Snov.io Email Verifier is an easy-to-use tool that offers dual benefits of email drip campaigns and an inbuilt email finder on the same platform. With this tool, you can clean your email list from invalid emails in a matter of minutes with 98% accuracy, which reduces your bounce rate and boosts your deliverability rate and sender reputation.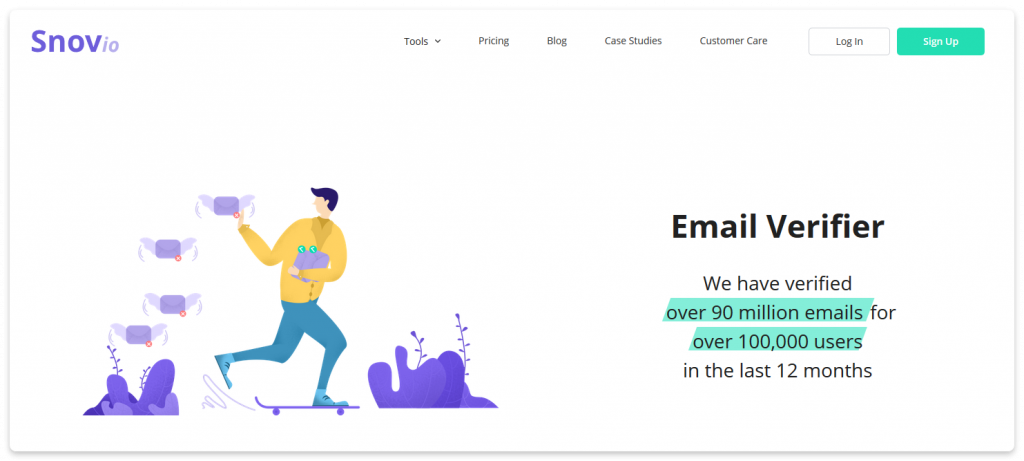 4. MailGet
It's pretty simple to get your email list cleaned with MailGet. All you need to do is – purchase your plan, upload your email list and then simply relax and focus on your other tasks while the cleaned list will be sent to your email.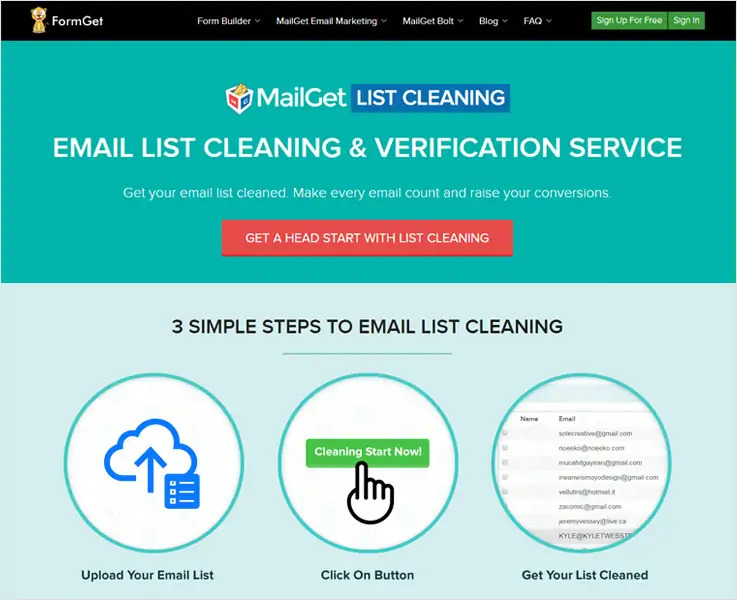 5. Brite Verify
BriteVerify is a complete email and contact verification and validation tool that cleans your email list with great accuracy. To clean your email list, you need to drag & drop your email list into the BriteVerify window or directly import them from leading email service platforms like SendGrid, MailChimp, Campaign Monitor, and Constant Contact. After verifying the list, the tool identifies invalid email addresses and removes them to deliver you a high-quality email list.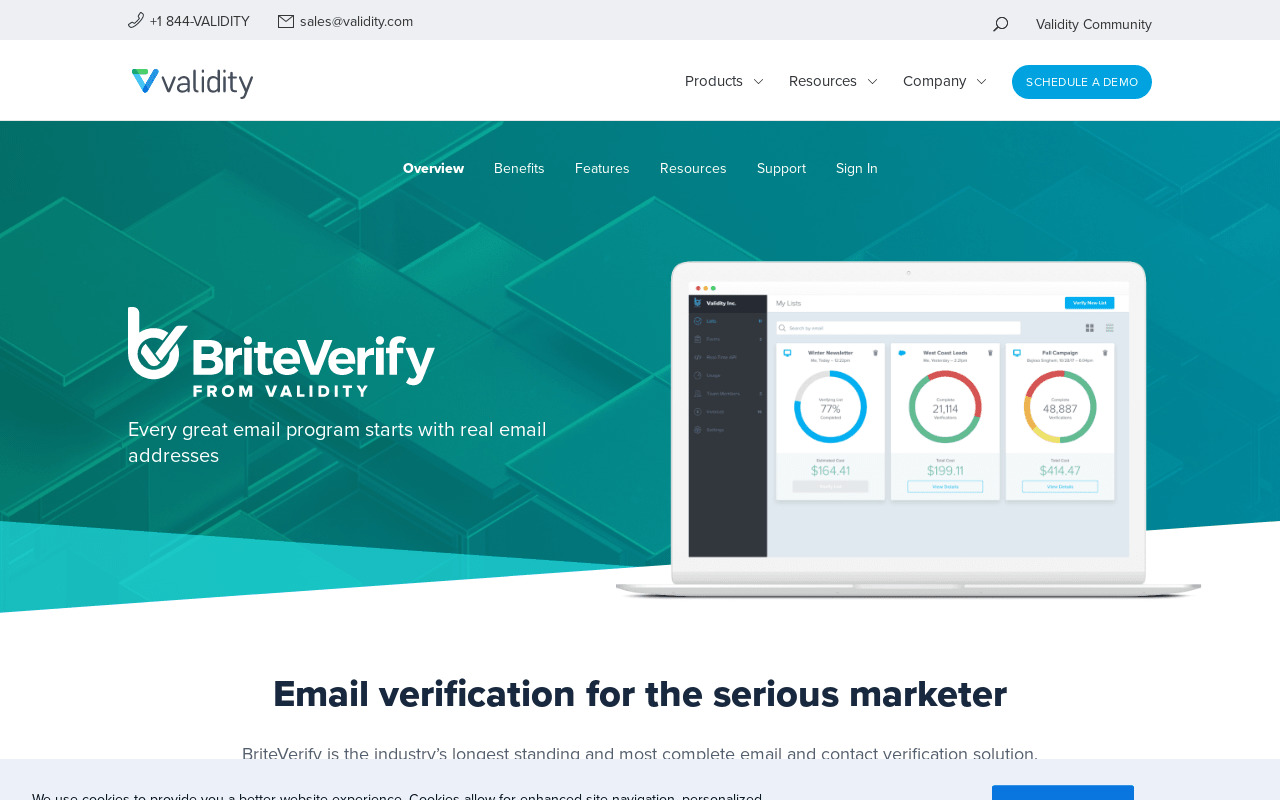 6. Bouncer
Folks from Bouncer do their best to help humans get connected and stay connected via email. And at the same time, they believe that tolls should be as easy to use as possible, so they don't steal time, energy, and talent. That's why they have created Bouncer – an email verification solution that helps you clean your email list in a breeze. They are quite a tech geeks so you can expect the highest precision and coverage possible, at great performance and with data security without compromises.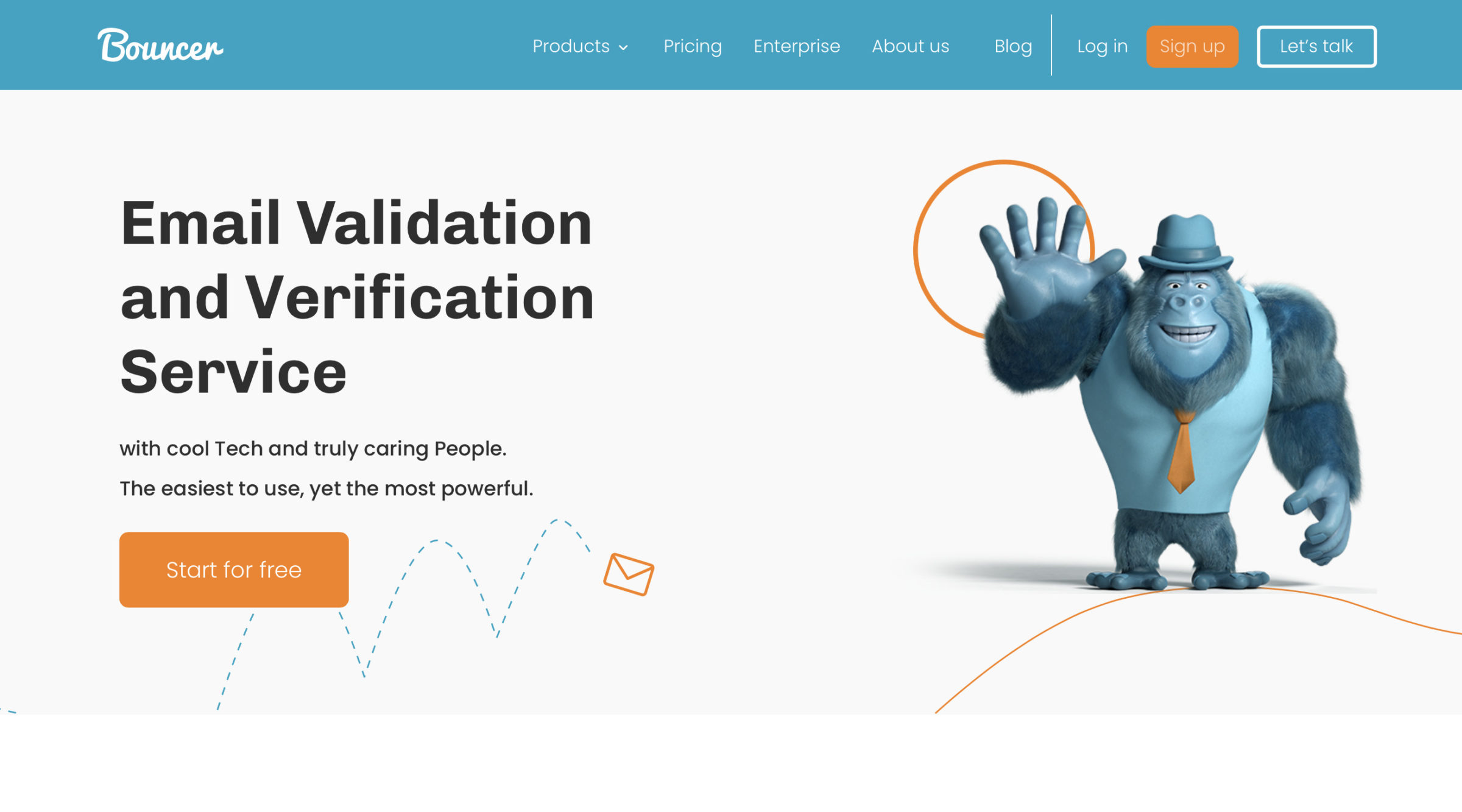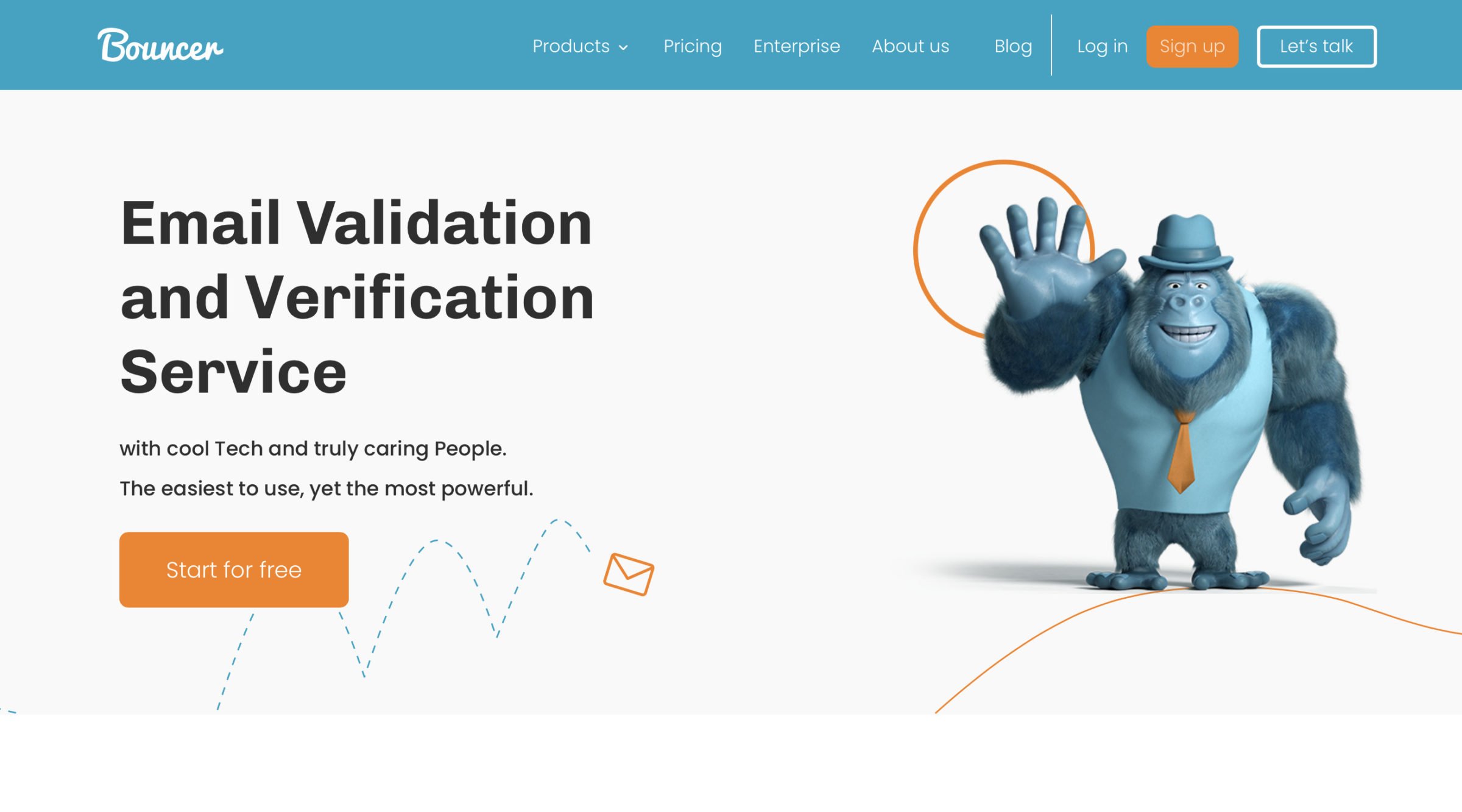 Quality over Quantity: That's What Matters!
To keep your email list clean, keep an eye on how your subscribers are behaving. If you notice your email campaign results suffering from low engagement metrics, you know that it's time to clean your list. Yes, it hurts to see your subscribers go, but a high-quality list with the "right" subscribers will result in better email marketing performance, lower cost, and a lower risk of hurting your sender's reputation.