Why is email analytics important? Because email is one of the main channels of converting users into customers. Even if you are not a marketer but a developer, for example, who is configuring email notifications, you should still analyze the performance of your messages. However, email analytics is often underestimated. So, let's discuss which types of email campaigns you should measure, define the most important email metrics, and also put together an overview of email analytics tools.
What to track in your emails
Email campaigns can be different. Do you think that metrics should vary from one campaign type to another? For example, should the analysis of email newsletters differ from order confirmation analytics? To figure this out, we will inspect the main email metrics.
Email delivery
This is the ultimate metric required for campaigns of all types. Whether you are sending notifications about new comments to the blog post or a limited time offer for your special products, you need to know whether they were delivered. Otherwise, what sense does it make to send emails at all? You should be able to track soft and hard bounces and monitor your spam rate. The latter is not an easy task because none of the existing tools is able to report whether your message landed in the main inbox folder or went to spam.
Open rate
Some resources claim that an open rate should be considered to be unreliable. From one perspective, if your recipients open your messages, it doesn't mean that they read them. But from the other, monitoring the open rate and reviewing its historical data can help you to understand if something went wrong. For instance, users almost stopped opening password reset messages. Are they going to spam folders?
Click tracking
It's hard to imagine that you haven't included any links in your email. It's good to know what attracts recipients in your messages, notwithstanding the email type. If it's a short notification with a link to more details that requires some actions, you can understand if your message is clear enough.
Unsubscribe rate
The number of recipients who unsubscribe from your campaign is also quite a popular metric to track. In most cases, it is used for marketing emails like newsletters, promotions, etc. If you follow all the data protection rules, you have to put unsubscribe links in all the campaigns you send, including transactional emails.
If you analyze the unsubscribe rate for each campaign separately, it may be unreliable as well. You should also look at it historically. This can give you helpful insights about interacting with your users. Was your welcome email series too aggressive? (And so on.)
Also, you should check whether recipients complain about your messages by marking them as spam.
Conversion Rate
This is actually the main thing you should track. When you send emails, you need to understand whether they are bringing you good results. Usually, by "conversion" we mean "purchases", but in fact, your emailing goals might be different. Depending on the aim of your email campaign, the conversion rate might be calculated as the ratio between the number of delivered emails and completed goals (sign-ups, purchases, responses, etc.).
The main metrics mentioned above are important for every campaign type. Also, there are some additional metrics, which refer specifically to email marketing campaigns. They are:
Email reading time. Some tools allow you to check how much time your recipients spent reading your email (at least, for how long it was open).
Email engagement. This one includes email forwarding and sharing to social media.
Engagement over time. This means monitoring exactly when your emails are opened and clicked, to define the most efficient time for email sending.
Device and email client-related open rates, in order to optimize the design of your campaigns accordingly.
Overall ROI and revenue per email. This is an important marketing/sales metric, which you should calculate based on the email campaign results. But we couldn't leave it out here.
As you can see, the main thing is to define the purpose of your email campaigns. This will make it clear which metrics are important for you. But how can you get all those insights and numbers?
Email tracking vs email analytics
When you start exploring this topic and looking for tools for email analytics, you will see a variety of options for email tracking. From the first glance, these two concepts look similar but in fact, they collect different metrics and have different purposes.
Email tracking tools like Mailtrack, Docsify, or the more advanced Bananatag platform, notify you when your email was opened, whether the recipient clicked the link in your message, downloaded an attachment, etc. (the list of options varies from app to app). Mostly, they work as plugins for Gmail and Outlook and help you monitor email conversations rather than email campaigns.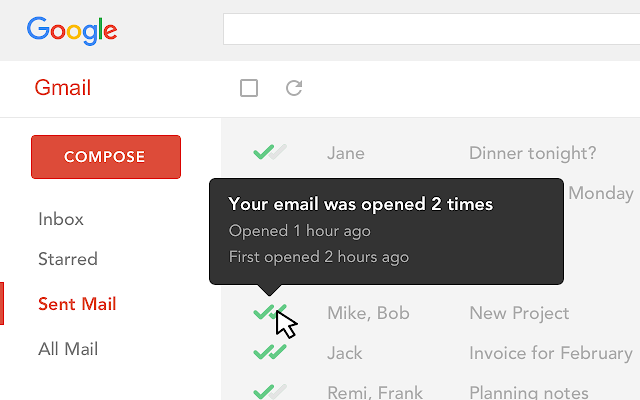 There is another type of tool that is also called email analytics – email analytics for Gmail. The main app in this category is EmailAnalytics, and it is designed to analyze the usage of your Gmail account. It provides you with statistics of sent and received emails, overall email traffic, email categories, etc.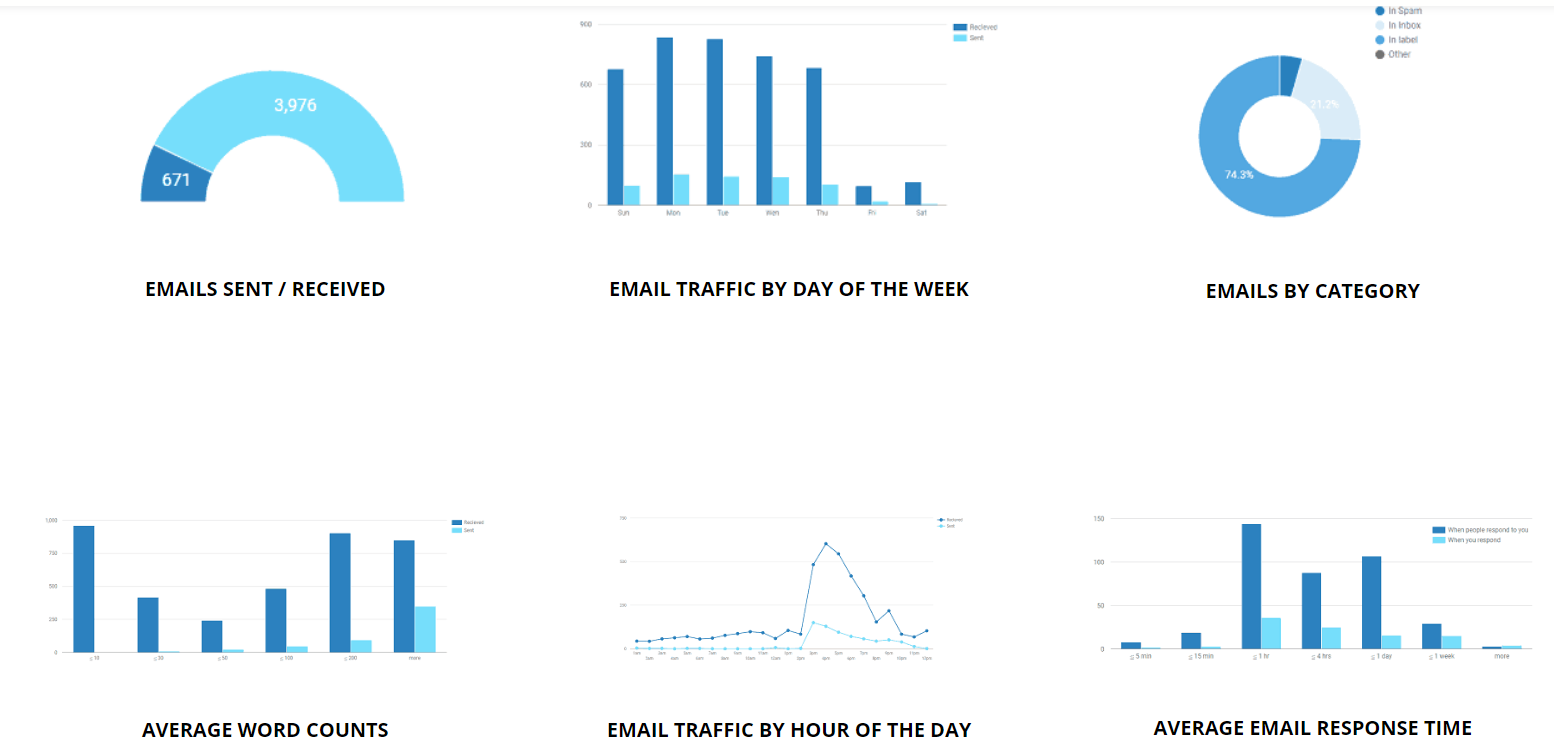 In this post, we are discussing email marketing analytics tools, which can help analyze your email campaign performance according to the criteria mentioned above (conversion rate, unsubscribes, etc.).
Let's start with the free options.
Free email analytics tools
Your choice of free email analytics tools is quite limited. Data analytics is a complicated and sometimes sensitive task, so, there are almost no tools with a free plan available.
The first thing you can do to analyze your email campaigns for free is to use an email sending platform like Mailjet, SendPulse, Sparkpost (or any other featuring a free tier).
Every dedicated email sending platform provides its own analytics. If you use email marketing automation software or CRM like Hubspot, Salesforce, or Zoho you get quite a powerful toolset.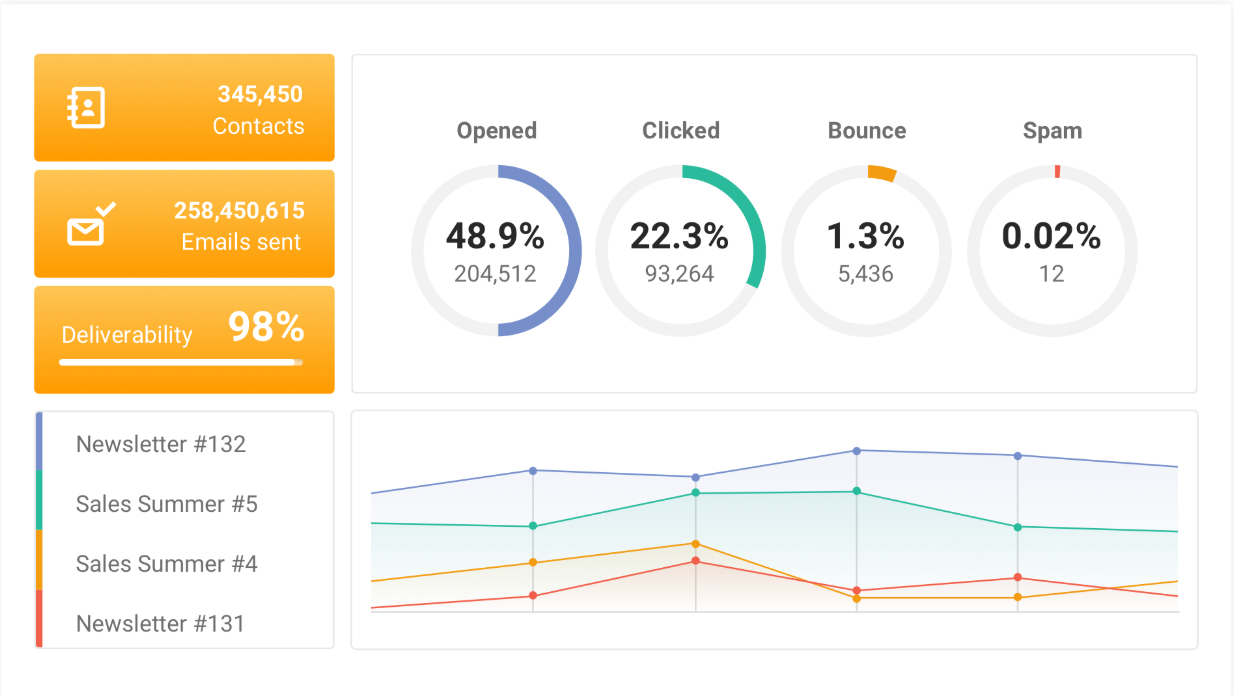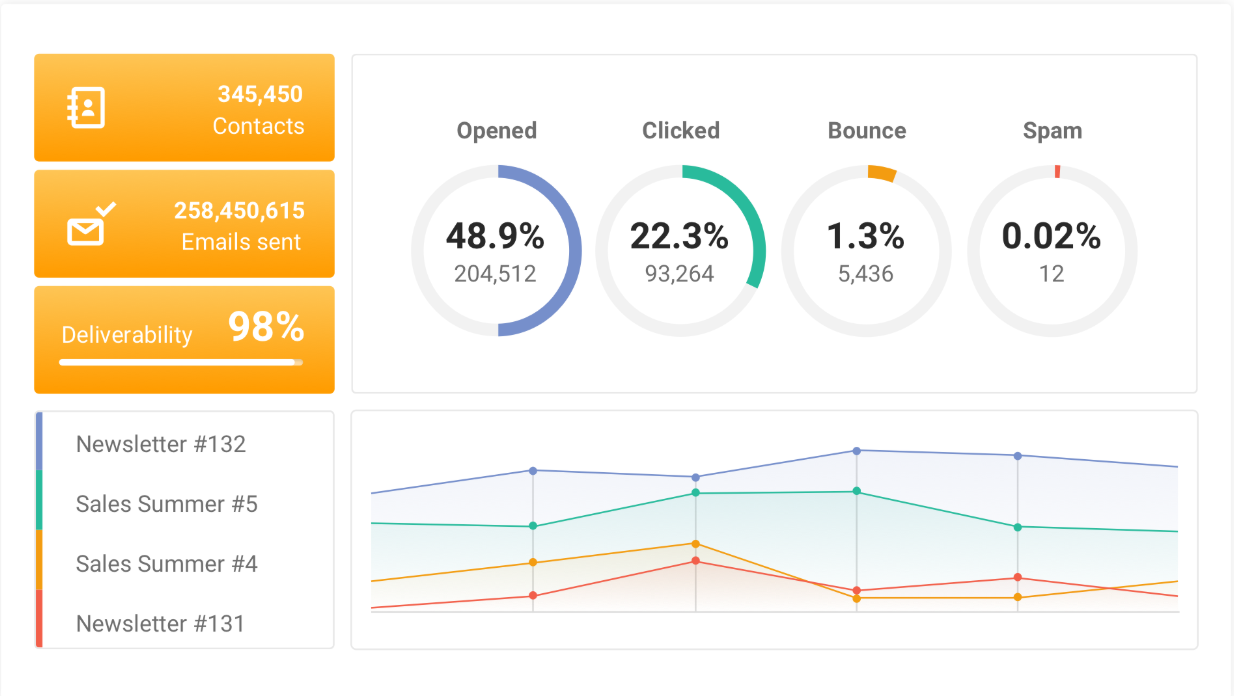 But what should you do if you craft your own email campaigns and send them via SMTP or sending tool like Amazon SES? The most comprehensive option is Google Analytics!
Google Analytics and emails
If you have a website and link your emails to it, then you can track and analyze your messages with the help of Google Analytics (GA). There are several ways to do this.
Tracking can be performed with the help of a pixel, which you should insert as an image tag to your HTML email code. However, it doesn't work for Gmail and Yahoo email clients.
The other way to connect your email to GA is to use UTM tags for your links. UTM tags are special marks that instruct GA how to interpret the link source. You can create them manually or with the free Campaign URL Builder tool by Google. Then you will find the related data in the Acquisition report for your website (add email as a segment to view an instant report on email campaigns performance).
In addition, many email sending platforms (for example, Mailchimp) provide direct integration with GA.
What you can track with Google Analytics
In fact, you can track users who came to your website from your email campaigns and monitor their behavior. With this data, you can build beautiful email analytics dashboards.
With GA, you can check the click rate and track the recipients' behavior on your website. This means that you can check results that your email campaigns bring. 
Additionally, you can easily compare email metrics to other results or mediums like social or search.
What you can't track with Google Analytics
GA is not an email marketing analytics tool. This means that you won't be able to follow the behavior of each recipient. You can't get:
open rate
unsubscribe rate
Follow this detailed guide on using GA for email campaigns analysis. Still, it is a free and powerful tool for measuring the results of your email campaigns.
Email marketing analytics tools – advanced options
If you have enough budget, you can benefit from the third-party tools, or independent email analytics apps. Again, your choice is pretty limited as email analytics options usually come in combination with email sending /email automation.
And here we can't walk by SparkPost. It allows you to track 35+ email metrics and has a particular focus on transactional emails. The email analytics dashboard will help you not to get lost in this variety of data.

250ok is a comprehensive email management platform. It features a list of products for email marketing analytics and deliverability.
The powerful 250ok Analytics™ tool provides real-time tracking of the most important email metrics. 250ok uses a tracking pixel. What is special about it is that it has the Google Postmaster Tools data integrated. This means that you will be able to collect data about your recipients who use Gmail.
You can integrate 250ok Analytics with a variety of email sending providers including Amazon SES, Sendgrid, Sparkpost, etc.
What you can measure:
open rate
reading time
click tracking
engagement (sharing, forwarding, printing)
recipient data: their devices, email clients, and geolocation
custom parameters and properties
You can build comprehensive dashboards with numerous filters for a great visualization of your data.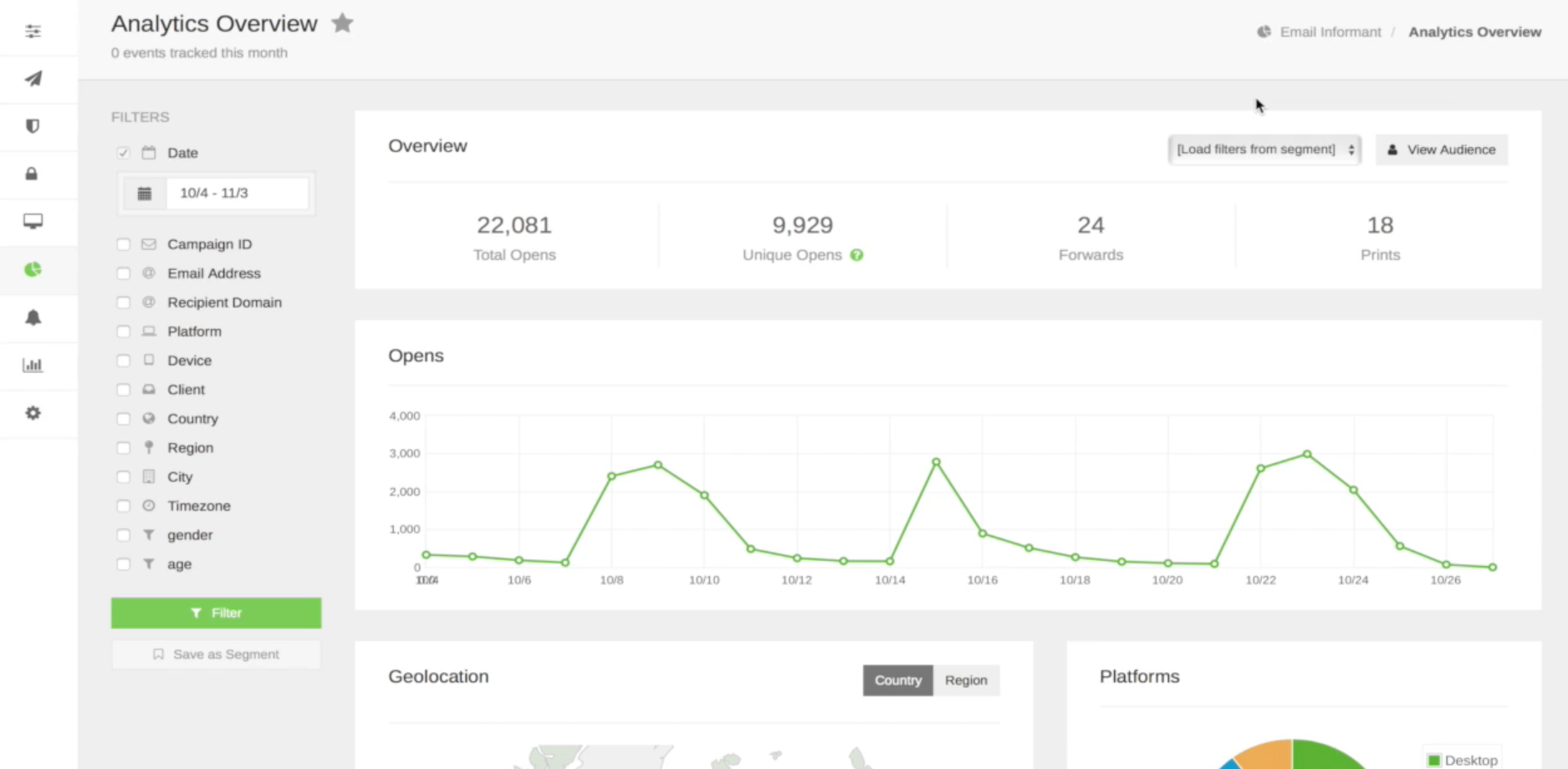 Pricing is custom as well. There is no free plan or trial, and to get an overview of the functionality, you should request a demo. The cost of the product will depend on your company's needs and starts at $5,000 per year.
Email analytics is one of the premium features of the Email on Acid toolset. It gathers data with the help of the image pixel so you need to insert the custom tracking code into the body of your email.
What you can measure:
open rate
reading time (they use read/skim/delete metrics)
click tracking
subscribers' activity (with heatmaps)
recipient data: their devices, email clients, and geolocation
Email on Acid also provides you with beautiful dashboards. You can see an example of their analytics report example here.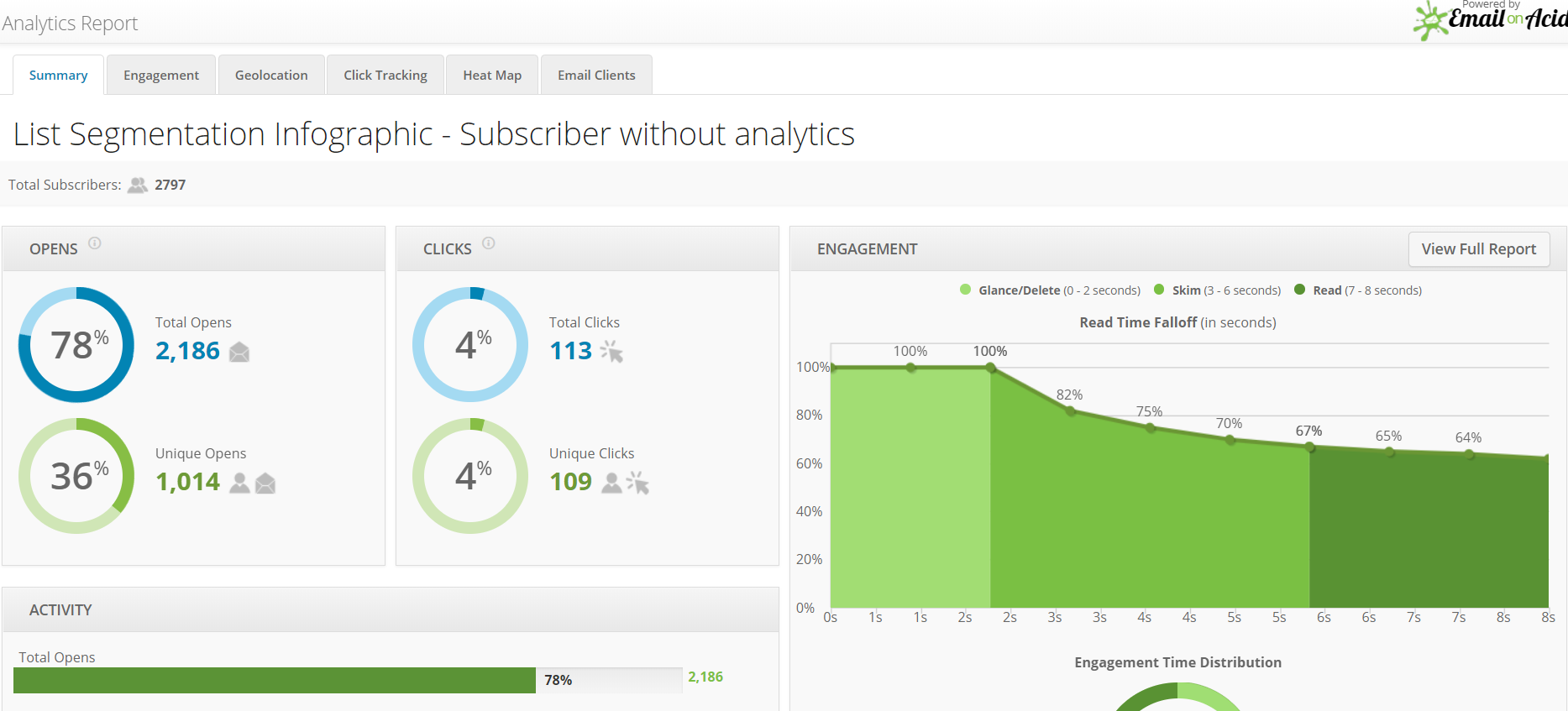 Pricing is based on the number of users and the set of features you need. Email on Acid provides a 7-day free trial and then charges you monthly or annually. Analytics is available for Premium plan users (and higher) and starts at $816 per year (which can be billed monthly).
You can also employ Shiftmail email analytics software, however, there is not much activity or reviews on it, so we can't recommend it as a reliable tool.
Conclusion
Email analytics is a must-have part of your email campaigns. First of all, you should define the goal of your emails and then select metrics to analyze and compare. The most simple and popular solution is to use a dedicated email sending (and marketing platform) to build your campaigns. You can benefit from such a solution for both marketing and transactional emails that comes with an analytics toolset.
It's hard to find an independent third-party tool for email analytics. There are few options available on the market. Their price will be much higher than a comprehensive email sending solution.
In addition, Google Analytics will be helpful for tracking email campaigns. You can use it independently or integrate it with your ESP.