If you're an avid online shopper, you've probably added some items to your cart on various websites without checking out. You likely then noticed that some of these sites have then sent you an email reminder prompting you to come back and complete your purchase.
These are abandoned cart emails, and they are a type of email automation that aims to combat one of the biggest frustrations facing ecommerce merchants: cart abandonment.
And while cart abandonment is a significant problem for merchants, abandoned cart emails offer an easy and effective solution to recover otherwise lost sales. That is, as long as they're properly optimized.
That's what this article is going to show you how to do. But before getting into what the best practices are, it's important to know exactly what abandoned cart emails are.
What are Abandoned Cart Emails?
Abandoned cart emails are a type of ecommerce email automation which are triggered by a shopper adding items to their online cart, but failing to checkout within a certain timeframe.
These emails will contain a short message to remind the shopper of their cart and then often provide details of the product(s) they left behind along with a CTA button to return to the cart. Such as in the example below from Public Rec.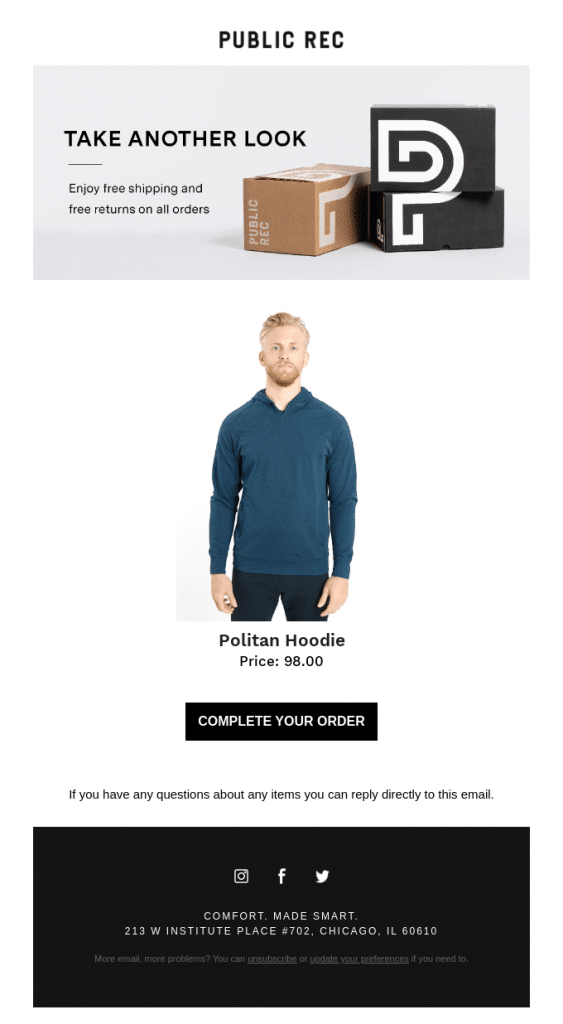 While these emails are ostensibly to remind the shopper of their cart, obviously the goal for the merchant is to bring the shopper back to their site and make a sale.
Abandoned Cart Emails Often Form a Series
The most common and effective strategy when it comes to abandoned cart emails is not to send a one-off reminder email but to send a series of multiple emails.
By automating an abandoned cart series as opposed to a single email, marketers have more room to develop their strategy to recover carts. For this reason, each email in the series serves a slightly different purpose.
While the first abandoned cart email usually just serves as a reminder for the cart abandoner, subsequent emails in the series often contain discounts or other incentives to entice the shopper back and complete their purchase.
As soon as the shopper returns to complete their purchase, then the cart is considered recovered and no further emails in the series are sent. So you don't have to worry about giving away large discounts further along in your series when the initial reminder does the trick.
The Scale of the Cart Abandonment Problem
If you're thinking that abandoned cart emails are not worth the effort, the staggering stats behind cart abandonment will convince you otherwise.
Globally, it's estimated that between 55% and 81.4% of online shopping carts are left abandoned, with the average percentage of over 40 studies being 69.57%. That's two carts never being checked out for every cart that is.
This 2:1 ratio leaves literally trillions of dollars worth of products left in abandoned carts every year. While a significant chunk of this amount are items people never intended to purchase anyway, or purchased later on with a different cart or in person, it's estimated that cart abandonment directly leads to a loss of $18 billion dollars for online retailers annually.
The situation is even worse when it comes to shoppers browsing using mobiles where the estimated abandonment rate is 85.65%. And with ecommerce sales on mobile growing year on year, it's unlikely the problem is going to get better anytime soon.
All of this makes it easy to see why customers abandoning carts is such a major frustration for merchants.
The Effectiveness of Abandoned Cart Emails
It's not all doom and gloom though. The good news is that a decent portion of these carts are recoverable with abandoned cart emails.
Business Insider estimates that nearly two-thirds (or 63%) of products left in abandoned carts can be recovered with savvy marketing. And chief among the ways to recover these lost sales are abandoned cart emails.
Abandoned cart emails enjoy a much higher open rate compared to other types of marketing emails at 46.1%. They also enjoy a phenomenal click-through rate of 13.3% and over a third of these clicks lead directly to a sale.
Finally, on average every abandoned cart email delivers over $5 in revenue. This makes them one of the most important email automation ecommerce merchants can set up.
Abandoned Cart Best Practices
Don't let these impressive statistics fool you into simply turning on the default abandoned cart recovery email option on your ecommerce platform and calling it a day.
These statistics are just averages and if you put a subpar effort into your abandoned cart series, you can only expect below average results. Conversely, if you properly optimize your series, chances are you'll be able to achieve even better results.
So what are the best practices when it comes to abandoned cart emails? While there are some elements every email in your abandoned cart series should contain, the optimal strategy you should take differs slightly with each email.
Elements Every Abandoned Cart Email Should Contain
Let's start with the things every email in your series should contain. No abandoned cart email should be sent without the following elements:
Details of the product(s) abandoned such as the title and potentially a short description.
An image of the product(s).
A clear call to action button linking the shopper back to their cart.
A way for the shopper to contact you in case they experienced a problem preventing them from checking out.
The email below from Moment is a perfect example of a great abandoned cart email that includes all of the above points.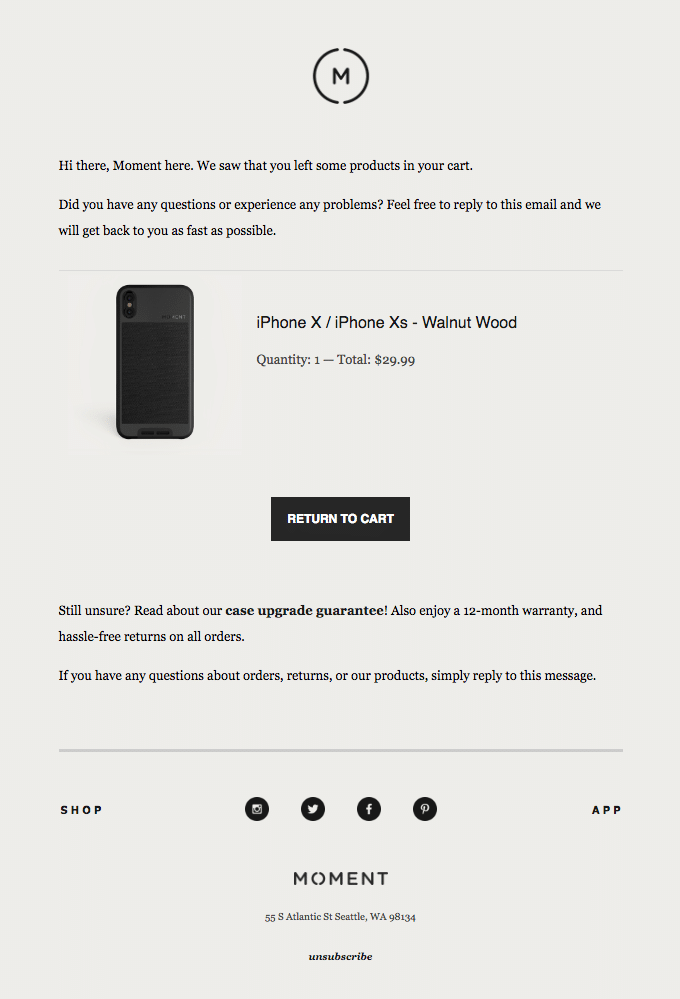 In addition to these elements, there are a couple of other things to consider when it comes to abandoned cart emails:
Write a Compelling Subject Line
It doesn't matter how well you optimize your abandoned cart template if people aren't opening the emails. One of the best ways to increase the open rate of your emails (not just abandoned carts) is to improve your subject lines.
On average, a third of your email list base their decision whether or not to open your email entirely on its subject line.
While writing abandoned cart subject lines is beyond the scope of this article, there are a few points to keep in mind:
Consider Adding Product Recommendations
Sometimes people abandoned carts because they are no longer interested in the product or have purchased it somewhere else. This means that they aren't going to come back and purchase the original products they added to their cart.
To account for this, some ecommerce focused email service providers will let you add "You Might Also Like" style recommendations at the bottom of your abandoned cart emails. Like in the example below from Ralph Lauren.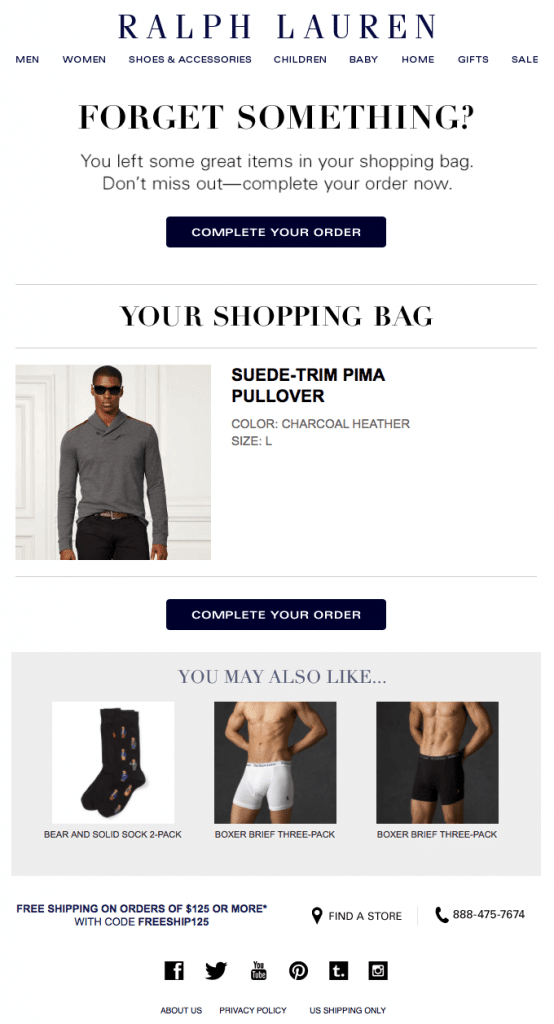 By adding these recommendations, you'll stand a chance at still making a sale from these shoppers. For those who are still interested in the original items in their cart, you'll also have a shot at improving your average order values as they checkout with more items.
First Abandoned Cart Email Best Practices
The first email in your abandoned cart series should simply remind the shopper of their cart and encourage them to come back and finalize the transaction.
This is because people simply getting distracted and forgetting about their cart is one of the top reasons for abandonment during checkout. For these people, a simple reminder is often enough to recover the sale.
The other key element you should incorporate and feature prominently in this initial email is asking whether anything went wrong for the shopper during checkout.
Again, encountering issues during checkout is another leading cause of shopping cart abandonment. While some shoppers will reach out if they encounter an issue, most won't. Actively reaching out and offering assistance is therefore important.
The email below from Zoma does an excellent job of this.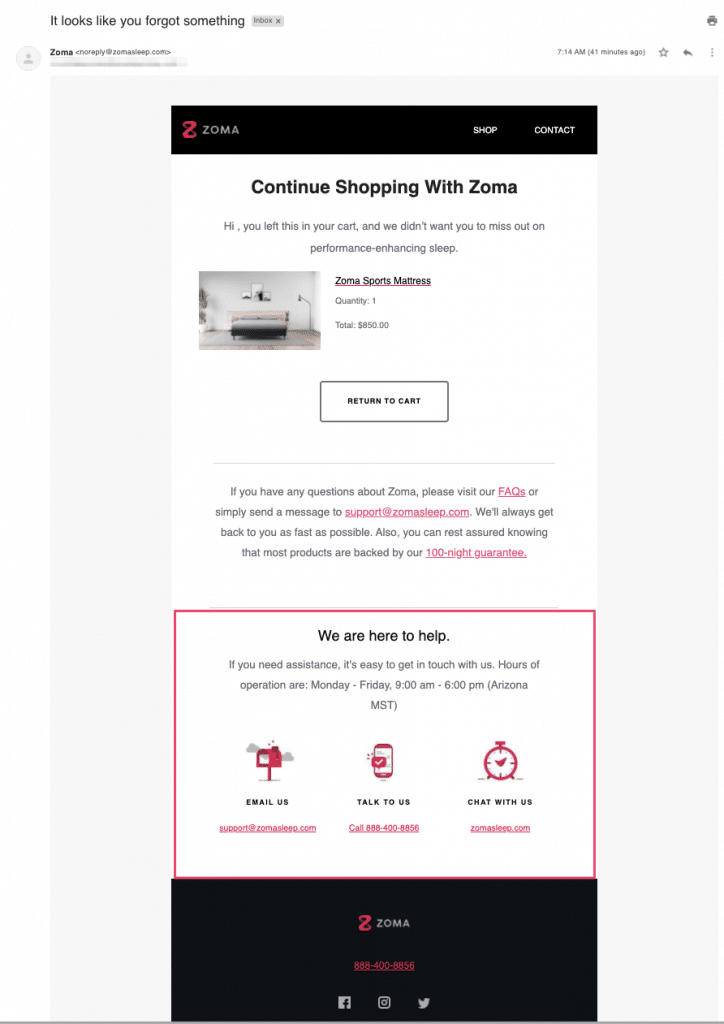 Send Within a Few Hours of Abandonment
We know that nearly three-quarters of people who convert from abandoned cart emails do so within the first 24 hours of having abandoned their cart. Therefore it's important to automate the first email in your series to send within a few hours after someone has abandoned their cart.
Second Abandoned Cart Email Best Practices
If the first email in your abandoned cart series didn't do the trick, then chances are that your shopper didn't just forget about their cart or encountered an error. Something else is holding them back.
Even more common reasons for cart abandonment than getting distracted or encountering a problem are shoppers looking for a better price elsewhere or learning about high or unexpected shipping fees.
This means that your second abandoned cart email is where you should start offering a discount to entice shoppers to complete their purchase.
If you don't usually offer free shipping, then this is the perfect opportunity to do so. Just as Huckberry has done in their email below.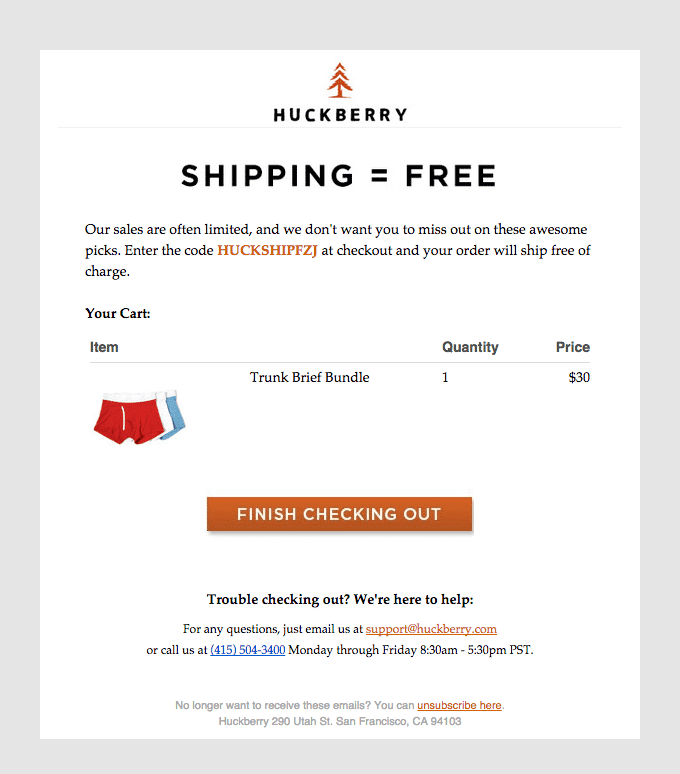 Obviously, if you already offer free shipping then this offer isn't going to be that enticing. In this case, or if you really can't offer free shipping at all, simply offering a decent discount on the shopper's cart is going to be just as enticing.
Another element you'll want to start introducing is creating a sense of urgency.
Creating urgency is an effective way to compel your subscribers into action and improve your conversion rate. While the Huckberry email introduces a slight bit of urgency by mentioning that "our sales are often limited" and "we don't want you to miss out", you can take it to the next level by time-limited offer and a countdown timer.
Just as in the abandoned cart email template below.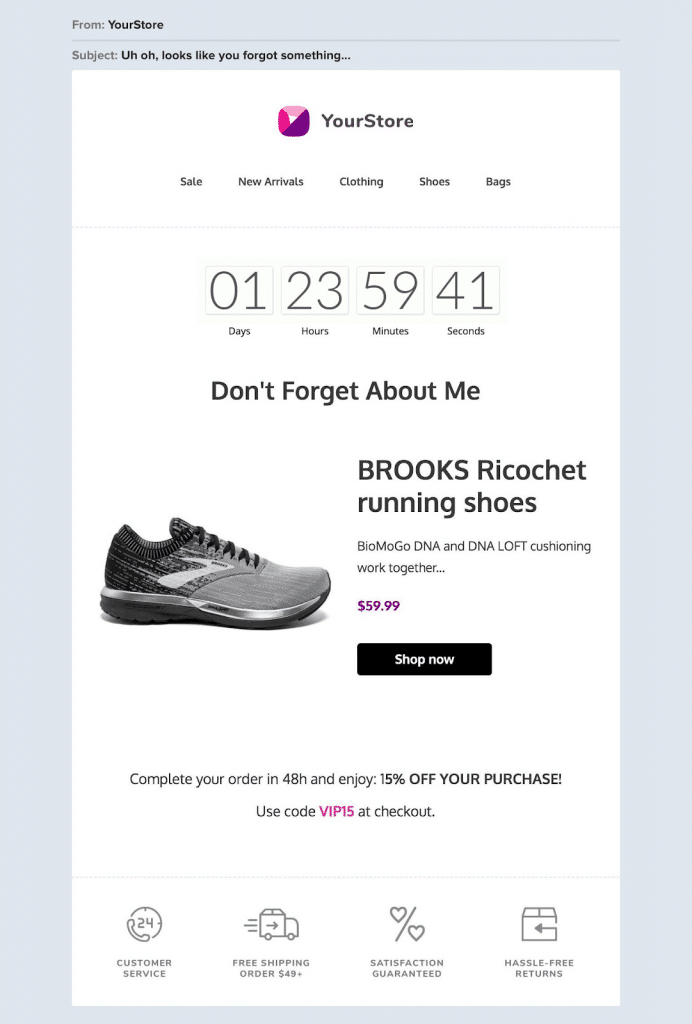 Send a Day Later
Remember that most shoppers convert from abandoned cart emails within the first 24 hours, so you'll want to get this second follow-up email out within that time frame.
The competing factor is that you want people to have enough time to check their inbox and see your initial abandonment cart email. If you automate your second email to send too soon, then you're potentially giving away margin on shoppers for whom a simple reminder would do the trick but just didn't check their email soon enough.
That's why a full day later is a good time frame to work with.
Third Abandoned Cart Email Best Practices
If the second follow-up email didn't recover the sale, then your last option is to send a final email with the best discount you can offer.
This abandoned cart email will often look very similar to the second. The only difference is that everything is amplified to a greater degree including the offer and other tactics like creating a sense of urgency.
If you can't offer a better discount, this third follow-up email can also take the form of a reminder about the earlier offer, such as a "last chance" style email.
Send 2-3 Days After Abandonment
One of the main rules of email marketing is not to spam your customers with too many emails. That includes abandoned cart emails. That's why you should wait at least a day, if not two, before sending your third abandoned cart follow-up.
This is also why you shouldn't include any more than three emails in your abandoned cart series. After the third, you'll experience rapidly diminishing returns on any additional follow-ups while running the real risk of harming your relationship with your customer by sending too many emails.
Conclusion
For an email automation that's incredibly easy to set up, abandoned cart emails are an easy win for merchants. They help mitigate one of the biggest causes of lost sales while requiring little ongoing effort once they're set up.
By spending that little bit of extra time optimizing your abandoned cart series, you'll be giving yourself the best chance at recovering carts and making more sales.