If you're looking for ways to help your newsletters stand out even more, why not give infographics a try?
After all, infographics have shown that they can improve web traffic by 12%. And content that includes relevant images receives 94% more views than content without. Plus, 40% of people respond better to visual content than text-only content.
Each of these numbers is telling us one thing: incorporating more visuals, especially infographics, into every corner of content marketing is a smart strategy.
The average consumer receives hundreds of emails and promotional messages each day. To break through that clutter and grab your reader's attention, it's crucial that your email newsletter is:
Beautiful
Valuable
Engaging
One great way to achieve all these three factors in an email is to use infographics.
Infographics – a Strong Ally For Email Marketing
Infographics can make bland messages much more interesting.
With infographics, even newly formed brands that are operating on a shoestring budget have a strong chance of engaging their target audience.
Email readers don't want to stare at walls of text on a computer screen. Visual materials such as infographics play a crucial role in engaging readers because readers pay better attention to information-carrying images. Infographics that are beautiful and balance the text tend to get more engagement because they demand less time and mental energy to process.
For example, take a look at this infographic email newsletter from Hers. Incorporating charts, icons, and statistics in a visually appealing way helps to create a more engaging newsletter experience.
Here are a few reasons why you should use infographics in your communication:
They're compelling and attractive
They can be easily digested
They can easily be embedded in your posts
They help improve brand awareness
They help position you as an expert on a subject
Given that people want emails to be easy to digest with useful information, it is clear why using infographics in your email newsletters is a perfect fit.
This form of communication gives your brand a much better return on investment (ROI) for your buck especially when it comes to increased traffic and engagement. It is recommended to use an email ROI calculator to see whether your email marketing efforts are effective.
Types of Infographics to Use in Your Email Newsletters
Depending on your newsletter's message, you can decide which infographic will best showcase your information. Here are some examples to consider:
1. Education
These infographic templates are great if you're trying to explain a complex concept to your subscribers or discuss the initiatives taken by your organization.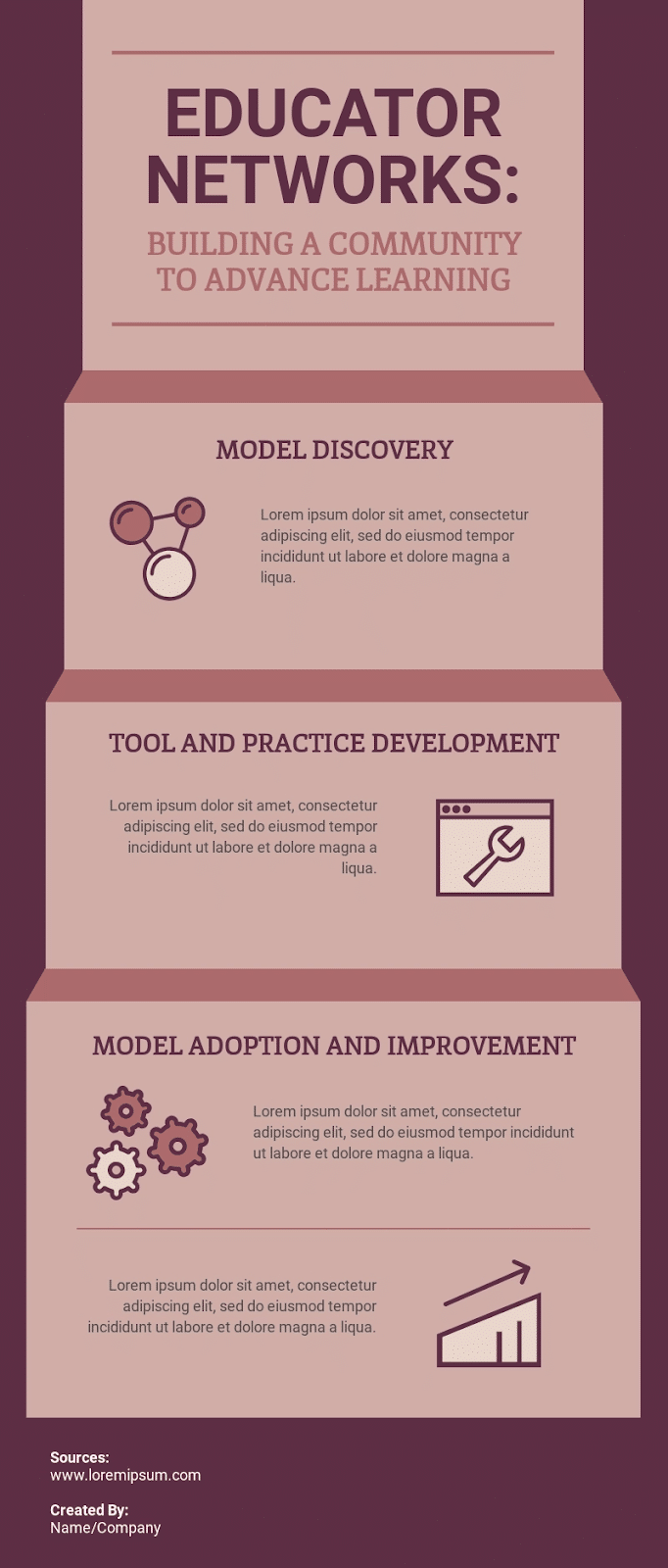 For example, if you're a startup that plans hiking trips, you can use an infographic like the above example to highlight the five things one needs to keep in mind when preparing for a hiking trip.
2. Comparison
Highlight the similarities and differences between your products or services using a comparison infographic. It's an interesting way to show different features of your products in an easy-to-consume manner.

For example, if you're a business that sells online courses, you can show the difference between two digital marketing course modules for your users to pick.
3. Informational
Instead of sharing a link to your blog post within an explainer paragraph, you can highlight the important points of that post in an engaging infographic with a call-to-action button allowing your audience to read more. This is also a great way to re-purpose your content.


You can create something similar to the above example to highlight all the features of your product or service.
4. Timeline
Creating a timeline infographic is a great way to share chronological information, like a product launch, company history and more.


For example, you could use this infographic to highlight the historical significance of a concept relevant to your brand.
5. How-tos
How-to infographics are an awesome way to highlight your processes to potential users or to your stakeholders.

This is a great example of an engaging step-by-step infographic that you might want to recreate for your own email newsletter.
How to Use Infographics in Your Email Newsletters
Using infographics in your email newsletters is a simple two-step process. However, it is highly effective in engaging your audience.
Step 1: Determine Your Newsletter's Objective
You may have an overarching strategy for your email communications, but each newsletter should have its own primary objective. For example, you may be introducing a new product, offering a discount, or simply giving information by directing users to an interactive case study presentation or slideshow about your brand.
It's a good habit to choose that one thing you want your readers to do after reading each issue.
Before you design your infographic, you need to zero-in on your objective and chalk out your core message. The kind of infographic you use will depend entirely on the message you want to communicate to your subscribers.
Step 2: Select a Template And Customize It
There are hundreds of templates and design software to help you create an infographic email newsletter. Keep in mind that you need to find a template that's suitable for emails. A newsletter needs to be informative but concise at the same time. A good choice would be to go with a template that's a bit simplistic and minimal. You can find high-quality infographics to suit your business needs by having a look at these 15 best ETL tools.
Depending on your message, find an infographic template that'll best suit your needs. Then customize it as per your brand's guidelines. Change the header colors and images so that it looks and feels like your brand. Keep your product and core message in mind when editing the template, and keep in mind that white space is your best friend. "Less is more" is a great rule to follow when creating email newsletters.
Once you have your infographic ready, save it and share it with your email marketing service. You can download the infographic as an image file or animated GIF to upload into your email template.
Animated infographics can be engaging and much more intriguing than your everyday static infographic that readers have been seeing for years. However, they can also be much larger image files.
This is why embedding your infographic can be a great solution to both email load times and responsiveness.
Embedding HTML into your emails can help you to maintain the animation and interactivity of your infographics without making your email too heavy.
Visme provides embed codes that are responsive and fit to any screen your reader might be using, giving you the perfect solution for featuring projects in your email newsletters.
Tips to Improve Your Infographic Newsletter
There's a lot that goes into creating a successful email marketing campaign. Here are a few things to keep in mind to make the best infographic newsletter for your business.
1. Craft An Attractive Subject Line
A great newsletter is useless if no one opens it. Your subject line is the hook that persuades the reader to open your email and read your content. Try different subject headings for each email you send and see which one delivers a better open rate.
However, make sure you include a bit that stays standard in all your subject lines to let your readers know that it's you. Maybe an emoji that you use at the beginning of all your subject lines or the name of your company in brackets.
For example, Hubspot mentions its name in its subject lines such as How HubSpot Managers avoid the holiday slump.
You also have the option to stick to a generic subject line for all your emails. That sets the reader's expectation right away of what to expect when they receive an email from you.
For example, Simone from Startup Curated just shares the issue number in their subject line such as Startup Curated – Issue 269.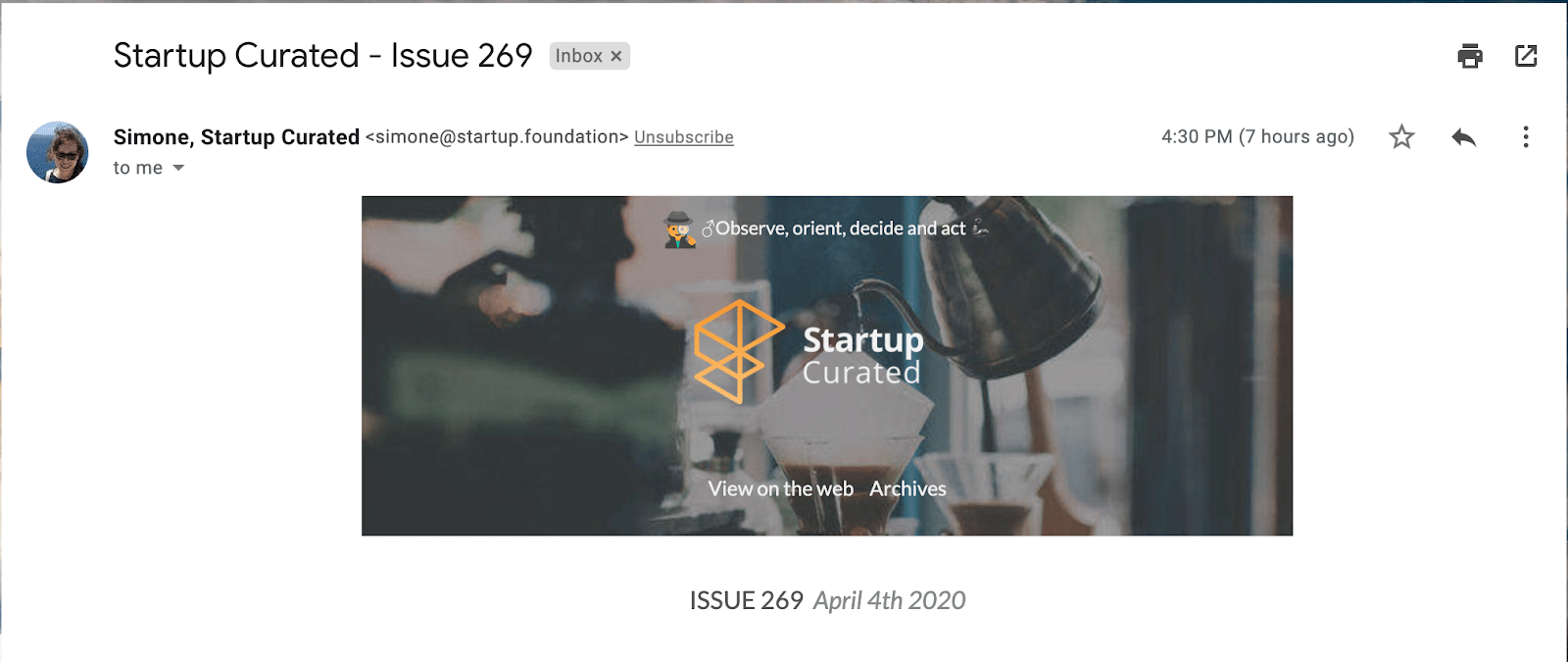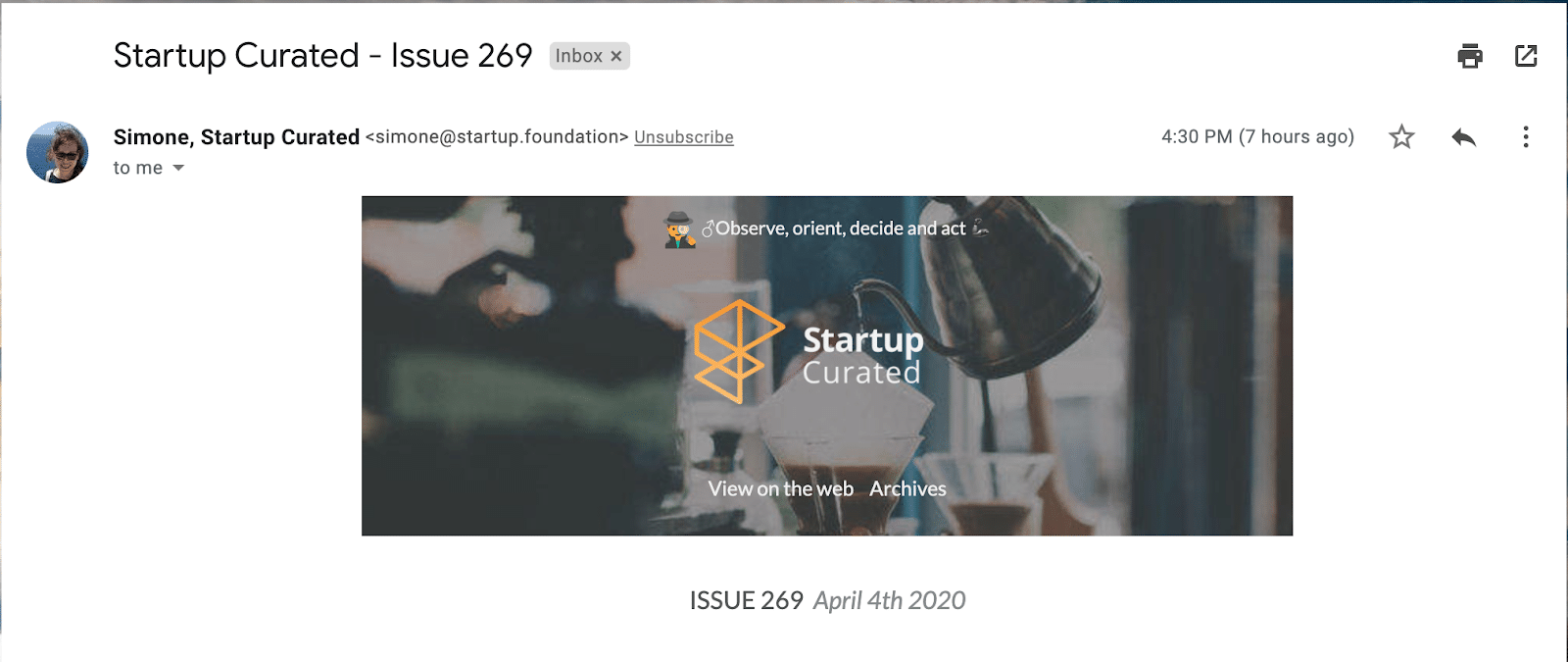 2. Keep The Content of The Newsletter Engaging
While the majority of your email would be on an infographic, make sure it includes the following:
Links to your social profiles at the top or bottom of the email
A link that allows the reader to access your email in a browser
Limit the number of articles in your newsletter and try to not overwhelm the reader. Create a landing page and ensure that the content of your email encourages people to go there. For example, if you're selling online courses, introduce the course and its benefits in the email and direct people to the course page to learn more about it.
You can even include infographics to your outreach strategy to get a better response rate. Use a tool like Respona to help you create and personalize each email you send out.
3. Test Your Email Before Sending It
Before you send out the newsletter to your subscribers, send a copy of it to your colleagues. This will help you iron out any errors and ensure that your email isn't getting caught in spam filters.
You can also ask your colleagues to proofread it and ensure that all links within the newsletter are directed to the correct web page.
Also consider A/B testing your newsletter by dividing a small subset of your mailing list into two groups. Then, send each of these groups an email that is nearly identical except for a small tweak that you're testing.
For example, you could test different subject lines or calls-to-action to see which email gets maximum open and click-through rates. Once you have the results, analyze them and send out the best version to all of your remaining users.
4. Listen, Respond and Measure
Email marketing is two-way communication. You must keep track of all the responses that you're getting and ensure that you're answering any questions that your readers may have. Moreover, you need to measure the success of your newsletter.
A few metrics that you could consider are:
Click-through rate
Number of clicks on each link
Overall conversion rate
Total number of unsubscribes
Increase in website traffic
Start Creating Your Own Infographic Newsletters
Infographics are one of the best ways to communicate information in a creative way.
Quickly and easily start sending beautiful and engaging email newsletters to your audience, testing every step of the way to ensure they make their way right into your audience's inbox. With a clear objective, a strong message, and a great infographic, you can create a winning newsletter campaign.