How do you usually choose a new tool to use? Intuition? Friend's recommendation? We prefer to make decisions based on data, so we've prepared this research for you. Whether you are a developer or a marketer, It will help you to define:
what kind of email builder you need: drag and drop one, HTML email generator, or even an email framework
how to choose the one that fits your needs from hundreds of email builder options.
Types of email builders
When you just start working with the email functionality, you should understand what you actually need first. For sure, you need to create a responsive email template to be rendered well on different devices in various email clients. You would like it to have a user-friendly interface and to be easy to use, offer reasonable pricing, and, probably, several extra features like an illustrations library. Before you start comparing different tools, answer a couple of questions below.
Do you need to edit the email code? Even if you are a marketer who prefers a drag and drop builder and your answer is "never", you might still need it. It is useful for developers in your team who work with creating user notifications or custom improvements, which should be exported/imported to/from another system.
Do you use an email sending platform like Sendgrid or Mailchimp? If yes, then it might be reasonable to start with their built-in email editors.
How often do you create new email templates? Daily, weekly, monthly, or a couple of times per year? Your reply should correlate with the pricing options the tool has. It makes sense to pay more for something you and your team use daily, for example.
When searching for an HTML email builder, you will find four main types of options.
HTML email generators. This type of tool is designed mostly for developers who are building the email functionality and need to create simple solutions without too much effort. They help to convert your input to the correct HTML (or sometimes another) format and compile it for further usage as a template. The result then can be imported to the email sending system or pasted to your app source code. HTML email generators are similar to the template engines.
Responsive email frameworks. Email framework is the best option for developers. Usually, it is a markup-based language where your code is later converted to a responsive HTML. Email frameworks offer pre-built options and various components to streamline email coding. 
Built-in email templates. The vast majority of the email sending systems have their built-in email template builders. In most cases, they provide decent functionality for designing tailored templates. Also, they can support the import of custom templates or writing your HTML from scratch. If you need advanced features, you can use a third-party email building tool, and then import the result to your email sending system. However, it would be pretty weird to create a template in one ESP (email sending provider) and send it with another.
Independent HTML email builders. This category of tools offers wide functionality for creating custom and pre-defined templates for both developers and marketers. They provide drag and drop email builders, HTML email editors, image libraries, and usually can be integrated with the most popular ESPs and CRM systems.
Drag and drop editor doesn't require any additional skills: you work with pre-designed blocks to add images and edit texts like in a usual document. In most cases, you can switch to a source HTML code to edit it if you need to customize the design. In this post, we will focus on this type of apps and will highlight the most efficient options.
Overview of HTML email builders
From the hundreds of options, it's impossible to choose one which suits every user. That's why we checked and compared ten responsive email builders, which truly deserve your attention. Here is what we were considering:
suitability to both developers' and marketers' needs
friendly UI
availability of free options or trials and pricing/features ratio
additional options (like photo editor, libraries, etc.)
compatibility and integrations.
Let's go by a list of tools one by one with a comparison table in the end.
Cloud-based email builders
Chamaileon is based on EDMdesigner and in fact, is its rebuilt and improved version.
Chamaileon can also be used for free. You just need to set up your account and choose if you want to build your email from scratch, from a pre-designed template, or import your already prepared HTML code.
Chamaileon allows you to choose from 100+ templates grouped with tags. The interface is pretty simple but you need to get used to it at first. But the app offers tips and demos on each stage so the familiarization goes smoothly. You can:
play with text and its formatting
upload your own image, edit it right in the app, and save the existing one to your media library
choose content to be displayed on a desktop or mobile clients.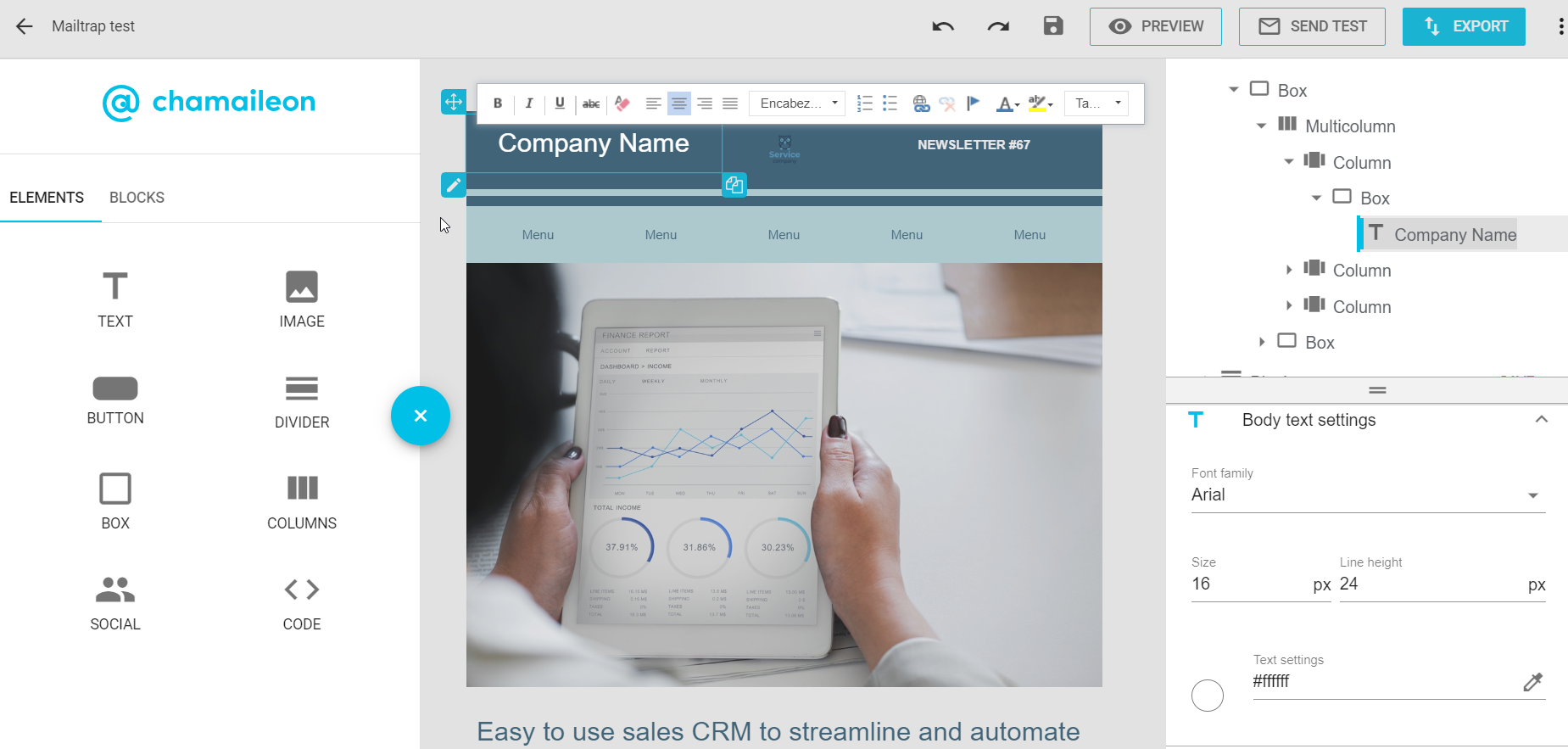 For free you can export five templates monthly. Export means that you can copy the HTML code or download it as a ZIP archive (HTML + images). All major email sending providers allow you to import HTML – the Chamaileon documentation explains how to make it in 38 systems.
Also, you can check how your message would look like on a desktop or a mobile email client and send ten test emails to different addresses.
The free app functionality is limited but is enough to test it and understand if it fits your needs. Also, it can be used as an occasional tool.
If you decided to stick to Chamelion for your multiple templates, the monthly fee starts from $20 per user. The powerful templating platform with unlimited capabilities, direct ESP integrations, A/B testing features, on-premise installation, and other advanced options, is offered for a custom price.
Email Monster is an absolutely free email template builder without an obvious landing page, features description, or any kind of marketing. Just take and use its simple drag and drop editor. It's a place for experiments by Unlayer (a tool which is also included to our list).
You don't need to create an account to start using Email Monster. Choose from 30+ templates or create your own from scratch:
upload your images
edit the text and settings
embed video from YouTube or Vimeo.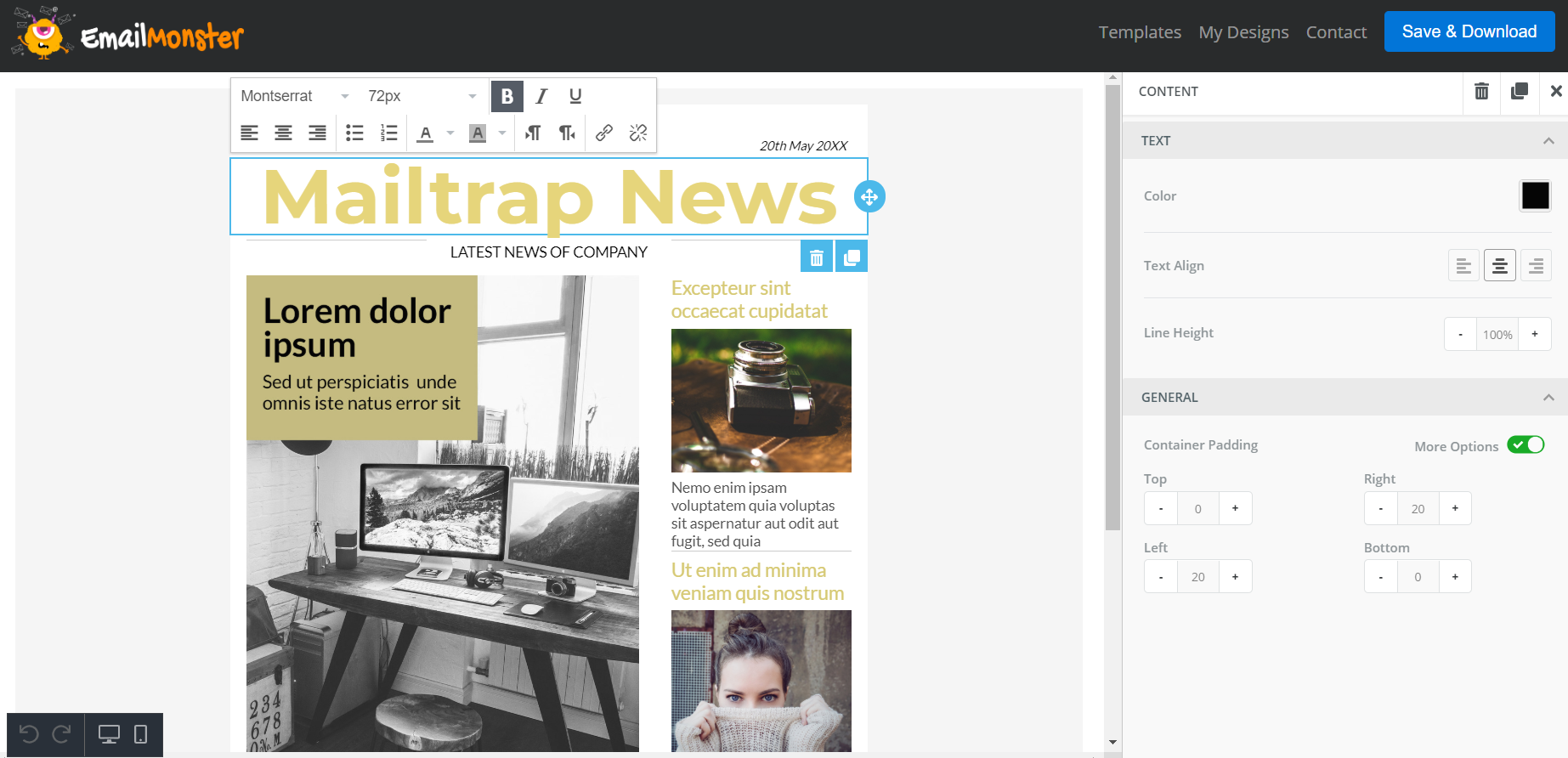 The UI looks very similar to BEE.
Once you've finished crafting your template, you can preview it for desktop and mobile as well, download as a ZIP archive (HTML + images), or send with Mailchimp directly.
Postcards is an intuitive drag and drop email templates builder. It offers pre-designed blocks unlike the ready to use templates. So that you can combine and customize them to create your perfect template. Blocks are already designed like mini-templates and are categorized by purpose: e-commerce, transactional, call to action, etc. You can use one of each category for free.
To start a free demo, you need to create and confirm your account. Here is what you can do with this editor:
format your text and tables
upload images from your computer
organize your templates into projects.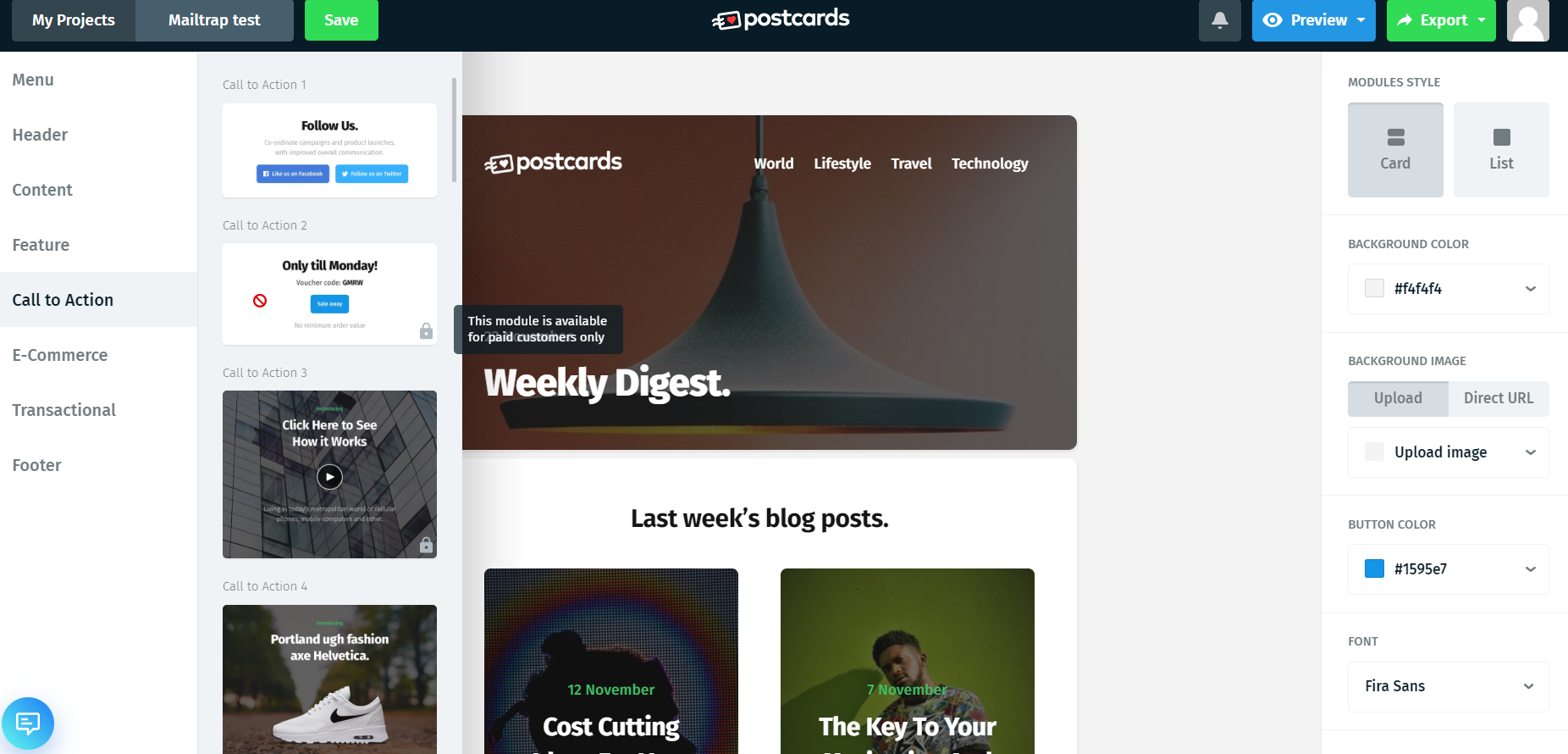 Also, you can preview your message for a desktop or mobile and send a test to your account's primary email address. Free account allows you to download your template as a ZIP archive (HTML + images) or send it directly with Mailchimp or Hubspot.
To unlock all Postcards' features, subscribe to a paid plan, they start from $15 monthly.
Cloud-based email builders with additional options (plugin, installation)
BEE stands for "Best Email Editor". Behind this ambitious name, you will find a simple but powerful drag and drop editor for creating responsive emails. Also, you can write your own HTML code as well as download the source code of the template you create with the BEE tools.
BEE offers a free email editor, which is pretty good for creating templates on the go. It's available online and even no sign-up is needed to start. You can create your message from scratch or choose from the 80+ free templates. They are sorted by categories and industries. You have a bunch of options for customizing a template:
experiment with text and set custom paddings
upload your own image, edit it right in the app, or choose one from the stock library
embed a YouTube or Vimeo video.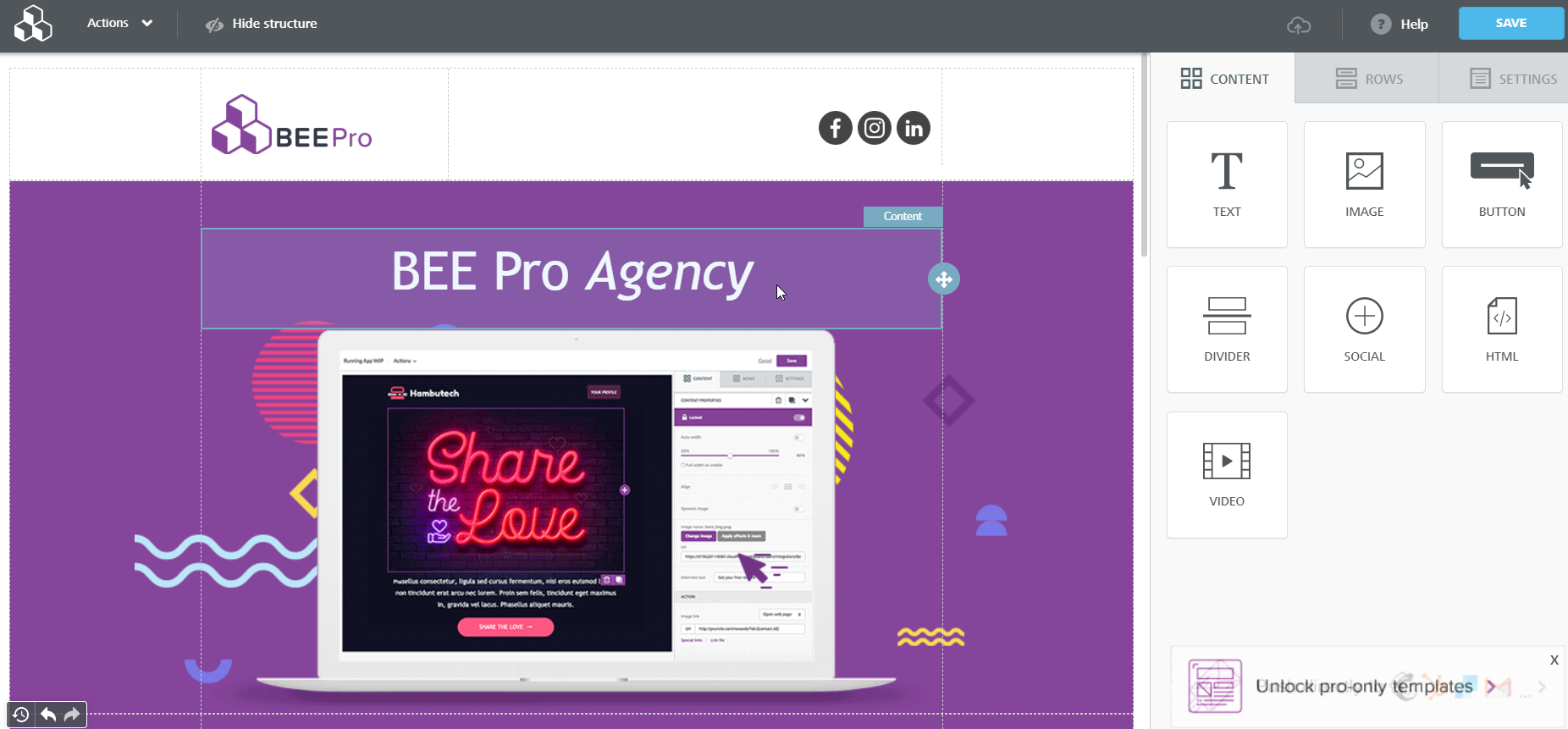 In the free version, you can insert merge tags or special links for Mailchimp, Sendgrid, MailUp, Autopilot, and Campaign Monitor.
Also, you can comfortably manage the template you are currently working on. You can navigate the edits history but you won't be able to save it to the cloud and continue editing later. However, BEE saves your latest template, which is still available when you start a new session on their website.
Once completed, you can download your template: it will be saved as an HTML file with images downloaded to a separate folder. Besides, you can preview your message to see how it will likely look on a desktop or mobile or send a test message to your email address.
Paid subscription plans start from $12.5 per month. The pricing depends on the number of users and included features. With a paid account, you will get options to save, edit, organize your templates, and integrate them to one of the supported email sending systems (Mailchimp, Gmail, Hubspot, Sendgrid, or a list of integrations via Zapier).
Another interesting BEE option is their AngularJS plugin, which can be integrated into your web app. It also has free and paid versions.
Mosaico is an open-source template builder. Mostly, it is designed for developers and in fact, it is a JavaScript library. You can find its source code on GitHub and customize it according to your needs. Besides, Mosaico offers a drag and drop interface, so that you can use it even if you don't have email coding skills. 
The editor is pretty simple and offers a relatively modest set of functions. But you can use it absolutely free and get good results. To start, you don't even need to create an account. The list of tools includes:
pre-defined customizable blocks for adding headers, texts, images, buttons, and social media references
text formatting
image upload and resizing with the option to save them to your own gallery.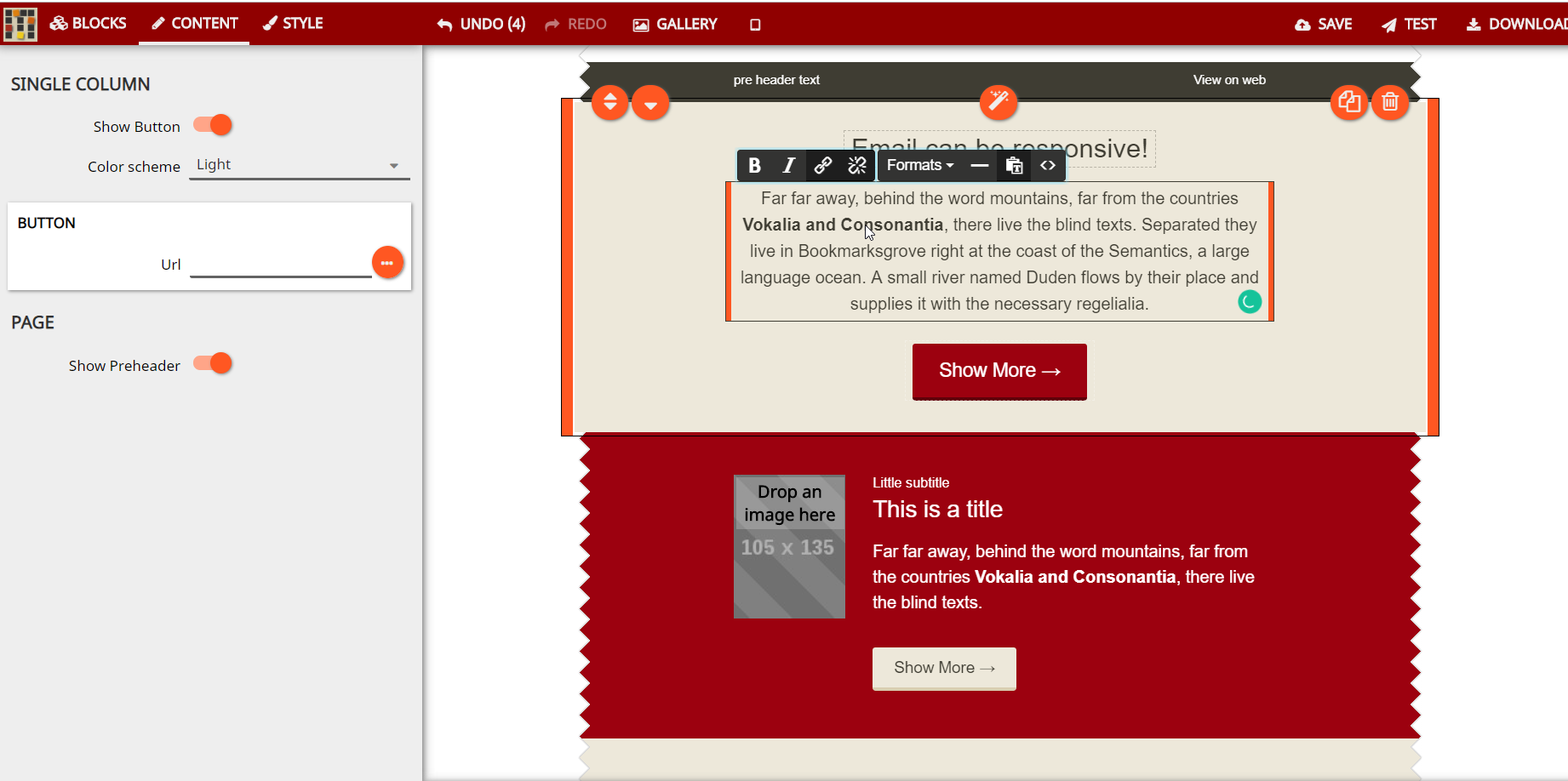 You can switch to the HTML editor anytime as well.
You can save your template and continue editing later, check how it would look on a desktop, tablet, or smartphone, as well as download as an HTML file.
Mosaico also offers a commercial license, which gives you full control and wide customization options. Its price depends on the number of monthly active users (MAU). For 50 MAU it will cost Eur 800 +VAT.
Stripo is another drag and drop email template builder. It offers a wide range of features to design your message and prepare it for sending via one of the ESPs. You can start evaluating it for free, without registering an account. You will need to create one when you decide to save and export your template. With a forever free subscription, you get access to the full templates and modules libraries. But you are limited with the number of test emails, integrations, and monthly views. Still, you can work with almost 300 of the highly customizable templates:
solid text editor with merge tags (for Mailchimp, eSputnik, GetResponse, Gmail, Unisender, MailUp, Sendgrid, and Campaign Monitor), emoji, and custom paddings
images editor, where you can upload your own images or choose from the built-in stock images library
embedding video from YouTube or Vimeo
options to display or hide elements on a desktop or mobile clients as well as the capability to choose if to include it to both MIMe versions of the email (classic HTML and AMP HTML).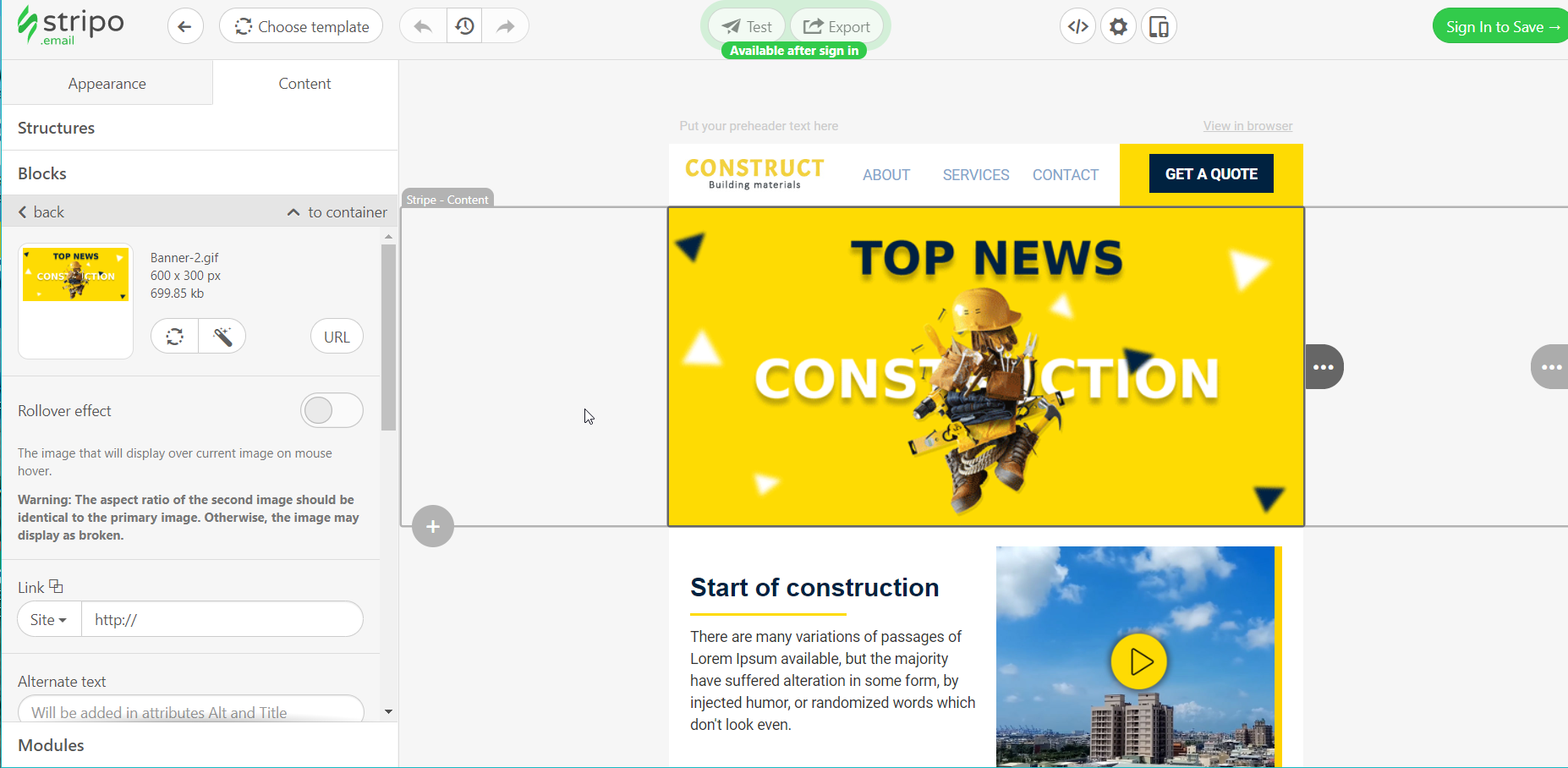 Compared to other template building tools, Stripo offers the biggest list of customizable elements: not only templates and blocks but also modules and structures. At any time you can switch to CSS/HTML editor, copy and/or paste your code.
To save and send your template, you need to sign up. Then you will be able to send five test emails daily to the address associated with your account, preview it on the web (you get a shareable link to your template), desktop, and mobile. Besides, you can export your template to one of 22 supported ESPs, PDF or HTML, but just four exports per month.
To expand your testing and exporting quotas, you are required to switch to a paid subscription plan. They start from $8.33 per month.
In addition to the cloud version, Stripo offers a JavaScript plugin, which can be embedded in your application as a component. It also has free and paid options.
TOPOL.io also offers a cloud-based drag and drop email builder for marketers and a plugin for developers.
To start for free, you can create your own template from scratch or choose from one of the seven free options. You don't need to sign up – just continue with crafting your email template online:
customize text blocks with margin, fonts, and colors
upload and edit your images
embed GIFs
embed video from YouTube or Vimeo
select if any of the elements should be hidden on mobile devices.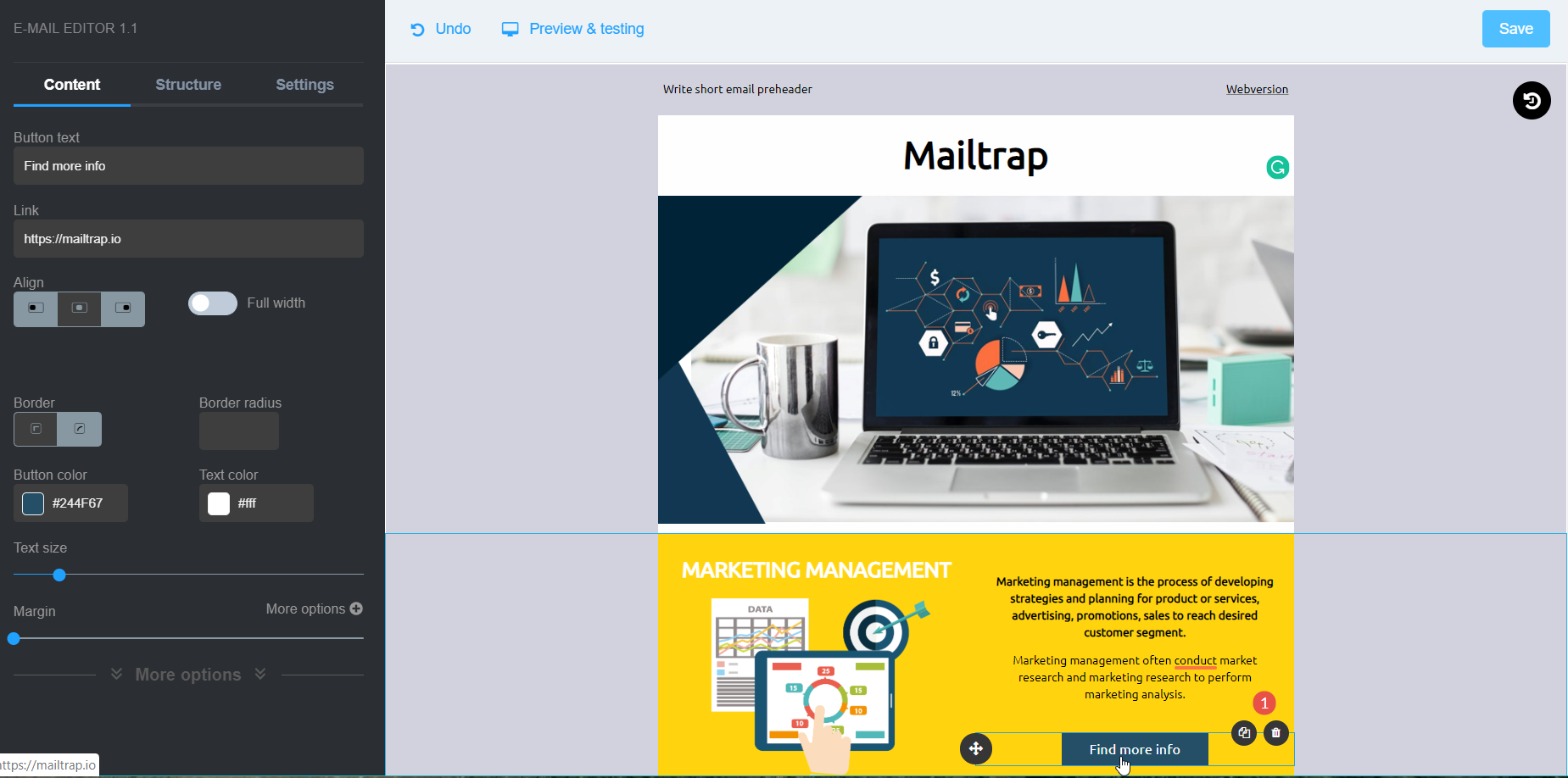 Your email template can then be downloaded as a ZIP archive (HTML +images) or exported to the existing TOPOL.io account.
To get more features to save your templates, edit HTML or insert your custom code, unlock more templates, you should sign up for the paid version for $7 per month. To evaluate it, TOPOL.io offers a 14-day trial.
Also, it can be integrated as a plugin. You can try it for two months for free and then purchase starting from $20 per month.
SendX is an intuitive email marketing software built to meet two main objectives offering enough features at an affordable cost and straightforward pricing. With SendX, you can send unlimited email lists for every plan, no matter how big your email list is.
SendX features a fast and easy-to-use editor for emails, which turns the whole email editing into a drag-and-drop process. The drag-and-drop editor makes it very simple to start building newsletters, promotions, and automations.
You can drag and drop one of the many boxes (or placeholders) in your email body and quickly start editing your emails on the fly. You can also choose from a library of over 1500 pre-made email templates.
SendX editor features three tabs:
The Content Tab – This has micro-content placeholders like text box, image, button, divider, social icons and HTML box for hyperlinks. You can directly drag and drop them into the body to create the actual content of the email.
The Structure or the row tab – This allows you to customize the basic layout of your email. Simply drag and drop your preferred layout style, and then add elements from the content tab to build your email.
The Body or the settings tab – Settings tab allows you to customize the whole body of the email. It is within this tab, that you can change the content area width, background color, content area background color, default font, and link color.
To top it all SendX's WYSIWYG editor shows an instant preview of your email newsletter across mobile and desktop. SendX offers a 14-day free trial (no credit card required). During the free trial, you can send up to 2000 emails to 500 subscribers.
Pro-Tip
Before you send your stunningly looking emails. Do not forget to validate it looks great in all the email clients! For that, use Mailtrap's HTML & CSS email checker. It will show you problematic lines of codes so you could fix them right away.
Desktop email builders
Mail Designer 365 is a desktop app for Mac, designed for building email newsletters templates. It doesn't have a free version but you can test the functionality with a 7-day trial. Within this time, you will get access to all app's features. Then you will need to choose your billing plan. They start from $15 monthly per user and are billed annually.
Mail Designer 365 offers to choose from 80+ pre-designed templates or to craft your own with a bunch of layout blocks:
upload your own images or choose graphics and animations from the license-free library
customize call-to-action elements with flexible shapes.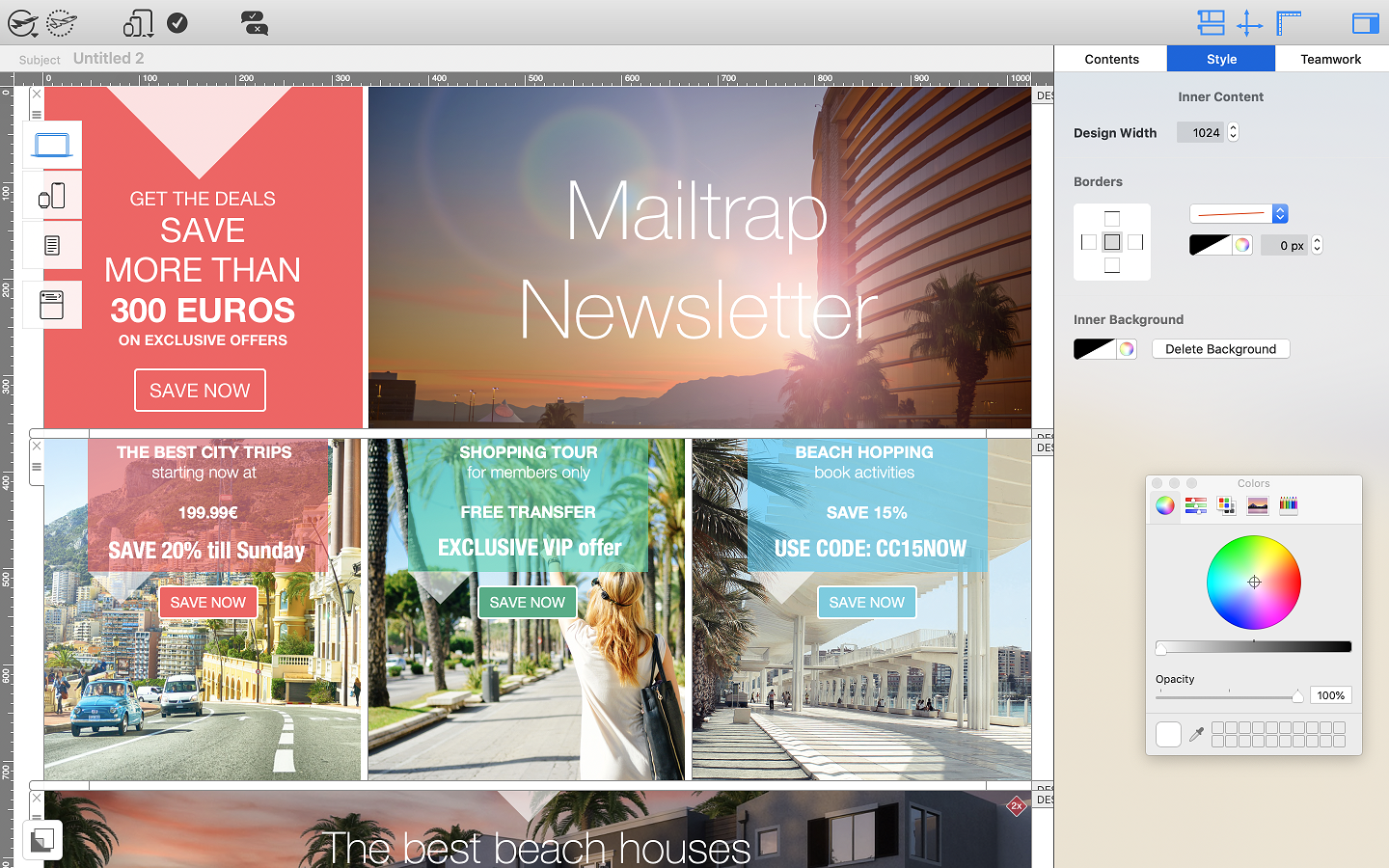 The preview tools allows you to check how your message will be displayed not only on desktop or mobile but also on Apple Watch.
The app offers a cross-platform experience as a part of the approval process: there is a web-based feedback platform. It works with Windows and Android as well and is provided as an extra paid service.
After the template is approved, you can upload it to Mailchimp and Campaign Monitor directly or download as HTML.
Mailstyler is another desktop application for building email marketing templates, this time for Windows. You can try working with MailStyler for free. You get a free demo version with a lifetime license but the trial's capabilities are limited:
edit texts and styles
experiment with blocks
upload your own image, edit, and resize it right in the app, or choose from the MailStyler library (free images are limited).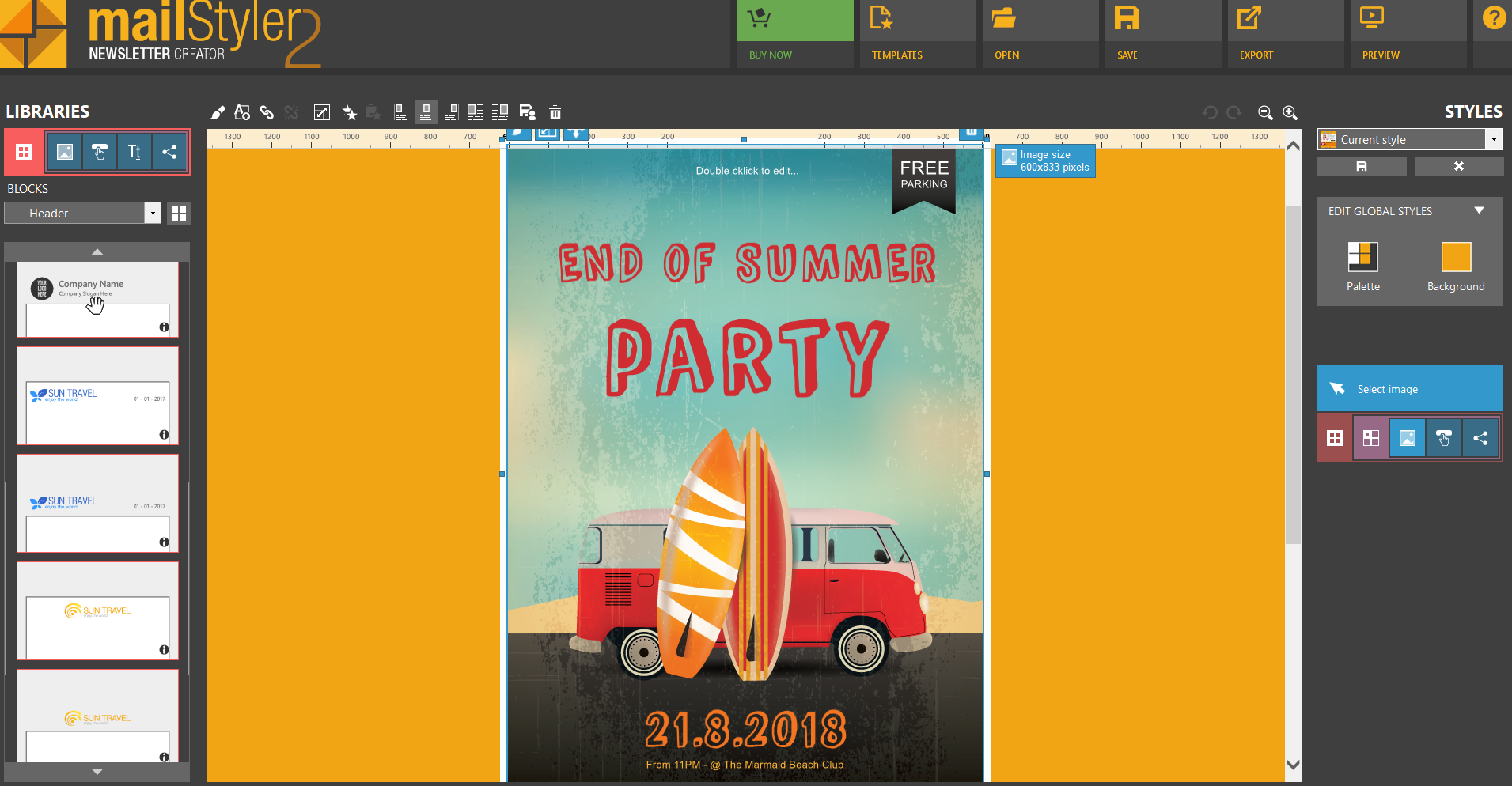 In general, you have a wide list of options to build a professional template, and MailStyler looks like a solid tool for this purpose. However, in a free version you won't be able to send the email you created, just preview it. When you upgrade your account, you can save your message as the responsive HTML, send it with SendBlaster or eMailChef, export to Outlook or Thunderbird, or even convert to PDF.
MailStyler offers a yearly subscription only. The basic plan costs $99 and the Pro plan is $199 per year. Depending on the chosen option, you get export capabilities, template and images libraries, as well as cloud storage for your templates.
Other types of email builders
Unlayer is an email and page designer for SaaS. It is a JavaScript plugin, which should be embedded into your web application. After that, you don't need any coding experience to create responsive email templates: you will be able to use it as a usual drag and drop editor. 
However, Unlayer doesn't offer pre-designed email templates: you are free to create your own. You can build your template using the standard blocks (like images, dividers, or text) or adding a custom one.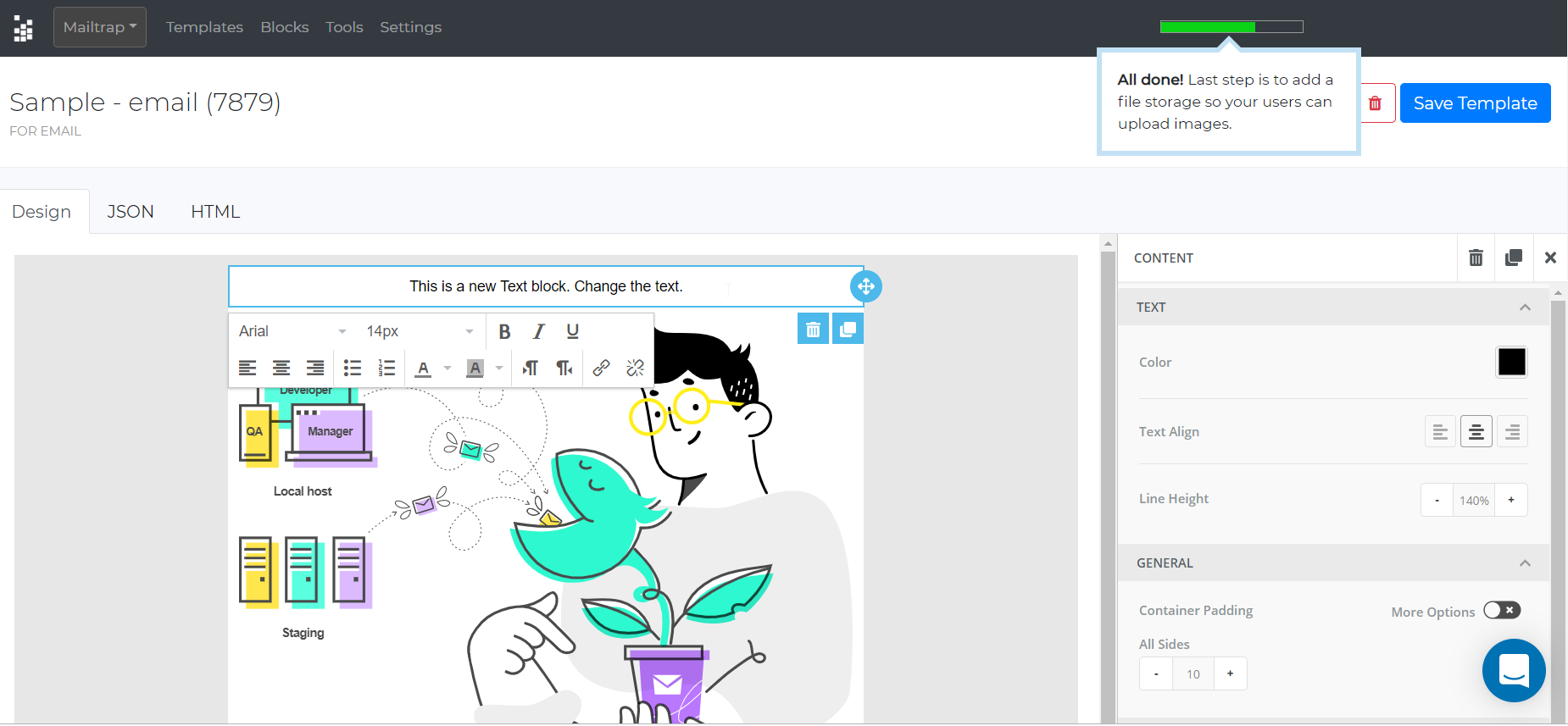 Among Unlayer's interesting features, there are merge tags support and ability to save your template as a JSON file.
Unlayer definitely requires some support from the development team but it gives more custom features. It is available for free for basic needs, more advanced usage will require a paid plan, which start from $99 per month.
Comparison of 10 email template builders
Template
Builder
Storage
Type
Free
templates
Image
editor
Image
library
HTML
import
HTML
export
Integra-
tions
Monthly
pricing
BEE
cloud +
plugin
80+
✓
✓
no
✓
paid
from $12.5
Chamaileon.io

cloud
100+
✓
no
✓
✓
paid
from $20
Email
Monster
cloud
30+
no
no
no
✓
Mailchimp
no
Mail
Designer
365
desktop
(Mac)
80+
no
✓
no
✓
Mailchimp,
Campaign
Monitor
from $15
(paid yearly)
MailStyler
desktop
(Windows)
20+
✓
✓
no
paid
paid
from $8.25
(paid yearly)
Mosaico
cloud + on-premise
2
no
no
no
✓
HTML and GPL-
compatible
libraries
custom
Postcards
cloud
8
no
no
no
✓
Mailchimp,
Hubspot +
paid
from $15
Stripo
cloud +plugin
290+
✓
✓
no
✓
22 options,
limited
for free
from $8.33
TOPOL.io
cloud +plugin
7
✓
no
✓ (paid)
✓ (paid)
HTML
from $7
Unlayer
plugin
no
no
no
✓
✓
HTML,
JSON
from $99
SendX
cloud
100+
✓
✓
✓
✓ (paid)
Host of CRMs, marketing automation tools and Zapier
from $9.99
Choosing your email template builder
We have reviewed ten different email template builders, which allow you to work both with HTML code directly and drag and drop interface. Can we name the best one now? Of course, no! Even though some of them have almost all the options ticked in the comparison table, it doesn't mean that those tools perfectly fit your needs. We selected different options: cloud-based, desktop apps, plugins, complex and more simple tools, with modern and classic UI. There are two common features for all of them: each tool allows you to build great email templates compatible with different email clients and has a free trial. Define the most relevant features, pick several tools, and then try to create one and the same template to choose the most comfortable option.