Why is the email template size so important? Why are there so many questions on this topic and no quick answers? To put it simply, the email design size affects whether your email will be delivered at all. It also defines whether your customer will read your message and take the desired actions. There is the standard template width (600 px), but still, there are intricacies you should be aware of. In addition, there are no strict rules for the email template height, the same as for the design blocks.
In this article, we will go through all the email template components and explain the principles for any type of campaign.
The ultimate template dimensions
| | | | |
| --- | --- | --- | --- |
| Dimension | Recommended | Common alternative | Options |
| Template width | 600 px | 640 px | up to 750 (experiment and test) |
| Template height | put important details to the first 350 px | up to 3000 px | follow your common sense |
| Header height | up to 150 – 200 px | up to 300 px | follow your common sense and keep it mobile-friendly |
| General email size | up to 102 KB | no | no |
Email template dimensions
The main idea behind unifying email standards is displaying across all email clients and types of devices. The majority of your recipients are using Gmail on a desktop or the iPhone email app. That said, there are still many people reading emails with Outlook, Yahoo Mail, and even AOL. This means that you'll inevitably encounter different rendering engines and problems with the display.
To fit every type of device, your emails have to be responsive. This trend is not new, so all predefined email templates and email frameworks are already designed to match this rule. If you are coding templates with pure HTML and CSS, make use of the recommendations gathered in our Guide on How to Build an HTML Email.
Email design width
You have already heard about 600 pixels. This is the standard width which has been recommended during the last few years. Things haven't changed: 600 pixels is still the golden rule. This is the average width desktop email clients use to show your email messages. Also, Gmail is commonly known for not displaying background color for a template width over 640 px.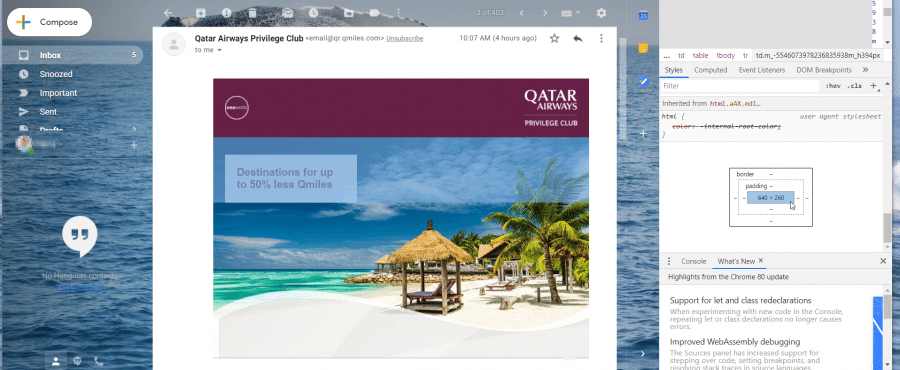 The majority of email builders and services provide templates designed with email widths up to 600 pixels by default, including Mailchimp and Klaviyo, for example, which focus on marketing emails.
You may also find suggestions to try 700-800 pixels wide templates, with a note that you should thoroughly test them across all popular email clients. We believe that if you have reasons, time, and the resources for additional testing and experiments, then you should try any kind of template that might work for you.
Email design height
The height of your email template is not strictly limited by email clients' rules. This means that there is no required size. However, there are several things to follow when building your new email template.
1. Keep in mind the goal of your message: a recipient should be able to understand it right after opening your email. Put the most important information above the fold – this is about 350 pixels. Compare: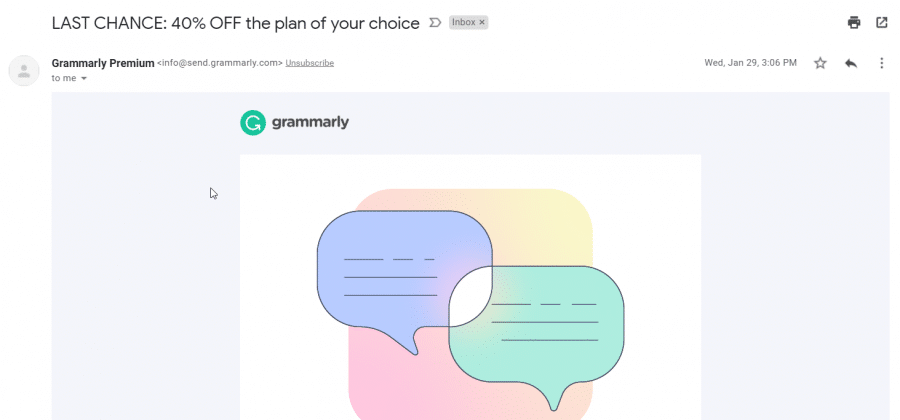 and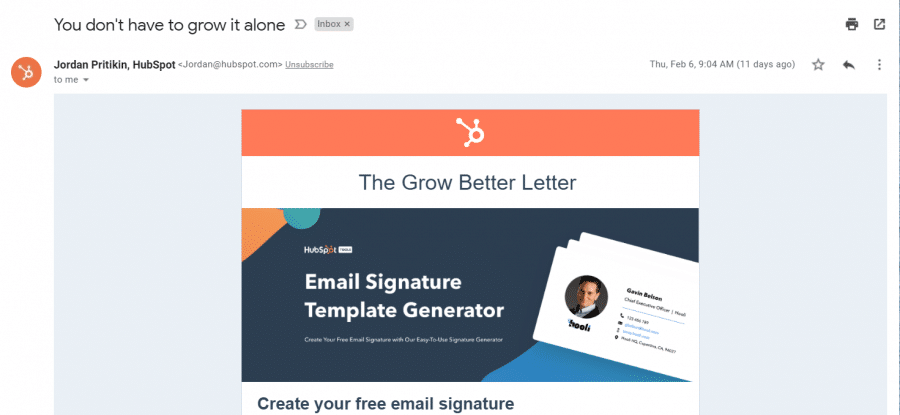 Use space wisely. Pictures are beautiful but they should also be informative in your emails and encourage your users to scroll. When testing and previewing your emails, first of all, evaluate what the recipient will see.
Pro Tip: Support your great email subject with an inspiring email header by keeping it visible on one screen.
2. Aim to keep your emails clean and clear. The shorter the message, the higher the probability that it will be read till the end. Sometimes extra sections confuse the reader and blur the main message of the email.
The majority of marketing emails like newsletters and promotions are about 2500- 3000 pixels.


Email clipping. Sometimes you can see clipped messages in your Gmail or Yahoo inbox. This is caused not by template height but by the overall size of a message (102 KB). The whole email size of the Witcher game promo demonstrated above is just 36 KB.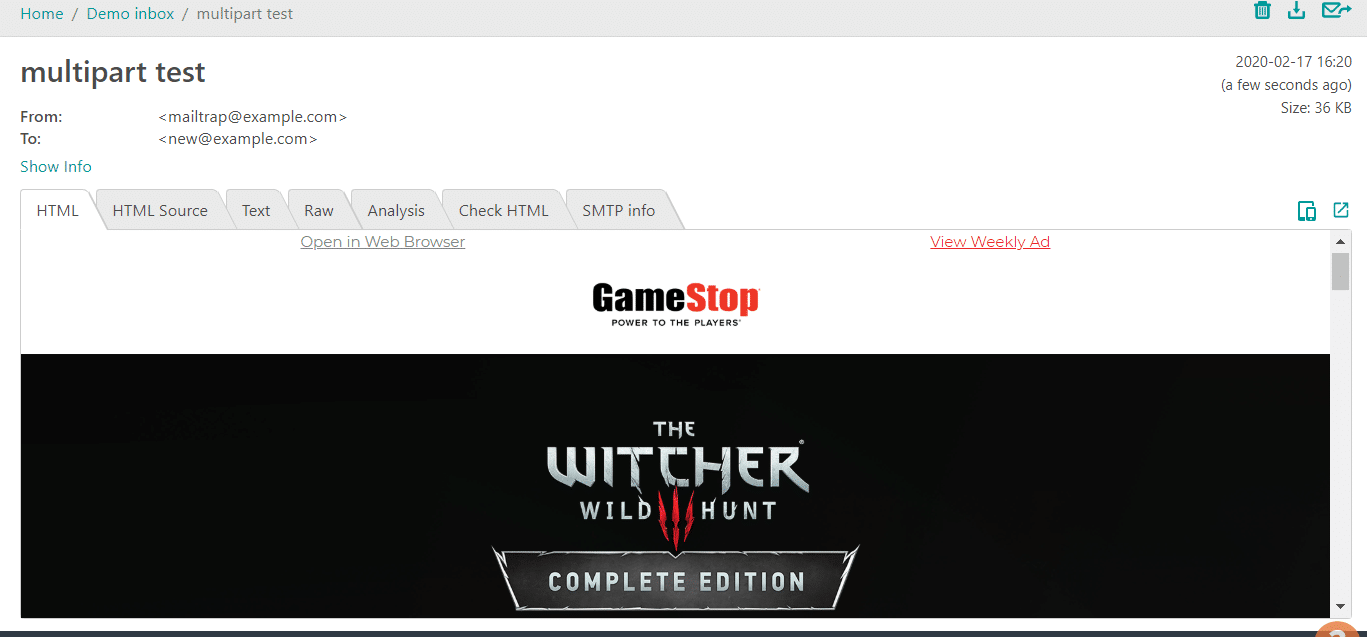 What is the difference between transactional and marketing email templates?
In terms of email template size, transactional emails are usually shorter. They have a specific goal: to confirm an action, provide instructions, or notify a user. In some types of such messages, it is acceptable to add some marketing stuff, but in general, the template should be simple. Usually, transactional email templates range from 600 pixels to 1200 pixels.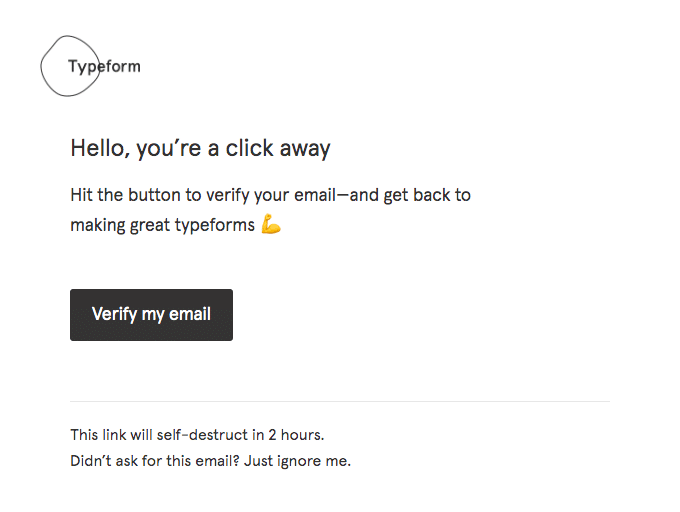 While on the topic of transactional emails, it's important to mention that you should have a reliable solution for sending the same.
Mailtrap Email API is a solution worth considering as it can not only do the sending but also give you more control over your email deliverability.
With the help of its actionable analytics, catching and fixing sending issues in the early stages is possible. Within these actionable analytics, you can find timely deliverability alerts, up to 60 days of email logs, webhooks, dashboards with critical metrics, and more features, all intended to enable you to troubleshoot and debug at the speed of light.
In terms of the actual email sending, Mailtrap Email API users benefit from a sending throughput of up to ~10,000 emails/second, dedicated IPs, suppression lists, and automatic IP warmups.
You can learn more about Email API in the video below:
The main goal of marketing emails is to promote your goods, services, or content and build trust by sharing your knowledge. For example, if you are occasionally sending newsletters that are created by using an email newsletter software, your emails can be pretty long, around 5000 pixels and above. 
Other important dimensions
So, we've discovered the best email template width and height. But what about email content and inner blocks? They matter too!
An email consists of three main parts: header, content blocks, and footer.

Email header size
Usually, the email header contains your company logo, links to view this message in a browser, and menu buttons. We prefer a concise design, so we recommend sticking to the common header size: up to 200 px. It is convenient to read and match the "above the fold rule" (do you remember that putting meaningful details in the first 350 pixels is beneficial?)
Content blocks size
Again, no rules here! In this section, you have enough space for your creativity. "Content" means all types of information that allow you to communicate with your recipients, including texts, images, videos, GIFs, buttons, and even dividers.
Our overall advice is to keep the stories comprehensible, visually appealing, and with a clear call to action.
If you work with a templating service or an email editor, they provide you with pre-defined templates and recommendations for image sizes.
What to keep in mind about the image size:
If you host images on a server and link to them in your emails, they don't affect the email size. Email services and template builders have size limits for images to save space on their servers.
The image size in pixels is up to you, while the minimum recommended resolution is 72 dpi.
Optimize images for Retina displays by using 2x size.

You can find numerous recommendations on what should be included in the email footer. Usually, the footer includes legal details, such as your company address, unsubscribe links, side notes, etc. Do you read email footers? In many cases, the email footer doesn't get the reader's attention, email CTOR and in general, there is no standard about its height.
Sometimes people add a personal signature to the email footer. In this case, it's better to keep it at a max of 100 pixels.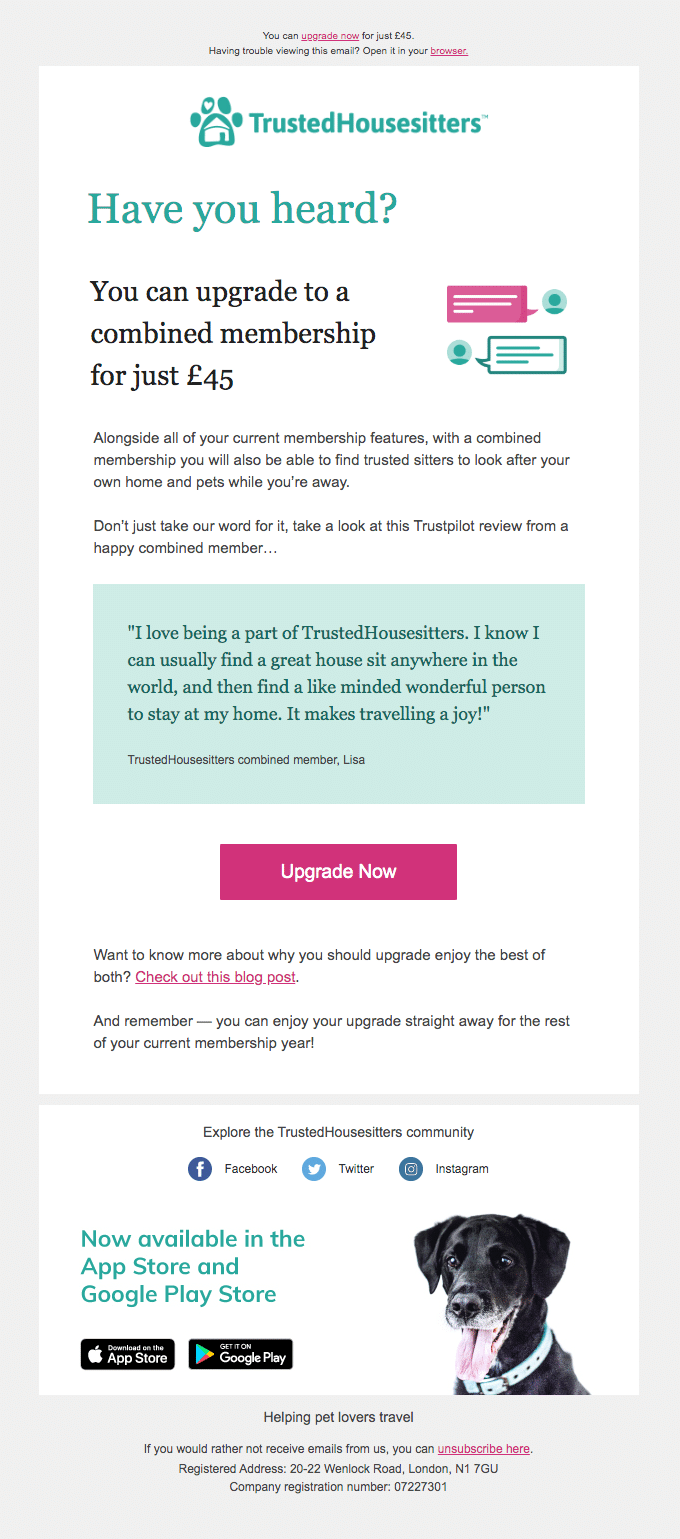 Things to remember
Today, email building is easy due to the many tools, templates, and tutorials available. In terms of email template size, there are not so many limitations and requirements. Here is what you really should pay attention to:
Responsive design. Optimize your email templates for different devices as over 55% of emails are now viewed from mobile email clients.
User's perception. Think of what your recipient will see when opening your message and how easy it will be for them to understand your main idea. Stay creative but follow common rules and best practices.
Email testing. Test every new email campaign. You can experiment with non-standard templates and sizes but make sure that your HTML will work fine across all email clients. With this in mind, your recipients will be happy with your beautiful emails.
Bonus tip: How to do email testing
Email testing can be quite straightforward when done using the right tool.
A tool that is very useful in solving email testing challenges and turning the process from a manual to an automated one is Mailtrap Email Sandbox which, together with the previously mentioned Email API, makes up the Mailtrap Email Delivery Platform.
The way Mailtrap Email Sandbox works is that it creates a safe environment for developers to debug and inspect emails, thus preventing them from spamming recipients with any test emails.
The testing tool comes with plenty of features, including multiple inboxes for different projects and stages of projects, spam analysis, blacklist reports, insight into tech info, and forwarding to whitelisted recipients, which all significantly aid the email testing process. But, when it comes to email template size and the HTML code, Email Sandbox's feature called HTML Check will be especially handy.
This feature enables you to get an estimation of the support email clients have for your email's code. It also helps you pinpoint problematic HTML elements by scanning through your email and listing every element that is partially or not at all supported by an email client, the name of the client(s), links to code lines containing the element, as well as additional information.
With Mailtrap Email Sandbox, you can also preview your emails to see how they are rendered by a web browser and see them in text or raw format.
To begin testing, first, create a Mailtrap account, and then either copy the code sample provided to you by Email Sandbox and paste it into your email-sending script or paste the SMTP credentials of your virtual inbox into your app script, MTA, etc.
It's that simple!
Helpful articles on this topic