With over three billion email users worldwide, email marketing is one of the most effective methods for getting in touch with your audience. It's a direct line of communication, but you only have a certain amount of time to engage before recipients move on to the next thing that catches their attention.
Catching and keeping their attention is extremely important. As with engagement comes conversions, and with conversions comes more revenue for your company. And with various factors affecting your email marketing performance, (i.e., email content, calls-to-action, layout, design, time and day emails are sent, etc.), you can't blame just one area when performance isn't up to snuff.
Simply put: the path to email success isn't straight and narrow. Each industry experiences unique norms and hurdles that affect various email marketing performance metrics.
This article will dive into email performance stats within three specific industries: eCommerce, SaaS, and marketing. We'll discuss some common culprits for low conversions and some hurdles each industry experiences, as well as outline specific tactics for improving email conversions.
What is an Email Conversion Rate?
If you've been in the email marketing game for a bit, you know what email conversions are, and you know just how important they can be for the overall success of your nurture campaigns. But, in an effort to leave no stone unturned, let's explain exactly what conversions look like.

Each email you send should have a particular CTA (call to action). You want your subscribers to perform a specific action after opening and reading your email. Your email conversion rate is the percentage of your email recipients that perform that action. That action could be to download a resource, purchase a product or service line, read a recently published article, or schedule a demo.
The desired action doesn't have to be tethered to revenue. It can be anything you want it to be as long as there's some sort of specific action encouraged.
As previously stated, each industry has its objectives when constructing and sending emails, and its audience is motivated by different propositions. Let's dive into some stats for three of the largest industries out there to determine where each stands regarding email conversions.
Addressing the Biggest Email Marketing Hurdles
What is a "good" conversion rate? What do you want your conversion rate to be? Well, that depends on the industry you're in.
The current average conversion rate for emails is 1.22%, but that doesn't mean that should be the percentage you strive for. Some industries experience a much higher average, while others struggle to get their audiences to respond in the way they hope.
eCommerce
With as little as 3% of website visits leading to a purchase, eCommerce has a lot to overcome in the conversion department. Think about every time you head to your favorite online retailer or eCommerce store. What compels you to take a look around for a while then leave without making a purchase?
Browsing or "just looking" happens online just as it does for customers that shop in stores. It takes a lot to decide to purchase something, and even if you think you're ready to buy, seeing the price once tax and shipping are applied can give you second thoughts.
One of the biggest hurdles eCommerce experiences is just getting customers to click the buy button. So, they can employ various strategies, like product recommendation emails or seasonal sales eblasts, but it's key that personalization is the driving force.
Personalizing the online shopping experience allows retailers to zero in on each buyers' motivations. Based on preferences and previous buying patterns, retailers can curate their email content so that their customers receive updates and promotions on products they need and are more likely to purchase.
Following up with customers who've abandoned their carts is a solid eCommerce email tactic that can result in a 10% conversion rate. It turns out that reminding shoppers they have some items in their carts is a great way to get them to pull the trigger. It's also a great way to send personalized, targeted emails grounded in customer service.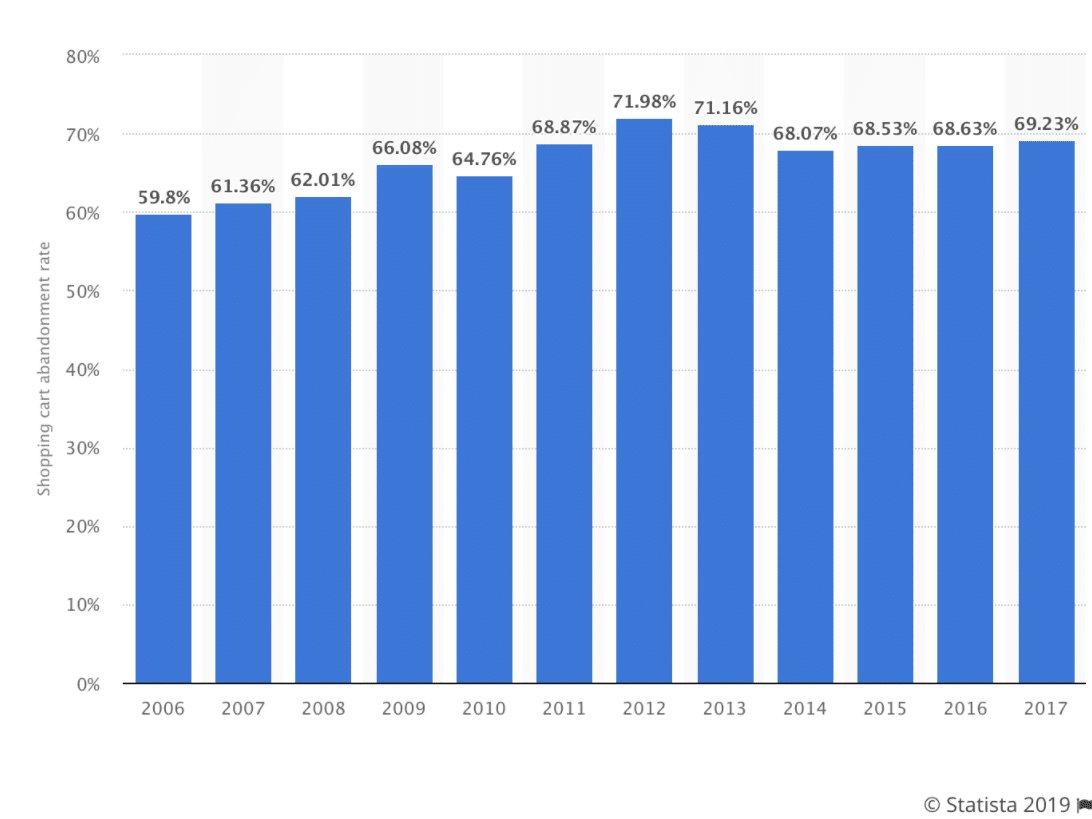 Image Source
SaaS
For SaaS companies, their hurdle is somewhat unique. It's not as clear as simply getting a customer to make a purchase (although that is part of it). In the SaaS industry, conversion success often comes with nurturing an ongoing relationship. And, if a free trial or a free plan is being offered, there comes the hurdle of transitioning those free accounts to paid plans.
Building trust and advocacy are essential for SaaS companies. It's essential for all brands; however with software, revenue is earned from repeat business and longer contracts. So the more trust and reliability you instill in your customers, the more likely they'll continue to use your software or upgrade over time.
Sending emails triggered by certain milestones can create a positive user experience and build trust. Since these kinds of emails show users you're thinking about their journey with your product, they present great opportunities to encourage specific actions from users. For example, once a user signs up for your software, you can send them a welcome email covering everything they need to get started and provide links to applicable knowledge base articles. Or, if a user is a couple of months into their free plan, you can set up a triggered email that encourages them to upgrade or provide feedback on their experience thus far. These emails are great for creating long-lasting trust that will serve as the foundation for a beneficial relationship.
Marketing
For marketing agencies, helping clients often means putting their own strategies on the backburner. When your book of clientele can downsize at the drop of a hat, it's key that you do everything in your power to keep them happy. After all, unhappy clients lead to no clients, and if an agency has no clients, they won't be able to keep the lights on.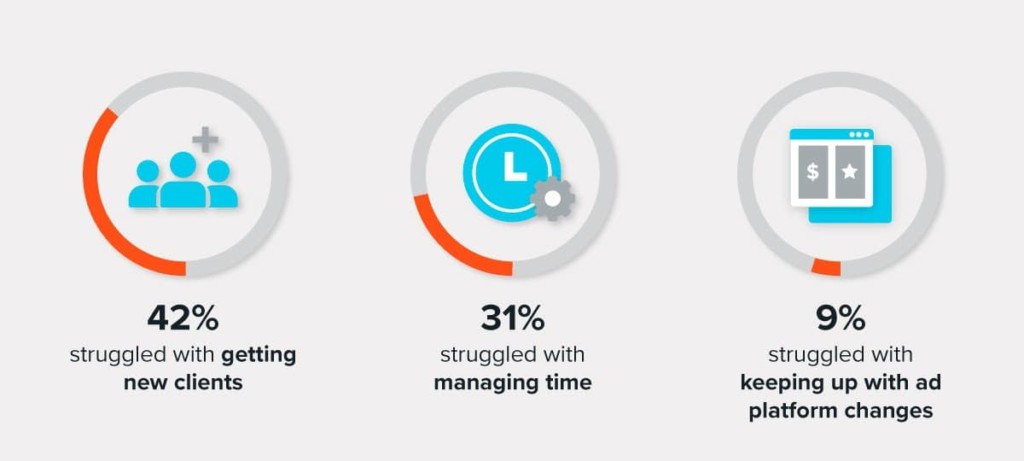 Image Source
With 42% of marketers stating that getting new clients is their biggest concern, and with 51% claiming referrals are their most significant driver of new clientele, I think we've found the biggest hurdle marketing agencies face.
Referrals can do wonders for your business. There's nothing like third-party credibility and word-of-mouth marketing to boost your sales and get more revenue coming through the door. So, for marketers, finding ways to increase lead-to-customer conversions is key, and it's all about effective referral strategies.
Creating an email campaign around a referral program is an effective solution that can lock in steady referral income. These kinds of campaigns should clearly state the goal, offer resources that assist your customers in getting the word out, and incentivize them for taking the time to do so.
How to Improve Email Marketing Conversions
While the tactics mentioned above are great industry-specific strategies to test out, some overarching tips can be used across the board to increase email marketing conversions. Let's dive into some things that can help any email marketing see better conversions from their email campaigns.
Understand the Customer Journey
The journey your customers take to find and interact with your brand should inform everything about how you market to them.
The customer journey begins with awareness, and with 81% of consumers research a product online before making a purchase, it's crucial that you help lead the conversation behind what they see about your industry and product.
Using content and paid ads that target your audience and lead them to your on-site content helps move your prospects from the awareness stage to consideration. On your website, they can access your blog content, your product, and service line information, and download material that educates them further on what your brand is all about. Once they download a piece of content or subscribe to your email marketing, the email nurture can begin.
Getting prospects enrolled in your email marketing is a great way to speak directly to them by showing them you understand what part of the customer journey they're in and what kinds of content they need to make informed decisions. And when customers feel like you're providing them with resources they can use, you gain their trust and solidify your brand as a viable option for them to partner with in the future.
Building that trust is key in driving conversions. Think about the brands you trust the most. How inclined are you to purchase from them? Pretty likely, and even more likely to purchase from them repeatedly because you know they'll deliver on their word.
If you want more conversions, understanding the journey a lead takes from that first touchpoint is crucial. It allows you to really grasp their positioning and pain points so you can send them what they need when they need it.
Automate and Personalize
A huge contributor to an email campaign that converts is personalization and automation. As stated in the previous point, understanding your customers' specific needs allows you to send them content tailored to their needs. What's more, personalized emails can increase conversions by 10%, and by automating these emails, you can send them at most beneficial times, doubling down on increased conversion possibilities.
Focus on Your Subject Lines
Email subject lines are the first line of defense for every email sent. If a prospect doesn't open your email, they aren't going to convert, and since 47% of people open an email based on the subject line, you'll want yours to be solid.
So, make sure your email subject lines are concise and inspire action. Think of all the emails you receive and which ones made it so you couldn't wait to open them. Use similar tactics and try A/B testing a few options to determine which subject lines provide the best results.
Make Your CTA Clear
The last thing you want is your conversion rate suffering because you didn't make your call-to-action as clear as possible. Some marketers think that by adding tons of links and CTAs you can increase your conversions, but in reality, you're just making things confusing.
Try to keep your CTAs to one per email, and if you include more than one link, consider a hierarchy by placing larger emphasis on the more critical CTA (like by making it a button).
No matter what industry you're in, improving email marketing conversions is always going to be a must. Hopefully, the tips covered in this article will help you make better decisions when crafting your emails, resulting in more happy prospects and more revenue for your business.