Although the pundits at major media names like Inc. and TechCrunch have been predicting the death of email, and the launch of a new era of chats, social networks and instant-messaging platforms for some time now, the statistics say the opposite.According to the Email Statistics Report 2017-2021 published by Radicati Group Inc., the volume of email exchange in 2017 was expected to reach 269 billion per day and keep growing at 4.4% rate annually for over the next four years, totalling 319.6 billion in 2021. The number of worldwide email users will also increase at a rate of 3% yearly, reaching 4.1 million by the end of 2021.
This situation can be explained by the fact that despite emails are thought to be used for interpersonal communication only, they have also been widely adopted in the business world, where in some cases – completely relied on to carry crucial financial and other consumer-related information.

Email notifications feature in mobile and web apps
Any e-commerce or health web app, educational or banking software uses email to deliver:
Initial account registry confirmation or verification
Requests for a new password or password recovery
Change of email address verification
System or account-related updates, and more.
Indeed, it is hard to imagine a modern mobile or web app that would have no inbuilt email sending functionality at all. Therefore, whether you are the only person working in a small local host environment on your own product, or collaborate with a team engaged in a large project, the email feature will be present in both.
As a result, sooner or later you will start considering options to ensure safe email notification testing while in a development or staging environment. In other words, you would probably want to send a couple of test emails just to make sure that they are being received and rendered well.

Development SMTP server for testing email sending
Mailtrap's developers, the Railsware team, faced this problem back in 2011 when several test emails sent from the staging environment accidentally hit the inboxes of real customers. The Railswarians identified the problem and later that year introduced a system that would ensure fast and safe debugging of an application. As a result, the global dev community gained a tool which mocks SMTP server's work and enables the sending of email notifications from either development or staging environments, as well as capturing them in the Mailtrap inbox.
As a result, Mailtrap allows you to:
Send a test email from the app and 'catch' it in the inbox
View both the HTML content of a notification and its source
Review the Spam and Blacklist report, as well as the raw email data
Set up auto-forwarding rules to other email addresses or domains (or forward a chosen email notification manually)
Share the Mailtrap inbox with other team members
Easily integrate Mailtrap with a number of technologies (like PHP, Ruby on Rails, Python, Node.js, Java, C#) and their frameworks
Integrate Mailtrap with an application using the API
Create multiple 'companies' within the Mailtrap account to accommodate simultaneous development development of more than one apps (the information on each of them is stored separately)
Mailtrap offers both free and paid software versions which you can check out here.

Reasons to leverage Mailtrap SMTP server simulator at your dev project
When configuring Mailtrap at one of your projects, you and your team will:

1. Enjoy peace of mind when testing your app's email features
No matter whether a dev team has a dedicated QA specialist on board or not, it has to make sure that they are not going to accidentally spam clients when testing an app. Indeed, it just takes one incorrect setting to blast all users with a test email by mistake.
Mailtrap provides an extra layer between an app's notification feature and real users, and actually 'catches' all outgoing emails. In addition, it lessens the emotional burden, letting developers focus on checking the system's code and bug fixing, rather than worrying about sending emails to the outer world.

2. Get a high-performing and secure email testing tool
Mailtrap applies the Transport Layer Security (TLS) protocol to ensure secure web browsing and email delivery. The dummy mail server is also known for its high reliability and fast email catching since the receiving and parsing part is executed by special worker / daemon patterns developed in Golang.

3. Avoid getting your email or even domain blacklisted
Mailtrap completely eliminates the possibility of one of your test emails landing in real users' inboxes, thereby getting your email address or even domain name blacklisted for spam.

Enjoying this Post?
Join Our Newsletter
Only the best content, delivered once a month. Unsubscribe anytime.
4. Easily collaborate with your team members when developing test email functionality
If you have several people working on a project, you can share your inboxes with them. As a result, your colleagues will be able to view all staging emails and make sure that the email notification sending functionality has been properly implemented in the app.

5. No need to set up and manage your own mail infrastructure
There are users who prefer setting up local mail servers and test the emailing feature through them. However, one has to take into account all the hassle this involves, including not only running, but also managing and maintaining the server. Here is a link to a long read which focuses on this topic and provides extra details.

6. Save your time and optimize human resources
There is absolutely no need for you to register hundreds of email accounts that are used for testing purposes only. What is more, you do not need a DevOps to set up and maintain your own mail infrastructure as well. The only thing that will be required – is to copy and paste the fake mail server's SMTP credentials that are unique to your app and sync Mailtrap with your system.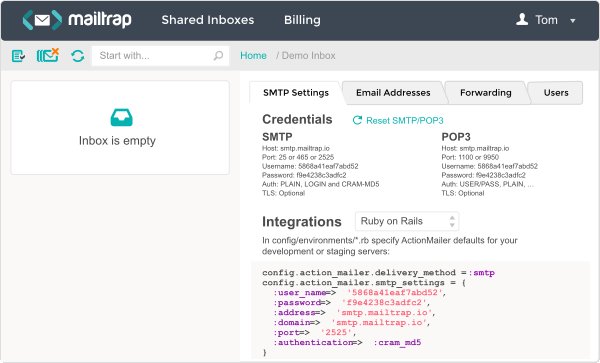 7. Test your email templates without paying $70.00 or more per month
Of course, there are systems and software out there like Litmus which enable thorough email template testing across different devices and email clients. These kinds of apps are built for marketing specialists and those who use mass emailing for customer engagement and retention purposes.
Mailtrap, in turn, being a solely dev tool, provides engineers with just the necessary functionality to test email delivery, giving them just enough data to understand which mail or app configurations need to be modified.

Conclusion
Recently our team ran a Mailtrap User Survey, where one of the questions was 'What do you particularly like about Mailtrap?'. Our team received a lot of positive responses that described Mailtrap as a reliable, stable, an intuitive and easy to use system. However, a large number of them also mentioned that the best thing about Mailtrap is that "It just does what it has to do".
Indeed, it was great to confirm that Mailtrap completes its core task and does it well – with an almost Zen-like simplicity. That made the 8th and the final point on our list and, at the same time, the main reason for dev teams to use Mailtrap in their projects.